Every now and again, you just need to eat something trashy. I'm talking about something that you'd be horrified to serve to any company other than your sister and brother, and maybe, -just maybe- your best friend but only if she's known you for more than 20 years and she's not on a diet. Whether or not they'll admit to it, everyone has that one food item (or in my case, more than one food item) that is beyond low-brow that just speaks to their soul. It doesn't say anything erudite or to hasten global peace, it just says something like, "Uhhhh… Hey, baybay."
Kind of like Beavis & Butthead. Trashy.
And much like watching an episode of Beavis & Butthead, I'm entranced just long enough to polish it off and feel like there's not a thing wrong with it. If I ate (or watched) it every day, now that'd be another thing entirely.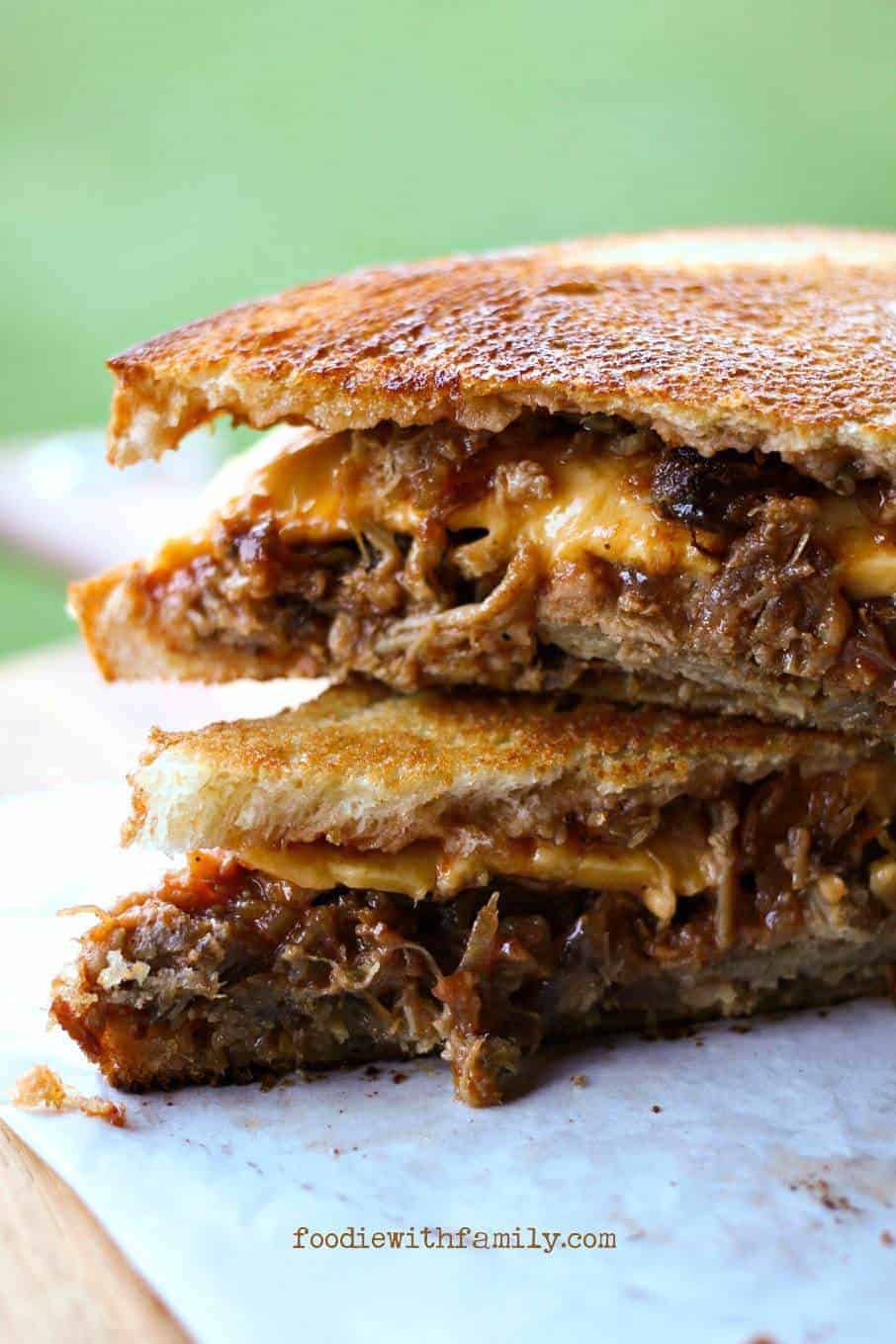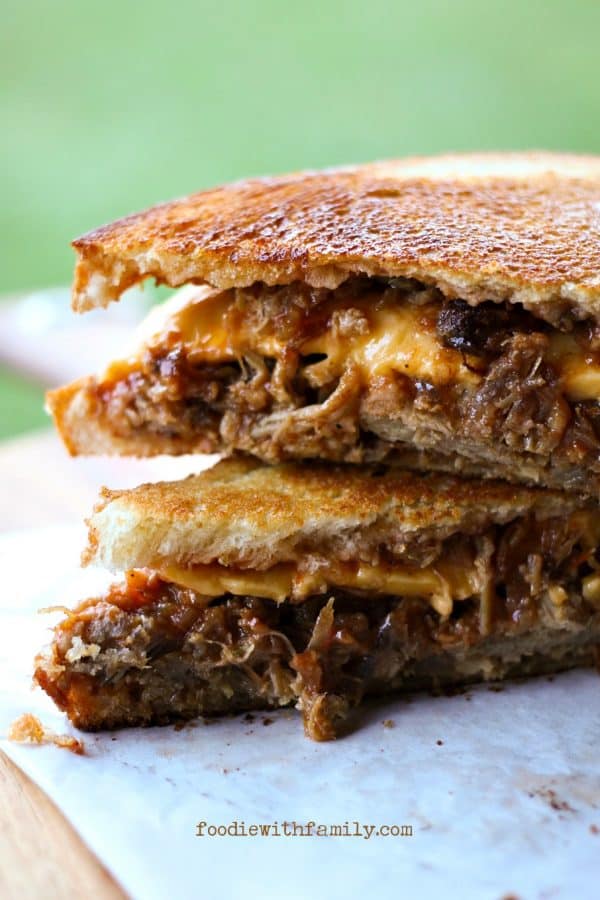 There is probably NOTHING good for you in In a Trashy Barbecue Pulled Pork & Toasted Cheese Sandwich save the protein in the pulled pork and the calcium in the cheese, but it does provide one thing lacking in most virtuous food; a double shot of vitamins for your spirit. You can -because I do- argue all day long for the benefits of healthy living and an 80/20 split of nutritious vs. whatever food, but if there isn't the occasional high dive into indulgence, what fun is there in eating?
And if there's no fun in eating? Well, count me out. Drudgery isn't going to cut it when we're talking about something that must be done at least three times a day. From time to time, just let me eat something that requires old clothes in case I drip and no more personal effort than pulling my hair back so it doesn't land in my plate. I'm not going to call it a reward because that implies the good-for-you-stuff isn't great, which it actually is. There's just that moment -and I think you all know what I mean- wherein you need to be alone with a sandwich of dubious nutritional value and emerge the victor with an empty plate.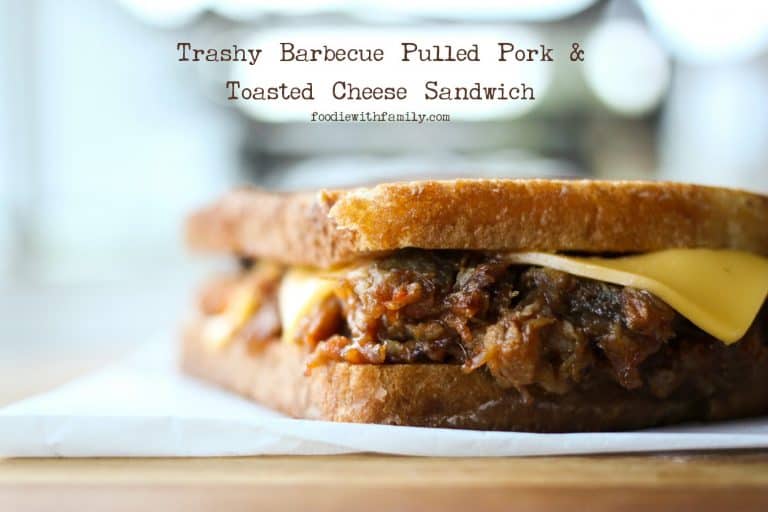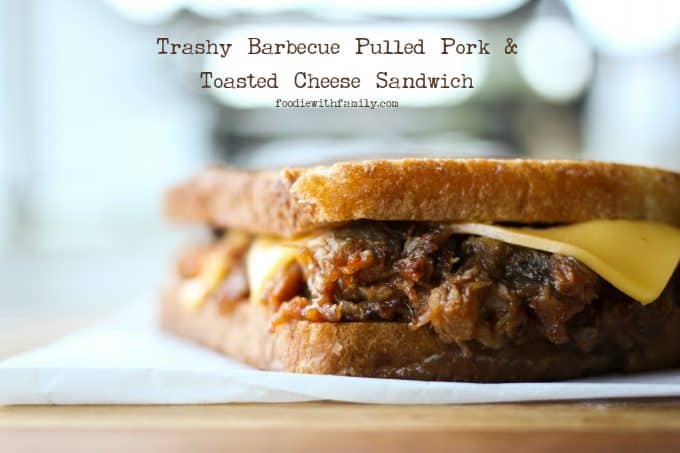 Cook's Notes
Use a good sturdy sandwich bread instead of something super soft. It's easier to flip over when heavily laden with pulled pork and melty cheese. I like Sourdough sandwich bread or a hearty multi-grain sandwich bread. Don't even look at me like that. It's okay to make a trashy sandwich on a 'healthy' bread. It doesn't diminish the soul-soothing power of the trashy food.
Butter. Use it. There are some sandwiches that are perfectly fine being toasted in olive oil or some sandwich spread, but this -most emphatically- is NOT one of them. Melt a nice pat of it in the pan, and spread the this-end-up piece with a generous amount, too. A toasty, crispy, browned butter crust is mandatory on this sandwich.
Whether you choose to use a saucepan or a microwave, heat your pulled pork before it hits your sandwich. This allows you to adjust the amount of barbecue sauce you add to the pulled pork to your liking. Cold pork will taste different and absorb a different amount of barbecue sauce than hot pulled pork. Besides, this gives you a good reason to pinch a bit of the pork to nibble on in the name of sandwich perfection.
Regarding barbecue sauce: pick one you like. I'm partial to Dinosaur Barbecue's bottled Sensuous Slathering (although wildly un-fond of the name), but when I have it, my Evil Genius, Sr.'s Slathering Barbecue Sauce is even better and conspicuously free of the word sensuous. Ahem.
Trashy Barbecue Pulled Pork & Toasted Cheese Sandwiches are a two-spatula job. By that, I mean that when it comes time for the grand flip, you'll want to shimmy one spatula (like this designed for fish, but functionally perfect in practically every application fish turner) underneath it, and use another one (like this magnificently designed multi-use GIR spatula/scraper) to hold the whole works together while you flip the whole thing over. This prevents spillage of your high-piled, barbecue pulled pork. It wouldn't be disastrous if some of the pork spills, you can absolutely gingerly pull those pieces from the pan and deposit them directly into your mouth, but the overall goal is to deliver them to eating bliss in the form of a sandwich.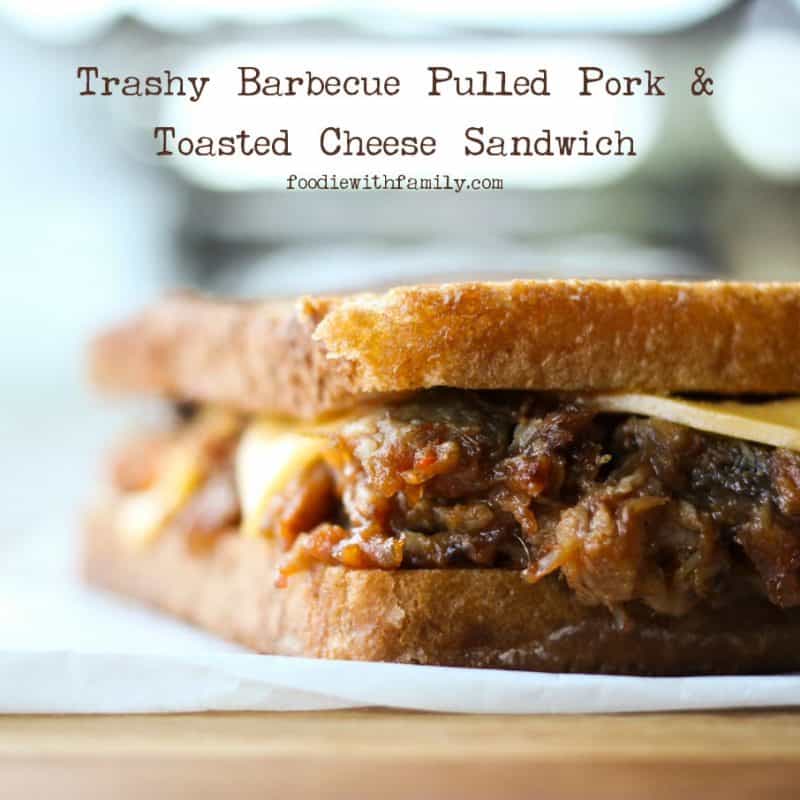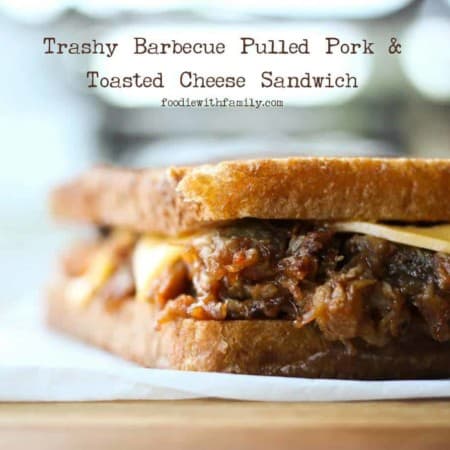 Trashy Barbecue Pulled Pork & Toasted Cheese Sandwich
Rate Recipe
Ingredients
Per Trashy Barbecue Pulled Pork & Toasted Cheese Sandwich
2

slices

sturdy sandwich bread

like sourdough or multi-grain

1 1/2

tablespoons

softened butter

divided

2

cups

pulled pork

1/4

cup

barbecue sauce

or more to taste

2

to 3 slices American cheese
Instructions
Heat the pulled pork up over medium high heat in a heavy-bottomed skillet, stirring frequently until hot all the way through and scrape into a bowl. Return the pan to the heat and melt half of the butter in the pan. Lay down one piece of bread, arrange the hot pork on it, butter the second piece of bread and put it on top, buttered side up. Fry until the bottom piece is a deep golden brown. Slide one spatula under the sandwich and lay a second spatula on top of the sandwich, using gentle pressure to hold it together as you flip it.

Gently lift the toasted top half, arrange the cheese, replace the bread, and continue toasting until the underside of the bottom piece of bread is a deep golden brown. Serve immediately.
Nutritional information is an estimate and provided to you as a courtesy. You should calculate the nutritional information with the actual ingredients used in your recipe using your preferred nutrition calculator.