Today's Grapefruit Sorbet was inspired by the palate cleanser sorbets served during the Chef's Table Experience on Caribbean Princess with Princess Cruises. Crisp, refreshing, smooth and silky in texture, this grapefruit sorbet makes a great dessert by itself or cocktail when doused with a shot of gin or vodka. I have so much to share with you today, so please stick with me or scroll to the end for the recipe!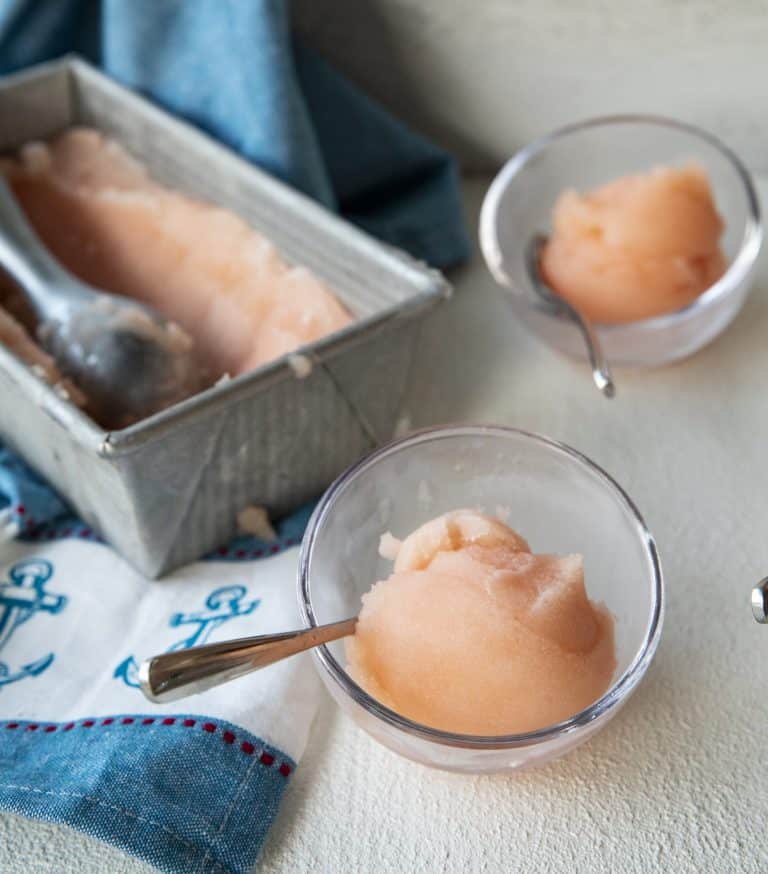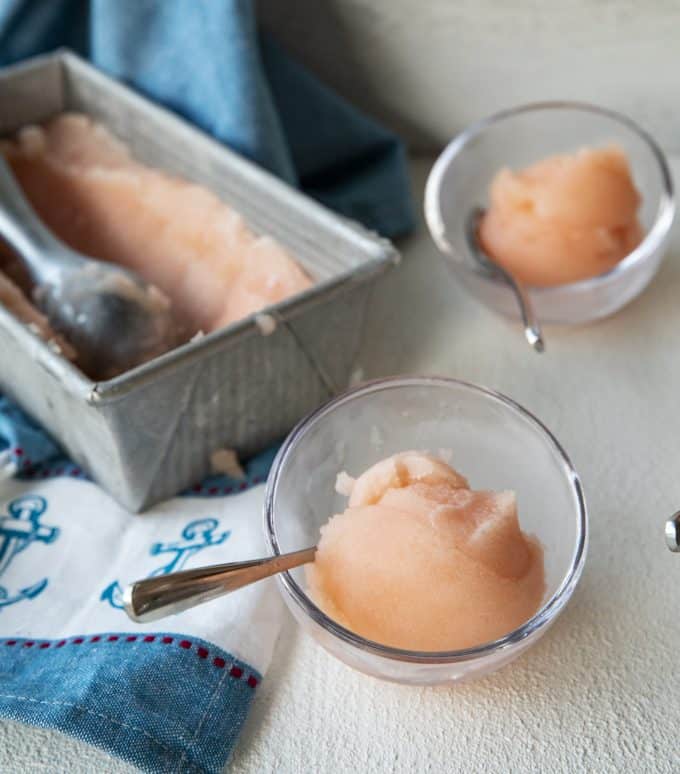 Thank you, Princess Cruises, for providing me with this cruise. All photos and opinions remain -as always- my own.
Are you considering taking a Caribbean Cruise ? I have had the pleasure of sailing with Princess Cruises twice, and want to tell you about some of my favourite on-board activities and port excursions.
I'm talking today about the activities that I will sign up for first the next time I cruise with Princess. I'll divide it into On Board and Port Excursions for the sake of ease and share a killer recipe for Grapefruit Sorbet that was inspired by the Chef's Table Experience on Caribbean Princess.
Caribbean Princess On Board Activities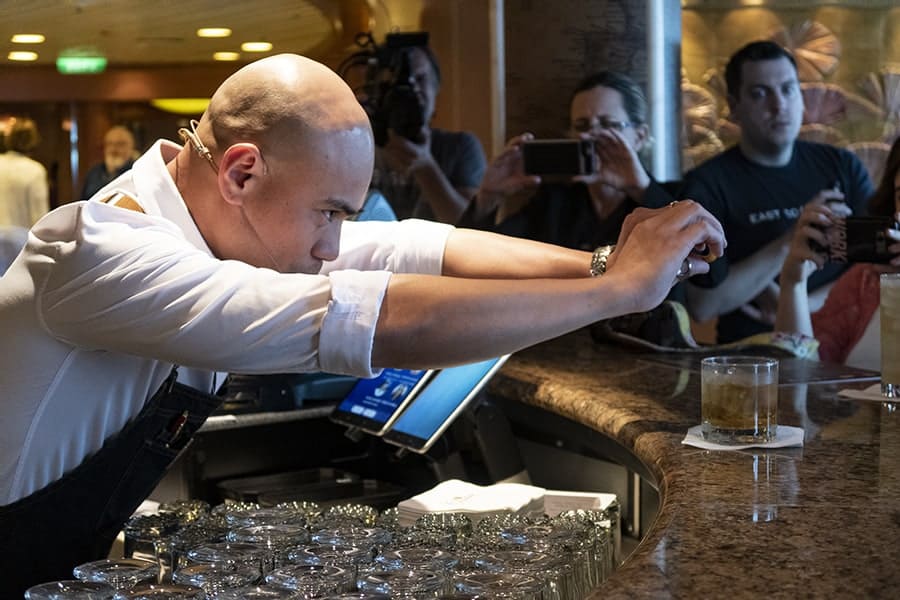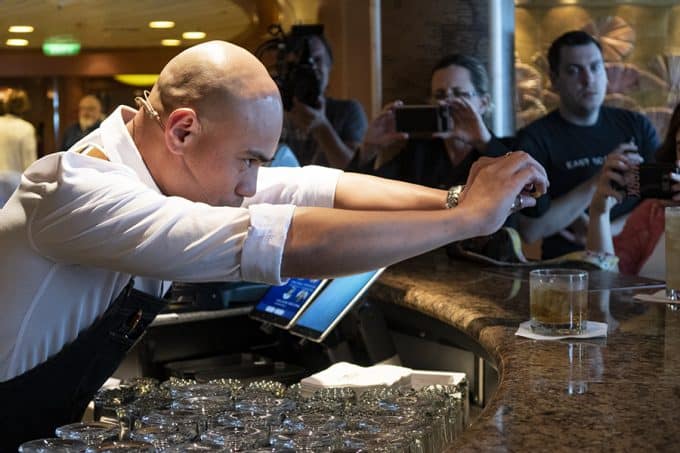 You can read all about our favourite cocktail- Watermelon Margarita– at the Good Spirits Bar, Bacon Cheeseburger at the Salty Dog Grill, and how the Ocean Medallion™ makes life so much easier while cruising, but today, I want to talk about my favourite ways to spend my time while at sea.
When I think of cruises my first thought is the food, and the second thought is onboard activities. It was a happy day indeed when I realized that there was a way to combine the food and the onboard activities.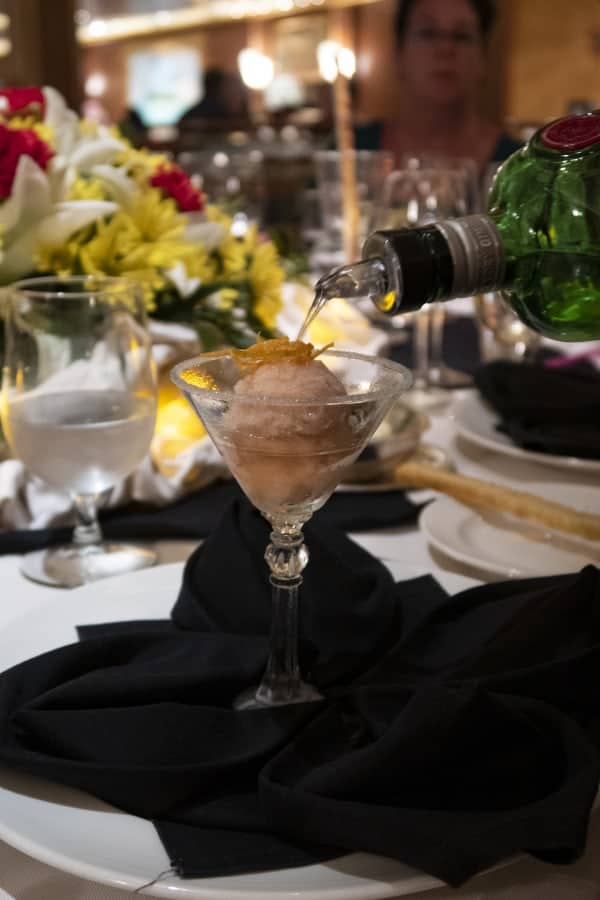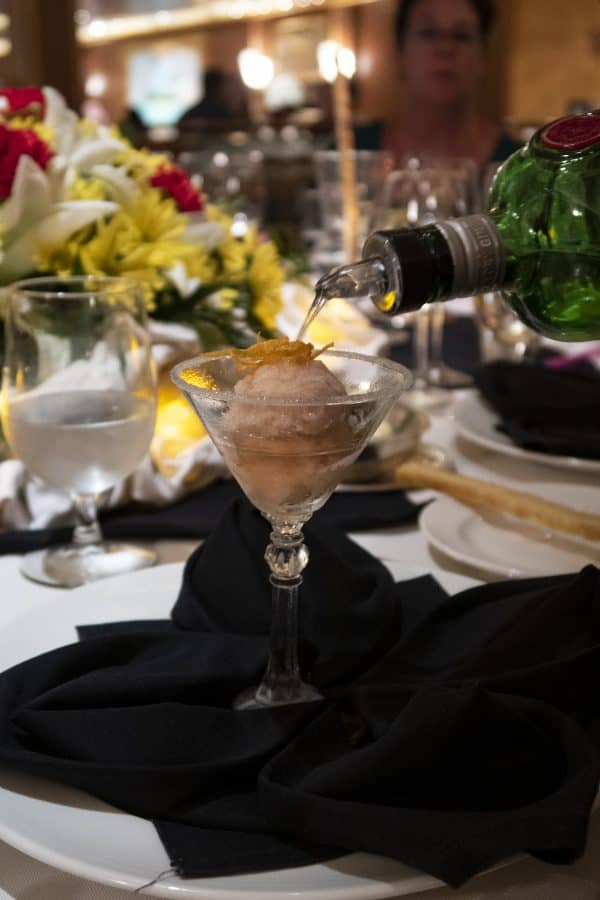 Chef's Table Experience
Have you ever been to a Chef's Table? The short, land-based version of it is that you eat at a table in the kitchen of a restaurant having special dishes prepared for you by the chefs while you watch.
The Chef's Table Experience on Princess Cruises Caribbean Princess is that experience elevated by getting the chance to tour the galley of the ship where chefs prepare thousands of meals, desserts, and snacks every day. It's awe inspiring to see how efficiently the chefs on board feed everyone, staff included.
You need to wear closed-toe shoes for safety. This is a working kitchen, after all.
You're greeted outside of the galley by the head Maitre d' who helps kit you up in a white lab coat to protect your clothing and keep the kitchen clean, as well. As you walk through the galley, you see the chefs preparing meals or components of meals to be sent the dining rooms and specialty restaurants on board.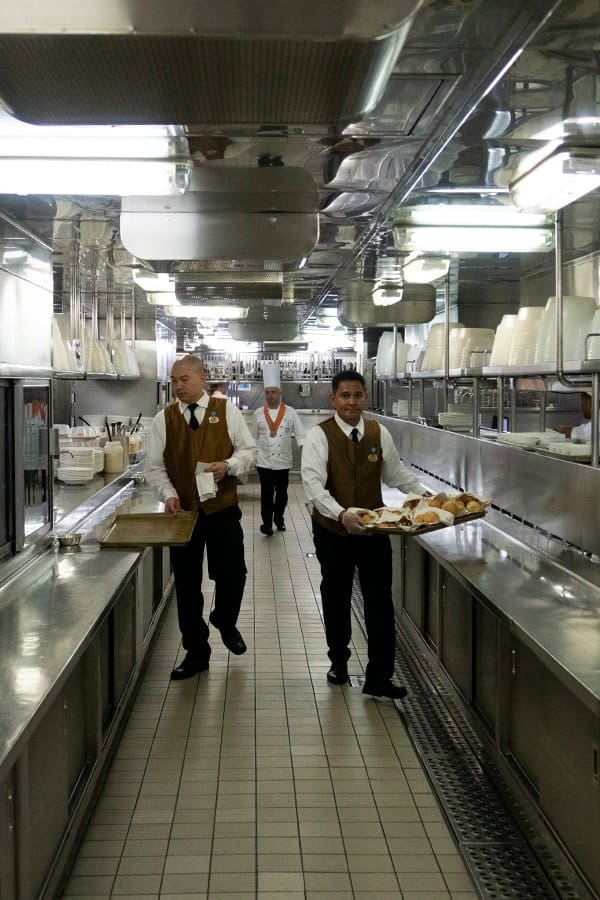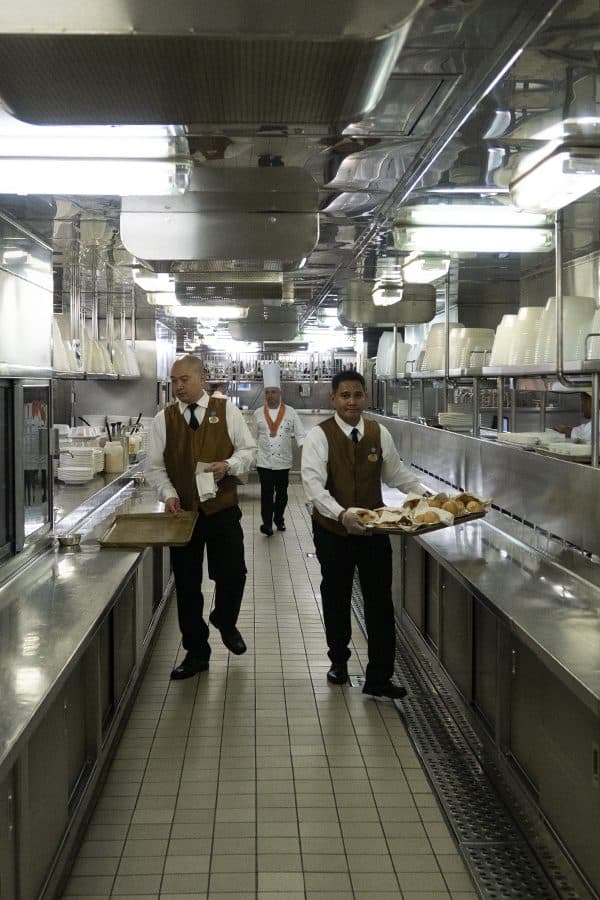 One of the first things that struck me was how pristine and spotless the kitchen was in every single space. The chefs uniforms were gleaming white.
Everyone was working quietly and efficiently. While it was between dinner service times during our tour, it was still a hive of efficient activity.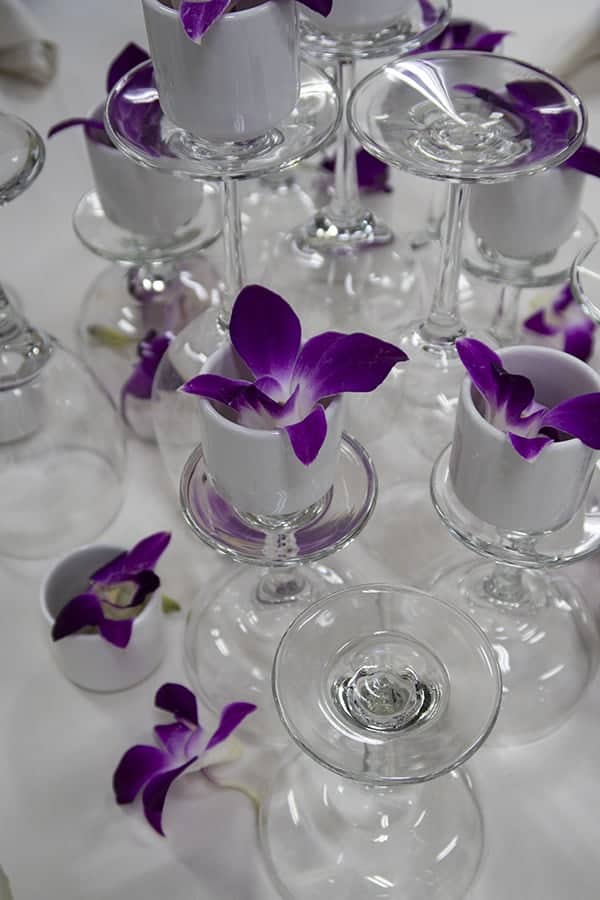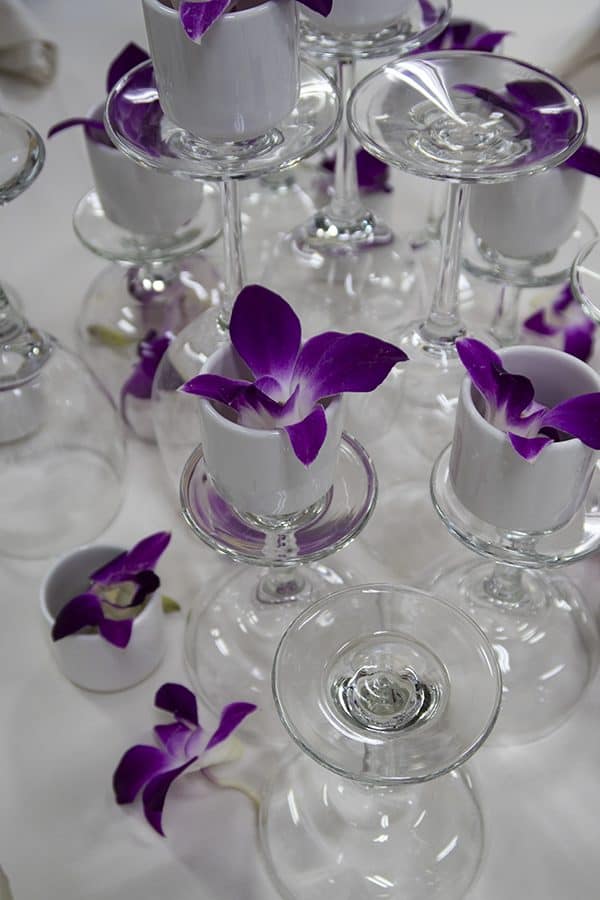 Our group was assembled at a cluster of standing tables with lovely floral displays where we were introduced to the Executive Chef. We were served real, French champagne and several inventive and beautiful appetizers including a chicken liver pate doughnut with orange jelly, crab in a filo shell, a prawn hot dog with wasabi mayonnaise, and tuna and caviar poke with a Mai Tai sorbet.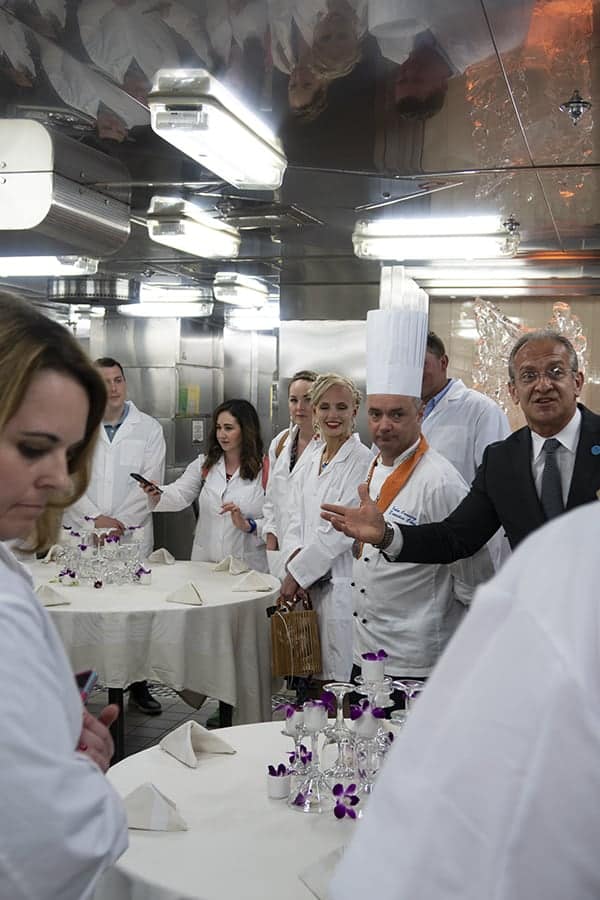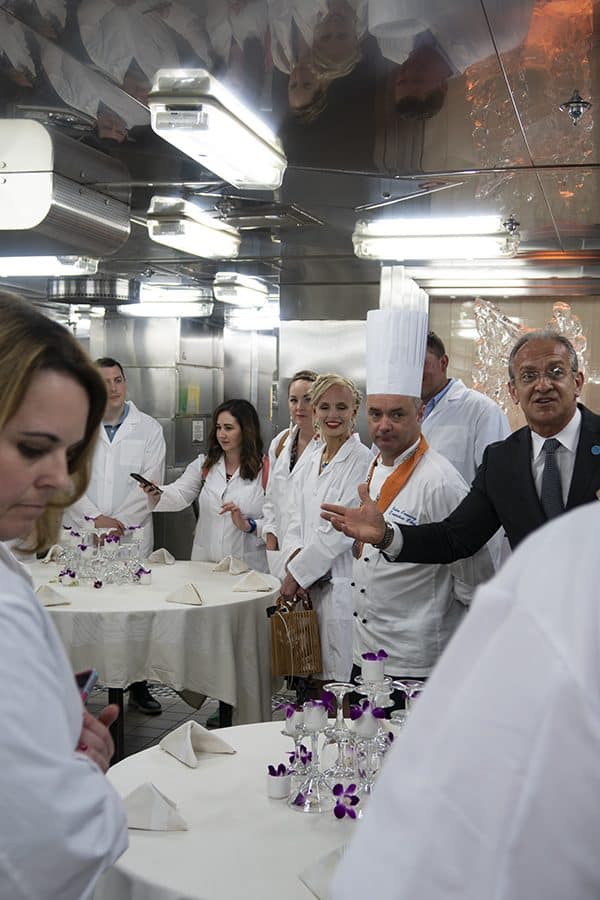 After our appetizers, we completed our tour of the galley, shed our lab coats, and made our way to a quiet area of the dining room where we were served three stellar courses, a Negroni sorbet, and a dessert that I will remember forever. Each course was accompanied by a perfect wine pairing.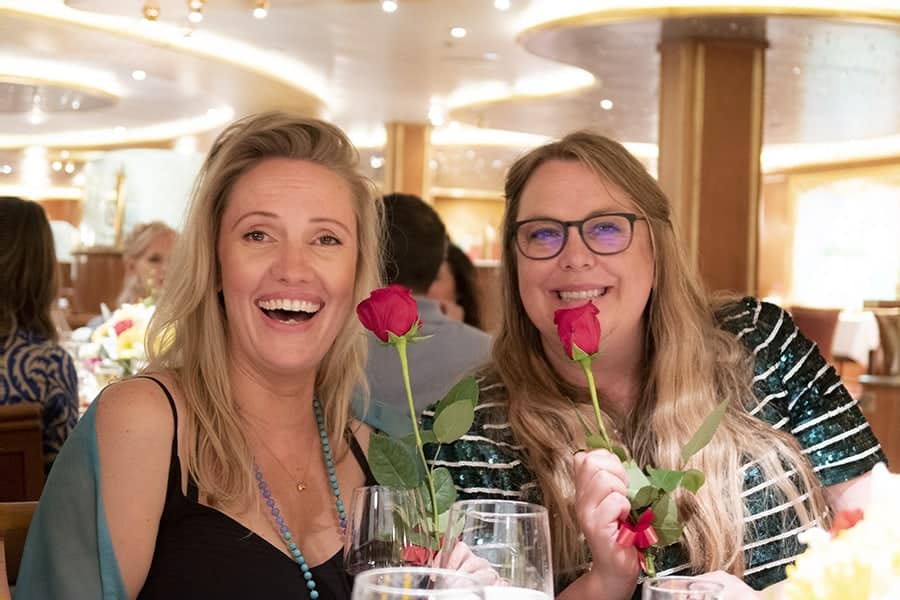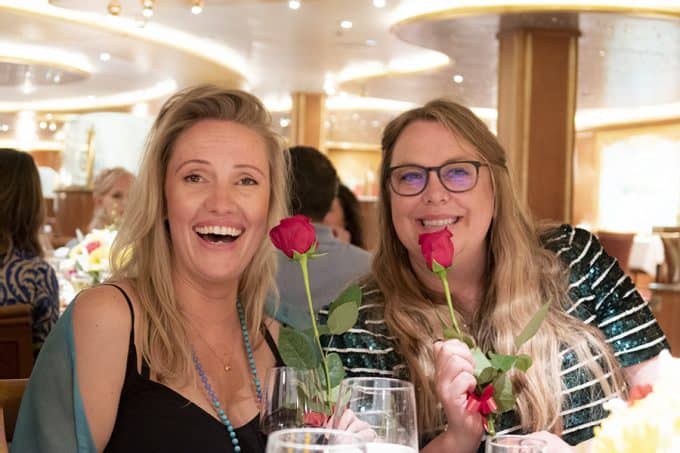 After the appetizers and before the meal, we took photos with the Executive Chef both as a group and as individuals. When the meal was over, we were gifted prints of the photos, an autographed copy of Princess' best-selling cookbook, Courses, A Culinary Journey, and a single, long-stemmed rose. What a night!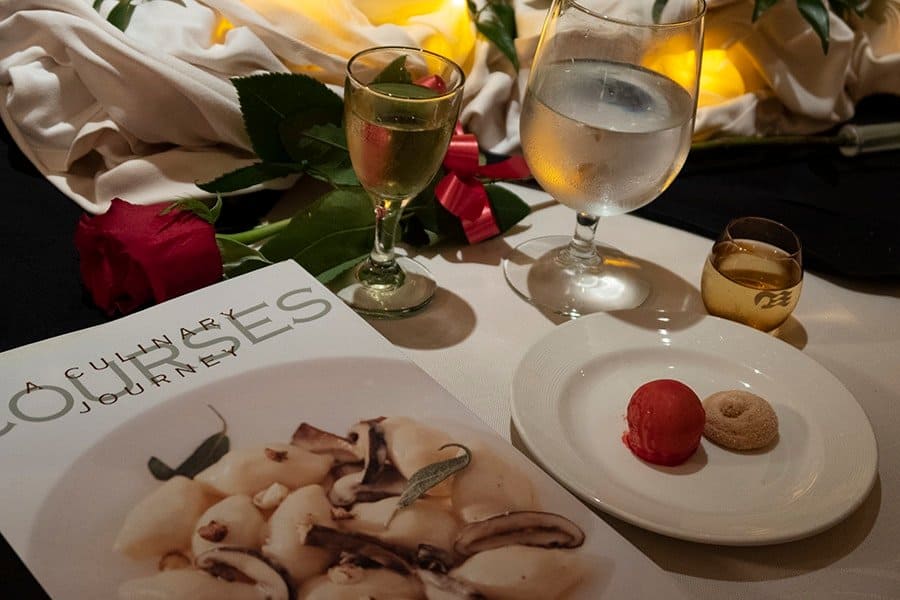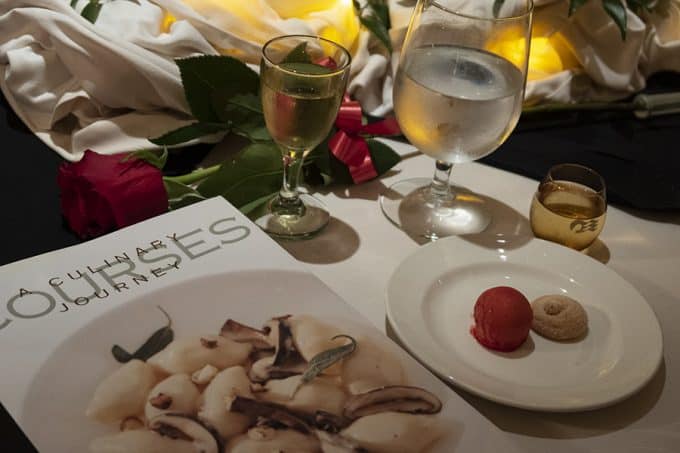 This is an experience that I highly recommend for all fine food and wine lovers. Because spaces for the Chef's Table are limited and fill up quickly, I advise signing up for it at the earliest possible moment.
It is important to remember that you can only sign up for the experience once you're on board and it's only offered once or twice during each cruise. When you get to your cabin, dial the "dine" phone line or go to the "Dining Reservations" desk that's set up the first day of the cruise.
(Scroll to the bottom of the post for the Grapefruit Sorbet recipe inspired by the Negroni and Mai Tai sorbets served during Chef's Table.)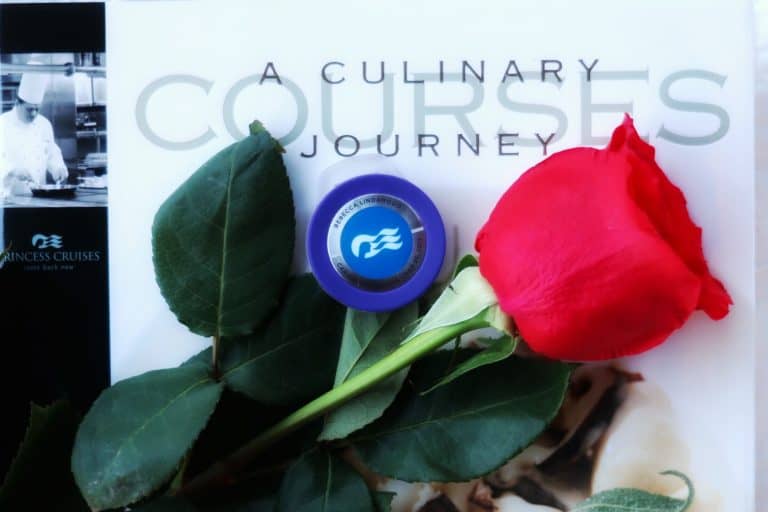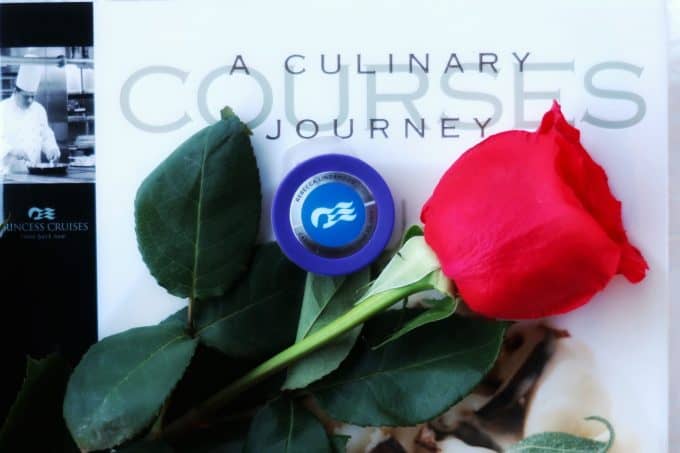 Lotus Spa and Salon
I'm a sucker for a spa treatment, and the Lotus Spa on Caribbean Princess gives you the royal treatment. From the moment you are shown through the doors, to the plush robes and slippers, to the serene atmosphere, Lotus Spa is my favourite place on the ship. I'll spare you pictures of me in the robe.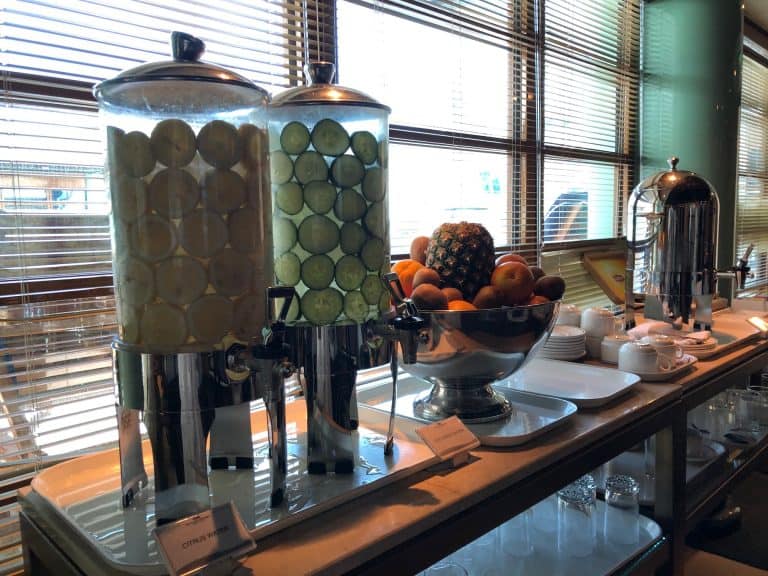 I spent my spa time getting some serious deep-tissue massage. My massage therapist may have been tiny in stature, but she was a human foam-roller and I felt so relaxed at the end of my massage that I'm still not sure how I got back to my cabin and took that nap, but I know I did!
On our last sea day, I decided to go for something new-to-me, and got a keratin smoothing treatment in the on-board salon. My hair dresser washed my hair, combed a proprietary keratin treatment through it, dried it, then flat ironed it.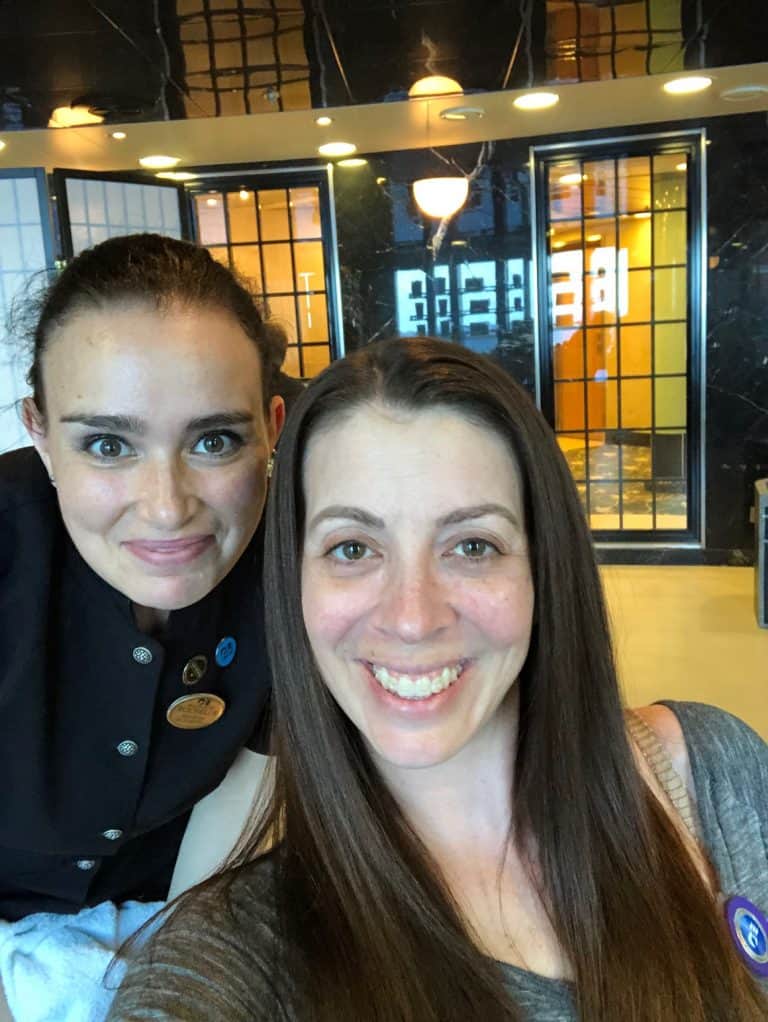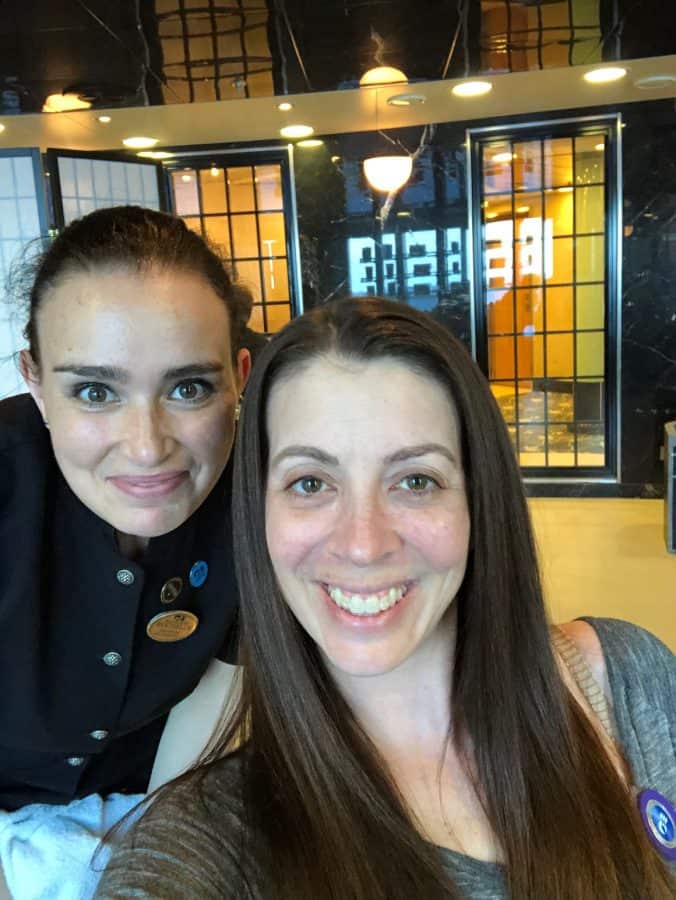 My hair looked spectacular! Following my hair dresser's advice on how to care for my hair post-treatment, the gorgeousness lasted for a solid 8 weeks after the cruise. Talk about value!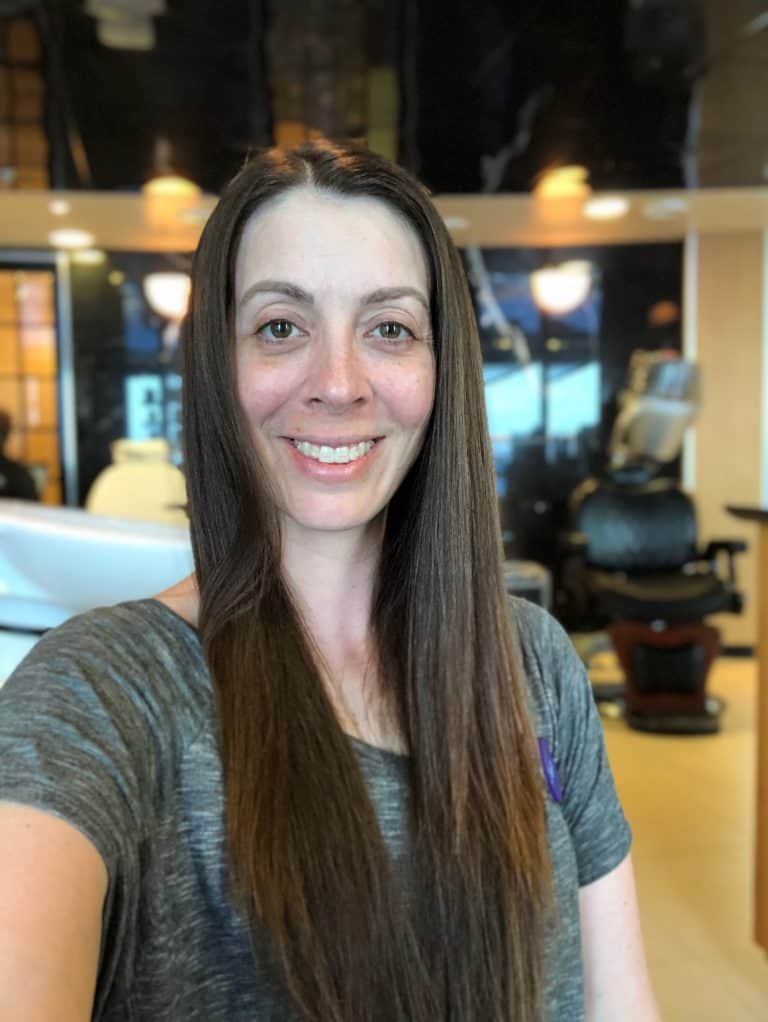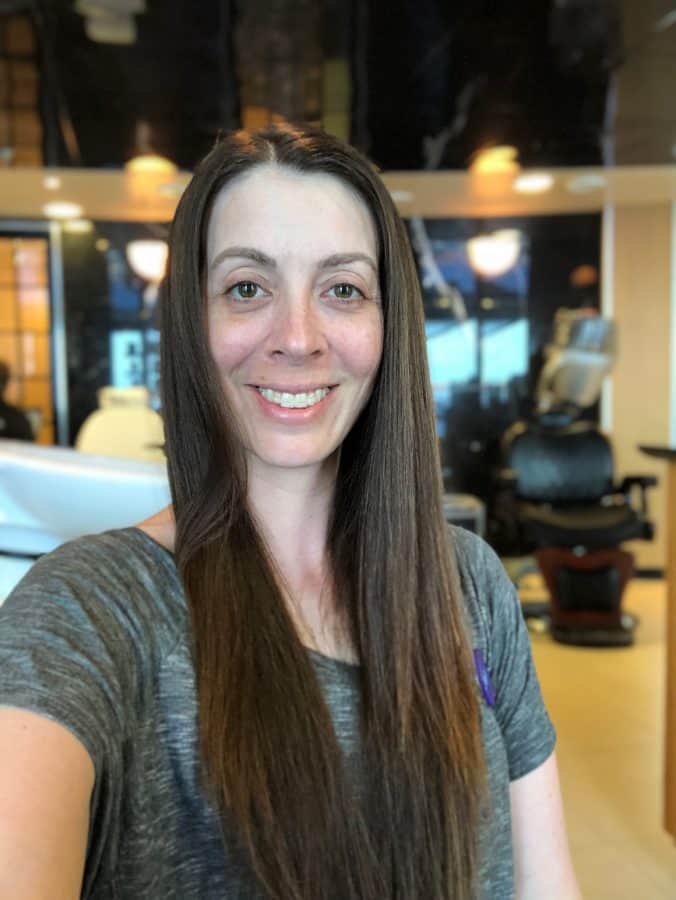 And the Lotus Spa and Salon are joined to the well-equipped gym with elliptical machines, treadmills, stationary bicycles, rowing machines, a wide-variety of weight machines, and classes taught by the personal trainers on staff.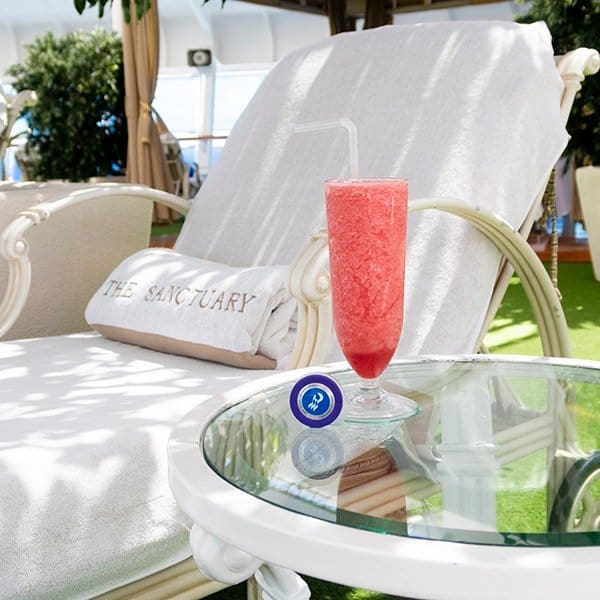 The Sanctuary
If you're on an adults-only retreat (or if you're cruising with the kids and they're at , you need to try out The Sanctuary; a luxurious spa-inspired top deck retreat, reserved just for adults.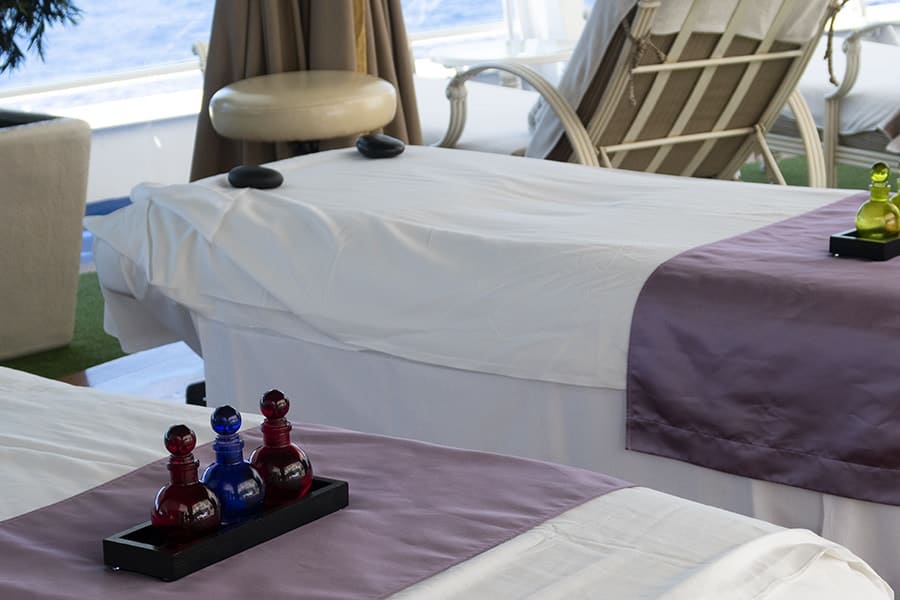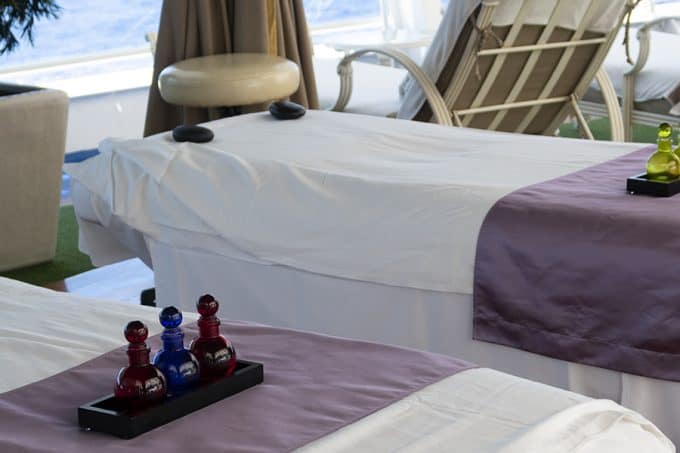 The Sanctuary has plush lounge chairs, attentive Serenity Steward service, soothing music, refreshing beverages and spa fare, and even an open-air massage in your own private cabana, if you fancy one! Check out this Sanctuary video to see what it's all about.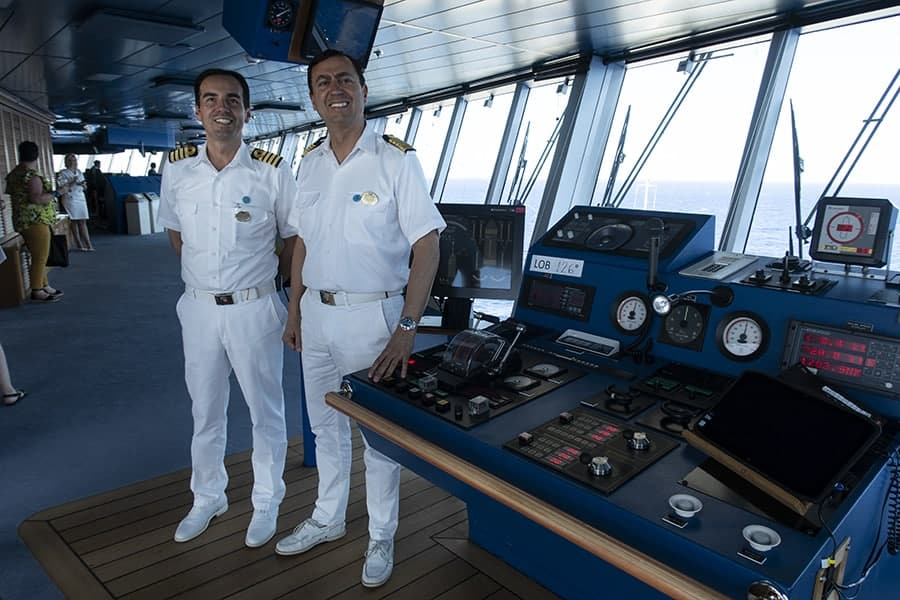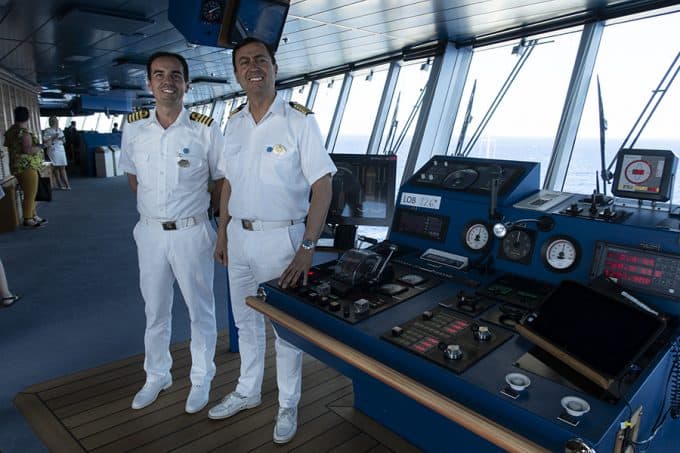 Ultimate Ship Tour including a Tour of the Bridge
This? This is for those of us who totally geek out at knowing how things work.
I love to chill on the ship. But MAN is it cool to get to see all of the hard work that goes on behind the scenes to make it all happen.
This is where the Ultimate Ship Tour positively shines. You can reserve a space in the Ultimate Ship Tour at the Reservations Deck once you're on board, but don't hesitate, because this one fills up fast, too!
While on the ship tour, you'll get to see the back stage area of the theatre while meeting the cast and production staff, tour the galley and food production area while enjoying a flute of champagne and some hors d'oevres and meeting the Executive Chef, see the Engine Control Room and meet the Chief Technical officer, meet the Chief Environmental Officer and learn how waste is disposed of and/or recycled on the ship, and go to the print shop to see the printing of the daily Princess Patter and receive personalized stationery.
But that's not nearly all! You also get to see the photo lab, where the all-digital photography on board is processed, Medical Center and meet the doctors and nurses (all certified maritime medical specialists) who keep the crew and guests healthy and help deal with any medical emergencies that arise, and then visit the impressive Main Laundry where they do over 20,000 towels alone daily; not to mention other linens.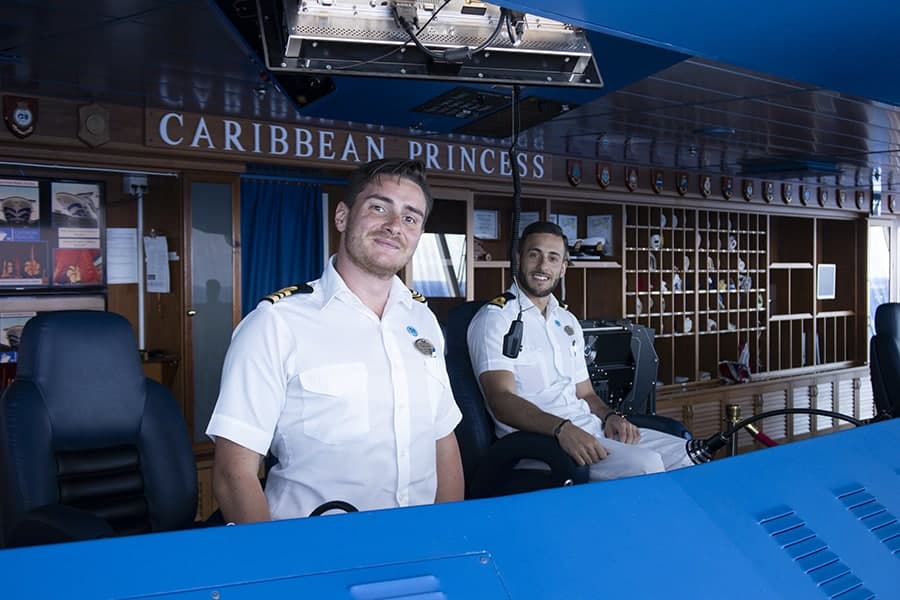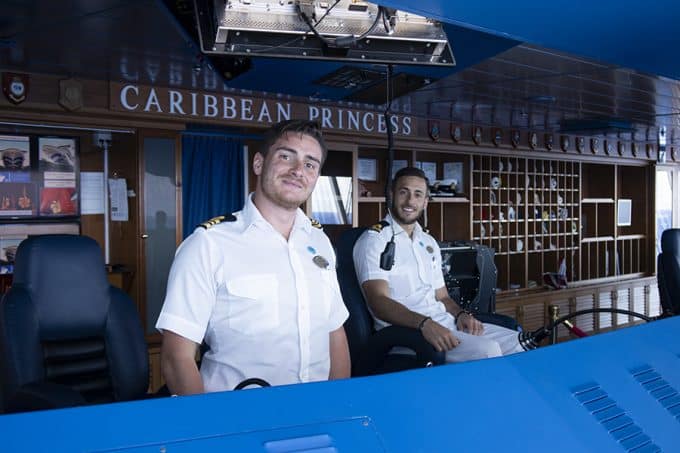 After all of that, you get to visit the Funnel: the upper most deck of the ship where you're joined by the Staff Captain who will treat you to unparalleled views of the ocean and the ship before concluding with a tour of the Bridge (squeal!) where you meet the Captain and his bridge team.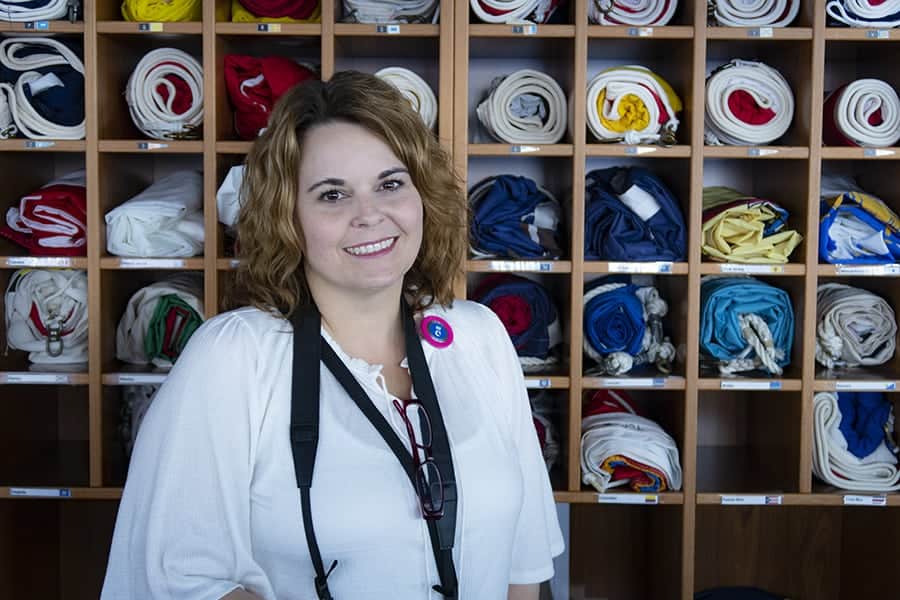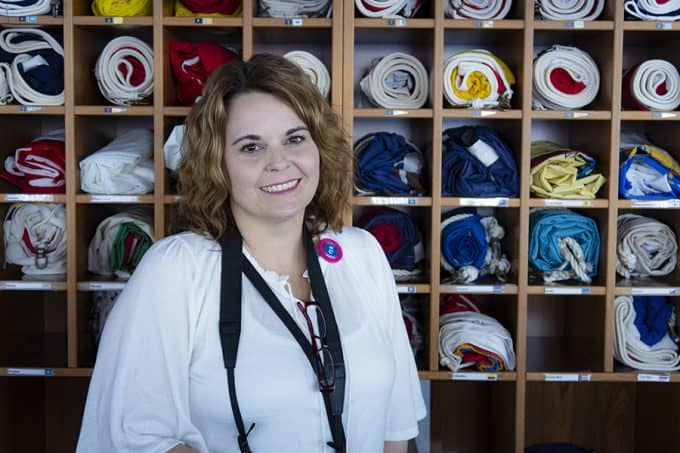 You're shown the state of the art navigational equipment, safety-systems on board, and enjoy refreshments and the stunning front-of-ship view before posing with the Captain at the wheel for a photo that will be framed and delivered to you in your stateroom later.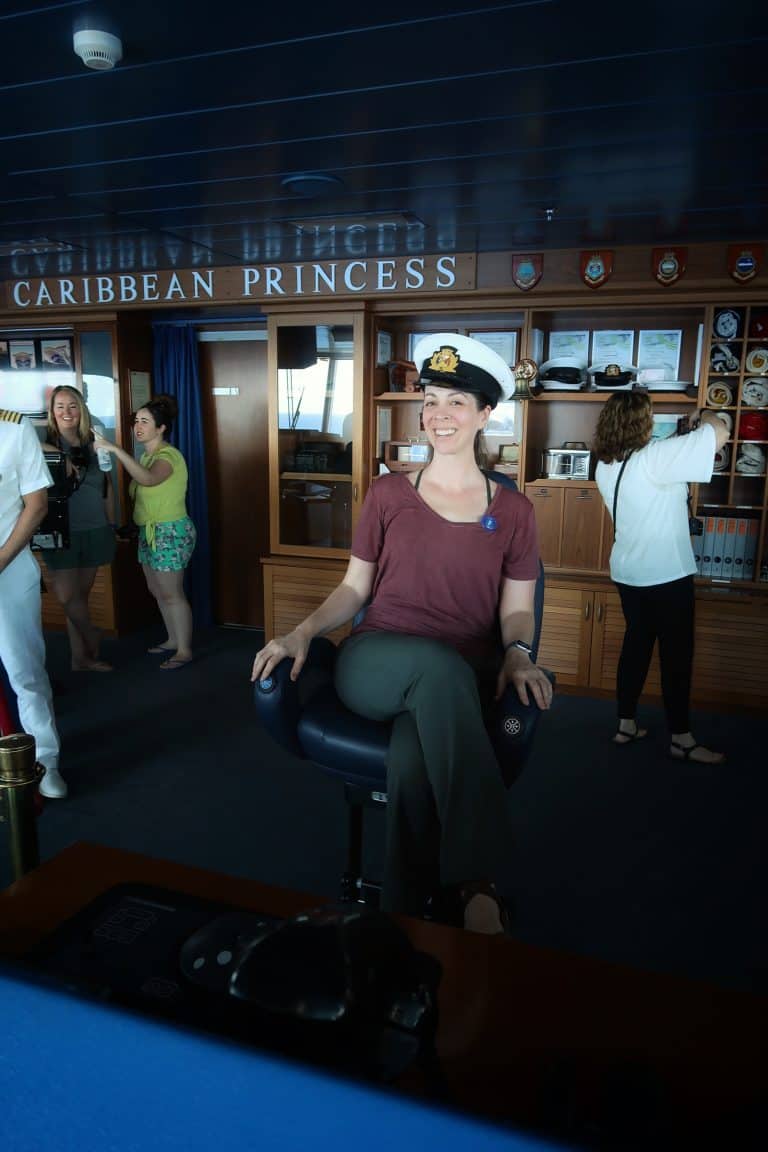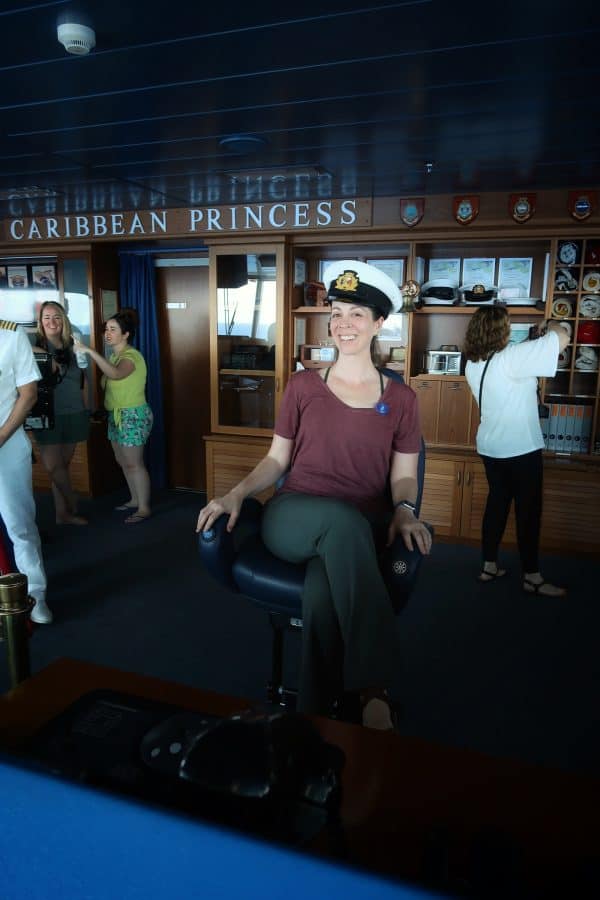 Again, this one fills up fast, so be sure to get to the Reservations Desk as soon as you're settled into your cabin to secure a spot on the tour for yourself!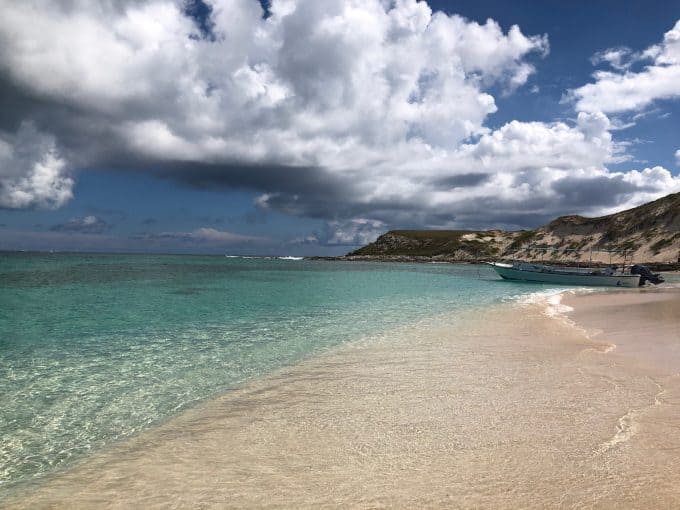 Caribbean Princess Eastern Caribbean Port Excursions
My favourite excursions or experiences in the Eastern Caribbean are the Scuba and Sting Ray Experience in Grand Turk, RePapel in the Dominican Republic, and showing myself around San Juan, Puerto Rico. See below for more details.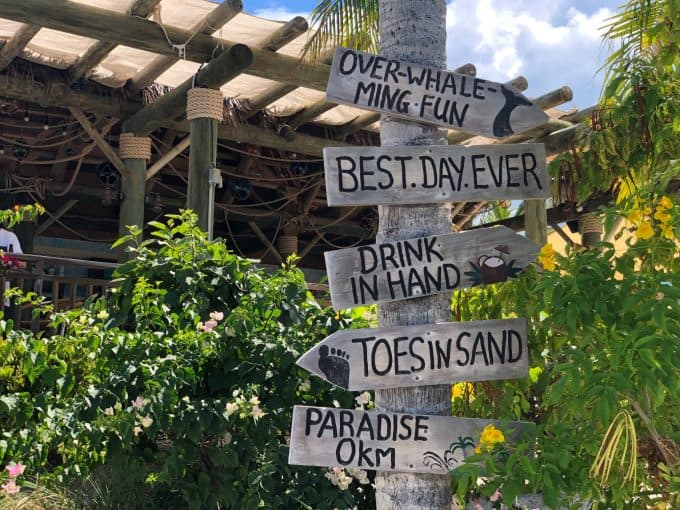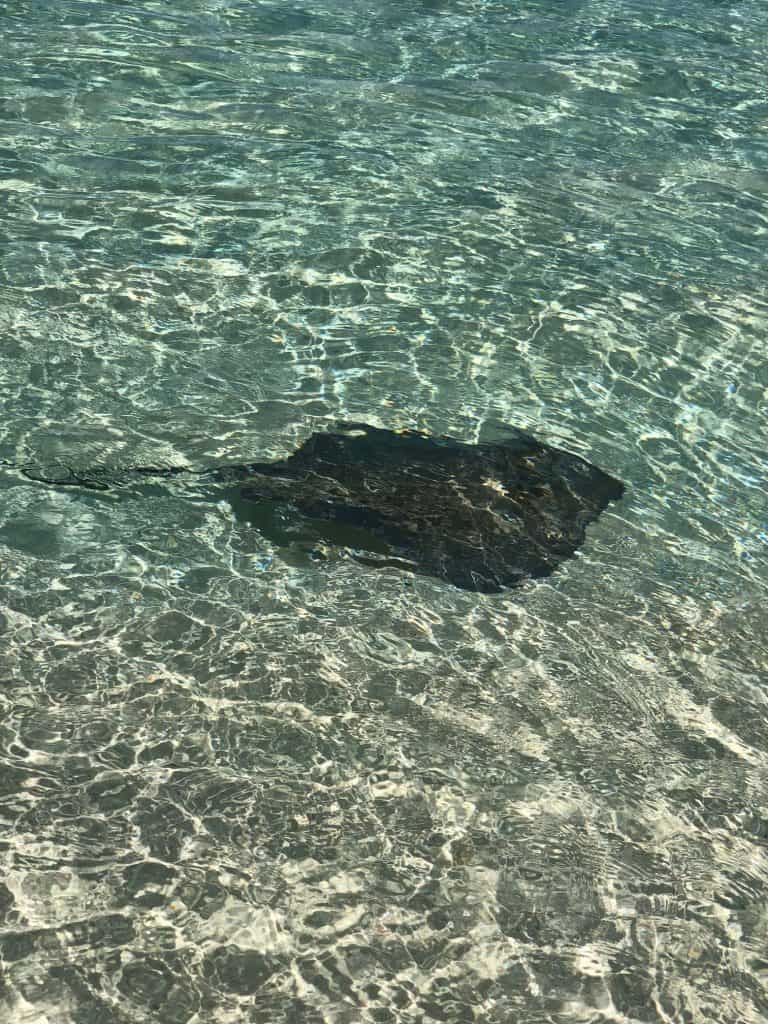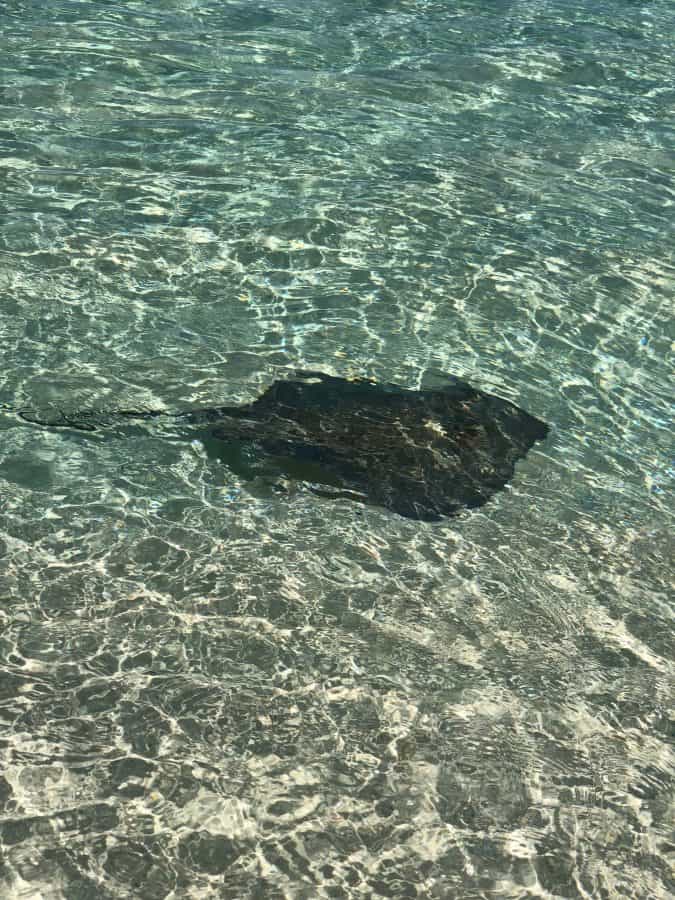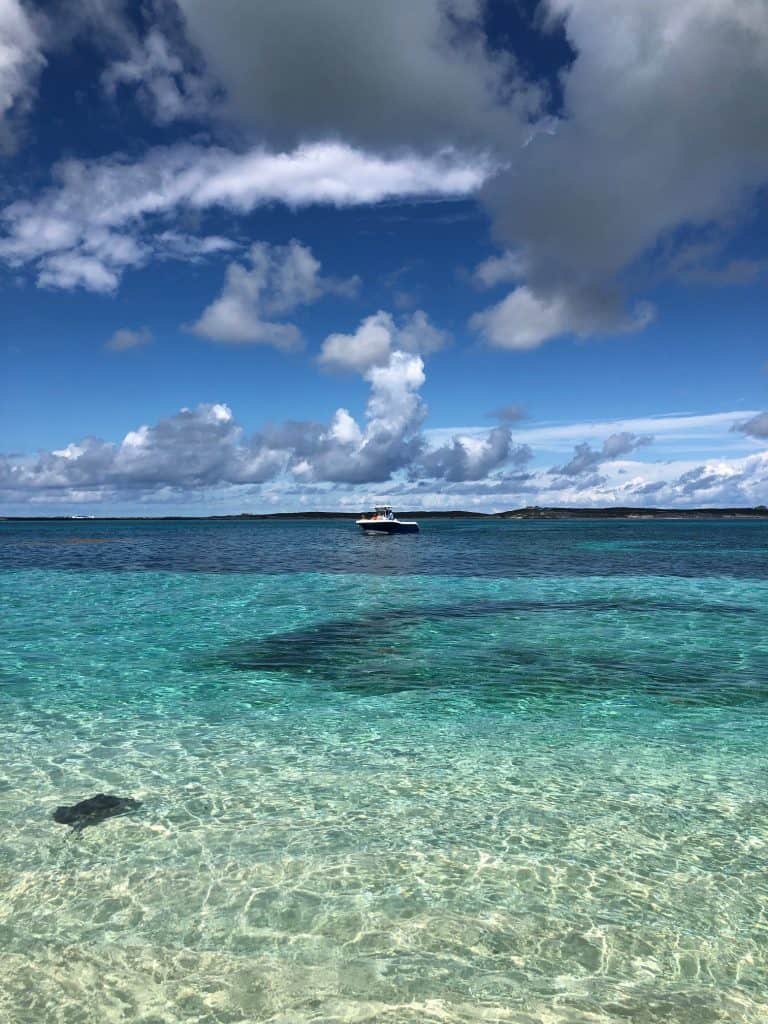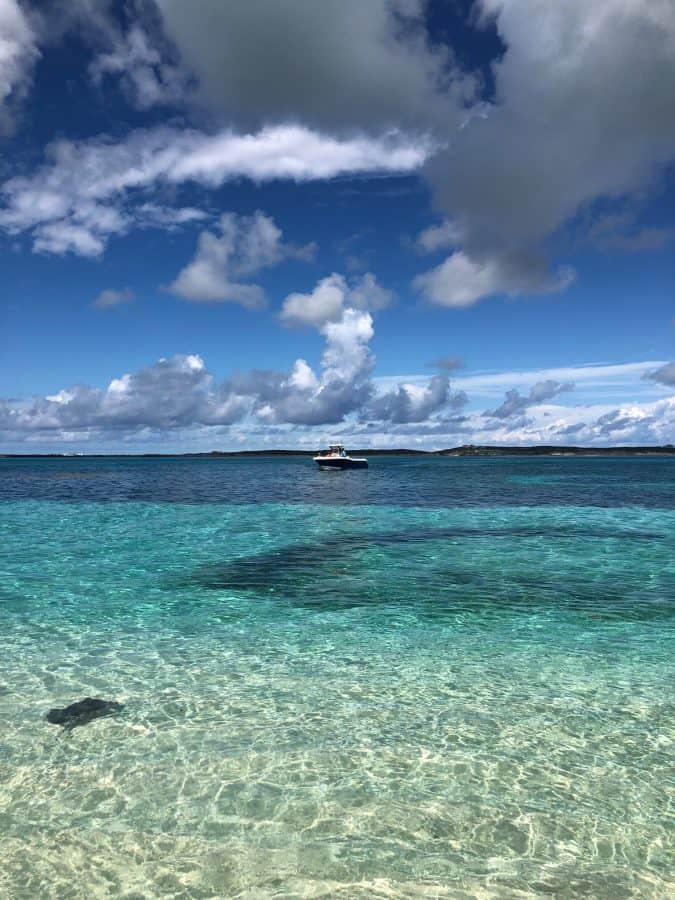 You start your adventure by boarding a vessel that takes you to a coral reef in pristine, aqua waters where snorkeling instructors provide snorkeling gear and instruction for those who have never snorkeled before. Enjoy the views and the local aquatic life before re-boarding your vessel and traveling to Gibb's Cay (a.k.a. Stingray City).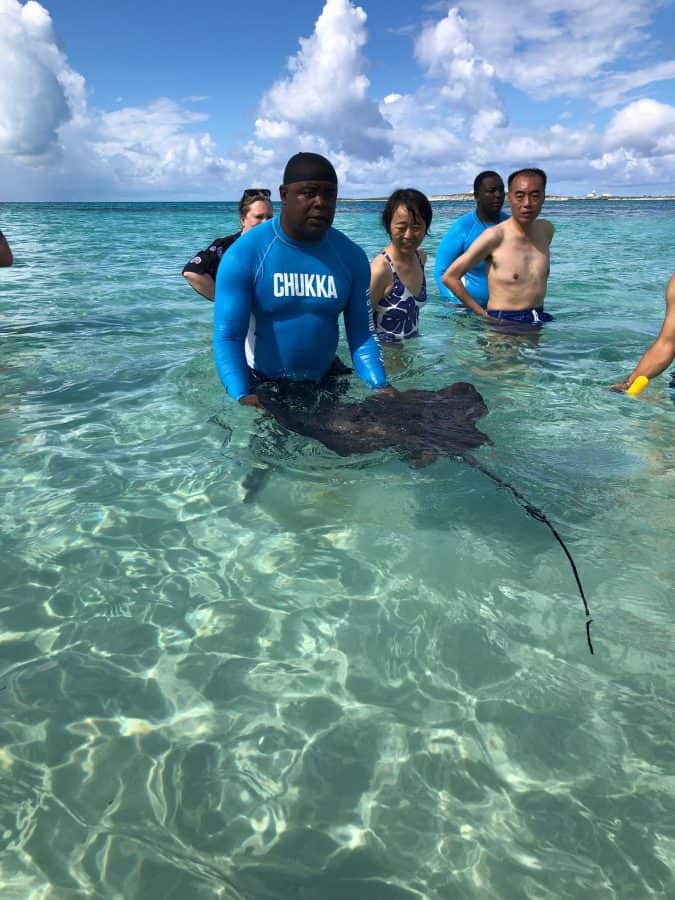 This uninhabited little island where stingrays congregate in vast numbers in shallow water is about one mile off the eastern coast of Grand Turk. Swimming with stingrays is an unforgettable experience, as they are friendly and inquisitive, having grown up around people and local guides who feed them bits of squid and fish.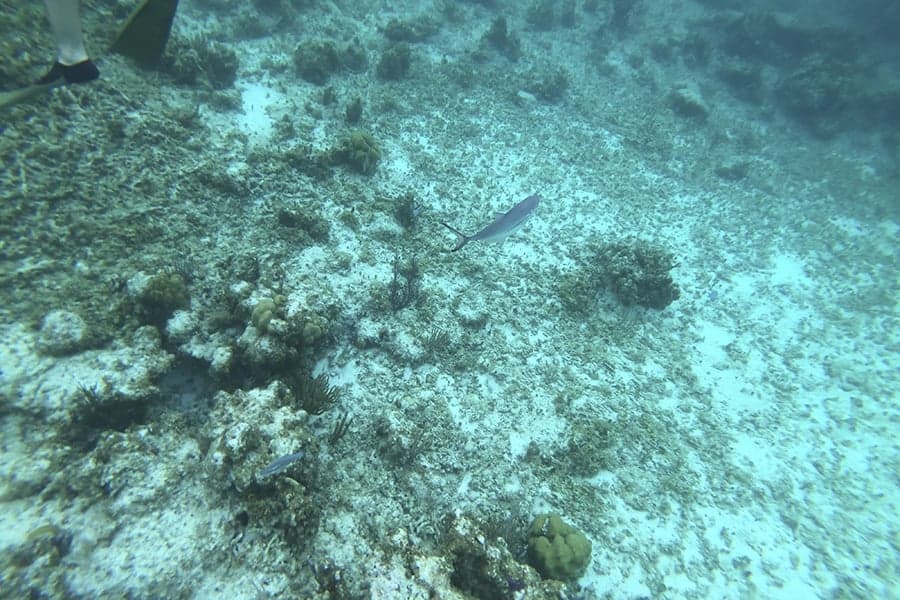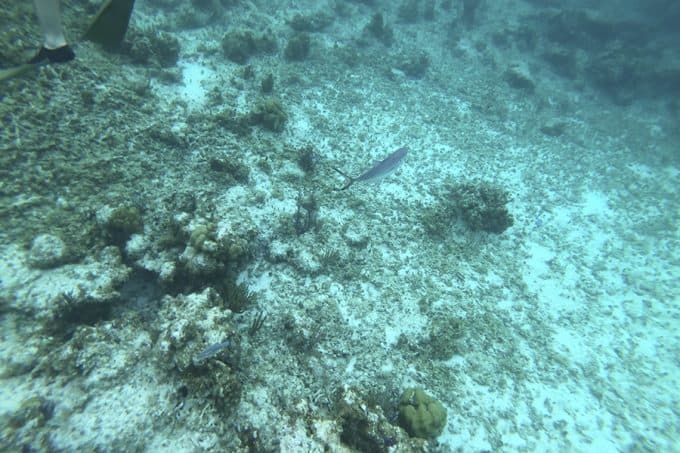 Watch as they gracefully approach the guides who will handle and feed the marine creatures and instruct guests on how to interact with and feed them as well. The sand is powdery soft, but if you want to explore inland, you'll want shoes for the rocky terrain.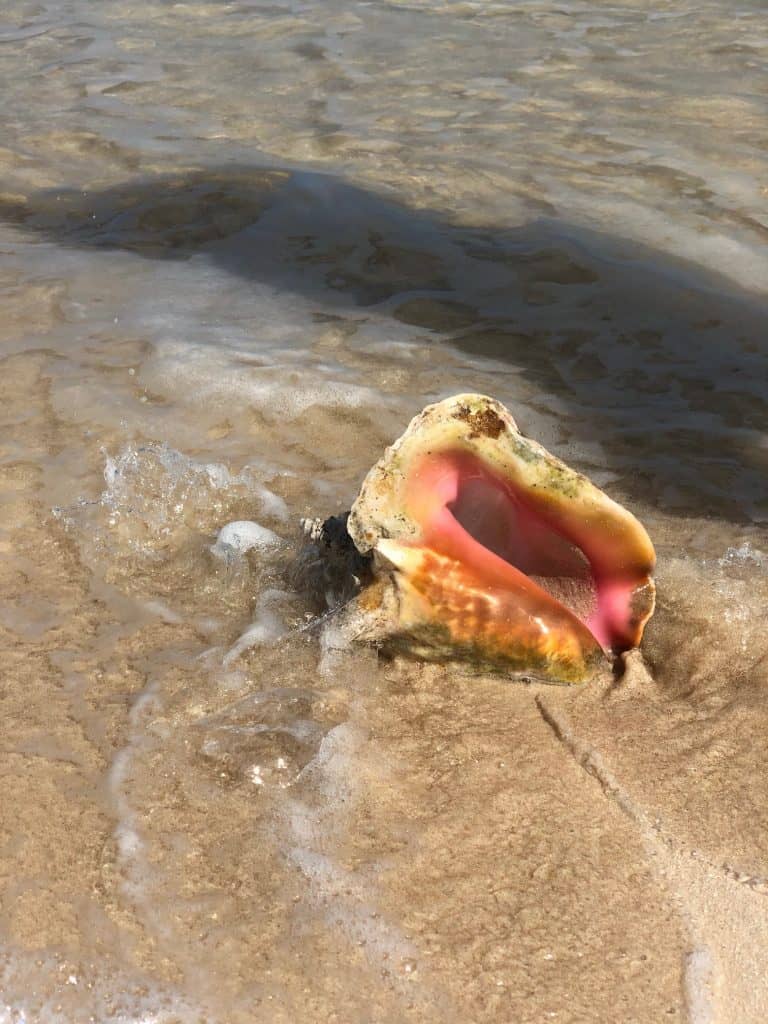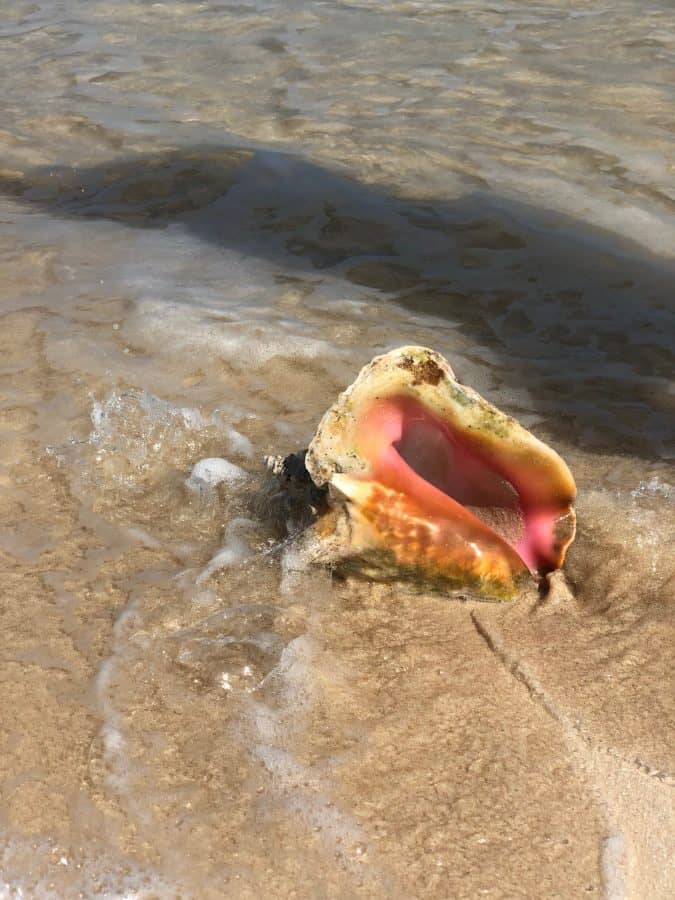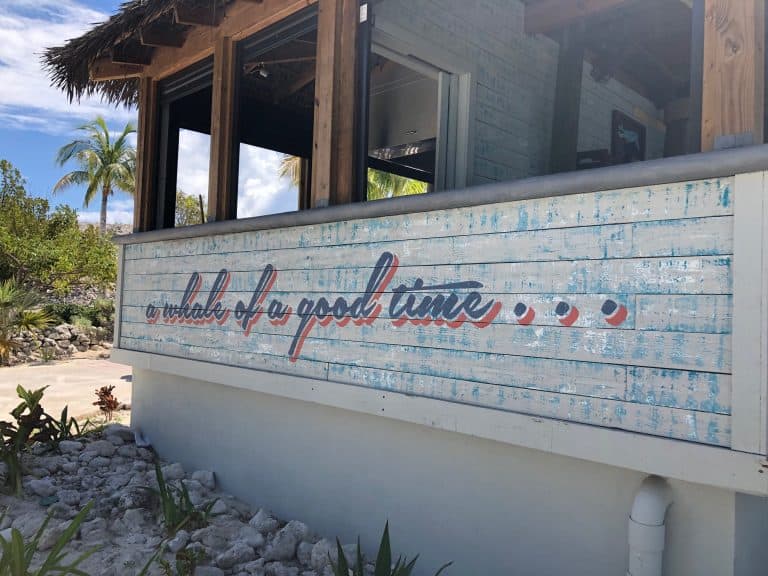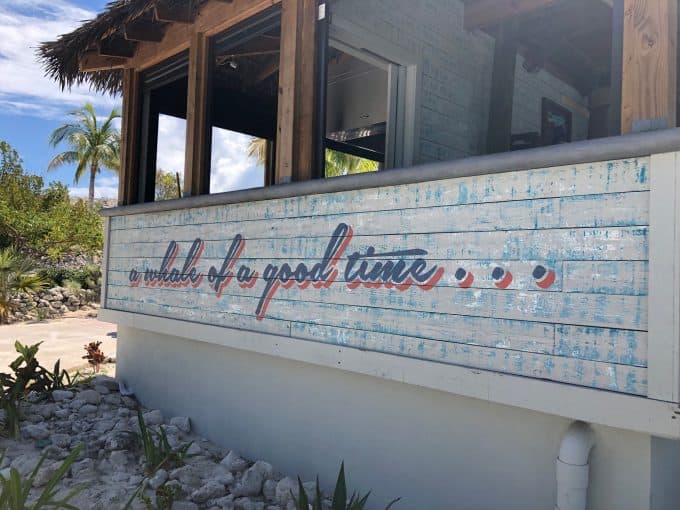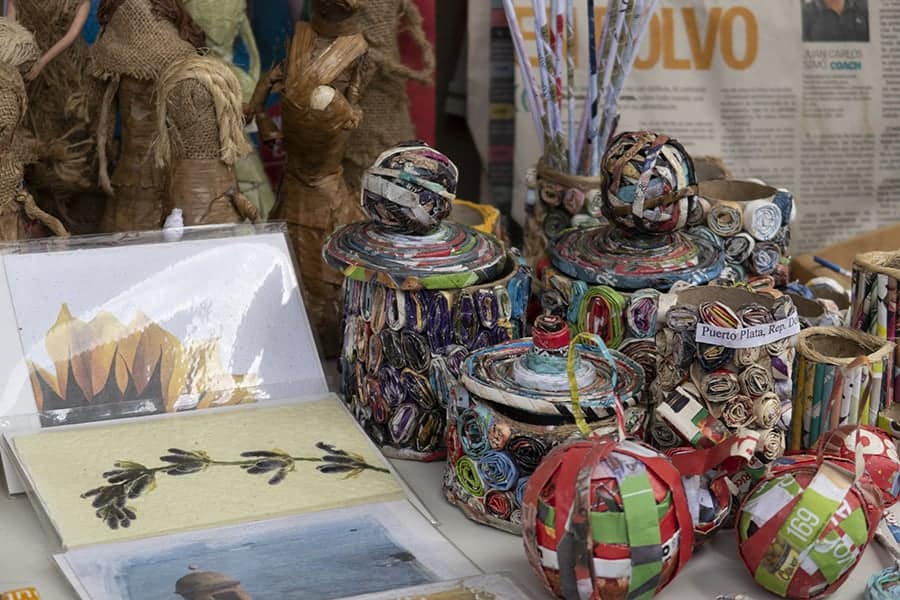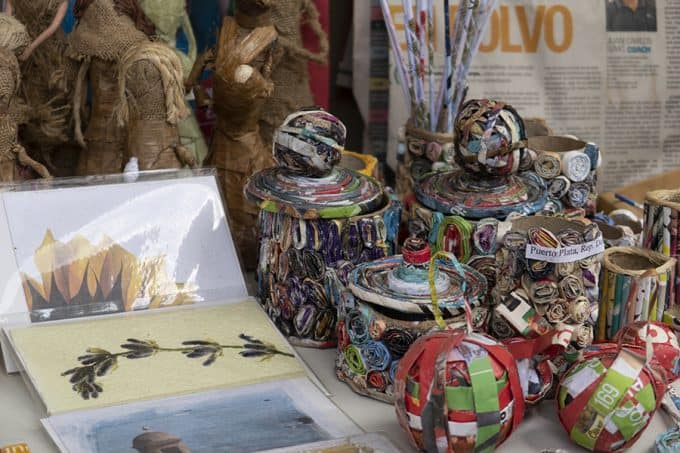 This excursion has my heart 100%. Founded in 1998, RePapel is a cooperative for recycling paper and crafts, located in a small Dominican village.
It began as a way to teach recycling to the community but burgeoned into a women run organization that turns old office paper and other recyclables are repurposed into beautiful paper products and crafts.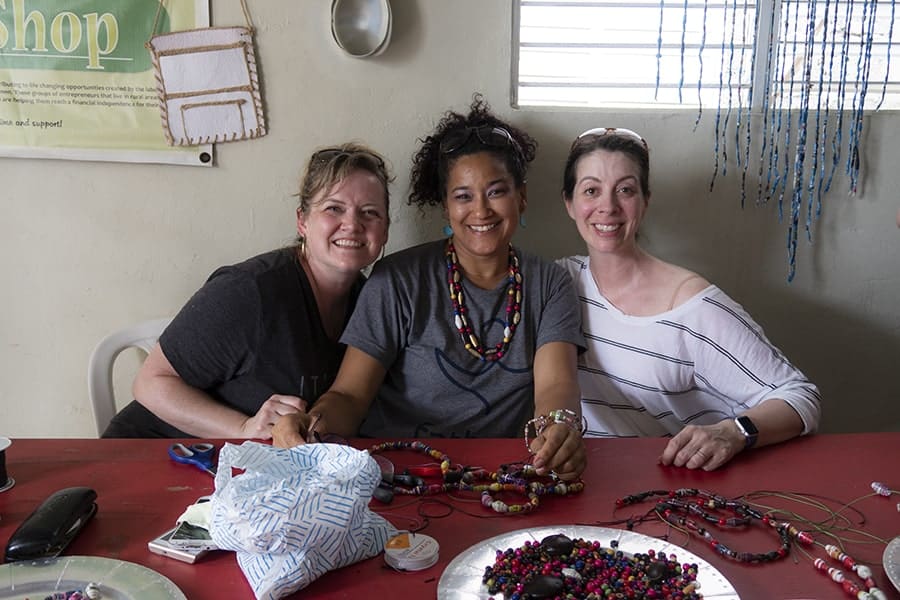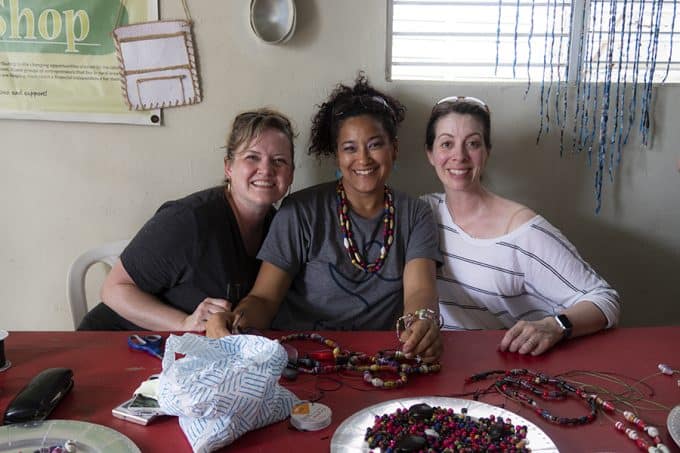 There are several work stations where you can engage in DIY activities such as jewelry and candle making, sewing, and recycling colored paper into usable stationery and art. Your visit also helps tutor the women who work here in English which improves their ability to make a living in the thriving tourism trade in the DR.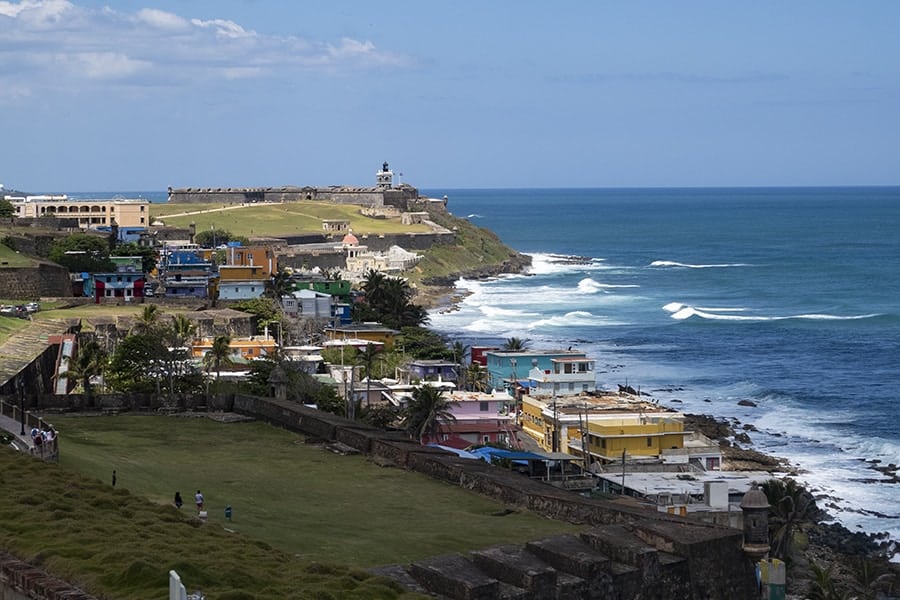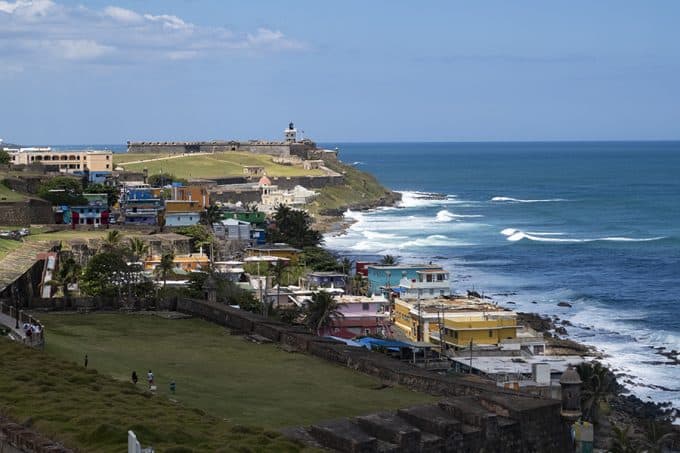 San Juan, Puerto Rico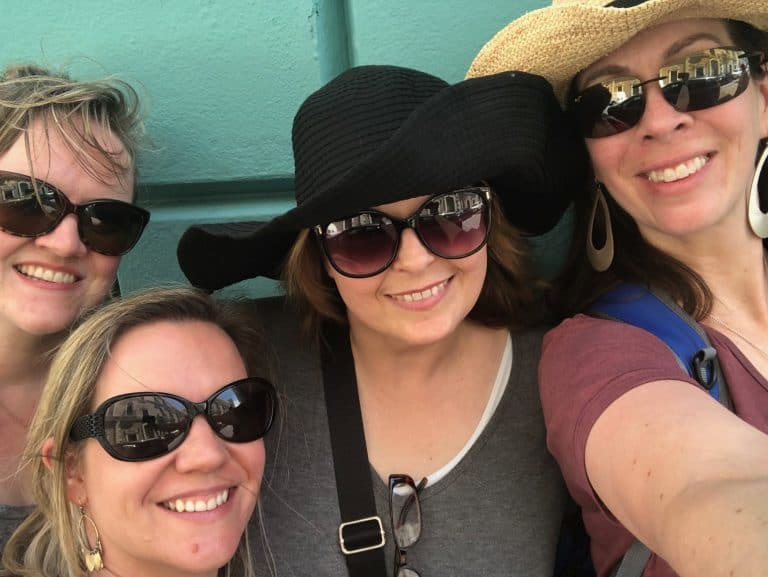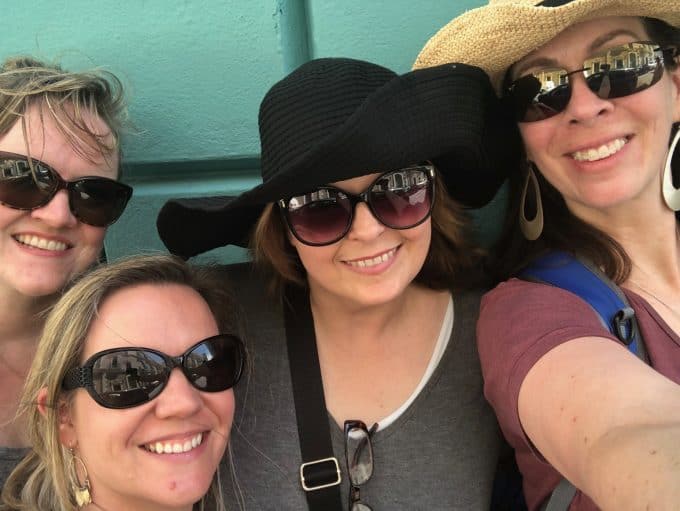 San Juan is Puerto Rico's largest city as well as being its capital. Because we have a very good friend who hails from Puerto Rico, we decided to take her advice on what to do while we were in the city rather than take a planned excursion.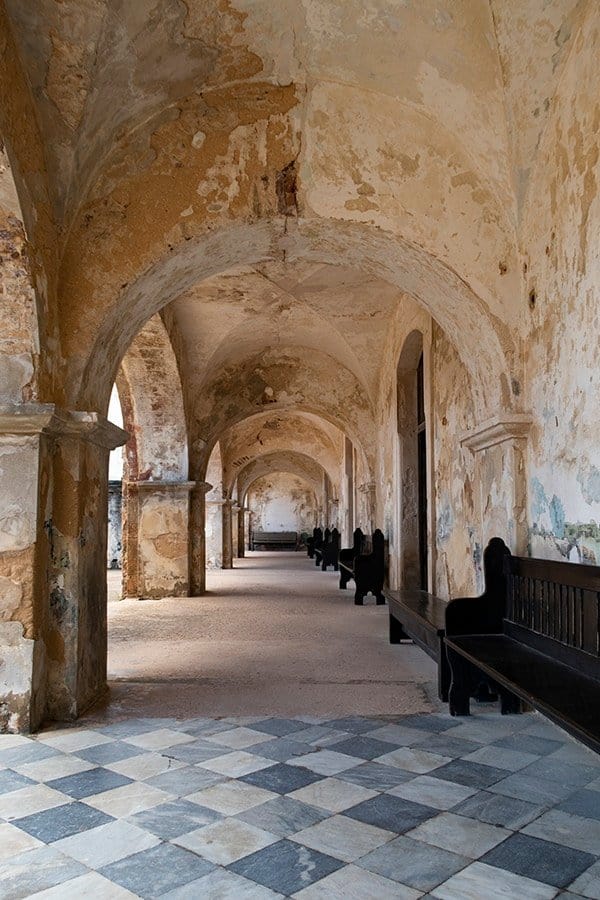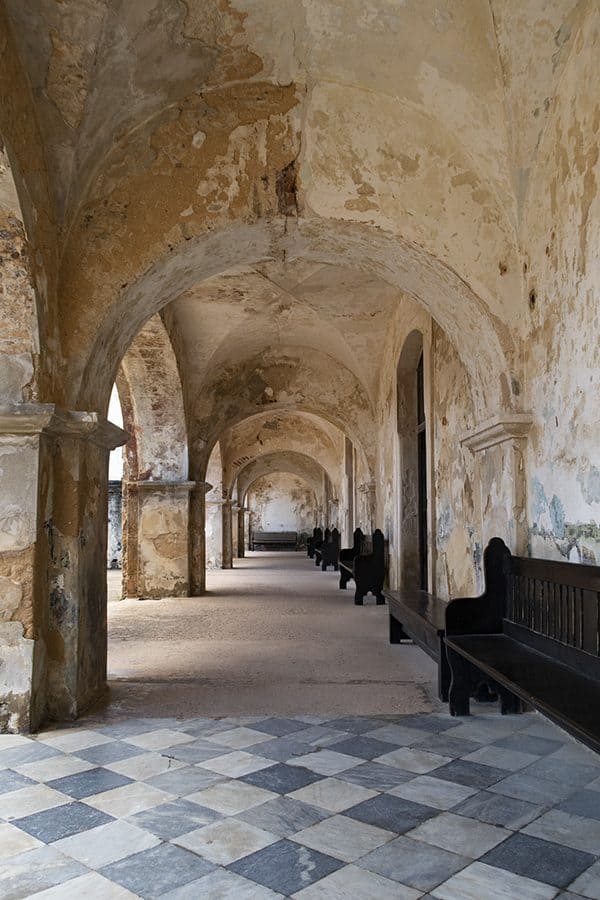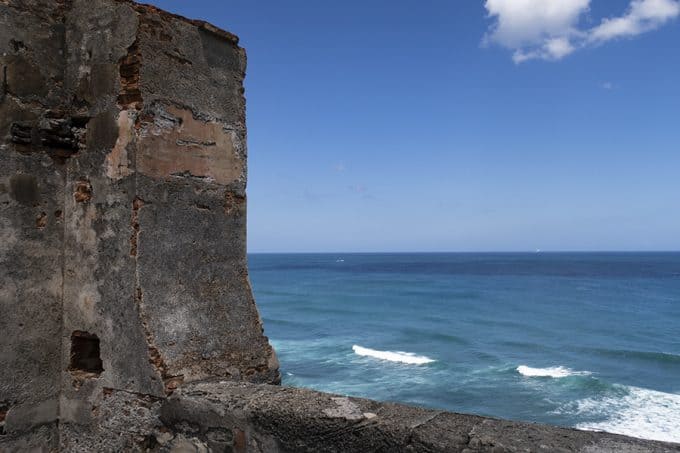 Puerto Rico is an unincorporated territory of the United States, so it is particularly well suited to wandering. First, we visited the Castillo San Felipe del Morro, which is a UNESCO World Heritage Site.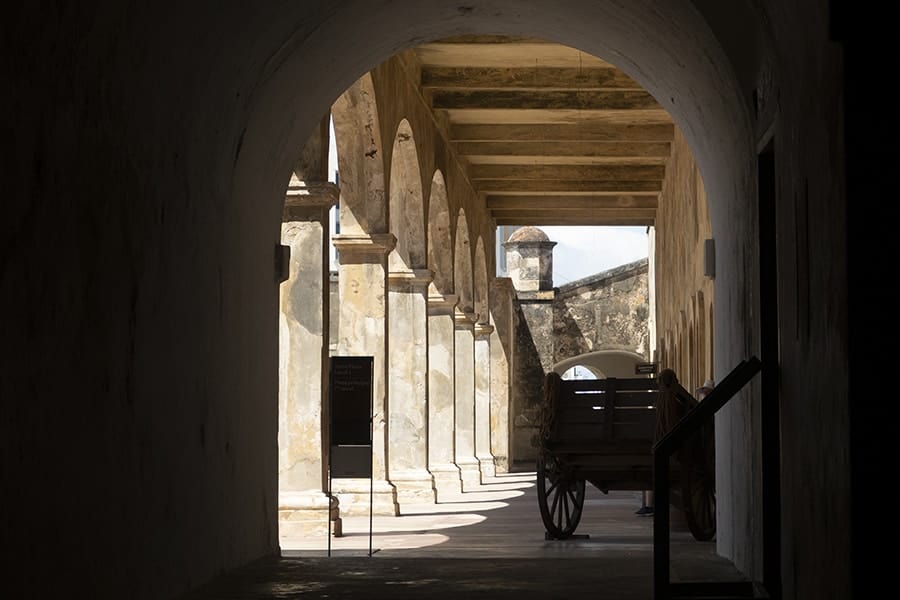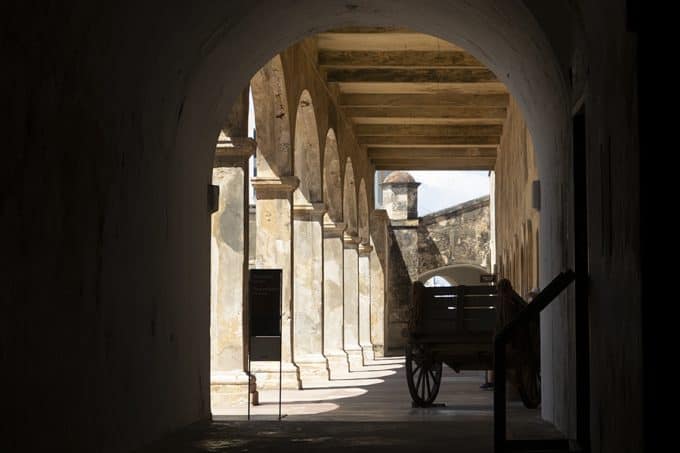 From the time you enter the gates until you reach the tops of the battlement walls, every angle has beautiful views of the Atlantic,  San Juan, or the gorgeous Fort itself.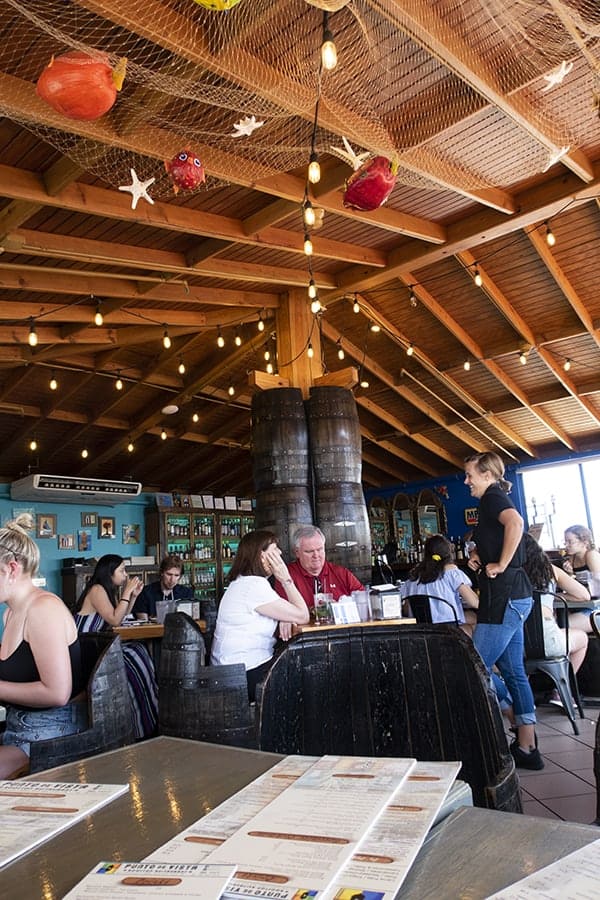 From the fort, we made our way to Punto de Vista, a rooftop restaurant with open air seating, excellent mojitos, and the best beef mofongo I have ever had.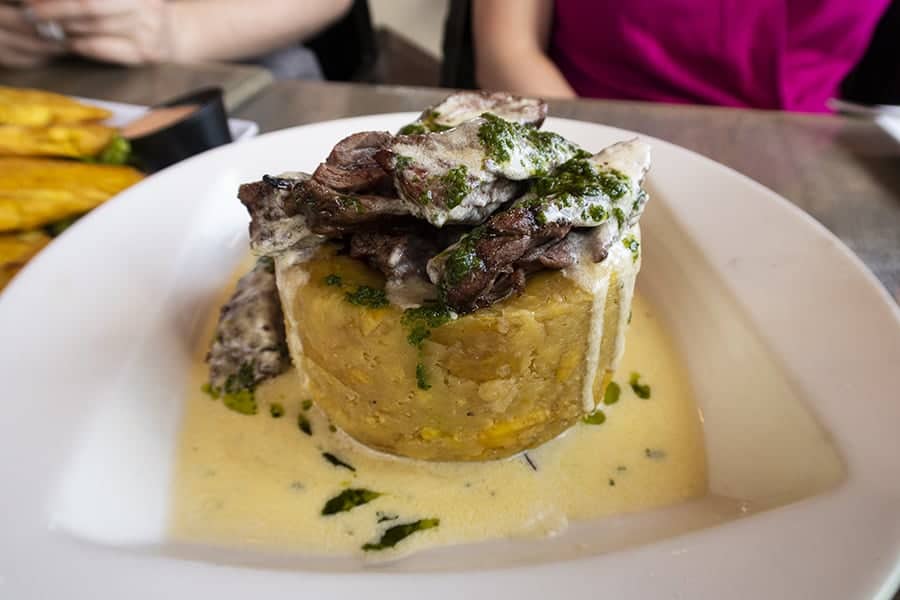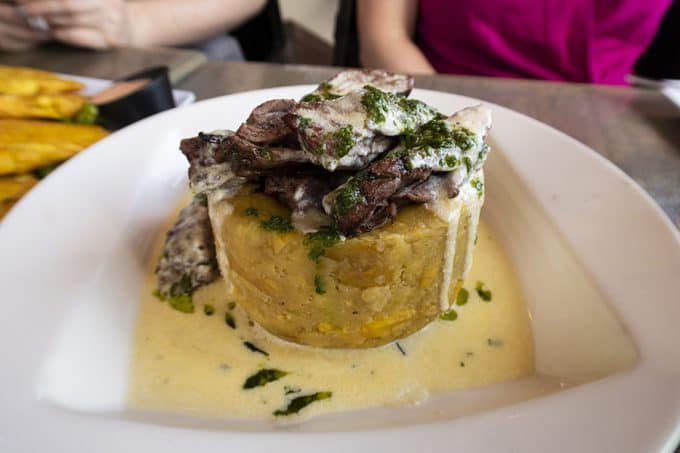 That mofongo was memorable! So were the salt cod fritters and croquettas we had.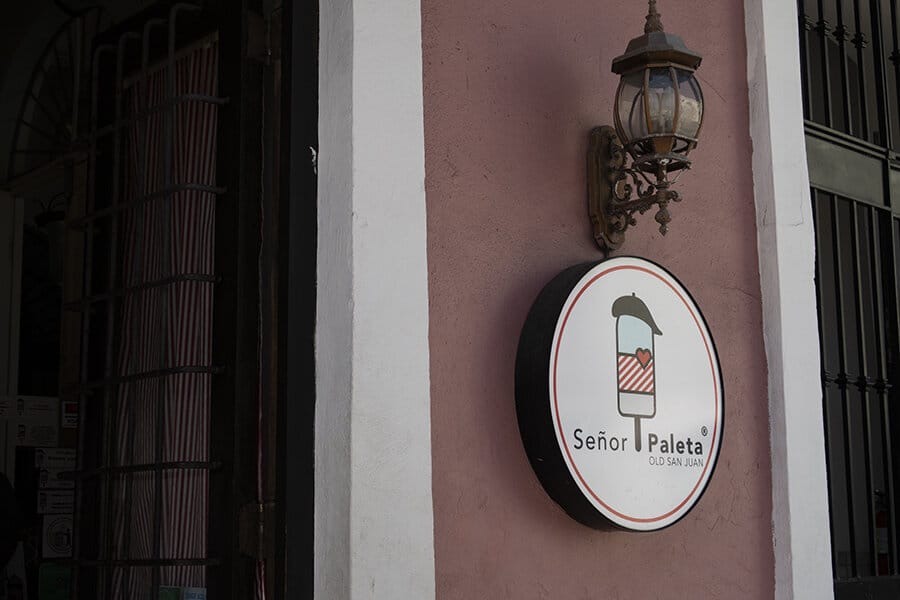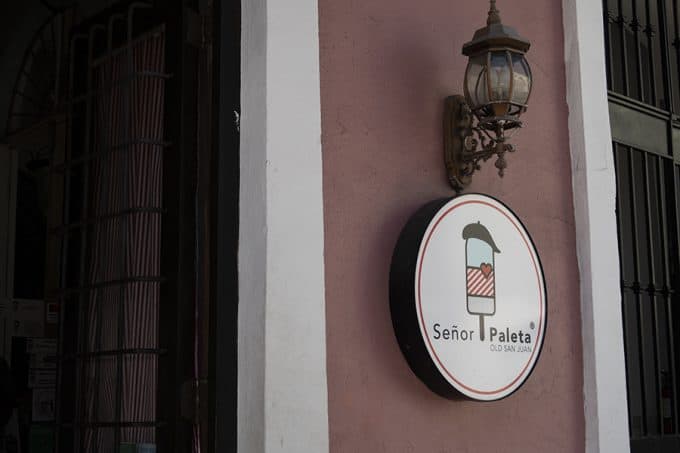 While no one could argue that we were still hungry, we opted to cap off our little walking tour of Old San Juan (which was gorgeous at every turn) with some icy popsicles or paletas before we returned to the ship.
We popped into Señor Paleta and fell in love.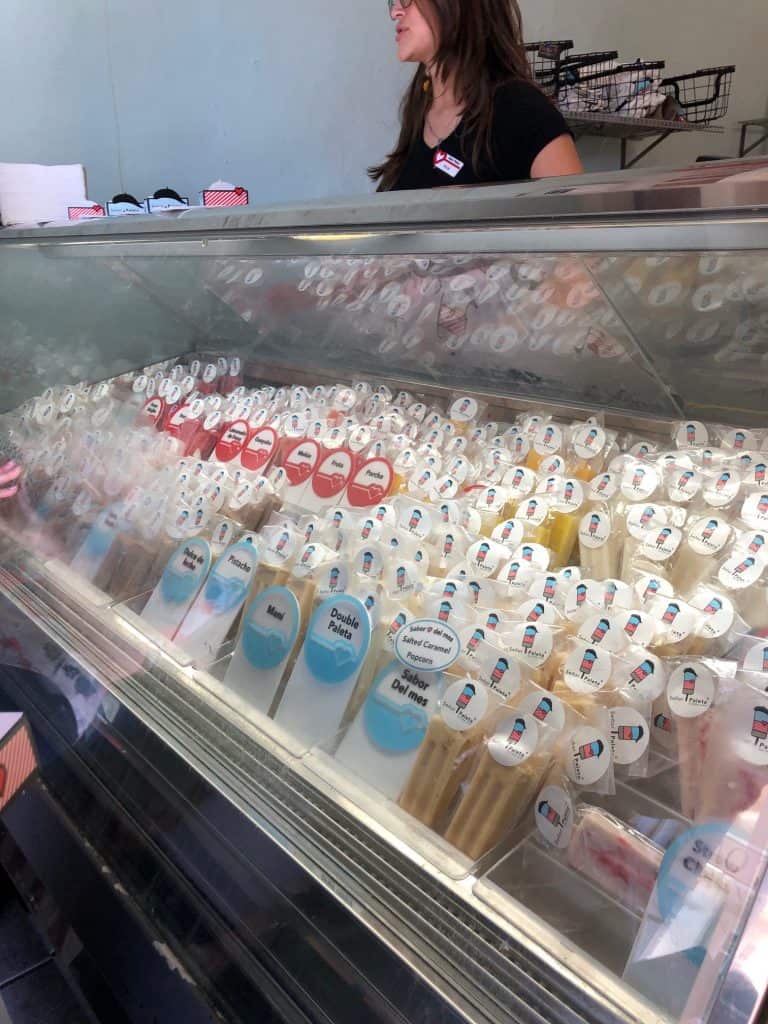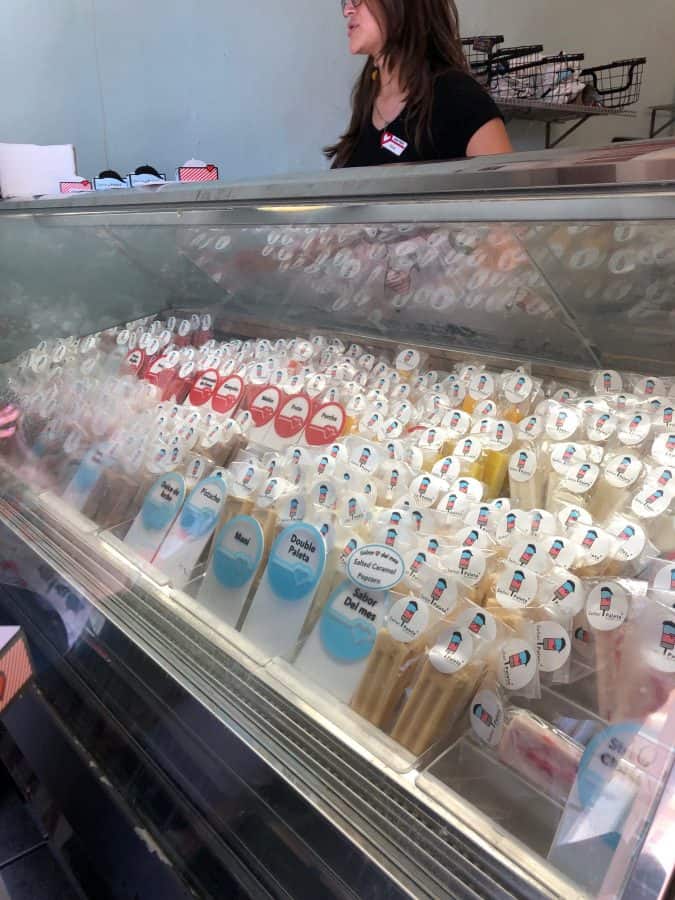 They had a couple dozen unique and mouthwatering varieties of all-natural paletas from which to choose. I opted for a Strawberry Mojito that cooled me off and made me happy.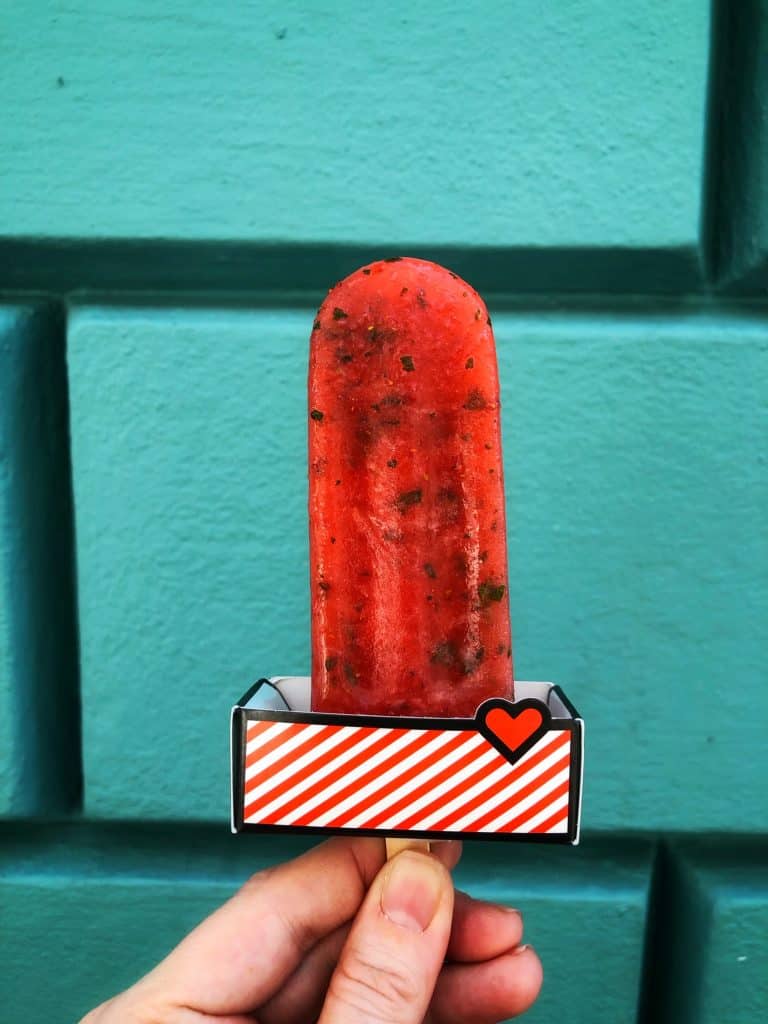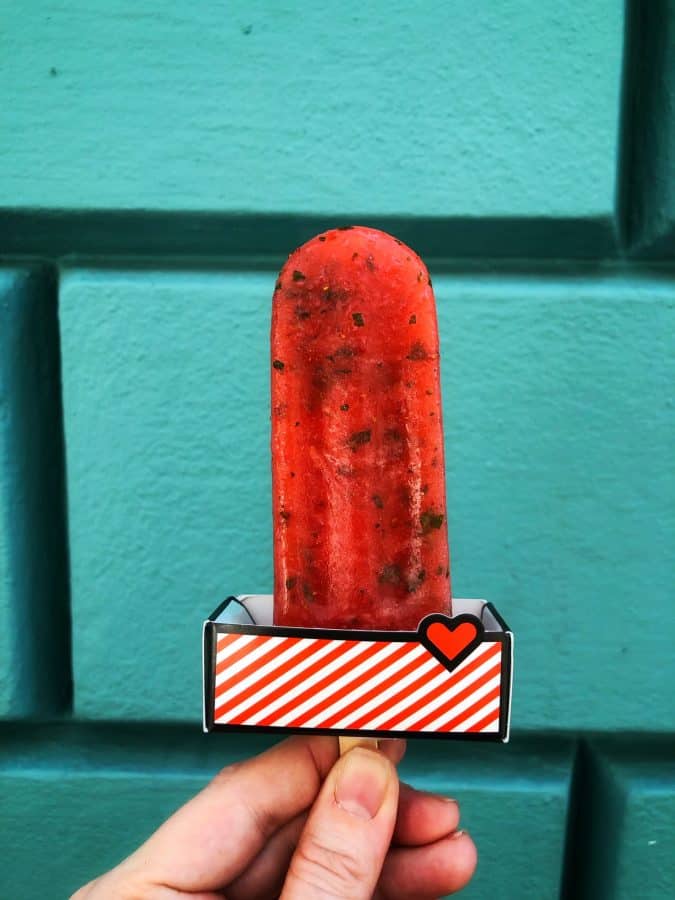 Grapefruit Sorbet
Speaking of things that make me happy, we need to discuss this Grapefruit Sorbet recipe I'm sharing today. It is pure, puckery but sweet grapefruit goodness in an ultra smooth, never-ice-crystal-ridden sorbet that you can churn in an ice cream maker or freeze in ice cubes to blitz in a food processor or blender.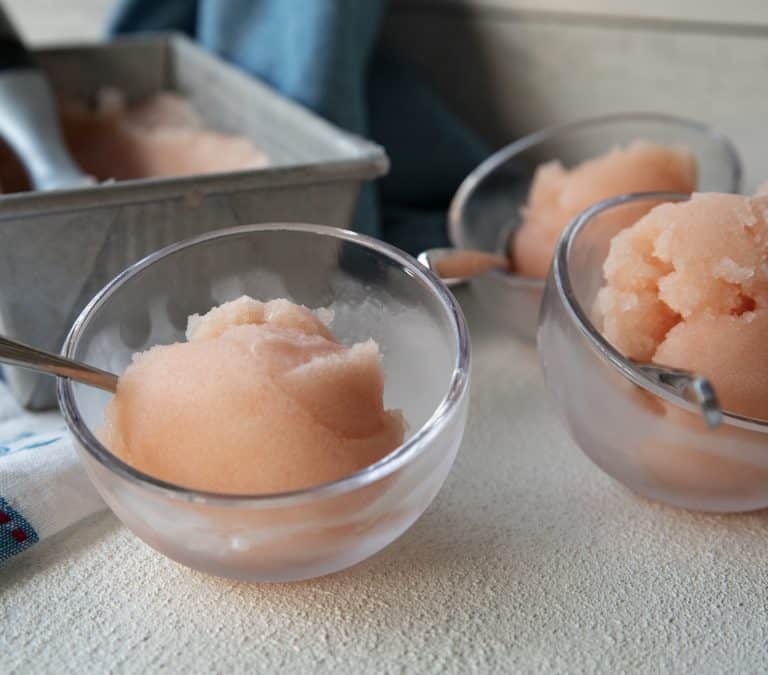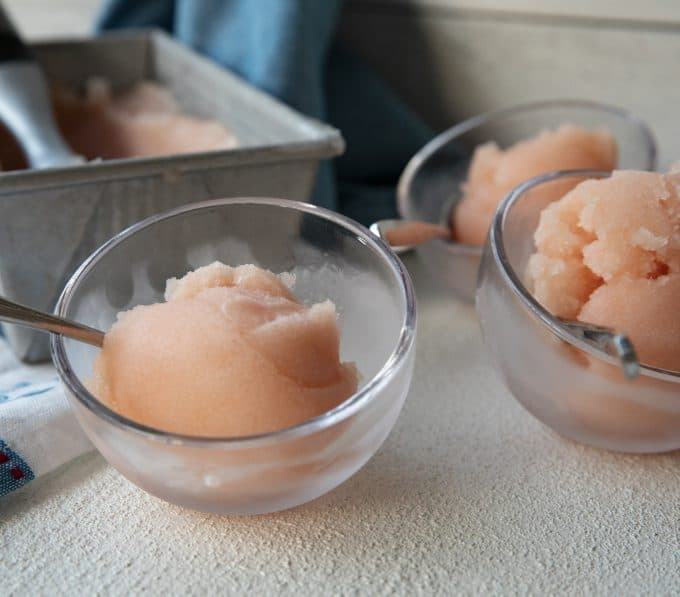 Sorbet is such an easy way to cap off a meal in a way that screams dessert without being too sweet. It's a particularly excellent way to end a heavier meal or a meal on a very hot day.
The key to getting a great grapefruit sorbet is to start with fresh grapefruits and juice them yourself. It just isn't the same if you start with bottled grapefruit juice.
While some homemade sorbets suffer some textural issues like freezing too firm or having large ice crystals, our Grapefruit Sorbet has no problems because of one handy dandy little not-so-secret ingredient: Gin. If you're not a fan of gin's distinctive juniper taste, you can swap in vodka.
The alcohol keeps the ice crystals small and keeps the sorbet scoopable even when you've forgotten it in the back of the freezer for three or four weeks. Go ahead. Ask me now I know this.
Using gin or vodka in the sorbet makes it taste a frozen Greyhound cocktail. You can absolutely omit the liquor, but to keep your texture lovely, you'll want to boost the corn syrup quantity by 2 tablespoons.
This is because the alcohol lowers the hard-freeze temperature of the sorbet so that you don't get those large ice crystals. Corn syrup has a similar effect, making your resulting sorbet silky and smooth.
…Should you want to make this into a more sophisticated palate cleanser like we had at the Chef's Table, feel free to pour a shot of gin or vodka over a hearty scoop of the Grapefruit sorbet in a small bowl and serve it between courses or as dessert.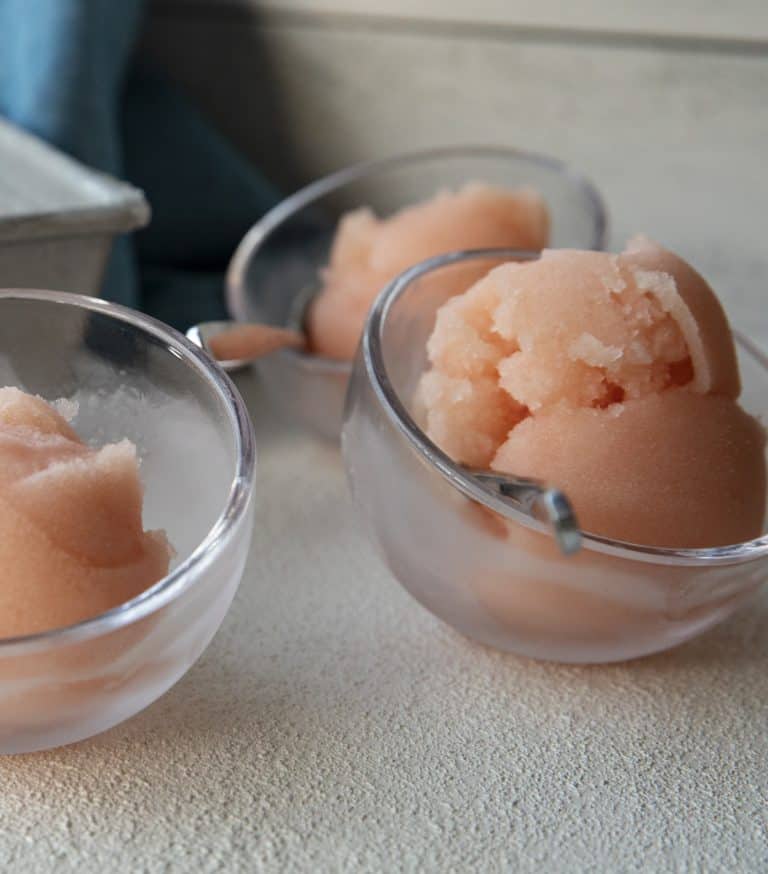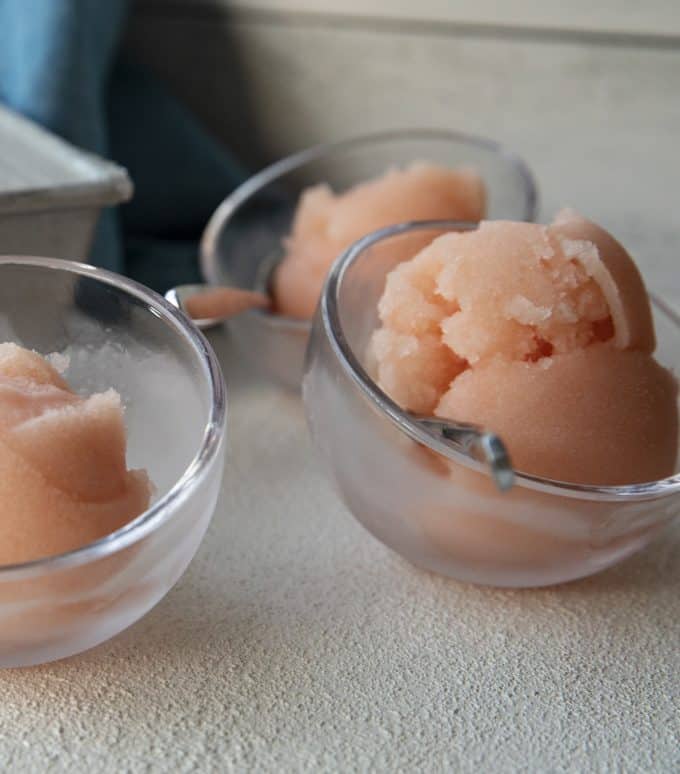 Grapefruit Sorbet
-In a small saucepan, heat 1 cup of the grapefruit juice with the sugar and corn syrup over low heat, stirring just until the sugar is fully dissolved.
-Stir the sugar mixture into the remaining grapefruit juice, then stir in the gin or vodka. Chill the mixture thoroughly before proceeding.
-Churn the sorbet according to the instructions from your ice cream maker's manufacturer OR pour the mixture into ice cube trays and freeze until solid. If you churn the sorbet, scrape the churned product into a freezer-safe container with a tight fitting lid and freeze for at least 3 hours before scooping.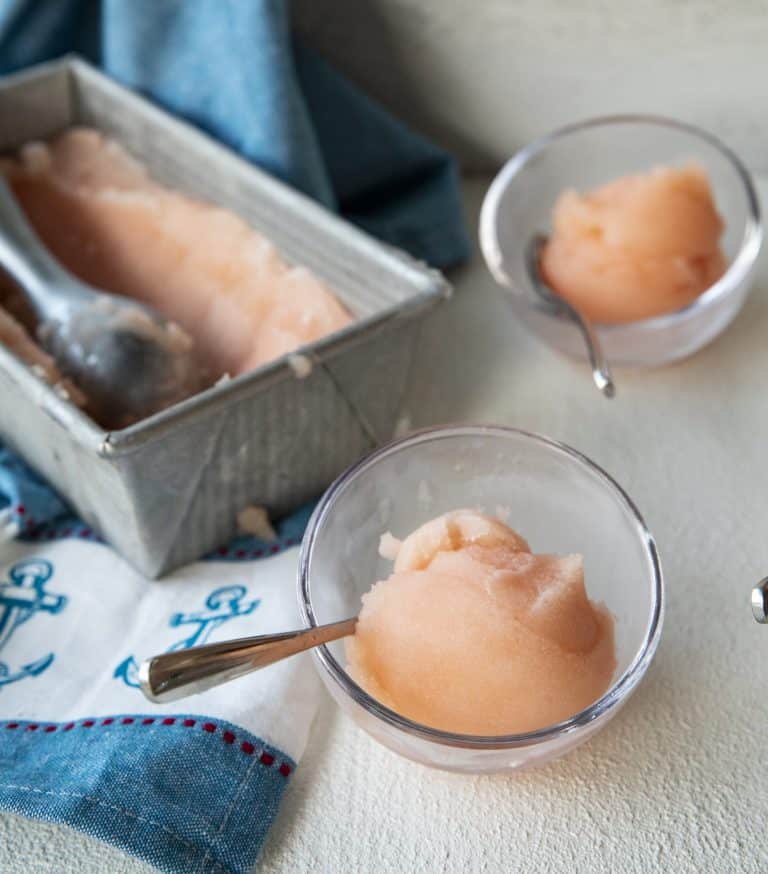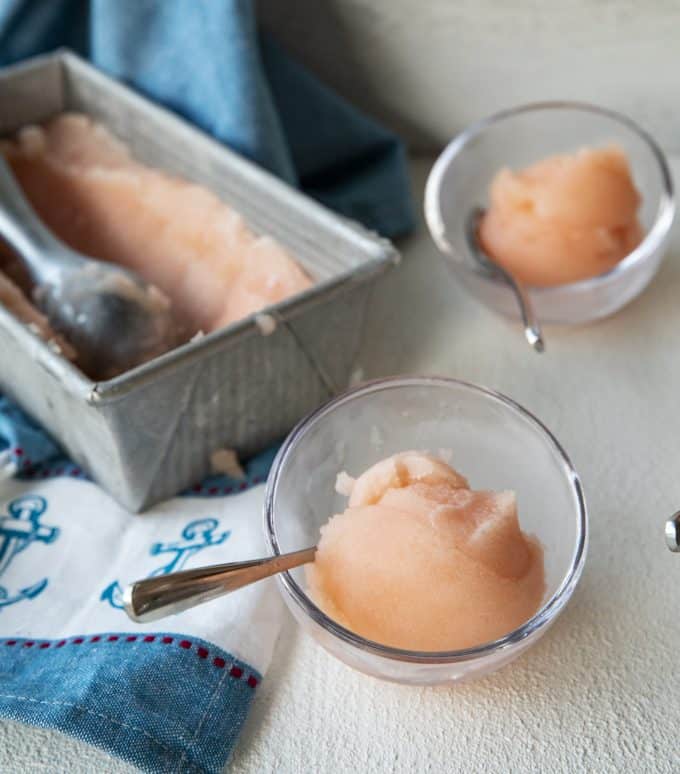 To Make Grapefruit Sorbet without an Ice Cream Maker
-To "sorbet-ify" your frozen cubes of sorbet mixture, add the desired number of cubes to a food processor or blender fitted with a metal blade and pulse until smooth. Serve immediately.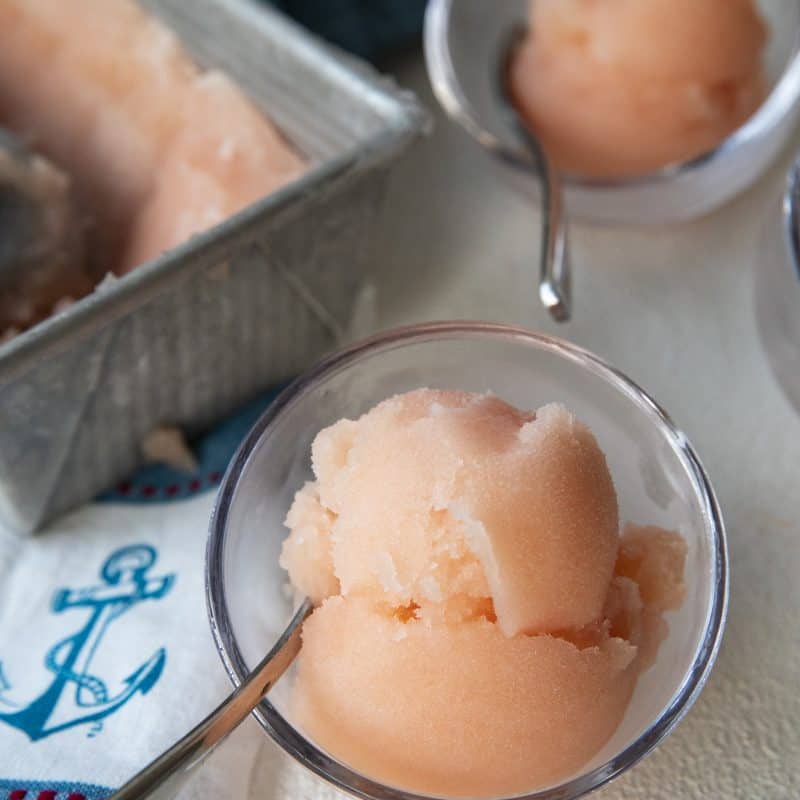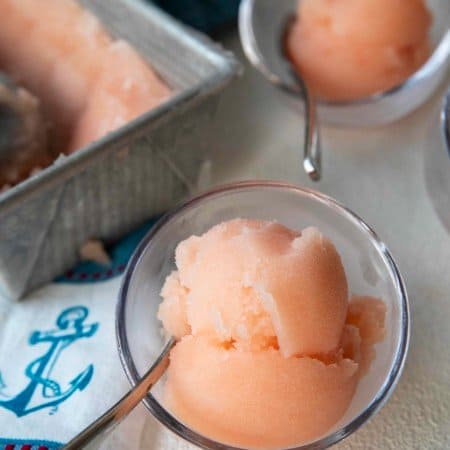 Crisp, refreshing, smooth and silky in texture, this grapefruit sorbet makes a great dessert by itself or cocktail when doused with a shot of gin or vodka.


Ingredients
3

cups

freshly squeezed grapefruit juice

2

tablespoons

light corn syrup

2/3

cup

granulated sugar

1/4

cup

gin or vodka
Instructions
In a small saucepan, heat 1 cup of the grapefruit juice with the sugar and corn syrup over low heat, stirring just until the sugar is fully dissolved.





Stir the sugar mixture into the remaining grapefruit juice, then stir in the gin or vodka. Chill the mixture thoroughly before proceeding.

Churn the sorbet according to the instructions from your ice cream maker's manufacturer OR pour the mixture into ice cube trays and freeze until solid. If you churn the sorbet, scrape the churned product into a freezer-safe container with a tight fitting lid and freeze for at least 3 hours before scooping.
Nutrition
Calories:
138
kcal
Carbohydrates:
31
g
Protein:
1
g
Fat:
1
g
Sodium:
5
mg
Potassium:
143
mg
Fiber:
1
g
Sugar:
31
g
Vitamin C:
23.8
mg
Calcium:
7
mg
Iron:
0.4
mg
Nutritional information is an estimate and provided to you as a courtesy. You should calculate the nutritional information with the actual ingredients used in your recipe using your preferred nutrition calculator.