Easy Garlic Ginger Glazed Sticky Pork is one of my most popular recipes here on Foodie with Family. Read on to see why!
It's no secret that food is my forever friend. It's pretty easy to get me to hold forth on the subject in general, obviously.
All that being said, I am especially passionate about the sub-category of food made of simple recipes using basic ingredients that deliver major flavours with minimal effort. Easy Garlic Ginger Glazed Sticky Pork is all of those things.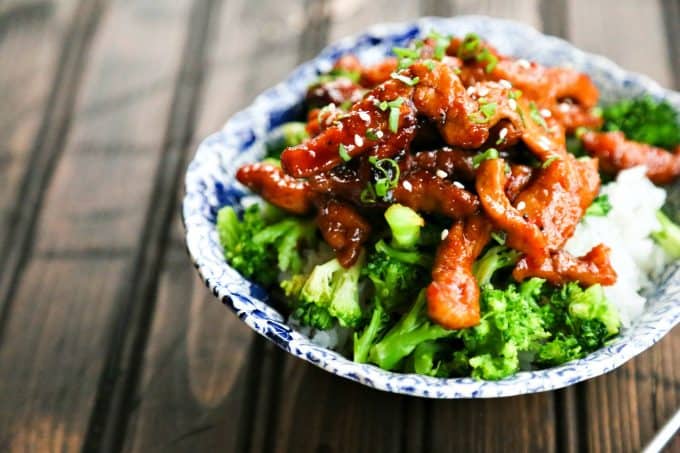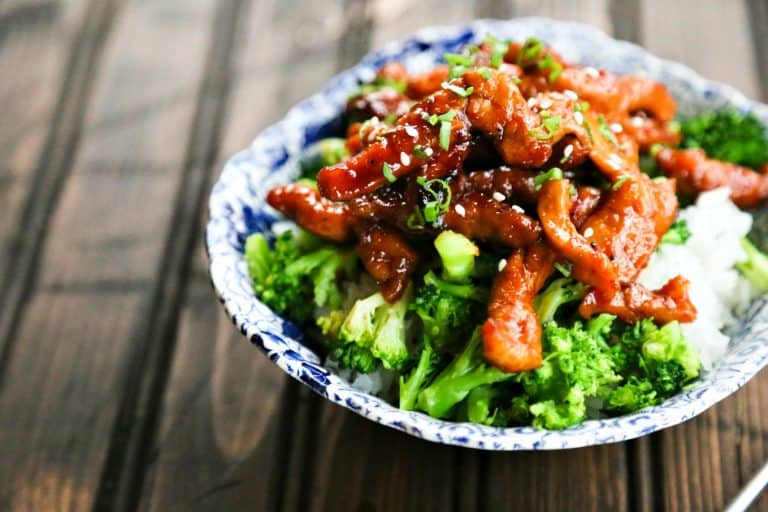 I want to clarify for a minute. There are two schools of thought on describing a food as 'easy'. Some folks think it's gauche because using it perpetuates the false notion that somehow good food has to be complicated. I get it, I really do.
At the same time, I think that reminding people that a dish is "easy" is a kindness and a comfort. It's like having a favourite pair of jeans that you put on when you need to have a good day.
The word "easy" is a reassuring one. It tells you you won't be chained to the counter for hours upon hours or employing complex techniques that are more suited to angry French chefs who are prone to throwing pots.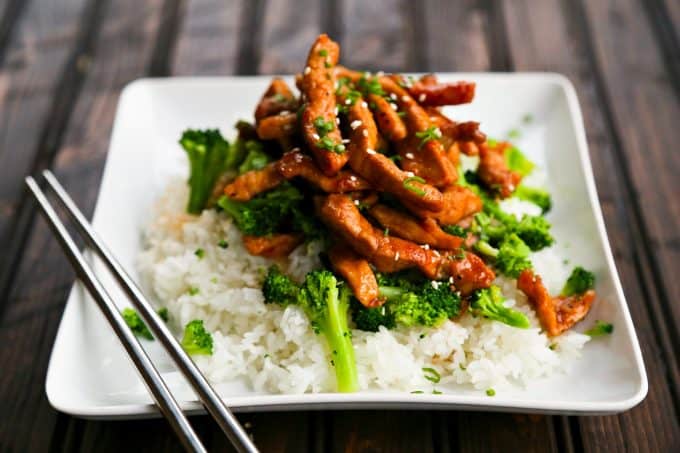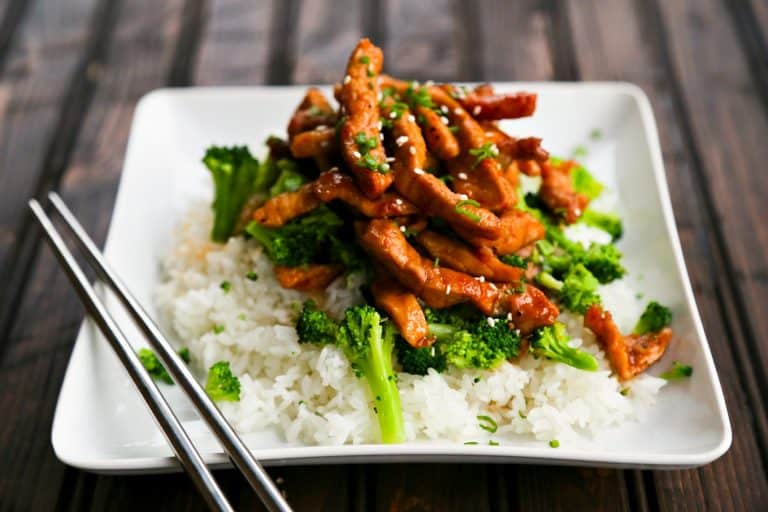 For that reason, I'm unapologetic about calling recipes 'Easy". Easy, easy, easy, easy, E-A-S-Y. Easy Garlic Ginger Glazed Pork is a perfect example of what I mean.
If I called it sweet and spicy lacquered pork, I'd technically be correct, but I'd also be intimidating the heck out of starter cooks.
And the truth of the matter is that Easy Garlic Ginger Glazed Pork is nuanced enough to keep a sophisticated eater and cook happy, but simple enough that even the most rookie cook can make it happen for a fast dinner. THAT is my happy place.
Tender strips of pork glazed with a sticky, sweet, spicy, garlicky, gingery sauce that is as easy as stirring a few things together in a pan, it's hard to beat this for a fast, soul-satisfying meal.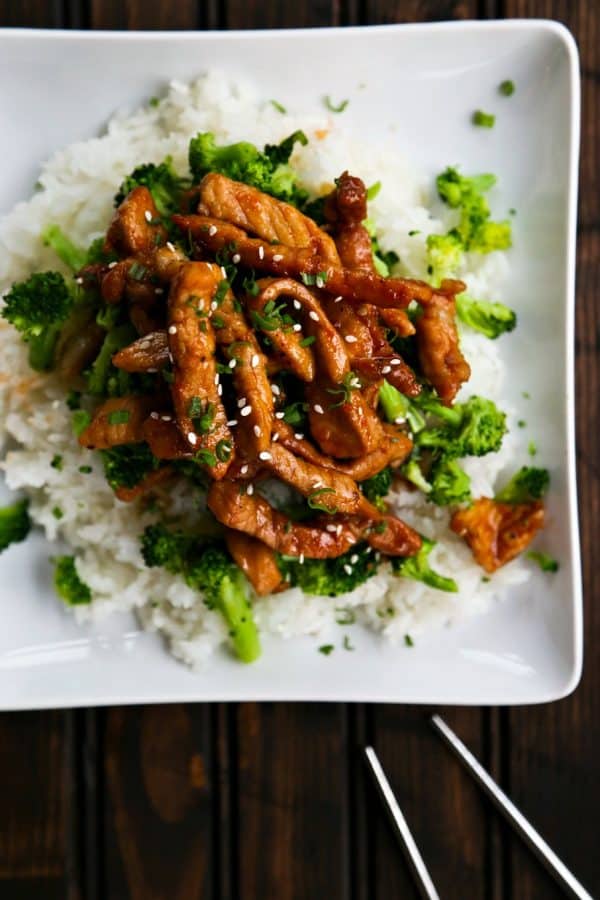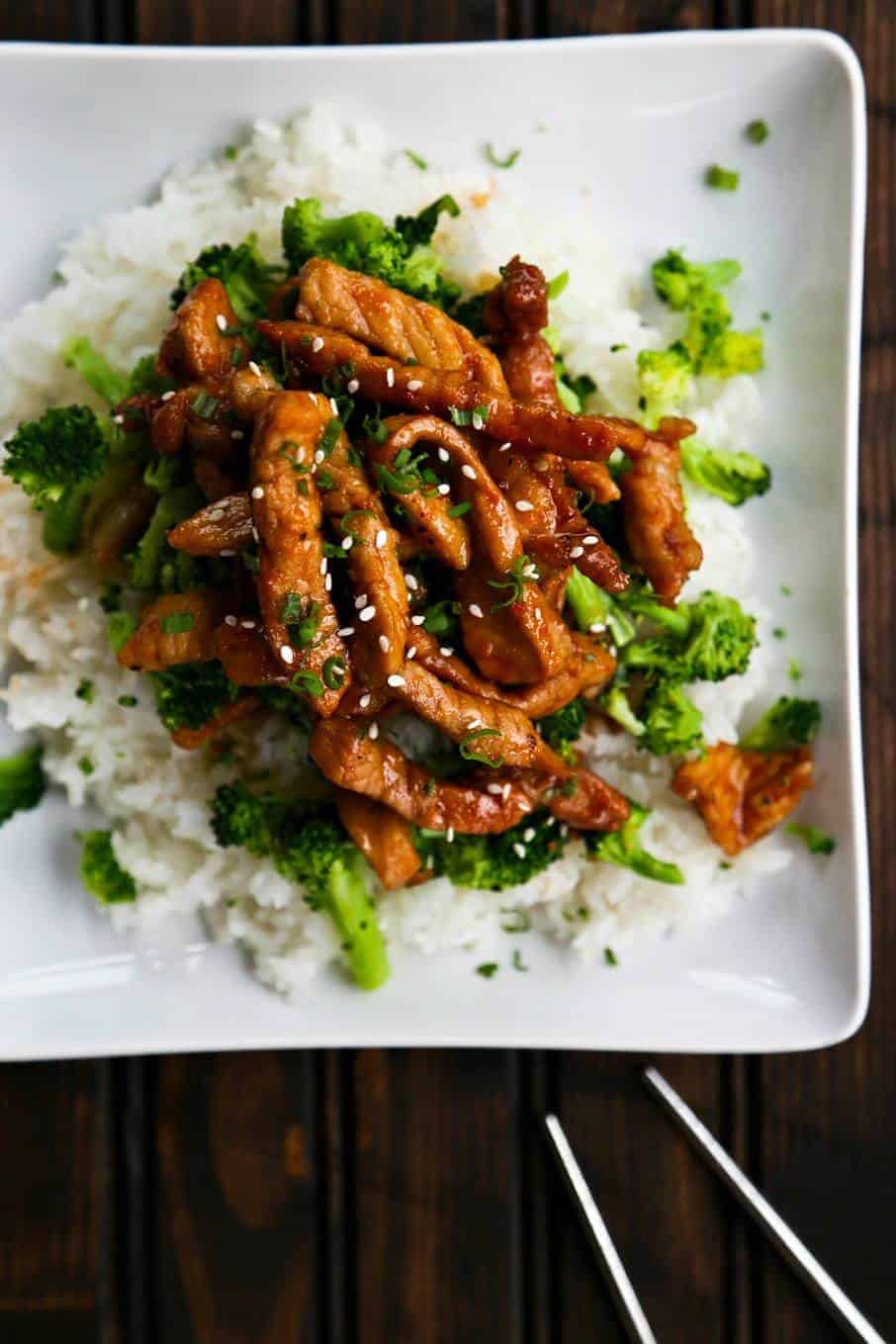 Cook's Notes
As with many stir-fries -and this could be considered one- Easy Garlic Ginger Glazed Sticky Pork relies on the cook having everything prepared and set out before any flame or heat source comes anywhere near the pan. The bulk of the work comes before you ever put one molecule of anything in the pan.
The goal with cooking the pork is to take it to being 2/3 done. This means that if you cut one strip of pork in half, you'll be able to see the outer layer is lightly browned, the next 1/3 of it will be pink but opaque and the center should be slightly shimmery and darker pink. It will continue cooking when the sauce comes into play. If you take the pork too far at this point, it'll be overdone when the sticky, flavourful glaze is lacquering itself to the pork. See what I did there? I worked in those fancy-pants culinary terms to placate my purists. Who loves you? I do.
This is the same motivation behind moving the pork to a plate and starting the sauce by itself. Sometimes it behaves a little oddly, and until it reaches a certain point (slightly thickened, bubbly, and smelling slightly caramelized), you don't want to add the pork. The pork strips will finish cooking in the sauce, but it's easier to add a splash of liquid to keep it cooking longer than it is to make the sauce magically evaporate to doneness because your pork is done. Trust me. If there was a way to abracadabra the sauce to doneness, I'd be all over it.
You can serve Easy Garlic Ginger Glazed Sticky Pork any which way you wish; over rice, with green vegetables, on noodles, or with toothpicks as finger foods. My personal preference is with steamed or Spicy Asian Roasted Broccoli over rice.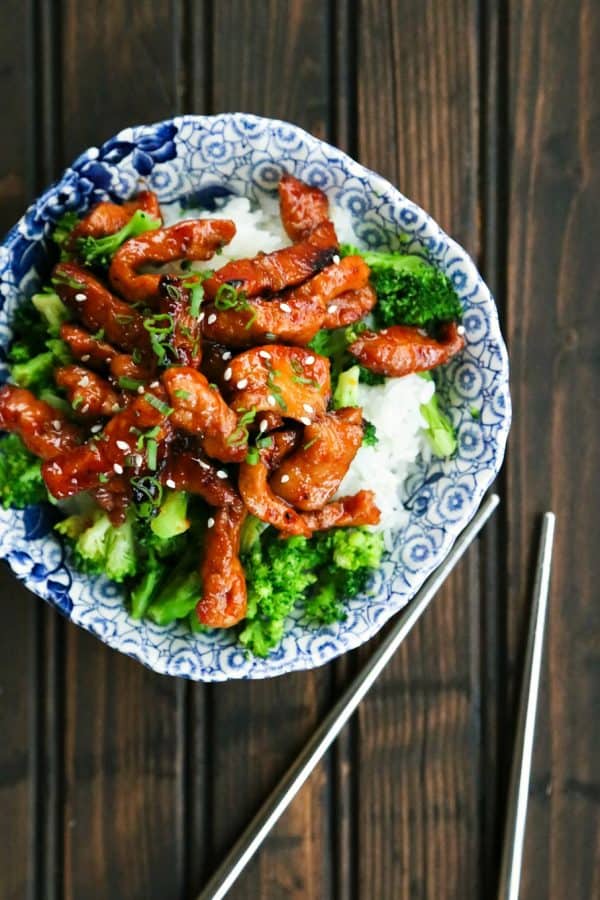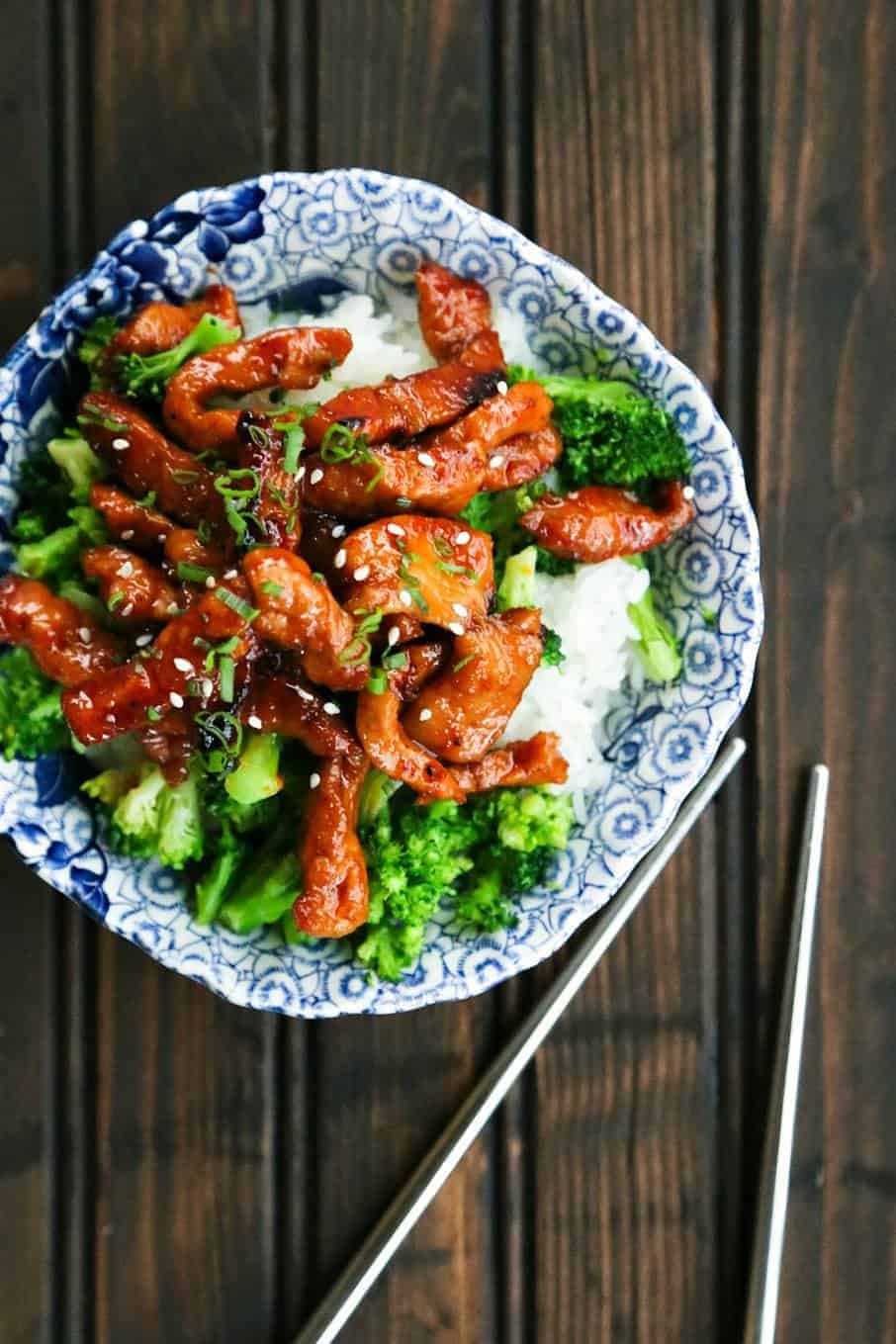 Use this to make Easy Garlic Ginger Glazed Sticky Pork
Connect with Foodie with Family
facebook | pinterest | instagram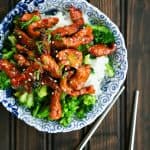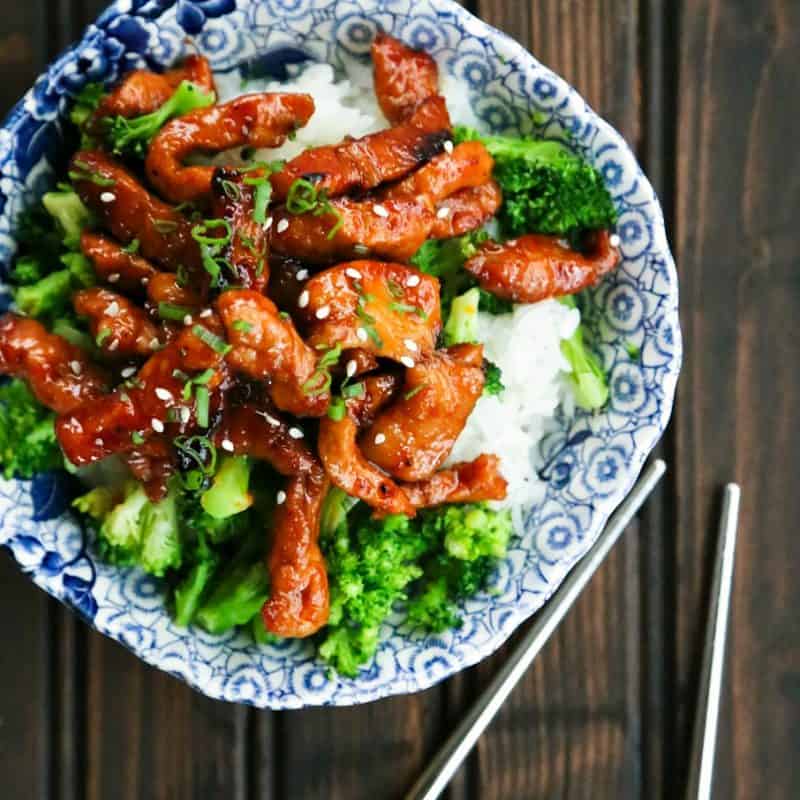 Easy Garlic Ginger Glazed Sticky Pork
Tender strips of pork glazed with a sticky, sweet, spicy, garlicky, gingery sauce that is as easy as stirring a few things together in a pan, this fast, soul-satisfying meal is easy enough for rookie cooks, but delicious enough to keep sophisticated cooks and eaters happy.
Ingredients
1 1/2

pounds

boneless

center cut pork loin cut into 1/4-inch thick slabs, then 1/4-inch thick strips, about 3 inches long

1

teaspoon

Kosher salt

1/2

teaspoon

black pepper

1

tablespoon

canola or peanut oil

plus extra if necessary

5

cloves

garlic

peeled and minced or pressed through a garlic press

2-

inch

knob of fresh ginger

grated

1/2

cup

mild honey

2

tablespoons

to 1/4 cup sriracha or chili garlic sauce

1

tablespoon

rice wine vinegar or white wine vinegar
Instructions
In a liquid measuring cup or a small mixing bowl, whisk together the mild honey, sriracha, and rice wine vinegar. Set aside.

Pour the oil into a heavy-bottomed skillet over medium high heat and swirl to coat. Let it heat until it is shimmering. While the oil heats, sprinkle the pork strips with kosher salt and black pepper then toss with your hands to distribute it evenly. Carefully add the pork to the pan, working in batches to avoid overcrowding the pan. Let the first side brown, flip the pieces with tongs or a spatula, and brown the second side. Transfer the pork to a plate.



Return the pan to the heat and add in the garlic and ginger. Stir until fragrant, about 30 seconds.

Raise the heat to high and pour in the sauce mixture and bring to a boil, stirring frequently. When the sauce is very bubbly and thickened like warm honey, toss the pork back in and toss constantly to coat everything and reduce the sauce to a thick, sticky glaze on the pork. This can be served immediately over rice, noodles, or as finger food, or can be allowed to cool and be eaten cold.
Nutrition Facts
Easy Garlic Ginger Glazed Sticky Pork
Amount Per Serving
Calories 269
Calories from Fat 54
% Daily Value*
Total Fat 6g 9%
Cholesterol 71mg 24%
Sodium 723mg 30%
Potassium 458mg 13%
Total Carbohydrates 25g 8%
Protein 25g 50%
* Percent Daily Values are based on a 2000 calorie diet.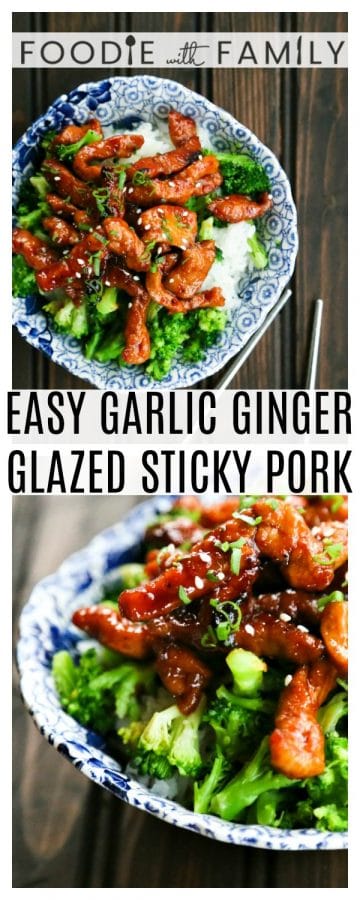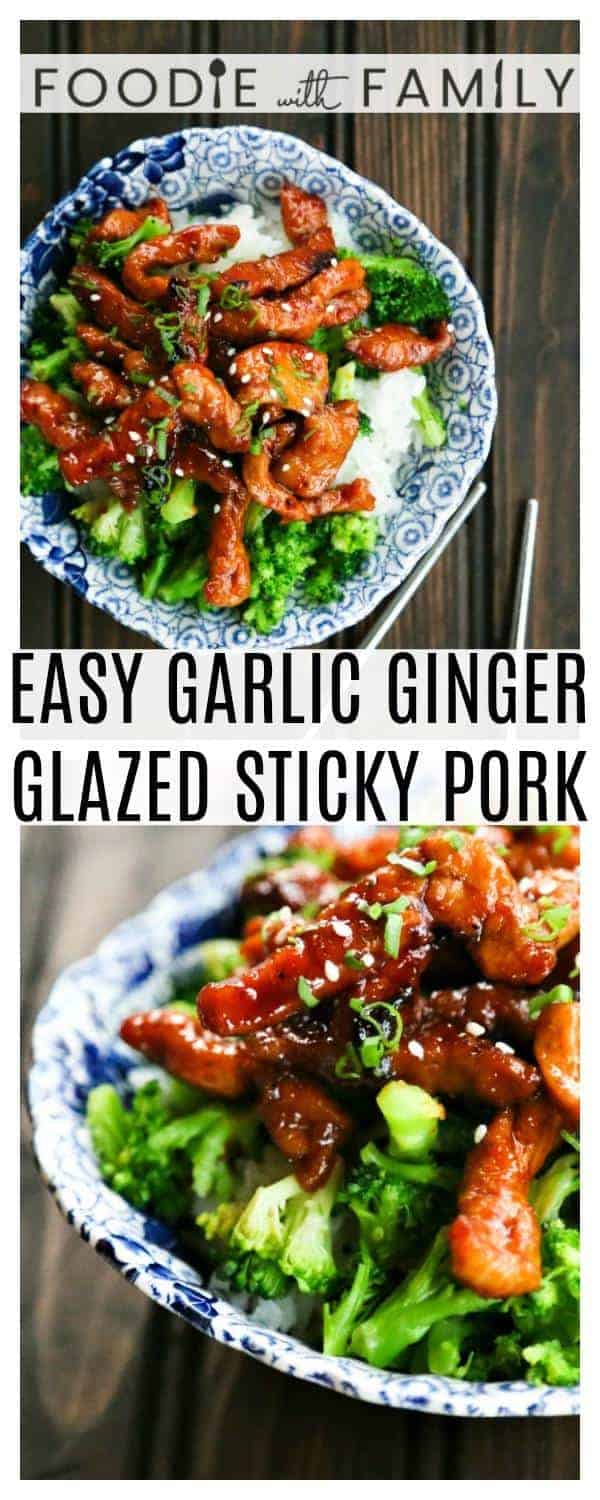 This post was originally published July 22, 2015. Updated April 2017 with video and improved Cook's Notes.