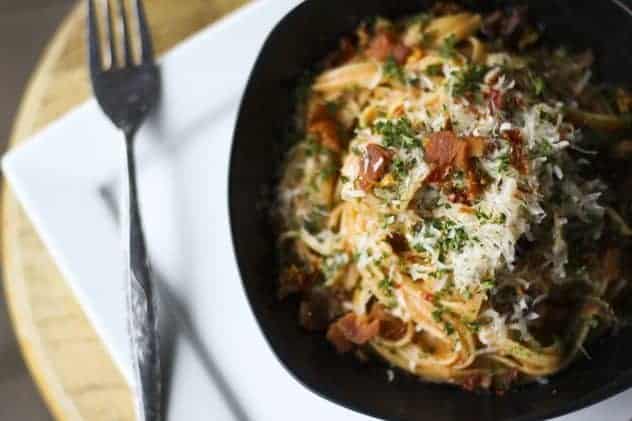 Oh, I know. Thursday is Thanksgiving, but we DO have to eat between now and then, and I'm thinking we all need something simple and satisfying that does, most emphatically, not involve turkey. Add to that the fact that it's seriously cold (at least where I am) and we need something comforting, too. Simple, satisfying, comforting. Is that a tall order for a weeknight meal?
I say no.
These are the moments where having a couple fast, inexpensive and light-on-labour meals in your repertoire makes life significantly easier. A couple weeks ago, I hosted a Pampered Chef party. It was a fun hen party, all the gals were there and there were kitchen gadgets abounding. The representative passed out a recipe for a pasta dish involving bacon, tomatoes and linguine. After preparing and enjoying their version, I streamlined it and adapted it to turn it into a bonafide one-pot dish (my favourite weeknight go-to) and liked it even better.
…And then I had an idea. The method was handy -everything cooked in one dish- and the ingredients were almost always on hand. What if I could change it up just a bit, a little substitution here and there, and make something completely new?
This is when having a great working knowledge of how tastes go together and a willingness to play with your food comes into play. When you have a base method that works great (cooking the meat, saving fat, cooking onions and garlic in it, adding broth/vegetable, dry pasta and cooking, then thickening the sauce) and know what things go well together (Italian: tomatoes, olive oil, garlic, basil, onion, hard cheese. Mexican: tomatoes, cilantro, chili peppers, melting cheese, cumin, lime. Asian: cilantro, lime, soy sauce, garlic, ginger, green onion, sesame oil.) you can start looking for similarities and experiment.
I tried it the following night swapping out bacon and adding in chorizo, out with the parsley and in with cilantro, out with the Italian style tomatoes and in with tomato puree, cumin, Mexican oregano, and a dried chili pepper, out with the Asiago and in with the Monterey Jack. Top the lot with more cilantro, candied jalapenos, sour cream and black olives and I had a Tex Mex Pasta Toss that used an identical method but created a completely different meal.
The results? As my sons say, "Happy Day!"
My kids and husband were in seventh heaven having pasta two nights in a row. Everyone loved the taste of both dishes. I loved both the fact that it only took one pan to make the whole thing and that I had a framework for a customizable meal that could be based on what ingredients I had on hand and what part of the globe I wanted to visit that particular night.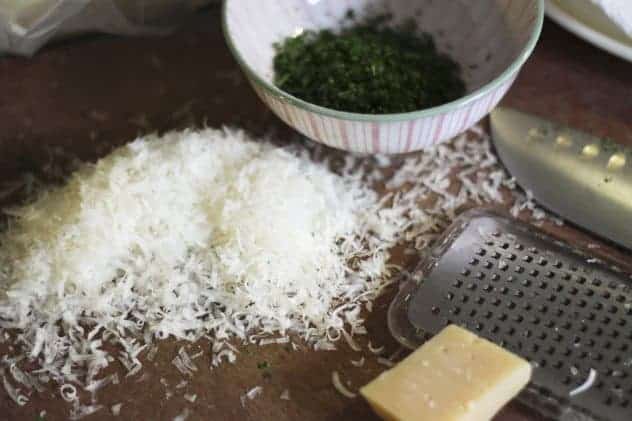 Dinner doesn't get much faster or more satisfying than this Creamy Tomato and Bacon Linguine. Full of great Italian flavours like garlic, tomato, crushed red pepper and herbs, this is done in well under an hour and easily customized to please even your pickiest eaters. If you, like I, have kids or eaters with texture issues simply finely grate your onions and garlic on a box grater and zap your tomatoes in the blender to yield a perfectly smooth, creamy sauce.
Add a loaf of crusty bread and a salad and you have a meal that is sure to make it into your regular rotation.
… Or will the Tex Mex version be your darling?
Tune in tomorrow to find out!
Seriously friends, the goal of this post and tomorrow's is to share the joy of playing with your food. When you have a recipe that seems no fail, it probably is! Mess around with it. Just substitute one ingredient at a time if it makes you nervous, but do try. A recipe is a guideline, not a law. Spend a little time thinking about the foods you like best and what you like best about them. Try tweaking other recipes so that they taste exactly the way you want them to taste. The kitchen is your canvas. Feed your passion!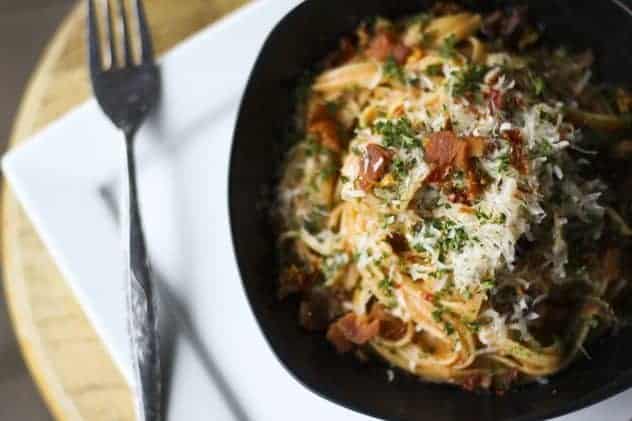 Ingredients
1

pound

bacon

1

onion

peeled and diced

5

cloves

of garlic

peeled and diced or pressed

1/2

teaspoon

crushed red pepper flakes

optional

1

can Italian style tomatoes ~or~ 1 1/2 cups chopped

14-ish ounces, You can use diced, crushed or puree., diced or crushed tomatoes with 1 tablespoon olive oil, 1 1/2 teaspoons Italian seasonings, and 1/2 teaspoon of granulated garlic,

5

cups

chicken stock

1

pound

uncooked dry linguine

1/4

cup

grated Parmesan

Romano or Asiago cheese

4

ounces

cream cheese or neufchatel cheese

half of an 8 ounce brick, cut into squares
Optional for garnish:
Minced fresh parsley

finely chopped sun-dried tomatoes
Instructions
Cut the pound of bacon into 1/4-inch strips and scrape into a stockpot over medium heat, stirring to separate bacon strips. Cook until bacon is crisp, then use a slotted spoon to move the bacon to a paper towel lined plate.

Drain all but about 1 tablespoon of the bacon drippings from the pan and return the pan to the heat, dropping the temperature to low. Add the onion and garlic (and crushed red pepper flakes, if using!) and cook, stirring frequently, for about 5 minutes, or until the onions are translucent and soft.

Pour in the chicken stock and tomatoes and half of the reserved bacon, then raise heat to medium high, bringing the mixture to a boil. When it is fully boiling, stir well, then add in the linguine noodles, using tongs to toss it until the noodles soften enough to be submerged. Add the lid, drop the heat to low again, cover tightly, and simmer for about 10-12 minutes, stirring frequently, or until the noodles are al dente (cooked mostly through with just some resistance in the center when bit.) Remove the pan from the heat.

Stir in the grated cheese and the cubed cream or neufchatel cheese, cover again and let stand for 5 minutes. When the 5 minutes are up, toss the noodles in the sauce until the cream cheese is melted and the sauce is thickened.

Serve the noodles garnished with the remaining bacon and the parsley and sun-dried tomatoes.
Nutritional information is an estimate and provided to you as a courtesy. You should calculate the nutritional information with the actual ingredients used in your recipe using your preferred nutrition calculator.