I have to get this right out here right now. I feel like a dork calling these Buffalo Chicken Sandwiches. It has EVERYTHING on there that would make it "Buffalo Chicken", from the fried chicken tossed in a buttery hot sauce to the bleu cheese, to the coleslaw, but the problem is that I live within spitting distance of the City of Buffalo and, well, nobody here calls it Buffalo Chicken.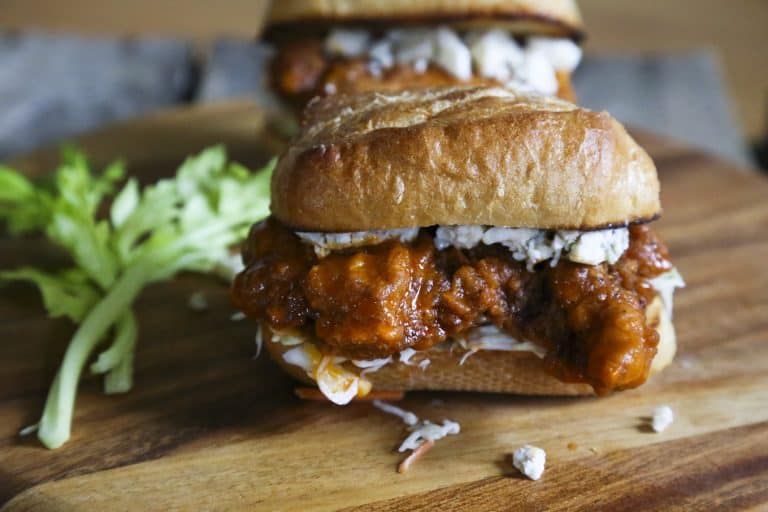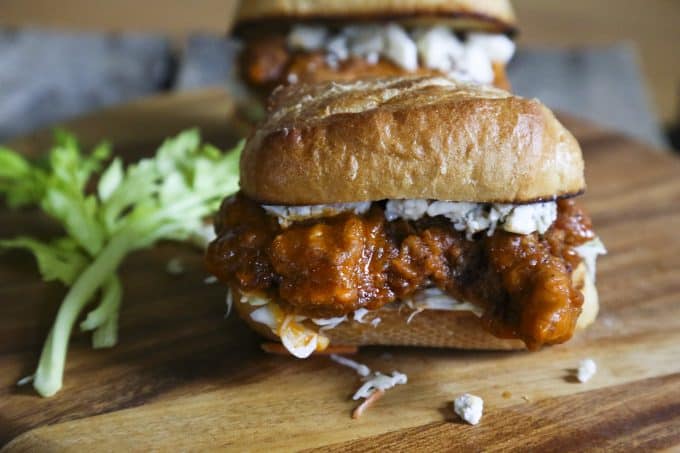 All that being said, the rest of the country would most certainly call these Buffalo Chicken Sandwiches. Therefore, I'm chucking my regional prejudice against the moniker and embracing the glory that is Buffalo Chicken Sandwiches. We are talking about a crave-worthy sandwich friends. Toasted crusty buns topped with crunchy coleslaw, fried chicken tossed in the classic "Buffalo sauce" concoction of butter and Frank's Red Hot sauce, crumbled bleu cheese, and an accompaniment of celery sticks. I don't know about the rest of the country, but if you don't serve celery sticks with your wings (which is what Western New Yorkers call Buffalo wings) in these parts, people wonder what they did to offend you that you would omit a crucial part of the meal.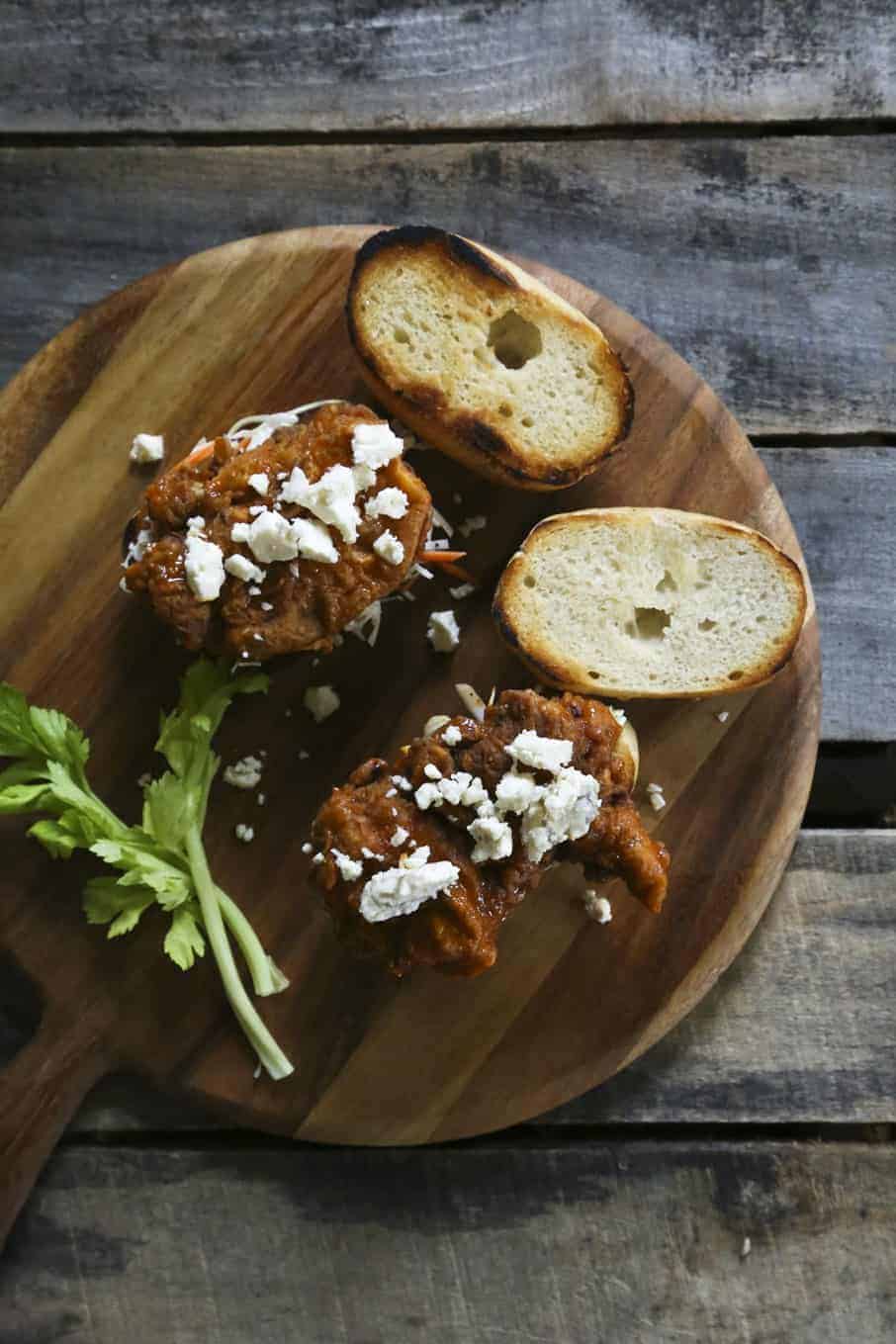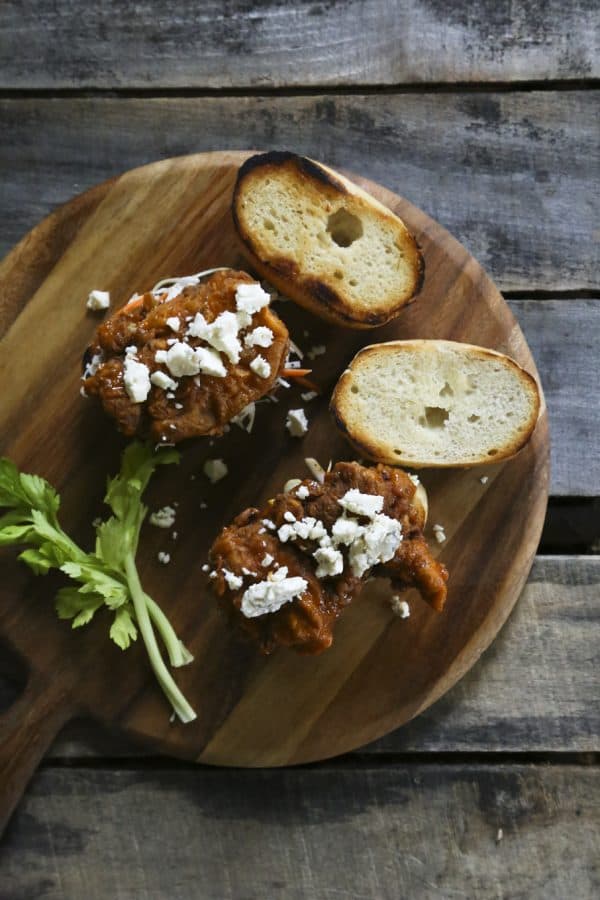 Now let's talk about more "What We Do 'Round Here" parts of the whole Buffalo Chicken Sandwich experience. Wings are served with either bleu cheese or ranch dressing. If you're going hyper traditional, it's always going to be bleu cheese. Because I didn't want to have sauce pouring from the Buffalo Chicken Sandwich down my arm, I opted to crumble some tasty bleu cheese over the sauce coated fried chicken. Because the chicken was still hot, it softened the cheese and mellowed it out a bit. The coleslaw under the fried chicken provides more creaminess and crunch.
Cook's Notes
Truth: Buffalo Chicken Sandwiches are going to taste better if you prepare them with fresh-from-the-fryer extra-crispy chicken. This being the real world, though, I can tell you from experience that the sandwiches are still delightfully tempting and tasty when made with reheated, leftover fried chicken. For best results, reheat the chicken lightly wrapped in foil in a 350°F oven until hot all the way through.
While our Homemade Garlic Buffalo Sauce is definitely the best choice for this recipe,  you can still use a purchased Buffalo Sauce or Wing Sauce.
You do not have to squeeze the coleslaw dry, but you should at least lift it from the bowl with a slotted spoon or fork. This will allow the excess dressing to drain away, keeping your toasted bun from getting all sad and soggy.
What kind of bleu cheese should you use? Whichever kind you like best. I've used plain old crumbled bleu cheese from a container, crumbled my own from a wedge from a cheese shop, and used Gorgonzola. All of them were delicious. My preference for the Buffalo Chicken Sandwiches is to crumble my own from a wedge, though.
While the Buffalo Chicken Sandwiches were okay at room temperature, I think they really shine when served still quite warm to hot.
Connect with Foodie with Family
facebook | pinterest | instagram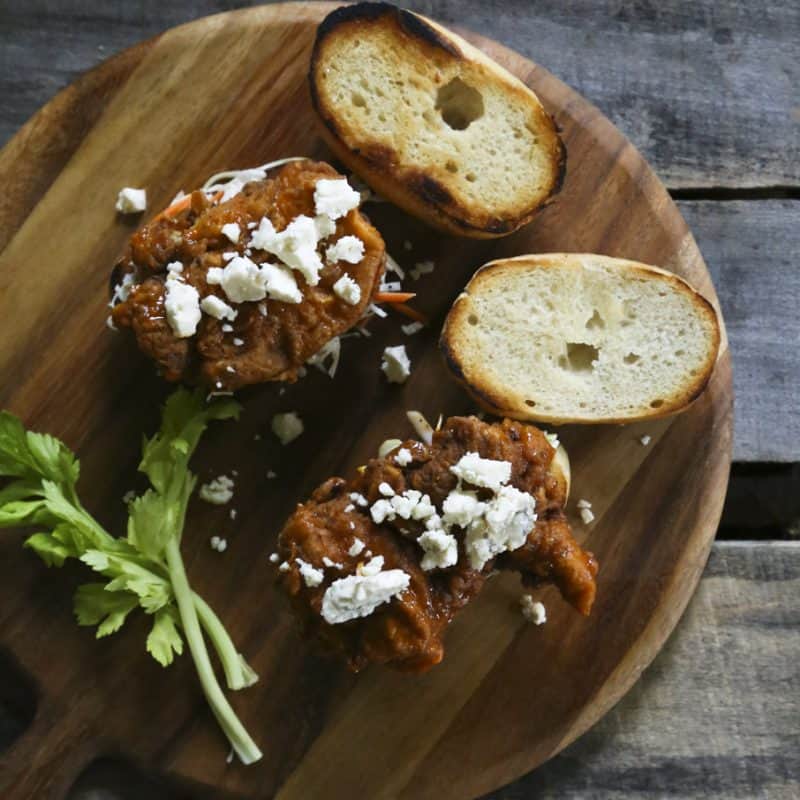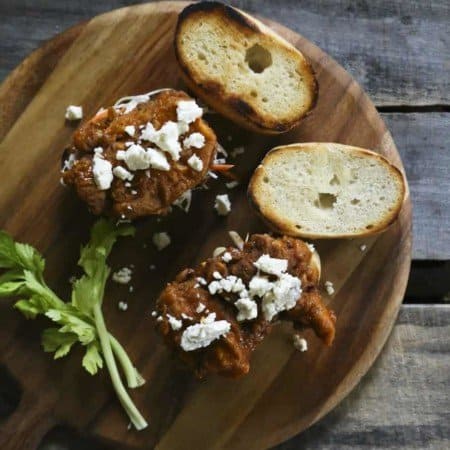 Ingredients
Per Sandwich:
1

crusty roll

halved

3

tablespoons

Homemade Garlic Buffalo Sauce or store bought Buffalo Sauce

1/4

cup

coleslaw

gently drained of excess dressing

1

piece

boneless fried chicken

purchased or homemade, fresh from the fryer or reheated

1

tablespoon

bleu cheese crumbles
Instructions
Spread 1 tablespoon over the cut sides of the crusty roll. Toast until golden brown in a frying pan over medium heat. Transfer the roll to a serving plate.

Top the bottom half of the roll with the coleslaw. Toss the hot chicken in the Garlic Buffalo Sauce until coated. Lay the chicken on top of the coleslaw. You can drizzle any remaining sauce on top of the chicken. Scatter the bleu cheese crumbles over the chicken and add the top bun piece. You can hold the sandwich together with a toothpick if needed.
Nutritional information is an estimate and provided to you as a courtesy. You should calculate the nutritional information with the actual ingredients used in your recipe using your preferred nutrition calculator.