These Spinach Feta Turkey Burgers are never dry and grill up perfectly with the not-so-top-secret instructions included! You'll never suffer through dry turkey burgers again!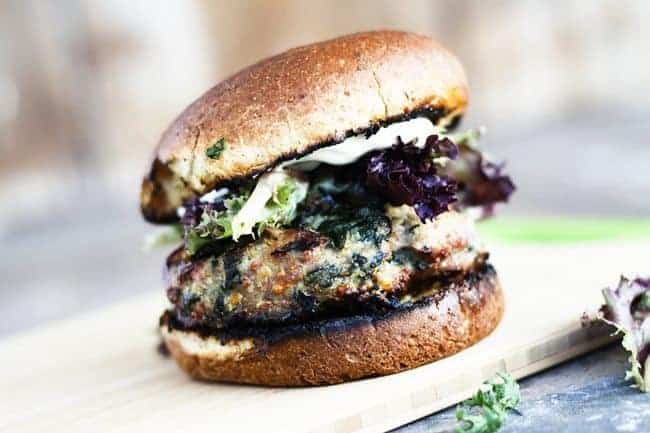 Turkey burgers usually suffer from an identity crisis. They're shaped like a burger, they're made from ground meat, they're served on buns, but -good golly- they are usually shoe leather dry and sorrowfully bland.
Because of this, turkey burgers need to have added moisture be it in the form of water, broth, egg, blahblahblah. When this happens, they're unfortunately prone to falling apart which means that most people don't want to bother grilling them because it's a serious pain in the tuckus to avoid the fally-aparty* nature of the juiced up ground meat.
To add more body back into the burger, lots of folks add bread crumbs in as a binder which puts us back at the point we were trying to avoid: dry burgers.
HOWEVAH, there's a solution. Not only does the solution taste great, but it also adds veggies to your burgers which ups the healthy quotient of the sandwich. Win/Win, right?
Enter Spinach Feta Turkey Burgers. These are the best grilled turkey burgers ever.
Grilled Turkey Burger Recipe
Here's how it's done; we very gently wilt spinach in hot olive oil that is flush with roasted garlic. Are you happy yet?
Roasted garlic always makes me happy! The roasted garlic is another flavour boost for the poor flavour-deficient turkey bird.
Notice I said gently. You don't want to cook the spinach down to mush… You're going to stop at the point where the spinach has gone from a big old pile like this: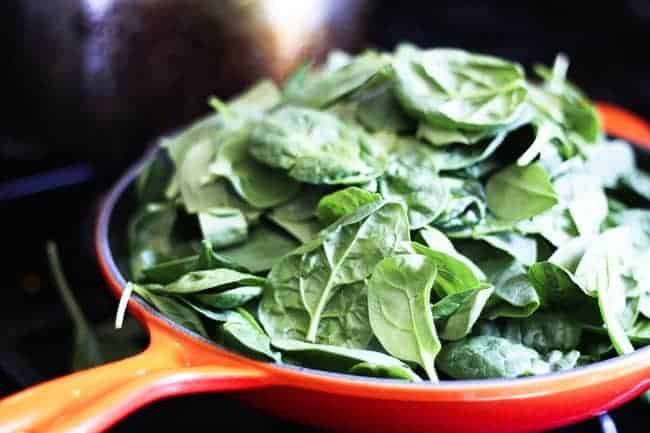 …to a little old pile like this. Please notice that the spinach isn't mush and still has some body.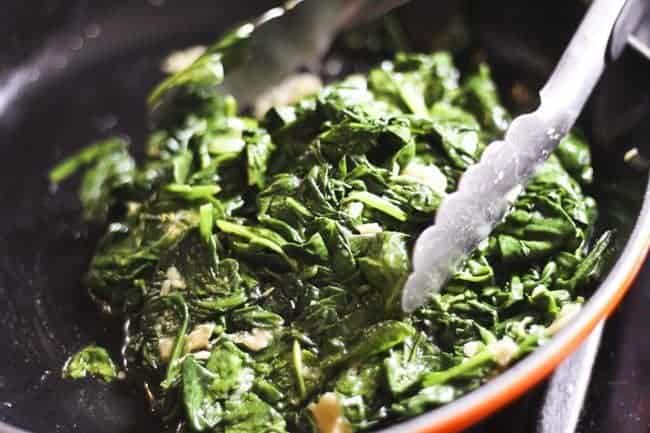 At this point, you gently load the spinach into a colander over a plate and let it drain WITHOUT squishing, squeezing or otherwise molesting the spinach. Because we're letting the spinach take some of its naturally abundant liquid with it, the spinach stores the liquid until the meat heats up on the grill and releases it INSIDE the burger.
That way we don't have sloppy, wet, fally-aparty, sorry turkey burgers. And yes, I said it again.
Let it cool like this until it's room temperature. I usually pop it in the refrigerator overnight in a covered container.
You could carry on with the burgers immediately, but I like my spinach cold before I mix it into the burger meat. Whether you cool it or proceed toute de suite, the next step is the same: chop the spinach roughly.
We're not talking itty bitty spinach morsels here, we're talking about just breaking it up so you can distribute it through the meat a little more evenly. This is good stuff.
Mix the chopped spinach into the meat with the crumbled feta, some black pepper, and a bit of salt. Oh hey! That feta brings moisture and flavour to the party, too!
Divide into four or six even balls and form into burgers. I like to use these round biscuit cutters to have evenly sized/shaped burgers.
Looking for some great buns for your burgers? Try out these homemade hamburger buns or the most perfect soft pretzel rolls.
And now we get to talk about how to grill turkey burgers because there is a method!
Grilled Turkey Burgers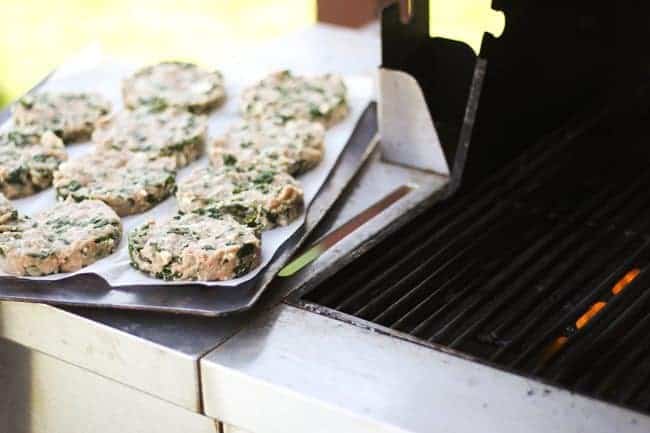 Here's one of my never-skip-steps for turkey burgers. After forming the patties, I put them on a parchment lined cookie sheet and pop them in the freezer while I'm preheating the grill.
I don't heat that grill ahead of time, because that little rest in the freezer (unlike beef, which you'd want to cook closer to room temp) helps hold them together in their initial slap onto the grill.
This in turn gives the meat a chance to firm up under heat before you go messing with it and flipping it over. Don't just take my word for it, though; give it a try.
Turkey Burger Grill Time
Now I'm about to tell you something that you'd better not ignore. When you gently ease those patties onto the heated and oiled grill you want to be sure you're putting each one exactly where you want it to stay for six minutes, because you are not even to THINK about moving those until the six minute mark.
This is your truest hope of keeping the burgers intact. After six minutes, the meat will have cooked enough to hold together when you flip it.
And once you flip it? DON'T TOUCH THAT GRILL for at least eight minutes (unless it's to lower the heat because you got hungry and antsy and upped the temperature too much.) Turkey needs a little more finessing on the grill than beef, there's no getting around it, but it tastes so good when it's done right.
And let me tell you these smell insanely good while they're grilling. How good do they smell?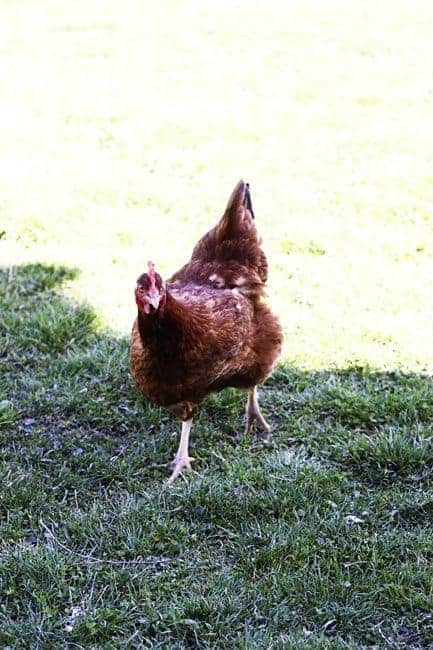 Let's just say my turkey burgers bring all the chickens to the yard.
XO Rebecca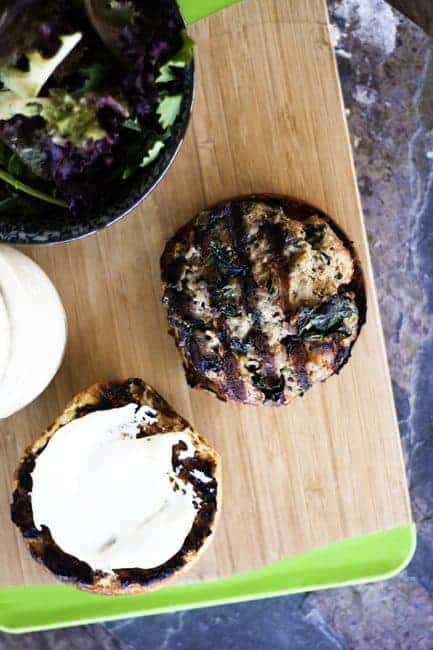 Savory, rich turkey burgers that won't fall apart (IF you follow my instructions!).
Ingredients
1

bag baby spinach

6 ounces

4

cloves

roasted garlic

finely chopped

1

teaspoon

olive oil

1

pound

93% lean ground turkey

4

ounces

crumbled feta cheese

1/2

teaspoon

salt

black pepper to taste

4-6

hamburger buns

I like whole wheat here.

extra olive oil for oiling the grates and brushing the buns before toasting.
Optional Garnish:
mixed greens

mayonnaise

Dijon mustard

Roasted Garlic Whipped Feta
Instructions
Pour the teaspoon of olive oil in a heavy skillet with a tight fitting lid over high heat. When it is shimmery and hot add the roasted garlic to the pan and stir for about 10 seconds or until it's fragrant. Add the spinach all at once and flip it a couple of times with tongs. Turn the heat off, add the lid and let sit for 2 minutes. Remove the lid, flip a couple more times, add the lid and leave for 1 more minute. Use the tongs to gently transfer the spinach and garlic to a colander on a plate. Let it rest until room-temperature. Either chill in a tightly covered container in the refrigerator for up to 3 days or proceed to the next step.

Roughly chop the wilted spinach and garlic so you can more easily mix it through the ground turkey. Add it to a mixing bowl with the turkey, feta, salt, and pepper. Gently but thoroughly mix everything together until all of the ingredients are evenly distributed. Form into 4 to 6 burger patties that are at least 3/4 of an inch thick. Place the formed patties onto a parchment lined cookie sheet and let it rest in the freezer while you preheat your grill.

Preheat your grill to medium-high. Soak a wadded paper towel generously with olive oil and use tongs to rub it over the clean grill grates, heavily oiling them. Ease the burger patties onto the grill and do not move them for 6 minutes, leaving the cover of the grill open. After 6 minutes, flip the burgers just once and let them continue to cook for 8-10 minutes, or until the burgers release from the grill and the interior temperature of the thickest part of the burgers reaches 165°F. Transfer the burgers to a clean plate.

Brush each of the insides of the buns with olive oil and toast them directly on the grill just until they have grill marks. Use tongs or a spatula to transfer the buns to a clean plate or baking sheet.

Serve each burger on a bun topped as desired.
Nutrition
Calories:
258
kcal
Carbohydrates:
16
g
Protein:
20
g
Fat:
12
g
Saturated Fat:
4
g
Cholesterol:
72
mg
Sodium:
622
mg
Potassium:
375
mg
Fiber:
1
g
Sugar:
2
g
Vitamin A:
2795
IU
Vitamin C:
9
mg
Calcium:
190
mg
Iron:
2.8
mg
Nutritional information is an estimate and provided to you as a courtesy. You should calculate the nutritional information with the actual ingredients used in your recipe using your preferred nutrition calculator.