Not only is this my fifth NaBloPoMo (or as I like to call it, NaBloBlahBlah) post, but it's also Day 4 of #TurkeyWeek! I'm going to be bringing you my favourite turkey or turkey leftovers recipes all this week in the lead-up to my favourite holiday of the year: Thanksgiving!
Why does smoked food taste so good? Is it the slow, low, deliberate application of something that might otherwise ruin it? Wouldn't you love to have a video of the first time someone smoked meat and realized it actually tasted good? No? Just me?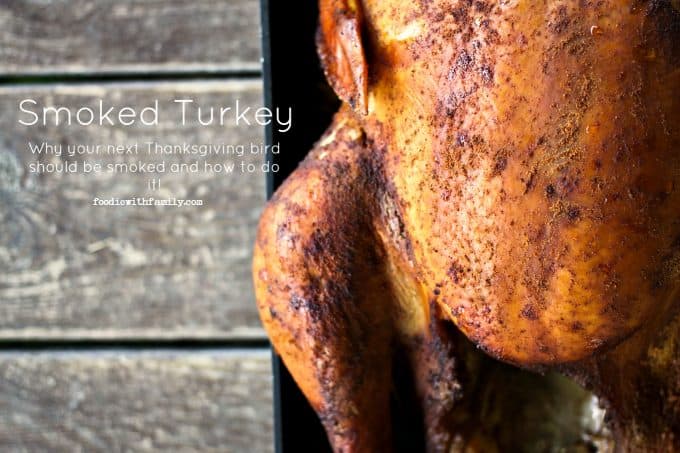 Smoked Turkeys have something of a mystique surrounding them. We have a store nearby where people flock eight weeks before Thanksgiving to order smoked turkeys for their Thanksgiving feast. Everyone in these parts agrees that smoked turkeys are where it's at flavour and texture-wise. I'm not sure why very few people take on the process of smoking it themselves because it's such an easy and forgiving cooking method. The truth is that you're far, FAR more likely to render a turkey inedibly dry when roasting it. Think of Clark Griswold's sister-in-law on 'National Lampoon's Christmas Vacation'. Remember how that thing was turkey jerky?
The Smoked Turkey, on the other hand, cooks at such a low temperature for such a long time -basting itself continuously- that it doesn't have a chance to get dry and boring. The smoke delivers incredible flavour making any seasoning beyond salt, pepper, and a touch of granulated garlic and onion superfluous and unnecessary. Like I do in my Five-Spice Roasted Turkey, I stuff the cavity of the bird with aromatics that provide the added help of being full of moisture, thereby basting the turkey from the inside out as it absorbs all that gorgeous smoke.
Cook's Notes
While I know perfectly well that it's not convenient to leave a big old turkey in a bigger old pan in the refrigerator overnight, it's kind of crucial. You can blot a turkey's skin with paper towels all. day. long, but it isn't going to get it as dry as it would get all by itself sitting on a roasting rack in a refrigerator with air circulating around it.
Why do you want a dry turkey skin? It just behaves better in the smoke. It gets marginally crispier, although I wouldn't say that smoked turkey skin is ever going to be as crisp and lovely as roasted turkey skin. It also helps the meat absorb the smoke flavour better, so it's worth it!
I meant it when I said you don't have to do anything more than salt, pepper, granulated garlic, and granulated onion. If you want to boost the colour, you can add a bit of paprika.
Don't skip those aromatics inside the turkey cavity! They lend serious flavour to the party.
You can absolutely, positively use my drumstick removal method before smoking the turkey. I've done it both with the drumsticks attached and detached and had good results both ways. The drumsticks cook a little more quickly when detached meaning that if left in for the same amount of time as the larger part of the bird, they'll be more 'done' when the breast meat is just finished. This is exactly how I prefer my turkey. Choose accordingly.
Obviously, a proper smoker is going to make this job FAR easier, but it can most certainly be done in a grill with a very low indirect heat. You're going for 225°F to 250°F. If you have a real deal smoker with an adjustable thermostat, please set it at 250°F for the duration.
We need to address what kind of smoke we're applying right? I swear by apple wood for my turkeys. I think it's mild but flavourful and easy to come by (at least in this neck of the proverbial and literal woods.) If you wanted a good second choice, I think hickory would be excellent, too. I'd be less likely to go for mesquite, but it wouldn't be bad.
Since I judge all turkey by the performance of its leftovers, I have to say this one is an exceptional choice. Oh sure, it's AMAZING fresh and hot, but smoked turkey sandwiches? HELLO! And smoked turkey in the Trashed Up Barbecue Turkey Pizza is out of this WORLD.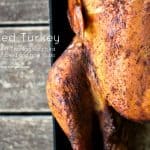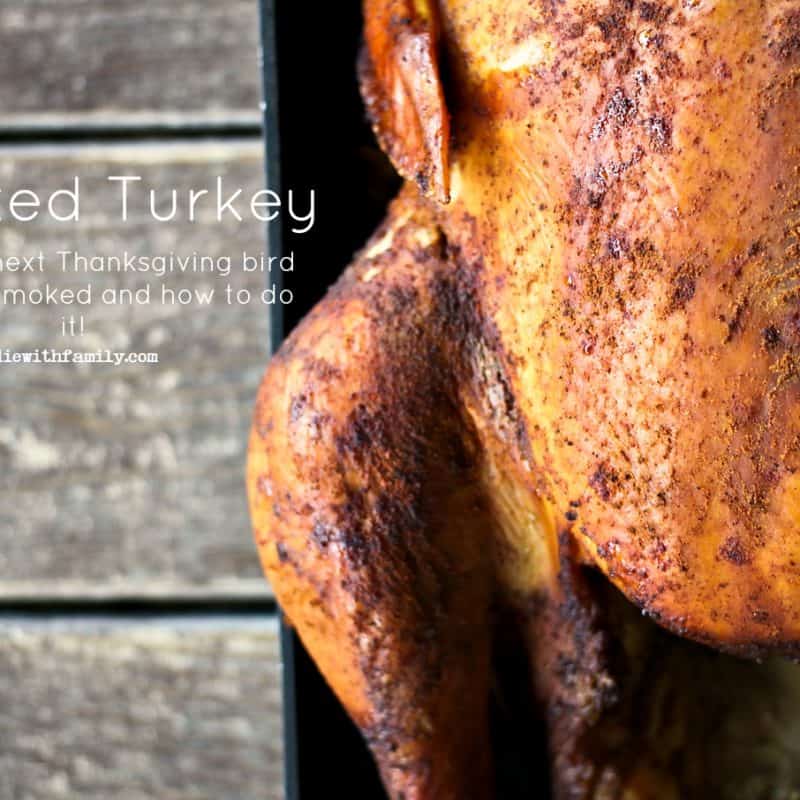 Smoked Turkey: How to Smoke a Turkey and Why
The Smoked Turkey cooks at such a low temperature for such a long time -basting itself continuously- that it doesn't have a chance to get dry and boring. The smoke delivers incredible flavour, making any seasoning beyond salt, pepper, and a touch of granulated garlic and onion superfluous and unnecessary.

Total Time
6
hours
15
minutes
Ingredients
1

whole turkey

12 to14 pounds, fresh or thawed if frozen, giblets and neck removed and reserved for another purpose

1/4

cup

peanut oil

3

tablespoons

kosher salt

2

teaspoons

granulated garlic

1

teaspoon

granulated onion
For the aromatics:
2

yellow onions

halved, papery skin removed

3

fresh apples

stems removed and cut into wedges

3

cloves

garlic

pulled apart, papery skins removed, but left in the peel
Instructions
Pat the turkey dry and set it, breast side up, on a roasting rack in a roasting pan. Let rest, uncovered, in the refrigerator for 4 hours or overnight to dry.

The day of smoking, heat your smoker to 250°F according to manufacturer's instructions or build a bed of low coals off to the side of a grill. Either way, use apple wood chips to produce smoke for 30 minutes before putting the turkey in the smoker.

Stuff the onions, apples, and garlic in the cavity of the turkey. Drizzle the peanut oil over the dried turkey and rub with the salt, granulated garlic, and granulated onion. Put the turkey into the smoker and smoke for 30 to 40 minutes per pound, or until an instant read thermometer (or stay-in-the-bird probe thermometer) reads 160°F in the thickest part of the breast meat. Use silicone oven mitts or two sets of tongs to carefully shift the smoked turkey to a rimmed half sheet pan or clean roasting pan and tent lightly with foil for 30 minutes before slicing, giving the juices time to redistribute. This also makes the meat easier to slice evenly.
This is my fourth post in my commitment to post every. single. day in November for NaBloPoMo (National Blog Posting Month). Follow the craziness all month as I share recipes, family anecdotes, and throw a couple of giveaways in for good measure!