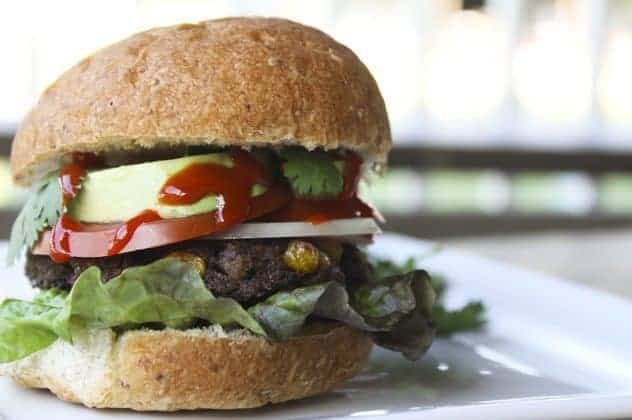 It's time for another installment of 'Tasty Penance', wherein I give you something tasty and healthy to make up for, oh, I dunno, maybe fried bologna sandwiches? If compensating for every marginally bad thing we ever did was as delicious as these Taco Black Bean Burgers, we'd all be apologizing and making things right all the time.
First of all, how can you possibly go wrong with taco flavours? Hmmm? You can't!* Second of all, it's a burger which is an automatic win. Third, it throws and is cooked in about fifteen minutes. That's good and fast. Fourth, it has avocados and lettuce and tomatoes and onions and hot sauce. Enough said, right? And fifth…
*Unless you're putting taco toppings on a bowl of fudge brownie ice cream. I can see how that would be problematic.
Fifth is the most important for me right now. It is made without the use of the oven. Why would that be so important to the baking queen (that'd be me)? Because my oven. She is dead. Again. I am murder on baking ignitors, apparently. This is the fourth (or is it third? I don't know. I just know it's been more than two and less than six) ignitor I've blown out on my oven since getting it a little less than ten years ago. Darnit.
I really hope that part shows up by midweek because I have a Pampered Chef party this weekend and because I want to get baking some of these five bushels of apples I got for experimenting. I'm a patient person. I'm a patient person. I'm a patient person. If I keep saying it, it'll be true.
Luckily, the cook top is still working so pan frying is still an option and these burgers do not make me feel like I'm missing anything by not baking (except maybe a freshly baked bun, but I digress…) Now. Another word or several about these burgers.
They're cheap. Super cheap. That makes me happy since I'm buying a new baking ignitor. Not that I'm bitter or anything…
Remember my Pizza Black Bean Burgers? I laid out all the reasons why I love my version of bean burgers there, so I won't rehash it here, but I do have to say this. The world seems to be divided into two clear camps when it comes to vegetable burgers. There's the "Woohoo! Veggie Burgers!" contingent and the "Why a veggie burger when I can have a meat burger?!?" crew. As I am feeding a couple representatives of each of the aforementioned groups, I feel qualified to say that these not only pass muster on both sides of the fence, but are received enthusiastically. When I say enthusiastically, I mean they are hoovered at light speed. This is what I call a serious win.*
Leftovers make incredible snack food for late night movie viewing. I have demolished a plate full of cold taco black bean patties with hot sauce solo.
*Confession: I leave a couple little patties free of corn for the ONE hold out on sweetcorn in my crew. Stinker. He'll come around eventually, but in the meantime, I'm still getting him to eat a vegetable burger. I'm not sweating the sweet corn.
I'm grateful that all my kids love beans. I have to tell you, though, that it wasn't always that way. A couple of them required convincing. And while I'm not proud of how I managed it, I'm going to share my technique with those of you looking for a way to entice your children to love beans.
The method is simple and it has one step:
Teach them the song.
You know which song I mean, right? The song about beans' musical properties? Teach it to them. With gusto! And inform them that the song is correct then sit back and watch them eat. Be sure to remind them of the rules about where and when beans can be, um, played or suffer the consequences. I do believe you'll find this to be a very effective way to encourage bean consumption whether or not you have five sons. We parents have to stick together. Go, Team Big People, right?
Have you ever done something you swore you'd never do to get your kids to try something?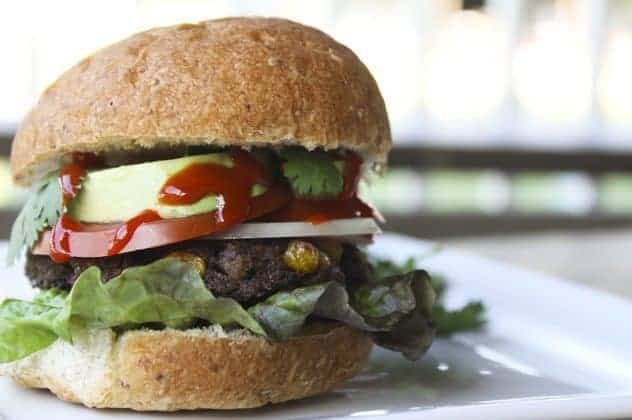 Gorgeous deep brown and crunchy on the outside, tender and bursting with taste, studded with corn, topped with avocados, tomatoes, lettuce onion and hot sauce, and served on soft buns, these meat-free Taco Black Bean Burgers pleased even the most entrenched picky eater in my house.
Ingredients
4

cups

or 2 cans black beans, drained and rinsed well, then drained again

1

jalapeno

stem and seeds removed and roughly chopped

3

tablespoons

roughly chopped onions

1-3

cloves

of garlic

according to preference, roughly chopped

2

tablespoons

tomato sauce

1

cup

or more plain breadcrumbs

1

cup

frozen corn

thawed

1

egg

1

teaspoon

cumin

1

tablespoon

chopped fresh cilantro or parsley

or 1 teaspoon dried cilantro or parsley flakes

1 1/4

teaspoons

salt

canola or peanut oil for frying

lettuce leaves

for

avocado slices

for topping

hot sauce

for topping

soft rolls

for serving
Instructions
Add the pepper, onion and garlic cloves to the bowl of a food processor fitted with a metal blade.

Put the lid in place and pulse, stopping to remove the lid and scrape down the sides of the bowl, until the ingredients are finely chopped.

Add half of the black beans, all of the seasonings, salt and tomato sauce to the food processor and pulse, scraping down the sides of the bowl as necessary, until the mixture resembles the consistency of guacamole (slightly chunky but a cohesive paste.)

Scrape the bean and vegetable mixture into a mixing bowl and stir in the remaining beans and corn, then the egg and breadcrumbs.

Test the consistency of the mixture. You should be able to roll the mixture into a ball and flatten into a patty without it sticking to your hands. If you cannot, add one extra tablespoon of breadcrumbs at a time, stirring and checking the consistency after each addition until it does what it should. The goal is to add enough that the mixture ceases to be sticky but not so much that it becomes crumbly. I found that in each of the batches I made, I needed significantly different amounts of breadcrumbs to hold the patties together, but I never needed less than 1 cup.

Roll balls of the bean mixture according to the size of the burger you'd like: golf ball size for sliders, peach size for standard burgers, navel orange size for mega-burgers.

Place a heavy-bottomed skillet over medium-high heat and pour in enough oil to cover the bottom by about 1/8-inch. When the oil is shimmering, flatten each ball into a patty that is about 1/2 to 3/4-inch thick and slide it into the oil. Do this with as many patties as you can comfortably fit into the pan without crowding. Fry for about 3-4 minutes on each side, or until deep brown and crunchy on the outside.

Transfer the patties to a paper towel lined platter.
To serve:
Stack one patty on lettuce on the bottom half of each bun, avocado slices, hot sauce to taste and finally add the top half of the bun.
Nutritional information is an estimate and provided to you as a courtesy. You should calculate the nutritional information with the actual ingredients used in your recipe using your preferred nutrition calculator.