These Homemade Marshmallows are the only marshmallow you'll ever want from this day forward. Creamy, lofty, and light-as-air, you can customize the flavours any way you'd like.
If you like this homemade marshmallow recipe, you can also make Chocolate Dipped Homemade Kahlua Marshmallows or Mocha Marshmallow Pops.

Unless you've been reading Foodie with Family since the beginning, way back in 2008 (hi, Dad!) you might not know that my stepmom, Val, was my partner. We started the blog together and carried on until she became ill. One of the first posts on the blog was for Val's Homemade Marshmallows.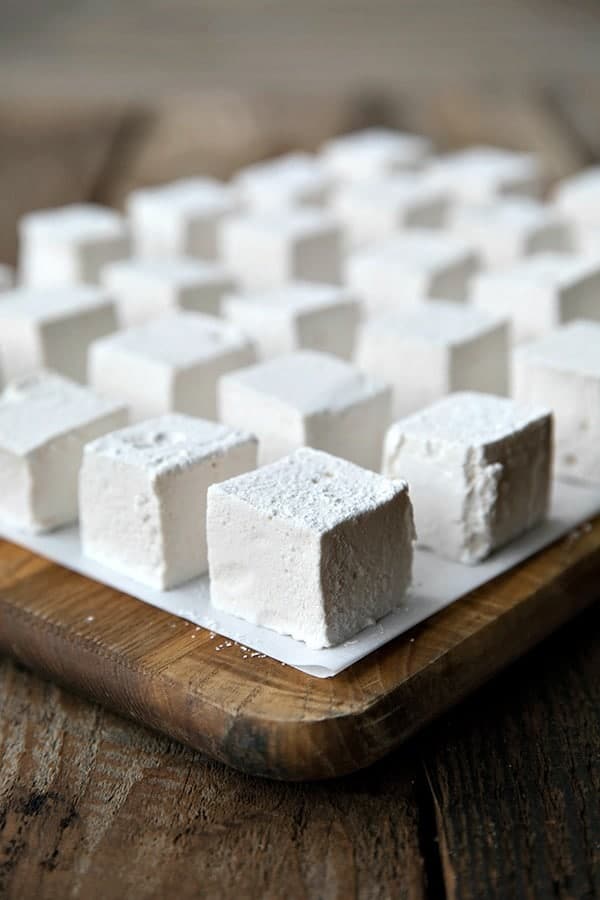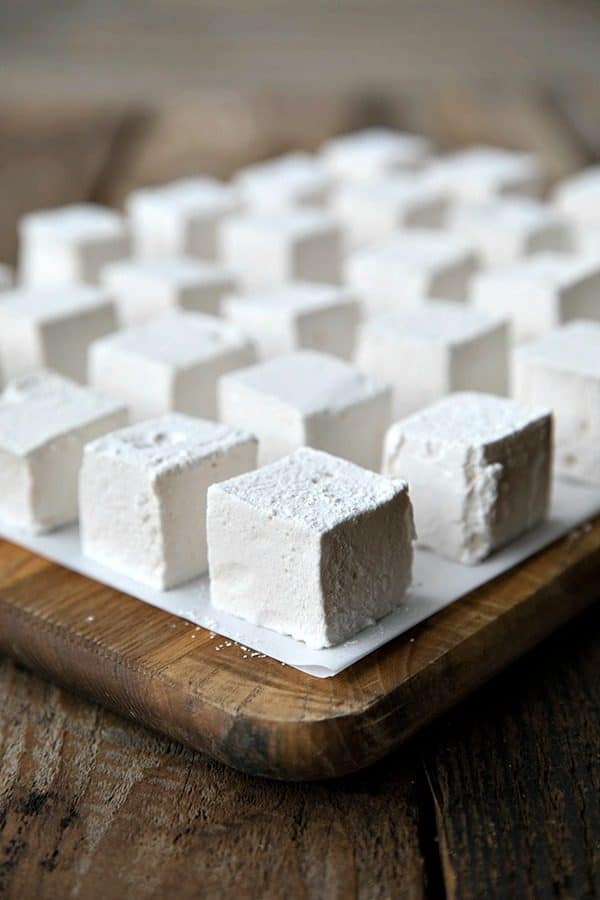 What makes homemade marshmallows different?
Like most people, I've got some weird food dislikes and quirks, and as un-American as it sounds, commercial marshmallows are one of them. Store bought marshmallows have a weird dry outer shell and are pure sugar with nothing redeeming them texturally.
I always thought I disliked marshmallows. These homemade marshmallows, on the other hand, are magical. They are, as Val said, "creamy, lofty, and light-as-air."
When Val first served me a homemade marshmallow all these years ago, it was a revelation. It wasn't that I disliked marshmallows, it was that I disliked lousy marshmallows.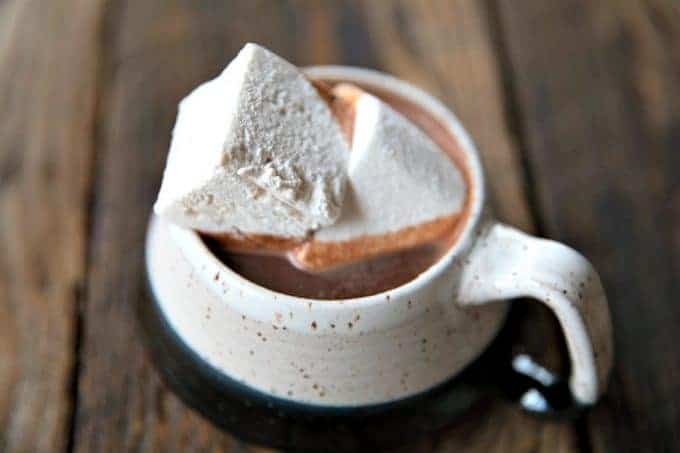 These wonderful homemade marshmallows became an instant holiday tradition for us. It's not officially fall at our house until we have some homemade marshmallows around for peppermint hot chocolate or blender made spiced hot chocolate.
What flavours do I use for a homemade marshmallow recipe?
The sky is the limit! In the pictures, I have Vanilla Nutmeg Marshmallows, but you can most certainly omit the nutmeg for a pure vanilla marshmallow.
Val used to make orange, mint, chocolate, and coffee marshmallows and all were equally delicious. We have done so many versions, I can't count them all.
The rule of thumb is 1 total tablespoon of extracts. For vanilla nutmeg, I do 2.5 teaspoons of vanilla extract to 0.5 teaspoons of nutmeg extract.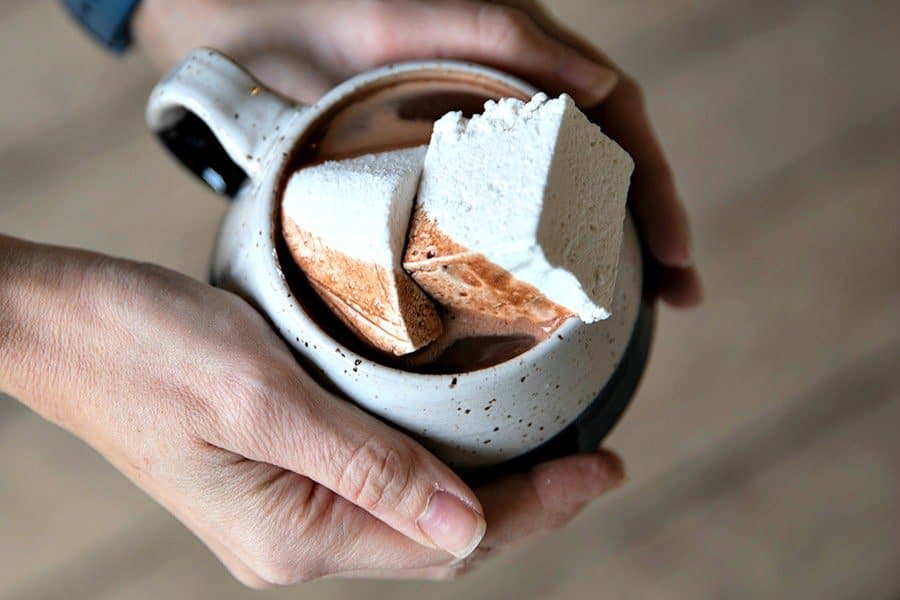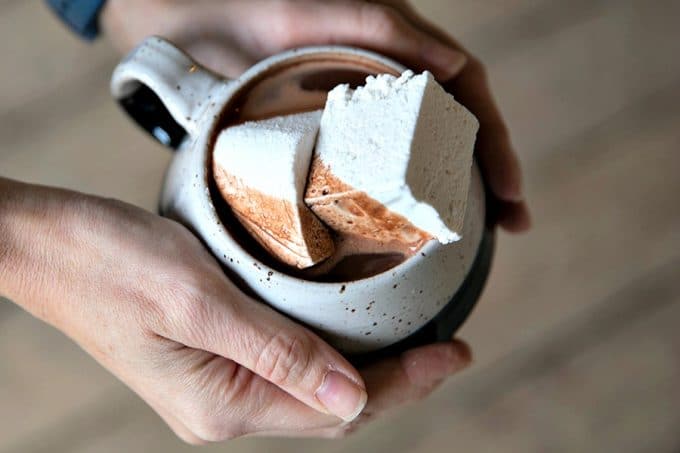 If you forced me to choose a favourite, though, I'd have to say it's a toss up between these Vanilla Nutmeg ones and orange ones dipped in chocolate. It's a hard job, but I'd be willing to taste test those any day of the week. Ahem.
I prefer all of my marshmallows to have whatever colour they have naturally from the small amount of extract I add, but sometimes Val played with subtle colours like swirling a couple of drops of yellow and red colouring into her orange marshmallows, or red into her peppermint ones.
Can I use homemade marshmallows in s'mores?
Yes. Most definitely. Please do. You'll be making the best s'mores you've ever had in your entire life if you make them with homemade marshmallows.
In fact, you might never be able to go back if you make them with homemade marshmallows. Ask me how I know.

Do I need special equipment to make homemade marshmallows?
Technically, no. You can get away with making homemade marshmallows if you have an extremely protective oven mitt and a hand mixer, but you almost certainly would like me better if I told you honestly you SHOULD have a stand mixer fitted with a whisk.
The reasoning is sound because basically you're whipping air into boiling hot candy syrup for some time. In other words, there's going to be steam.
Holding your hand over that with a hand-mixer is going to become uncomfortable long before the minimum 10 minutes of beating time is done. This is where the stand mixer is worth its weight in gold.
Aside from the stand mixer, all you need is a cake pan, some plastic wrap, and some non-stick cooking spray or neutral oil.
Here is a list of gear you'll want to have ready before you start the process:
-a stand mixer with whisk attachment
How do I store homemade marshmallows?
This one's super easy! Toss the cut marshmallows with a little extra powdered sugar. This keeps them from sticking together. Then place them in an airtight container and store at room temperature.
How long will homemade marshmallows keep?
If you don't give yourself a stomachache by eating them all right away, your marshmallows should keep quite well for up to 3 weeks at room temperature.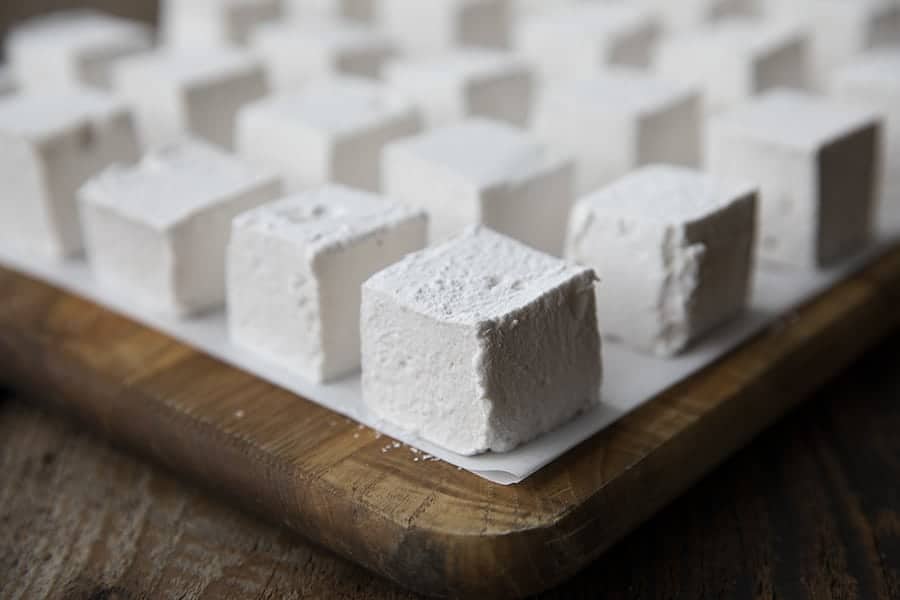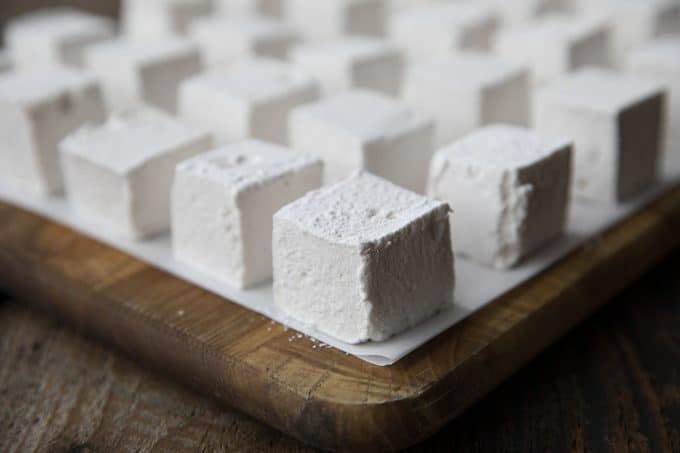 Homemade Marshmallows Recipe
-Stir together the sugar, water, and corn syrup in your saucepan only until the sugar is dissolved. Once it reaches that point, don't stir it again until it has come to a boil and boiled hard for 1 minute.
If you do stir it, you risk crystallizing your sugar which leaves little crunchy bits in your marshmallows. This isn't the end of the world, but it doesn't make as smooth an end product.
-Don't be tempted to double the recipe unless you have a stand mixer much larger than the average. The mixture expands hugely while it is whipped and while it cools.
There is no mess quite like the one you get if you overestimate the potential capacity of your mixer bowl when making marshmallows.
-Remember not to add your extract until the very end of the process. Remember, too, that the rule is to have 1 tablespoon total of extracts.
Even when changing up the flavour from vanilla, I tend to maintain at least 2 teaspoons of vanilla extract to go with 1 teaspoon or less of any other extract.
-Be sure to generously oil your hands before working with the whipped marshmallows unless you really dig feeling sticky.
-Don't rush them. Marshmallows need to rest to set up. Your patience will be rewarded.
-When it comes time to cut your marshmallows, it's hard to be too generous when dusting your cutting surface with powdered sugar. These suckers are sticky! Likewise, keep dusting your knife with powdered sugar.
-I find that a long carving knife like this one or a large chef's knife are the best tools for cutting marshmallows.
If you love these homemade marshmallows, you might also love these other homemade food gifts: pop rocks candy bark, salted pepita brittle, Coffee Jelly, Cranberry Pistachio Christmas Snack Mix, Pumpkin Spice Chai Latte Mix, homemade croissants, pain au chocolat, Chinese spicy chili crisp sauce, and Candied Jalapenos.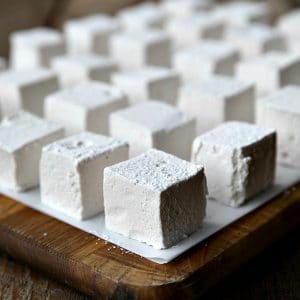 Creamy, lofty, light-as-air homemade marshmallows. You'll never want another one from the store after trying these! And you can customize them to create unique flavors like chocolate, orange, coffee, etc...
Ingredients
.75

oz

unflavored gelatin

3 envelopes of Knox gelatin

1/2

cup

cold water

2

cups

granulated sugar

2/3

cups

light corn syrup

1/4

cup

water

1/4

teaspoon

salt

1

tablespoon

pure vanilla extract

or combination of other flavor extracts

Confectioners' sugar
Instructions
Line 9 x 9-inch or 8 x 8-inch pan with plastic wrap and lightly oil it using your fingers or non-stick cooking spray. Set aside.

In the bowl of an electric mixer, sprinkle gelatin over 1/2 cup cold water. Soak for about 10 minutes.

Meanwhile, combine sugar, corn syrup and 1/4 cup water in a small saucepan, whisking only until the sugar is dissolved. Bring the mixture to a rapid boil. As soon as it is boiling, set the timer and allow to boil hard for 1 minute without stirring.


Carefully pour the boiling syrup into soaked gelatin and turn on the mixer, using the whisk attachment, starting on low and moving up to high speed. Add the salt and beat for between 10 and 12 minutes, or until fluffy and mostly cooled to almost room temperature. After it reaches that stage, add in the extract and beat to incorporate.

Grease your hands and a rubber or silicone scraper with neutral oil and transfer marshmallow into the prepared pan. Use your greased hands to press the marshmallow into the pan evenly. Take another piece of lightly oiled plastic wrap and press lightly on top of the marshmallow, creating a seal. Let mixture sit for a few hours, or overnight, until cooled and firmly set.

Sprinkle a cutting surface very generously with confectioner's sugar. Remove marshmallow from pan and lay on top of the sugar. Dust the top generously with sugar as well. Use a large, sharp knife to cut into squares. Separate pieces and toss to coat all surfaces with the sugar.

Store in an airtight container.
Nutrition
Calories:
63
kcal
Carbohydrates:
16
g
Sodium:
21
mg
Sugar:
15
g
Calcium:
1
mg
Nutritional information is an estimate and provided to you as a courtesy. You should calculate the nutritional information with the actual ingredients used in your recipe using your preferred nutrition calculator.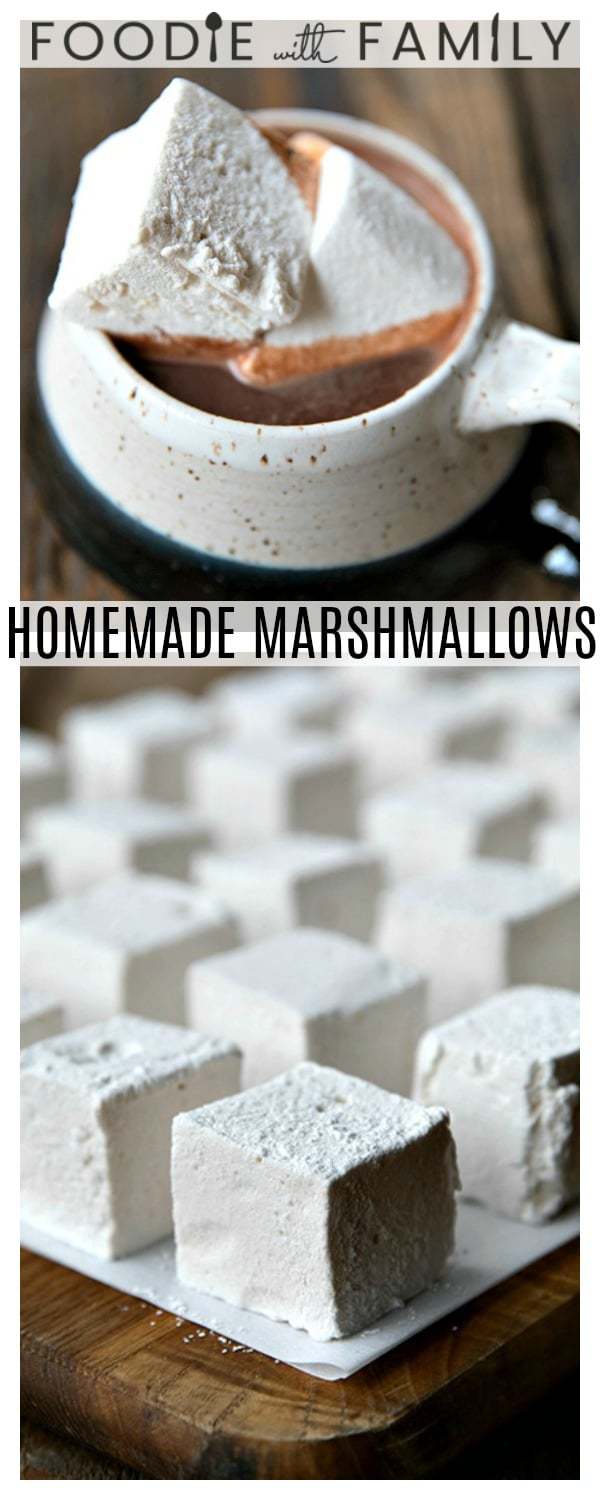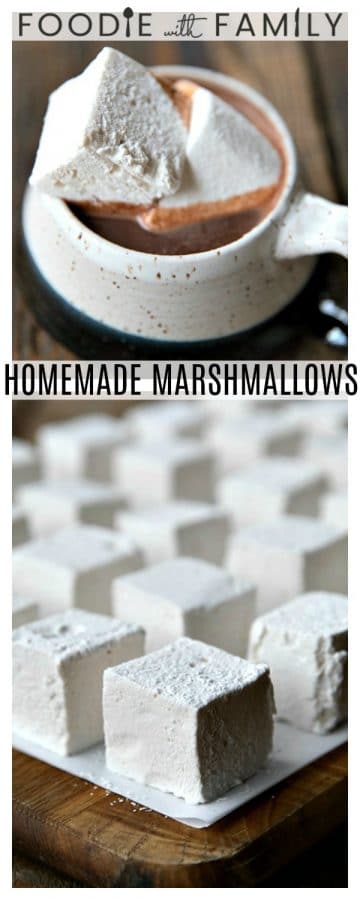 This recipe for Homemade Marshmallows was originally written by my stepmom, Valerie, on December 5, 2008. She passed away several years ago, and I'm updating the post to add some more helpful hints in 2018 but the brief original text written by Val remains below because she was awesome and so are her marshmallows.
Val's original post
Last year I made homemade marshmallows for the first time. For years I felt too intimidated to make the attempt, not sure why, but I'm so glad I finally gave it a whirl. These need to be started at least a day before you need to serve them or package them for gifts, so be sure to give yourself some leeway. The only change I made to the recipe I found* was to use confectioners sugar alone for the coating, rather than mixing with cornstarch. I don't like the feel of the cornstarch, and with corn allergies being an issue for some, I felt it was better without.
This recipe is for your basic vanilla flavored marshmallows, but I had success with flavoring in other ways–raspberry flavoring with a touch of red food color, mint flavoring with green, orange flavoring with a touch of yellow and red color together. I also made a spiced marshmallow, adding some ground cinnamon and ground nutmeg to the marshmallow, and also mixing some of the same spice into the confectioners sugar coating. All turned out wonderfully well. Hope you enjoy these as much as we have!
*The recipe Val altered was located on a now-defunct website.