I'm so ready for Christmas I feel like I might explode. Christmas makes me feel like Tigger, Ricochet Rabbit, Stimpy in Space Madness, fireworks, and Pop Rocks all in one. In fact, I feel so very effervescent about Christmas that I decided to make a candy that was as sparkly and festive as I felt: Pop Rocks Candy Bark.
There is not one single redeeming fact about this nutritionally. In fact, the only things recommending it are the FIZZY FIZZY FUN, tasty candy bark, and festive gift giving possiblities to everyone but my mom who is probably cringing reading this afraid that I'll be like the legend of Little Mikey from the Life commercials who supposedly died from eating Pop Rocks and soda at the same time and having his stomach explode. Spoiler alert: Mikey is still alive and working at a marketing agency. So if anything exploded, it was his SOUL.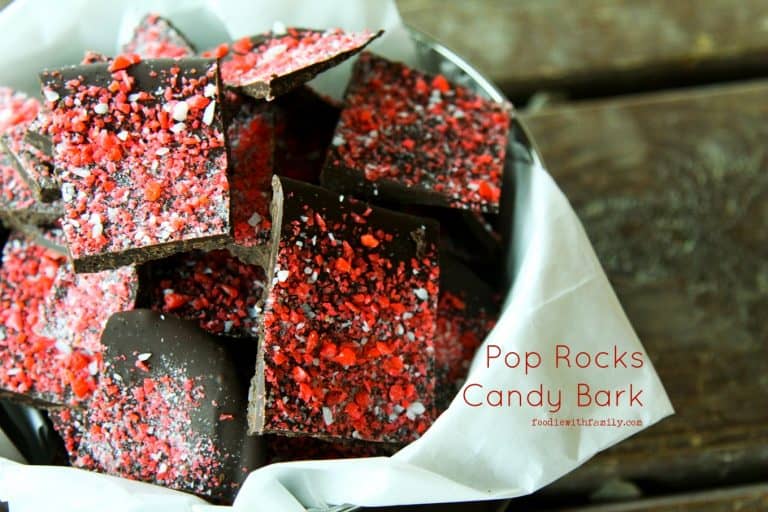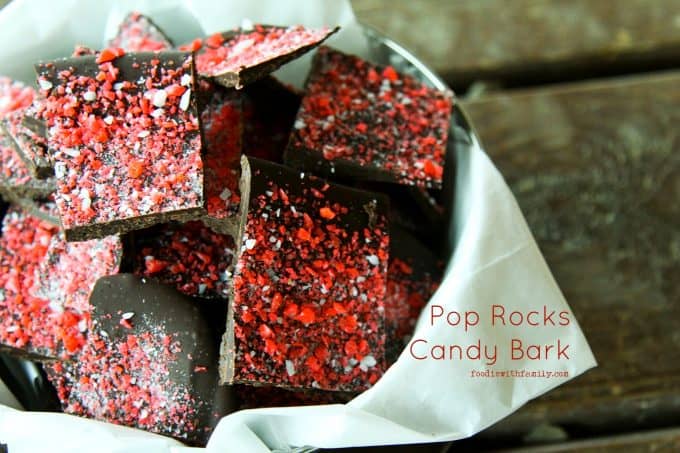 But we were being festive! Back to the Pop Rocks Candy Bark. You can certainly use any Pop Rocks you want, but this is CHRISTMAS and they make CANDY CANE POP ROCKS! I'm so sorry for the all caps, but I told you I'm a little over the top about Christmas. You've been warned. They're not stupendously candy cane-esque, honestly, but they're still red and white and fun all over!
And so, I went all über-Christmas elf and put Candy Cane Pop Rocks on my Pop Rocks Candy Bark. Yes, my friends. It still snaps, crackles, and pops like Little Mikey's joints probably do at this point, seeing as Little Mikey is probably officially over the hill now. But because I'm an accommodating mom, and one of my kids is less than gung-ho about peppermint, I did half of my Pop Rocks Candy Bark with strawberry pop rocks.
Here's the strange thing. Pop Rocks -while something I would normally avoid with all fibers of my being- do something strangely wonderful to chocolate. The effervescent popping action actually makes the chocolate taste more intense instead of distracting from it. It's magical, really!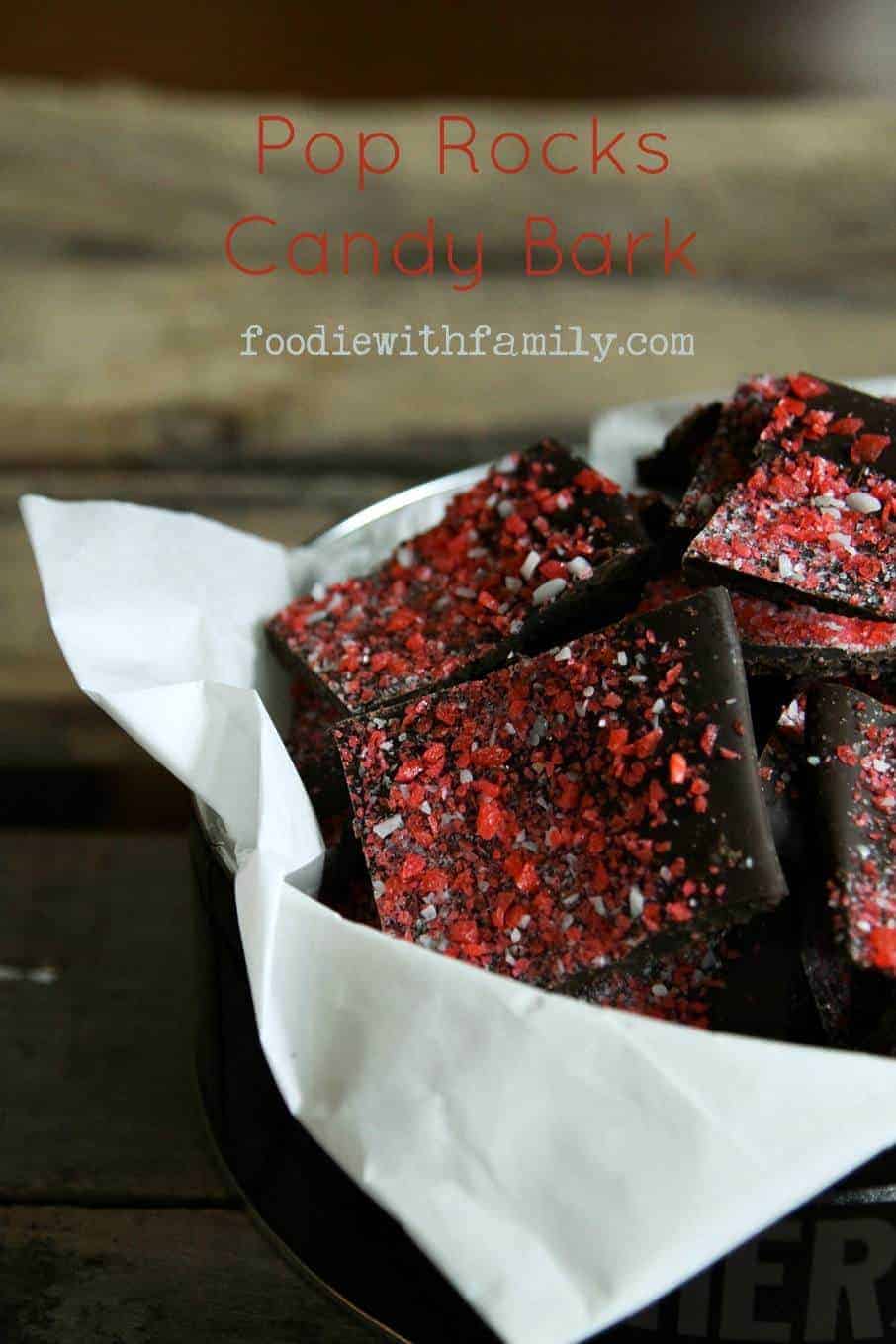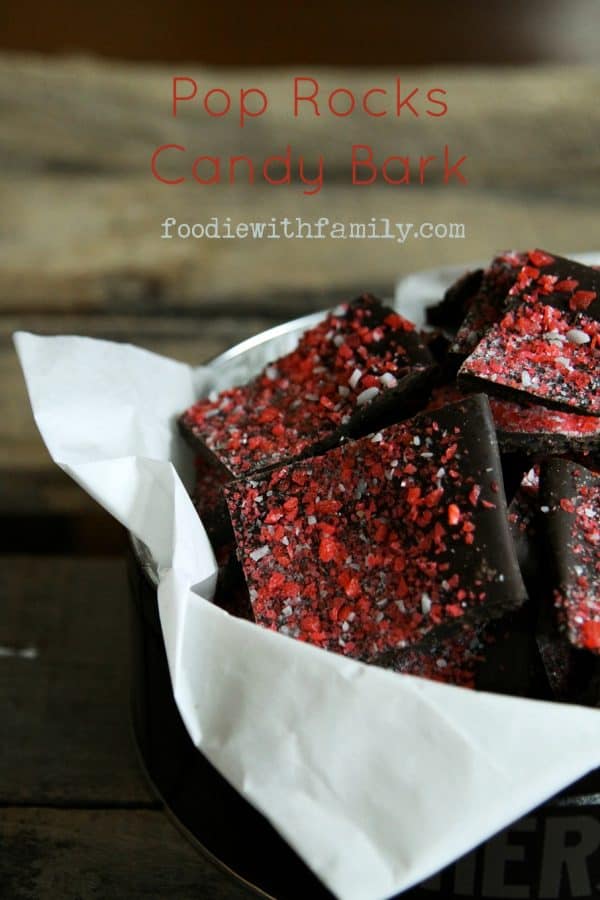 Cook's Notes
Melt the chocolate gently and let it cool slowly at room temperature to avoid grey discolorations on the chocolate when it sets back up.
You can't pour the Pop Rocks onto the chocolate too quickly. You need to let it cool to near room temperature (still glossy looking, but far cooler to the touch. If you put the Pop Rocks on too quickly, they'll begin popping in the chocolate which will ruin the effect. The best way to test whether or not the chocolate is at the right temperature is to sprinkle a couple of Pop Rocks onto one corner of the chocolate. If you hear them fizzling and popping, you're going to want to wait a bit. If you don't hear anything, the remainder of the chocolate should be fine for sprinkling wholesale with the Pop Rocks. Patience will be rewarded!
By the same token, don't wait too long to sprinkle the Pop Rocks or they won't stick!
Allow the chocolate to set up completely (4 hours to overnight at cool room temperature) before cutting or breaking into pieces.
Store leftover Pop Rocks Candy Bark in a loosely covered container at room temperature. Don't put the cover on too tight, or trapped moisture could cause the Pop Rocks to start fizzling and popping!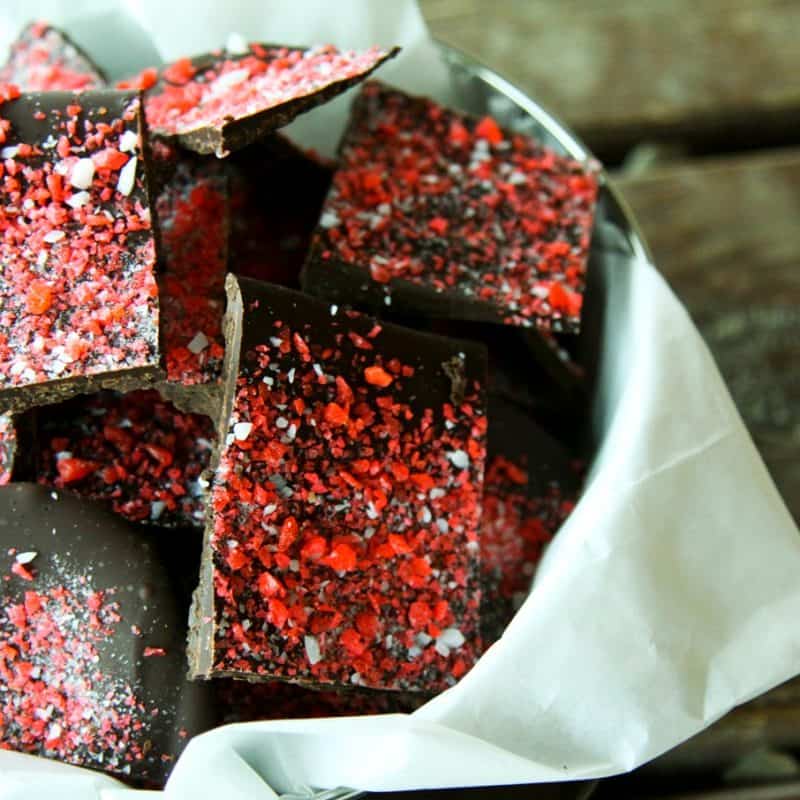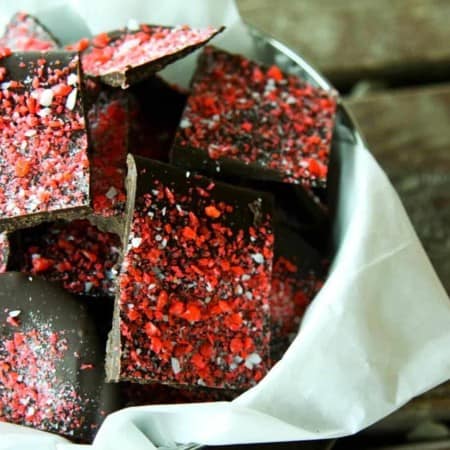 Ingredients
1

pound

dark chocolate

6

packets Pop Rocks
Also needed:
a half sheet pan or other cookie sheet lined with a silpat or parchment paper
Instructions
Gently melt the dark chocolate in a double boiler or in the microwave. Pour it over the silpat and use an offset or silicone spatula to gently spread it out. You don't need to get to the edges of the mat. Perfection is not needed.

Wait for at least 15 minutes before sprinkling the Pop Rocks over the hardening candy. Test one corner by sprinkling some of the pop rocks over the bark. If it starts fizzling and popping wait another five minutes and test again. When you can sprinkle them on without them fizzling and popping, sprinkle all of it over the top. Let it firm completely before cutting or breaking into pieces. Store loosely wrapped at room temperature.
Nutritional information is an estimate and provided to you as a courtesy. You should calculate the nutritional information with the actual ingredients used in your recipe using your preferred nutrition calculator.
This is my twenty eighth post in my commitment to post every. single. day in November for NaBloPoMo (National Blog Posting Month), or NaBlahBlahBlah as I prefer to call it. Follow the craziness all month as I share recipes, family anecdotes, and throw a couple of giveaways in for good measure!