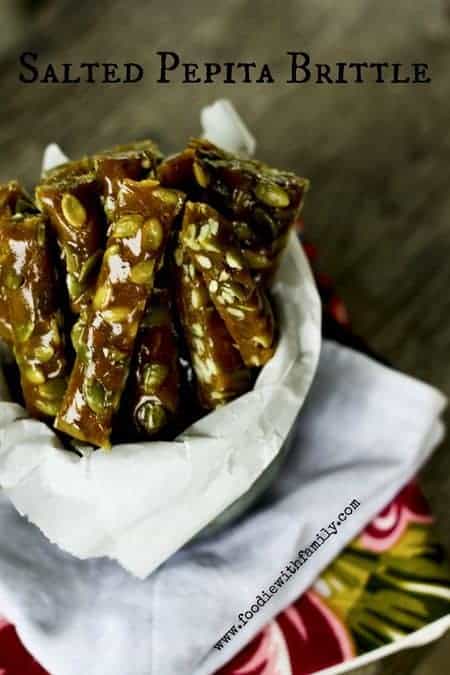 Yeah. I know. It's not OFFICIALLY fall yet, but PEOPLE. I can't wait one more second. The breezes are decidedly turning into gusty fall ones. The sky is taking on that gun-metal hue. The leaves are changing colour and I. Want. Fall. Food. So, I'm sorry if you're in the "TOO SOON" camp, but this is happening and it's starting now, so brace yourself if you're unprepared.
I present to you, Salted Pepita Brittle. And all God's people said, "Amen!"
Can I just say, "Whoa!"? This is obscenely delicious. It's everything a brittle should be: buttery, sweet, salty, cracklingly crunchy, and chock full of pepitas (raw, shelled pumpkin seeds). Have you gotten hooked on pepitas yet? I throw them around as generously as glitter gets applied at a cheerleading competition. I put them in candy, in cookies, in breads, in granola, in trail mix, in my MOUTH…
It's kind of silly in this context if I point out the nutritional value of pumpkin seeds (46% of your daily RDA of magnesium, 15% of your daily RDA for iron, around 22% of your daily RDA for vitamin K, and 5% of your dietary fiber*) because we're talking about tucking it wholesale into a homemade candy. So I won't mention it. Ahem.
*Source: Livestrong.org
The fact that we use raw sugar (also known as turbinado, demerara sugar, or sugar in the raw) doesn't add any more nutrition than granulated refined white sugar does, but it sure adds some serious caramel/molasses flavour to the party, and when we're talking fall foods (BECAUSE I WENT THERE!) those caramel undertones are more than invited.
Do I need a candy thermometer to make brittle?
There's no getting around it, you need a couple of things in the equipment category to make this to keep you from cursing my name and wanting to shave your head and join a convent. Chances are you have them already, but I'm still going to list them here to emphasize the fact that you really do need them:
A deep stainless steel or other non-reactive pot. It needs to have at least a 4 quart capacity. Don't downsize. This stuff bubbles up like nobody's business and is a BEAST to clean off of a cooktop if it spills over the top in it's enthusiasm to boil. Just trust me on that one.
A candy thermometer or instant read thermometer that reads up to and beyond 300°F. Oh sure, you can go old-school and drop little bits of molten candy into ice water to see if it forms a ball or strands and cracks, but the thermometer is fast and reliable. I'm definitely a fan of thermometers.
Parchment paper. You do NOT want to pry hardened sugar from a pan. Again, trust me.
A rimmed sheet pan. If you make a full-sized batch (because why wouldn't you? If you won't eat it, you'll make fast friends with anyone to whom you donate your excess!) you'll want to use a standard 13-inch by 18-inch by 1-inch half sheet pan. If you make the half-sized batch, you can probably get away with something a bit smaller, like a jelly-roll pan.
An offset spatula. This is what makes the difference between happiness and crankiness when attempting to spread a giant wad of screamingly-hot, hardening pepita brittle around a parchment lined pan. The pepitas have a tendency to clump and that metal offset spatula spreads it out better than a silicone spatula which is way too bendy to really force anything into place or a wooden spoon that is going to cling to everything it touches. While a wooden spoon might make a fun lollipop after getting covered in clumped brittle, it's not an effective method for spreading out hot brittle. Besides this, it's a handy tool for frosting cakes/cookies/whatevers and it's only $6!
Below is a handy dandy clickable list of ingredients and equipment for today's recipe in case the items aren't available near you (or you're like me and you'd rather stay home in your tatty yoga pants and messy pony tail than run to the store.) The links below are all Amazon.com affiliate links, so if you order after clicking on them, I will receive a small commission that in no way effects the price of the item. Thanks for keeping me in pepitas!
Equipment:
Ingredients:
Is anyone wondering what to do with a bunch of Salted Pepita Brittle on hand? I mean aside from eating it? I'm pretty fond of crushing it to garnish ice cream (watch Wednesday for an ice cream recipe you will NOT want to miss!) and bake into cookies. It stores nicely for just about eternity (okay 2 weeks, not eternity) at room temperature when it's kept in an airtight container with waxed paper or parchment between the layers provided you don't live in a sauna. You can extend the life of your brittle by wrapping it in a moisture-proof material (like a zipper top bag). It'll soften a bit as it thaws, so I advise you to eat it frozen or crush it when frozen to add directly to your baked goods which -by virtue of the inclusion of Salted Pepita Brittle- become baked greats.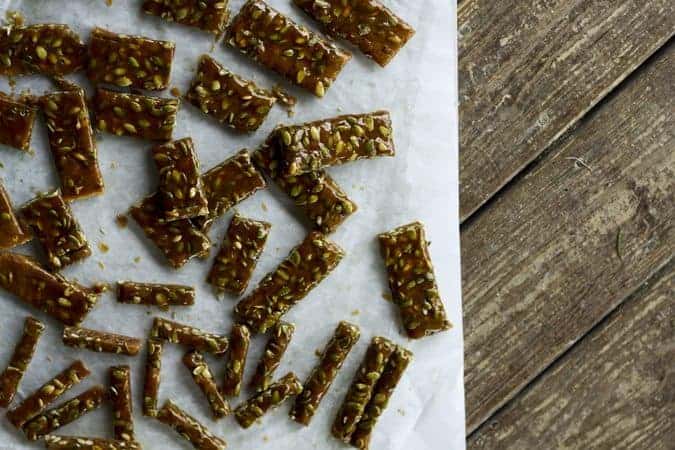 So… are you feeling like it's too soon to break out the pumpkin, cider, sweaters, boots, and scarves? Or are you jumping up and down with joy like me and spilling your pumpkin chai latte?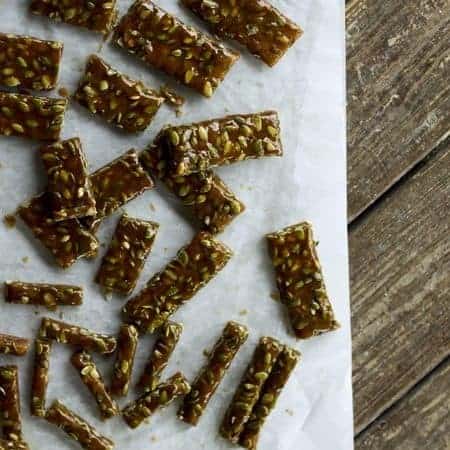 Welcome fall with this sweet and salty, buttery, pepita (pumpkin seed) brittle that's bursting with caramel flavours. Adapted from
Smitten Kitchen who adapted it from
Karen DeMasco of NYMAG
and
The Wednesday Chef.
Ingredients
For a Full-Sized Batch:
4

cups

raw sugar

1 1/4

cups

water

1/2

pound

UNSALTED BUTTER *See notes

2 sticks or 16 tablespoons

2/3

cup

light corn syrup or mild honey

1

teaspoon

baking soda

2

tablespoons

coarse flaky sea salt

1 tablespoon coarse kosher salt can be substituted if necessary

3

cups

raw pepitas
For a Half-Sized Batch:
2

cups

raw sugar

1/2

cup

plus 2 tablespoons water

1/4

pound

UNSALTED BUTTER *See Notes

1 stick or 8 tablespoons

1/3

cup

light corn syrup or mild honey

1/2

teaspoon

baking soda

1

tablespoon

coarse flaky sea salt

1 1/2 teaspoons coarse kosher salt can be substituted if necessary

1 1/2

cups

raw pepitas
Necessary Equipment:
Candy thermometer or instant read thermometer that can read above 300°F.

1

half sheet pan

13-inch by 18-inch by 1-inch

Parchment paper

Offset spatula
Instructions
Line your sheet pan with a piece of parchment so that the bottom and sides are covered completely. Use two pieces if you must to get full coverage. Using one piece is ideal as it will shift less while you're pushing the brittle into place, but two can be used. Set aside.

In a large stainless steel or other nonreactive pot over medium high heat, stir together the sugar, water, butter, and corn syrup or honey until the butter and sugar are both melted. Bring the mixture to a boil, stirring down as necessary. You may need to lower the heat to medium if it is bubbling too close to the rim of the pan. Continue boiling, stirring down when you need to, until the mixture has thickened, darkened slightly, and reached 302°F on a candy or instant read thermometer. Remove from the heat, add the baking soda, and stir carefully as the molten candy will foam up alarmingly. Stir in the salt, then the pepitas, and scrape the contents of the pot into your prepared pan. Working quickly because the candy hardens fast, use the offset spatula to push the candy around so that it is more or less even in the pan. Let cool for about 10 minutes, or until it is set up around the edges and on top. The center will still hold an indentation when pressed gently and carefully with your hand (don't push hard, hot candy HURTS! Carefully scoot the parchment out of the pan onto a cutting board and score it while it is still warm and fairly pliable. Let it cool completely before breaking apart where you scored it. Store the totally cooled brittle in single layers with parchment or waxed paper between the layers in an airtight container at room temperature for up to 2 weeks.

You can extend the life of the brittle by freezing in a moisture proof container, but it will soften slightly if thawed, so I recommend eating the frozen brittle in its still frozen state.
Notes
*I highly recommend UNSALTED butter for this recipe. If you can't find it, you can substitute salted butter and reduce the salt specified in the recipe by half. Don't forget to do this or your brittle will be almost inedibly salty!
Nutritional information is an estimate and provided to you as a courtesy. You should calculate the nutritional information with the actual ingredients used in your recipe using your preferred nutrition calculator.