My Valentine-for-life is a funny bird. The man is macho. He loves football, guns, archery, digging ditches in our yard, playing screaming electric guitar, building things, winter camping, and going on speed hikes through the woods.
He's an unapologetic geek. True, he's an engineer and that's part of the package, but it's way more than that. Wanna get him chatting? Bring up Medieval history. He talks about those regents like they're sitting on the throne today. Go on. I dare you to start a discussion on the Stone of Scone. And no, it isn't a failed baking experiment.
He's also the guy who -when we had a push mower- pulled it behind him and swept his feet as he walked forward to help motivate any little lurking woodland creatures to run away and not be hurt. He's the guy who -after forty seven years of never dancing anything more than a shuffle- offered to take tap lessons with our eight year old so they could have fun together. He hung up Christmas lights over the boys' beds to help defeat the fear of the dark in a festive way. He carries our four pound chihuahua around in his hoodie like a baby in a sling. He plays the acoustic guitar like an angel. He asked the lady in the drive-through at McDonald's if she could please give us fries fresh from the frier when I was nauseous and only wanted hot fries to eat, "Excuse me, one of us just got out of the hospital. Is it possible that we could have two large fresh-from-the-frier orders of fries?"
I love that guy and his quirkiness.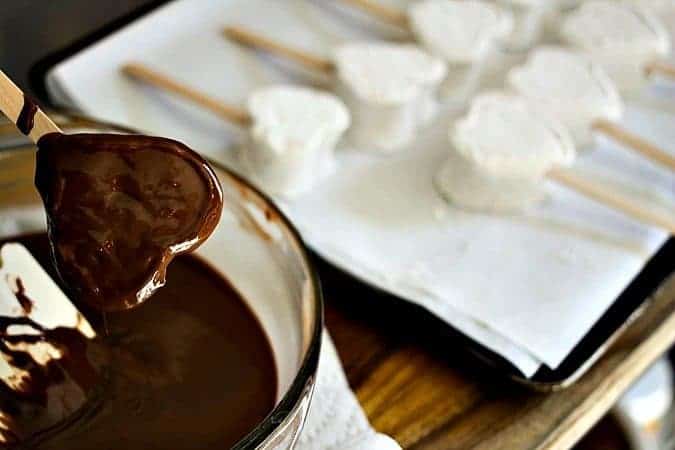 He's a milk chocolate lover. (To me that's a quirk, since dark chocolate is the be-all-and-end-all of the chocolate world.) And he's a coffee guy (where I'm a tea girl.) So when it comes time to create a treat for him that will make him misty-eyed, I usually combine his two favourites in one form or another. This year, I decided to get mushy on him and make heart-shaped, coffee flavoured, milk chocolate dipped marshmallow pops. Nothing but the best for my sweetheart.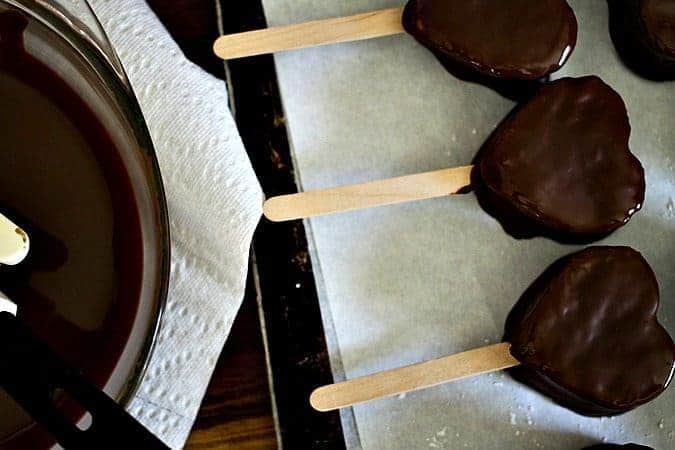 Now, you COULD skip making them heart shaped and simply make them rectangles. Likewise, you could skip the stick and just let them be stand alone marshmallows, but I like the stick both for the dipping ease (build in handle!) and the tidier eating process (Look ma, no gooey fingers!). And if you are making these for someone who likes ribbons -unlike my dude- by all means, festoon them with red polka dots or heart covered silky ribbons. Do whatever dings your beloved's cardiac chimes.
Lubdublubdub…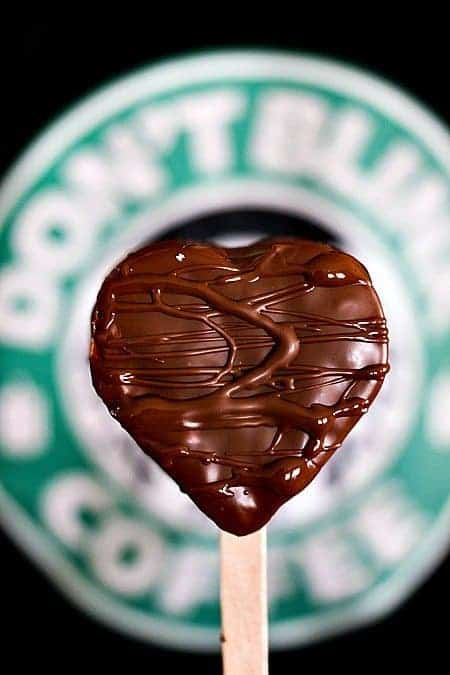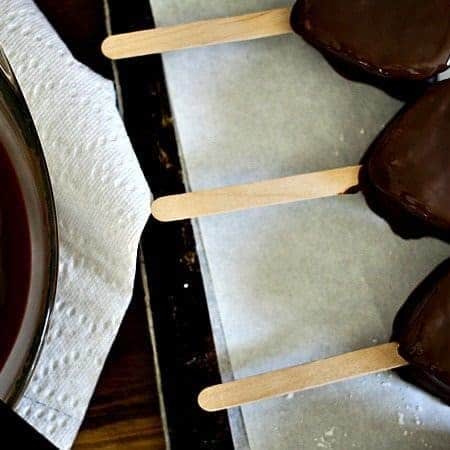 Heart-shaped, airy, coffee flavoured marshmallows enrobed in silky milk chocolate. Perfect for Valentine's Day OR a Game Day dessert!
Ingredients
For the Coffee Marshmallows:.75-oz unflavored gelatin (3 envelopes of Knox gelatin)
1/2

cup

cold water

2

cups

granulated sugar

2/3

cups

light corn syrup

1/4

cup

water

1/4

teaspoon

salt

1

tablespoon

coffee extract

Confectioners' sugar
For the Mocha Marshmallow Pops:
pop sticks

1 1/2

cups

milk chocolate chips or chunks

2

tablespoons

extra virgin coconut oil

or shortening
Instructions
To Make the Coffee Marshmallows:
Line 9 x 9-inch or 8 x 8-inch pan with plastic wrap and lightly oil it using your fingers or non-stick cooking spray. Set aside.

In the bowl of an electric mixer, sprinkle gelatin over 1/2 cup cold water. Soak for about 10 minutes.

Meanwhile, combine sugar, corn syrup and 1/4 cup water in a small saucepan. Bring the mixture to a rapid boil. As soon as it is boiling, set the timer and allow to boil hard for 1 minute.

Carefully pour the boiling syrup into soaked gelatin and turn on the mixer, using the whisk attachment, starting on low and moving up to high speed. Add the salt and beat for between 10 and 12 minutes, or until fluffy and mostly cooled to almost room temperature. After it reaches that stage, add in the extract and beat to incorporate.

Grease your hands and a rubber or silicone scraper with neutral oil and transfer marshmallow into the prepared pan. Use your greased hands to press the marshmallow into the pan evenly. Take another piece of lightly oiled plastic wrap and press lightly on top of the marshmallow, creating a seal. Let mixture sit for a few hours, or overnight, until cooled and firmly set.

Sprinkle a cutting surface very generously with confectioner's sugar. Remove marshmallow from the pan and the plastic wrap and lay on top of the sugar. Dust the top generously with sugar as well. Dip a heart shaped cookie cutter into confectioner's sugar and cut as many hearts as you can from the marshmallow slab. Depending on the size you use, you can get between 4 and12 marshmallows from one slab. I like them best mid-sized and get 9 marshmallows with my cutter.
To Make the Mocha Marshmallow Pops:
Insert a stick into each marshmallow. Place on a waxed paper or parchment lined cookie sheet. Place the sheet in the freezer for at least 30 minutes, but up to 24 hours before proceeding.

Add the milk chocolate chips and coconut oil to a microwave safe dish. Microwave on high for 45 seconds, stir, and return to the microwave in 10 second bursts on high, stirring well after each one, until it is perfectly smooth. Let it stand at room temperature for 5 minutes. Take the marshmallow pops from the freezer and quickly dip into the melted chocolate, letting excess run off ~OR~ use a spoon to drizzle the melted chocolate artistically over the marshmallow pops. Let them firm up at room temperature. These are good up stored tightly wrapped at room temperature for up to 5 days after being made.
Nutritional information is an estimate and provided to you as a courtesy. You should calculate the nutritional information with the actual ingredients used in your recipe using your preferred nutrition calculator.
Looking for more chocolate recipe inspiration for Valentine's Day and beyond? Check out our friends at KraftRecipes.com.