I've said it before and I'll say it again: I love pudding. I could eat pudding or ice cream every single day and not be mad at all. It doesn't hurt things that there's an almost infinite variety of both of those, but the point is this. If it's pudding, I'm in. (With the notable exception of durian pudding the thought of which just makes me want to scrub my tongue.) Butterscotch Pretzel Pudding Cups are a perfect example of why I love pudding so very, ridiculously much.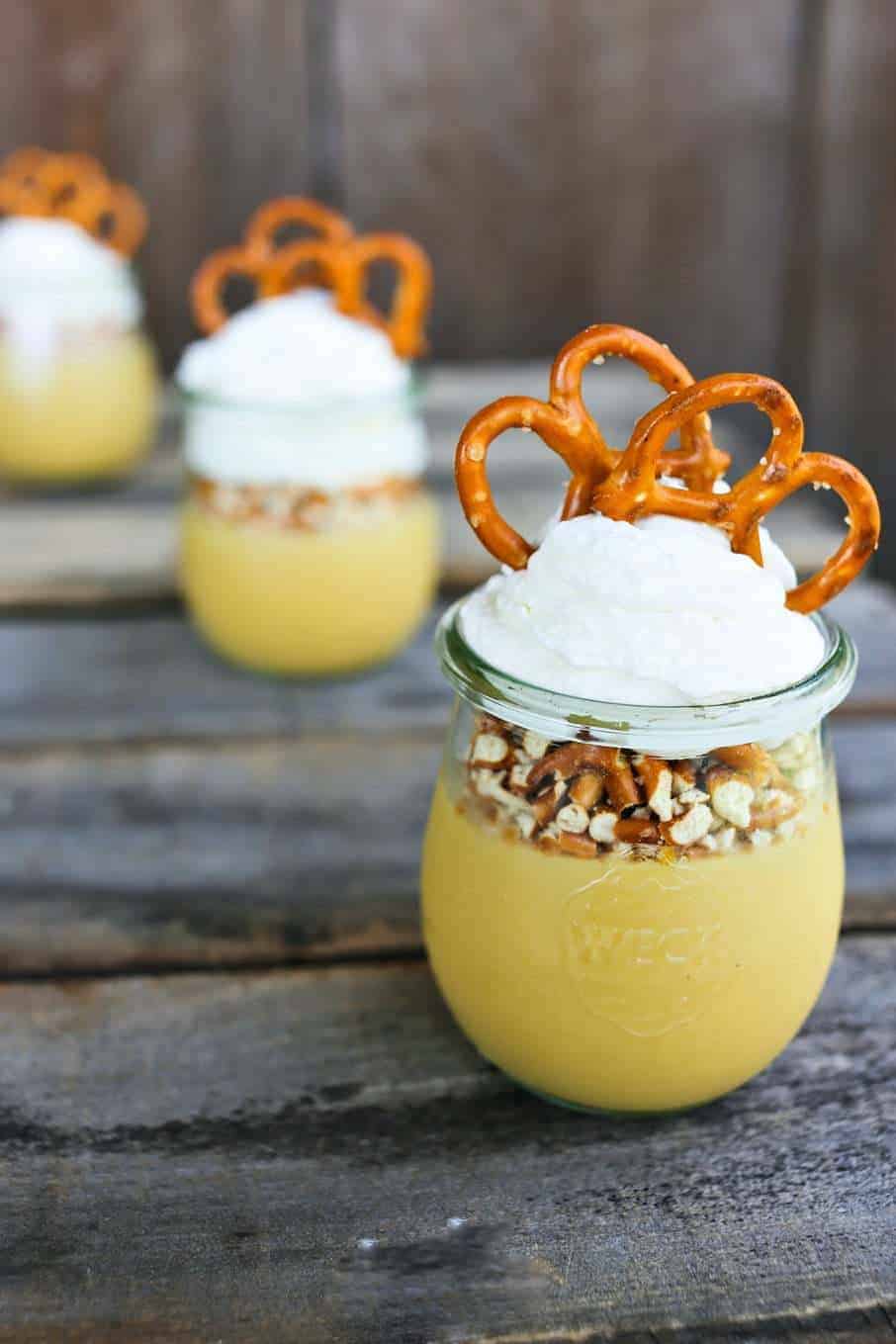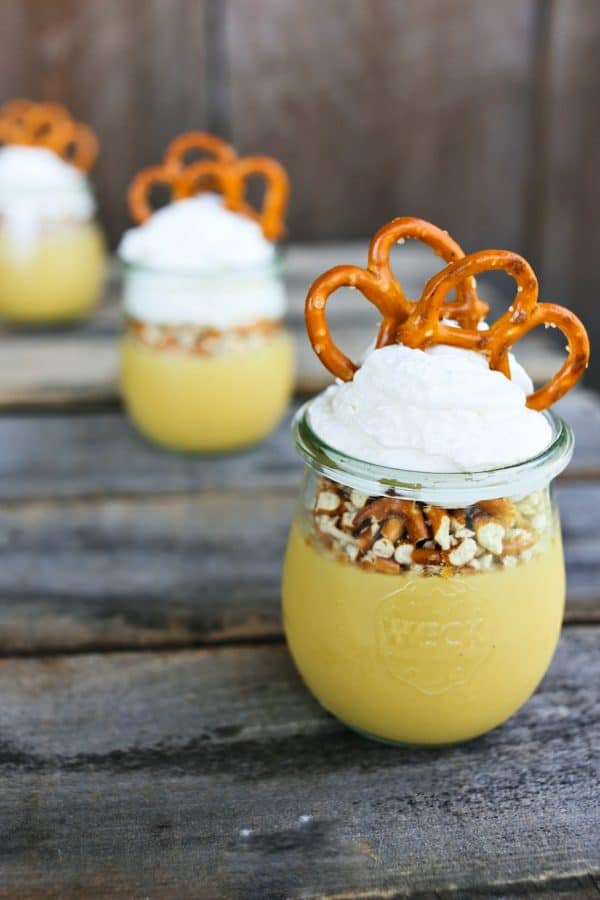 Butterscotch Pretzel Pudding Cups are pretty self explanatory: start with a layer of homemade, rich, luscious, velvety butterscotch pudding, sprinkle with some crushed salty pretzels (because salty and sweet go together like me and pudding), and top with a generous cap of whipped cream and two little dip-able, munchable pretzel twists. The rich, caramel qualities of the butterscotch pudding match perfectly with the salty, crunchy pretzel bits. My whole family went a little nutty over these Butterscotch Pretzel Pudding Cups.
Cook's Notes
To make your life easier, choose a pan that is at least twice the depth of your ingredients. For the recipe as written, a 2 to 3 quart pan will suffice. If you'd like to make a double batch, I'd stick with a 3 to 4 quart pan. It would also behoove you to choose a pan that is easy to get a whisk into since you'll be whisking almost the whole time it's on the heat. I prefer a pan with a wide opening, but when I double my recipe (read: most times I make it) I switch up to a small pasta pot for the job. This is because boiled-over pudding is a really unpleasant thing to clean from a stove top.
If you've ever made homemade pudding from scratch before, you'll probably notice I've omitted a step. I don't temper the eggs here (bring liquids to a boil, whisk into the beaten eggs, return to the pan and bring to a boil) both because it's unnecessary when you follow the directions I've given and because it's a royal pain in the tuckus.
This is NOT a hard process or one you need to sweat except for one major detail. Don't walk away from the pudding once you start cooking it. Just don't. It will end in sadness and scrambled eggs.
DO make sure you whisk the dry ingredients together in your pan before you whisk your liquids together in a separate container. This will prevent you from dirtying two whisks… And you can't whisk the dry stuff with a wet whisk because clumps will happen. Again? Sadness.
DO pour your hot, thickened pudding through a fine mesh sieve (not a plain old colander!) into a heat proof bowl. This is the insurance policy in place that allows us to skip the whole fussy egg tempering procedure. It will catch any little bits of scramble that sneak around the tines of your whisk or any little errant clumps of cornstarch you may have missed. When you need to help urge any pudding through the sieve, use a flexible spatula to scrape along the inside of the sieve. Don't push it, just stir it. Eventually, the pudding will strain through.
DO stir the butter and vanilla in until the butter is fully melted and incorporated.
DO lay plastic wrap directly on the surface of your pudding to prevent it from getting a skin. Pudding I love; pudding skin, not so much.
You can prep your crushed pretzels and whipped cream ahead of time, but you shouldn't assemble them until you're ready to serve. This will prevent your pretzels from becoming soggy between those layers of pudding and whipped cream. It won't take but a moment or two to sprinkle on the pretzel bits and top with whipped cream. It's worth it.
Connect with Foodie with Family
facebook | pinterest | instagram | twitter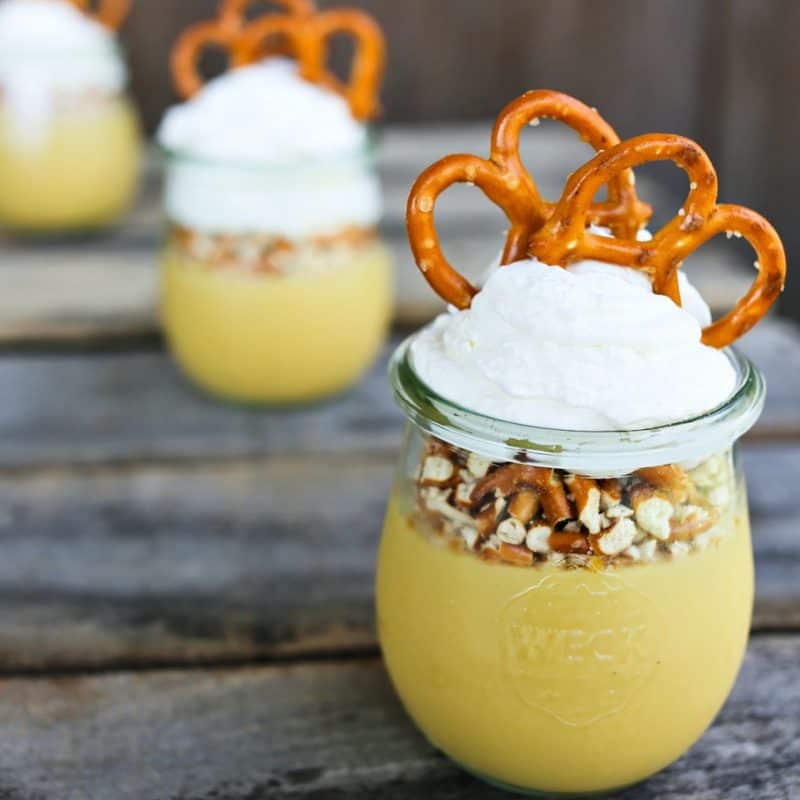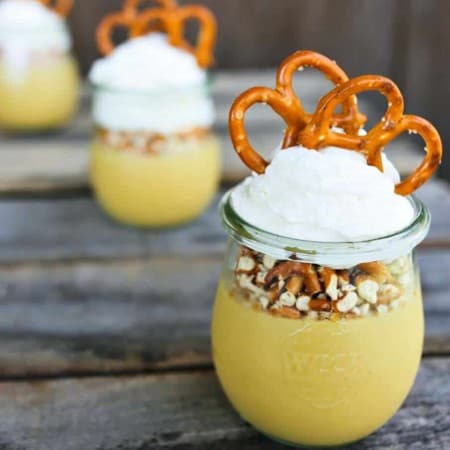 Ingredients
For the Butterscotch pudding:
3/4

cup

dark brown sugar

1/4

cup

cornstarch

1/4

teaspoon

kosher or sea salt

4

large egg yolks

3

cups

whole milk

1 1/2

teaspoons

pure vanilla extract

1

tablespoon

unsalted butter
To garnish:
3/4

cup

crushed salted pretzels

1 1/2

cups

whipped cream or thawed frozen whipped topping

6

small pretzel twists
Instructions
In a 2 to 3 quart sized saucepan, whisk together the brown sugar, cornstarch, and salt until evenly coloured. Slowly whisk the milk and egg yolks together and slowly drizzle the egg mixture into the pan holding the sugar mixture while whisking briskly. Place the pan over medium heat and whisk constantly while bringing to a boil. When it reaches the boil, drop the heat to LOW and stir constantly for 1 minute, or until thickened and the whisk leaves ribbony marks behind it as you stir. Remove from the heat and pour through a fine mesh sieve into a heat proof bowl or large measuring cup. Stir in the butter and vanilla until the butter is fully melted.

Divide the pudding evenly between 6 jelly jars or small bowls. It should fill the jelly jars up about 2/3 of the way. Cover the surface of the pudding with a piece of plastic wrap and refrigerate until thoroughly chilled. Remove the plastic wrap and top each serving with 2 tablespoons of crushed pretzels, about 1/4 cup of whipped cream, and one small pretzel twist. Serve immediately.
Nutritional information is an estimate and provided to you as a courtesy. You should calculate the nutritional information with the actual ingredients used in your recipe using your preferred nutrition calculator.