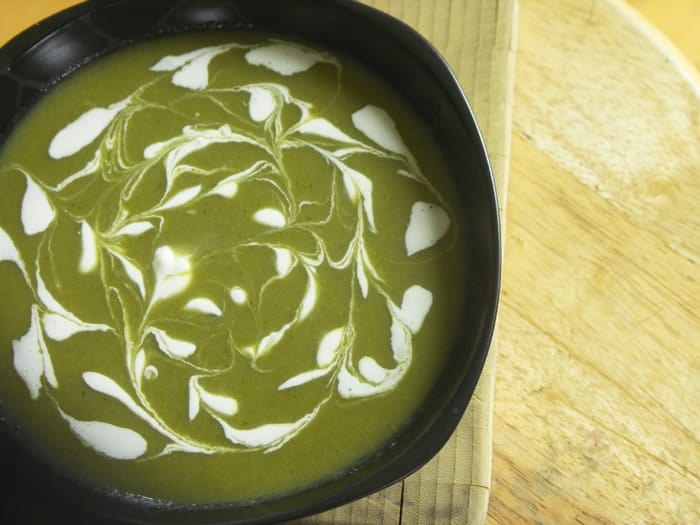 Did you know there's a fan page for Foodie With Family on Facebook? Do you have any idea how lame I feel saying that? Seriously. But one exists, and it's *blush* pretty fun for me. I love talking with all of you. Thank you all for weighing in on the 'what do I post next' poll. Taking into account the previous requests and promises, the winner is Homemade Grand Marnier, followed by Tres Leches Cake and Cream of Broccoli Soup. So what am I doing leading off with Cream of Broccoli Soup? It's raining here. And when it rains I like to do three things; sit on the couch with a blanket and book, drink tea, and make soup. Thus, soup wins. Tres Leches and Grand Marnier will make their long promised appearances this week!
So you have a loaf of One-Hour Sandwich Bread in the oven… What do you serve with it? Candidate #1: Cream of Broccoli Soup.
Thick, smooth, and vibrant in both color and taste, this soup spotlights the bright flavor of fresh broccoli. And let me tell you something. I adore broccoli;  Always have and always will. I guarantee that this is the Cream of Broccoli soup for serious broccoli lovers.
My soup is a little different than most broccoli soups out there (similar to this soup made by my good friend, but different than most 'cream of broccoli' recipes.) Why? Because I don't put any cream or milk in it. I usually stir a bit of ye olde crème fraîche* in at the end to provide just a little tang, but I find that adding milk or cream in the whole pot of soup ends up muting the broccoli too much for my taste. Isn't the point of a 'broccoli' soup to taste the aforementioned broccoli?
*Nerd alert: Check out my Richard the Lionhearted moment; Old English + French. Am I the only one laughing? Le sigh. But more practically, have you made your own crème fraîche yet? This couldn't be simpler! Stir 2 Tablespoons of cultured buttermilk (NOT lemon or vinegar soured milk!) into 2 cups of heavy cream. Cover and leave at room temperature for 24 hours before refrigerating. Ta da! You made crème fraîche! And you didn't pay an arm and a leg for it at the grocery store! And I'm using a lot of exclamation marks! It's so exciting! I'll stop now! I mean to say, "I'll stop now." Calmly.
There are a couple fringe benefits to preparing Cream of Broccoli soup this way (aside from the taste-bud tantalizing flavor.)
It's quicker! Chop, sweat, stir, simmer, blend, serve. That's it; no melting butter, stirring in flour, forming the roux, simmering, blending, returning to pot, adding dairy and re-heating.
It's cheaper! Heavy cream is pricey, folks! By adding it as an accent rather than a major player, you cut down on the overall cost of the meal. Every little penny helps, right?
It's healthier! We thicken this pot of soup with a vitamin-rich, low-maintenance potato rather than a fussy, fatty roux and heavy cream. (Don't get me wrong. I love the fussy, fatty roux and heavy cream in other contexts, but this soup simply doesn't need it for flavor or for texture!)  More details on the health properties of broccoli? Why sure! I thought you'd never ask.
Broccoli alone is considered a super-food. It's rich in vitamins C, K, A and dietary fiber. As if that wasn't good enough, it's been linked to boosting immunities, preventing cancer and the slowing or halting the aggressive spread of cancer. This is one recipe where eating healthily is no chore, it's a delight.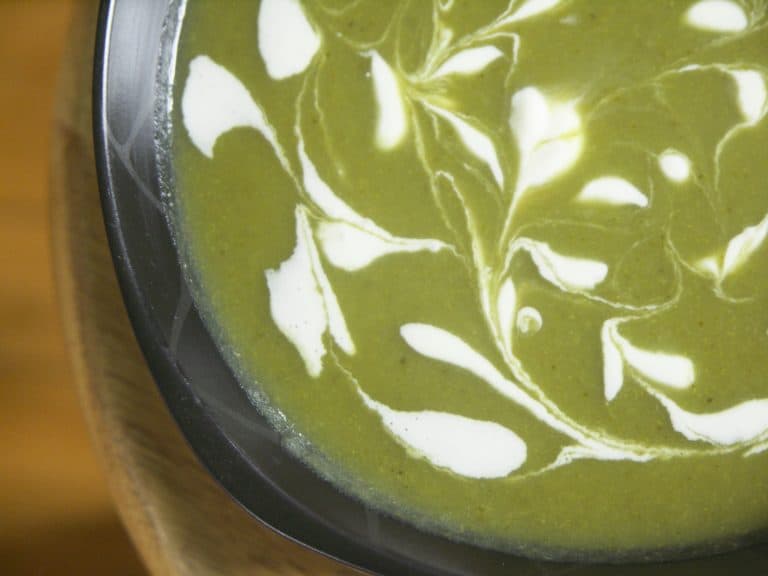 For a printer-friendly, photo-free version of this recipe, minus the broccoli-prosthelytizing, click here!
Cream of Broccoli Soup
Ingredients:
4 cups fresh or frozen cut-up broccoli (Use the stems as well as the florets! It tastes amazing and it's economical!)
4 cups stock (homemade chicken or vegetable, preferably) or water
1 medium russet potato, peeled and diced
1 small cooking onion, peeled and diced
1 Tablespoon butter
salt and freshly ground white pepper to taste (You can use black pepper if white pepper is not available.)
Optional, crème fraîche for drizzling before serving (see below for instructions on making your own!)
Melt the butter in a stockpot or large soup pot over medium heat. Add onions and lower heat to medium-low. Sprinkle a pinch of salt over the onions and sweat, stirring occasionally, until onions are softened. Lower the heat if necessary to avoid browning the onions. This should take about 5 minutes.
Add the broccoli, stock, and potato to the soup pot and raise the heat to medium-high. Bring the soup to a simmer. Partially cover the pot and simmer for 25 minutes, or until all the vegetables are soft.
Remove the pot from the heat and allow to cool for 10 minutes. Puree the soup, in batches, in a blender or food processor or use an immersion (stick) blender in the pot to puree the soup to your desired consistency. Add the salt and pepper to taste.
If garnishing first loosen the crème fraîche in a small bowl with a fork or whisk. Use a spoon to drizzle or dollop the crème fraîche over the soup and then swirl with a toothpick to create pretty patterns throughout.
You can freeze the uneaten, un-garnished soup in tightly covered containers for up to three months.
DIY Crème Fraîche
Ingredients:
2 Tablespoons cultured buttermilk (NOT lemon juice or vinegar soured milk)
2 cups heavy cream (while it's preferable to use cream that hasn't been ULTRA-pasteurized, you can use the ULTRA-pasteurized versions, it just may take longer to thicken properly.)
Use a whisk to combine the buttermilk with heavy cream. Cover lightly and leave at room temperature (between 65°F and 75°F) for 24 hours or until thickened (but no more than 48 hours.)  This is good for two weeks (but I've used it longer than that…) in the refrigerator. Chilling it prior to use will thicken it further.