Cheeseburger Bombs Baked Bean Skillet is a whole host of comfort foods in one pan! Delicious rolls stuffed with melted Cheddar cheese and tender meatballs, baked in a cast iron skillet around barbecue baked beans. This is as good as game day food gets!
I have to be honest, these are a wee bit ridiculous. There's no good reason for me to go stuffing perfect, light, fluffy semolina rolls with tender meatballs and loads of melty Cheddar cheese, then plunk them into a cast-iron skillet and fill the center with flavourful, barbecue baked beans, but I did it anyway.
Why? Because I read about it on reddit.
I made my own version of it, and KermitKisses323, the genius behind the idea, generously agreed to me sharing my version of their brilliance with you. And make no mistake.
This is in the category of recipes easy enough for kids to make but impressive enough for sharing.This is brilliant.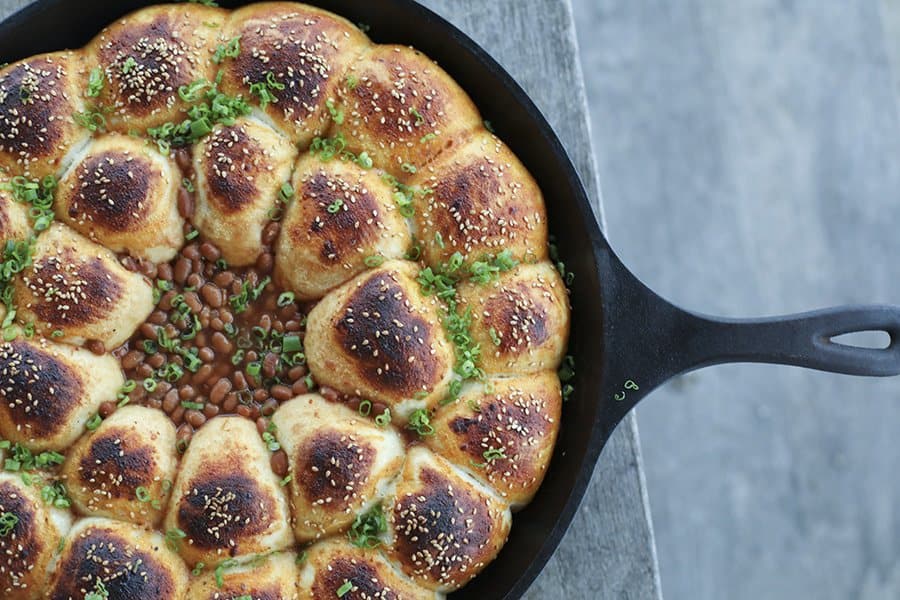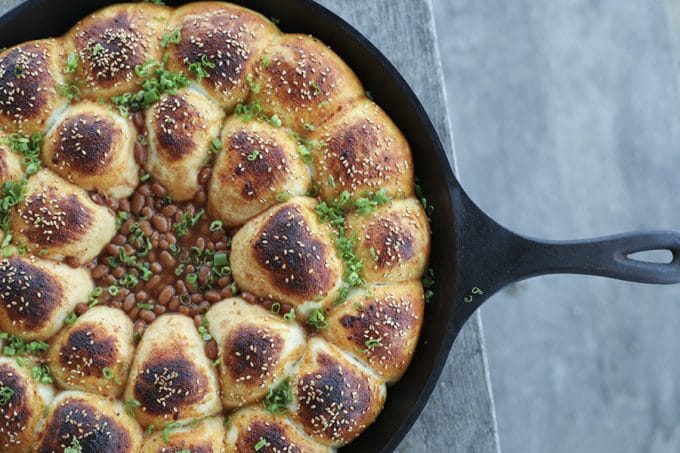 My kids enthusiastically dove into this. They weren't in the room when I made them, so to their eyes, it looked like a bean and roll skillet.
When my 18 year old took a big bite of one of the meatball stuffed rolls, his face lit up and he exclaimed, "I had no IDEA there was MEAT and CHEESE in these! That's the best kind of surprise!"
Baked Beans
I have three choices of sorts of baked beans here on Foodie with Family that would be suitable for the center of this masterpiece. You can opt for classic Sausage Baked Beans, Barbecue Bacon Spicy Baked Beans, Slow-Cooker Breakfast Baked Beans. They're all divine!
Cheeseburger Bomb Baked Bean Skillet
I love to use a single batch of this sesame semolina bread dough for our Cheeseburger Bombs Baked Bean Skillet. It yields light and fluffy rolls but is substantial enough to hold the meatball and melted cheese filling. You can substitute in two pounds of frozen bread dough, thawed according to package instructions, if you wish.
I love using leftovers of these grilled meatballs in our Cheeseburger Bombs Baked Bean Skillet, but you can use purchased frozen meatballs if you thaw them first. In the video, I used ground turkey meatballs, so use whatever you like best. You can also make meatballs fresh, but you'll need to let them cool completely before stuffing the bread dough.
Likewise, I love using these fabulous barbecue bacon spicy baked beans, but if you don't have them on hand, you can drain a can of baked beans and stir in a cup of barbecue sauce. Either way will be delicious.
Choose whichever barbecue sauce you love best. Homemade spicy smoky barbecue sauce is wonderful, but there are some excellent commercial products, too!
The recipe for Cheeseburger Bombs Baked Bean Skillet as written in the printable recipe card is designed to be baked in a 12-inch cast-iron skillet. If you do not have one, you can simply do two rings in a 10-inch cast-iron skillet (or other oven-safe skillet), pour the beans in the center as instructed, and bake any rolls that would not fit into the skillet in a greased cake pan.
While this is pretty clearly an awesome game day recipe, I'd put it in the dinner recipes category, too! Imagine this on the table plus a nice tossed salad. You'd be pretty popular at meal time, I tell you.
Use these to make Cheeseburger Bombs Baked Bean Skillet:
12-inch cast iron skillet
whisk
pastry brush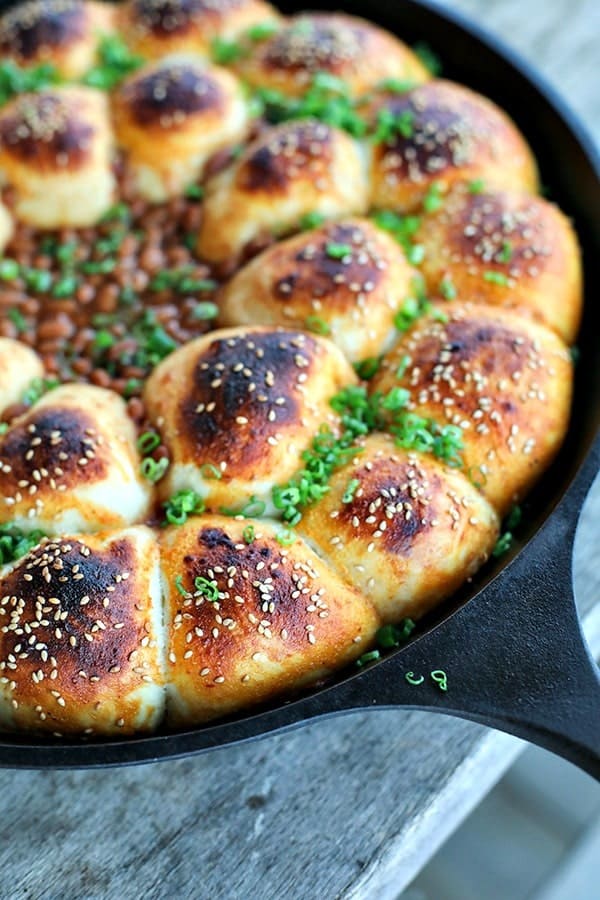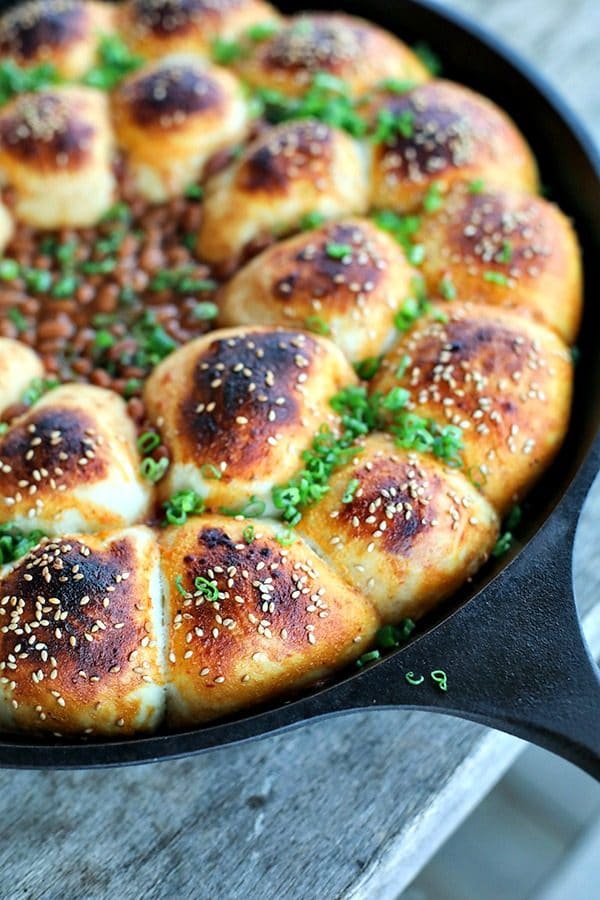 Look how easy Cheeseburger Bombs Baked Bean Skillet is to make!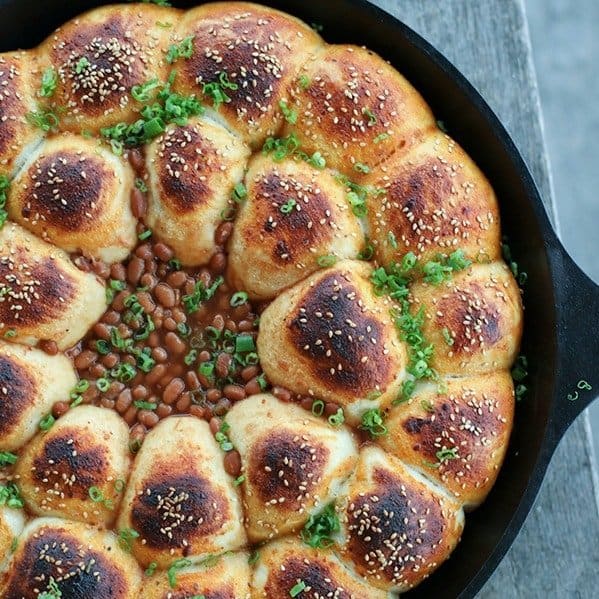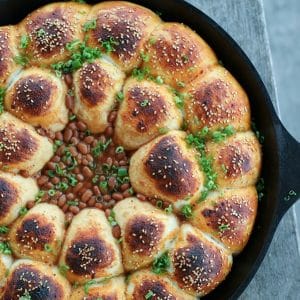 Ingredients
For garnish
green onions

sliced

barbecue sauce
Instructions
Divide the bread dough into 24 equal pieces, roll into balls, cover with a towel.

Spray a cast-iron pan with non-stick cooking spray or brush with olive oil. Set aside.


Working with one piece of dough at a time, pat it out to a circle of roughly 3 to 4 inches. Place one slice of cheese and one meatball on the circle. Gather up the edges around the meatball and cheese, and gently pinch closed. Place seam side down against the inside edge of the cast iron pan. Repeat with remaining bread dough, cheese, and meatballs, arranging the rolls in two concentric circles, leaving an opening in the center.

Cover with a towel and let rise in a warm, draft-free place for about 25 minutes. Preheat the oven to 375°F.
Pour the barbecue baked beans into open area in the center of the pan. Whisk together the beaten egg with the barbecue sauce and brush over the rolls. Sprinkle the sesame seeds evenly over the rolls. Bake for 25-32 minutes, or until the rolls are set and deep golden brown. To get a little more colour on top, you can place the rolls briefly under a broiler, about 2 minutes. Garnish with chopped green onions.
Place a trivet on the table and serve hot directly from the pan with barbecue sauce on the side for dipping.

Nutrition
Calories:
208
kcal
Carbohydrates:
10
g
Protein:
12
g
Fat:
13
g
Saturated Fat:
6
g
Cholesterol:
56
mg
Sodium:
343
mg
Potassium:
244
mg
Fiber:
2
g
Sugar:
1
g
Vitamin A:
215
IU
Vitamin C:
1.1
mg
Calcium:
172
mg
Iron:
1.3
mg
Nutritional information is an estimate and provided to you as a courtesy. You should calculate the nutritional information with the actual ingredients used in your recipe using your preferred nutrition calculator.
Love this Cheeseburger Bombs Baked Bean Skillet? Try these other one pot wonders!