Chimichurri Grilled Meatballs. I love them. Really, I do. They solve the bland issue from which far too many meatballs suffer. They're garlicky, herbed up inside and out courtesy of the chimichurri sauce mixed into and served on top of the meatballs, and have that unique smokiness that can only come from grilling meat. I am here to tell you that grilled meatballs are as easy to make as burgers and honestly? Grilled meatballs are a less messy proposition than fried ones and a far tastier proposition than baked ones. In short, they're everything a meatball ought to be.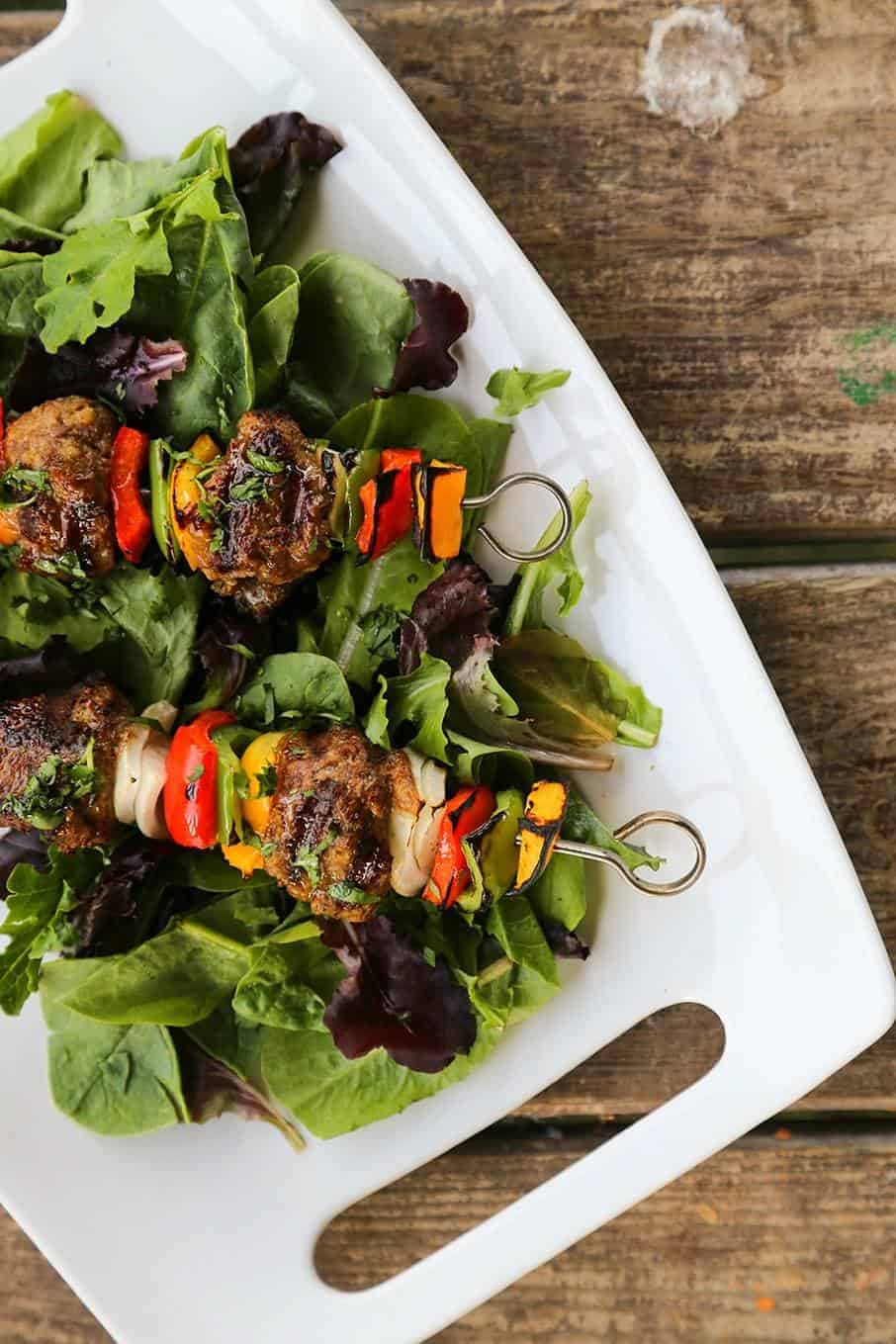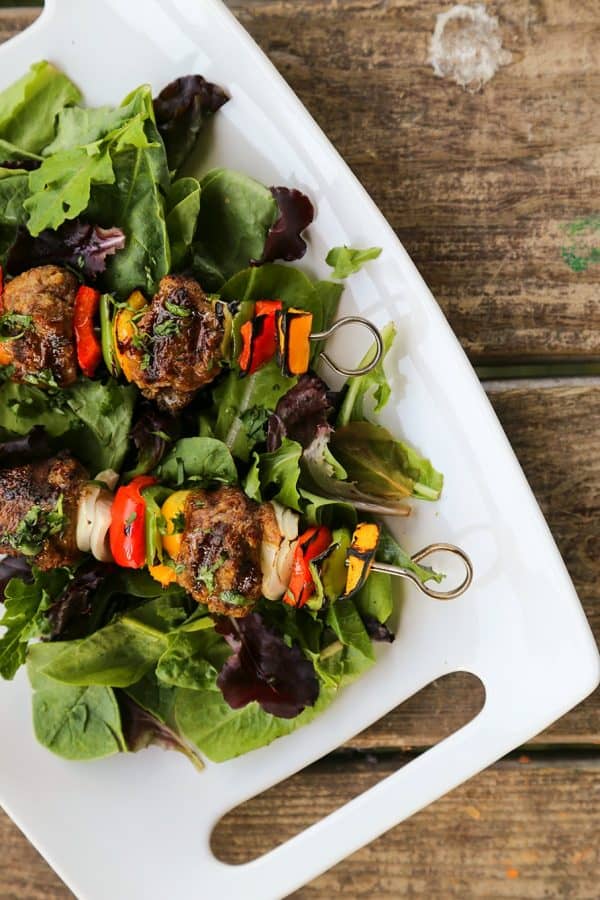 I grilled some of them threaded onto skewers with onions and bell peppers and loved them. I only owned 8 skewers, though, so the remaining meatballs were plunked directly onto the grill. They were all perfect, so please don't let a lack of skewers stand in the way of making Chimichurri Grilled Meatballs.
Cook's Notes
In the recipe, I give the ingredients and instructions to make your own fresh Chimichurri Sauce. If you're short on time or ingredients, you can use purchased chimichurri sauce.
The easiest way to make uniformly sized meatballs is to use a disher to portion out the meat mixture. I like these medium scoops for both cookies and Chimichurri Grilled Meatballs.
Notice I said "owned" 8 metal skewers. I've since remedied that and ordered more. You can get them here if you'd like. They're seriously handy for everything from Chimichurri Grilled Meatballs to vegetable kabobs during grilling season. Like I said, though, don't let a lack of skewers prevent you from making Chimichurri Grilled Meatballs. You can definitely put them directly on your grill surface.
If you DO opt to thread the meatballs onto skewers with the vegetables, it's quite easy. Cut pieces of bell peppers and onions that are roughly the same size as the meatballs and put a couple pepper slices, an onion piece, a meatball, and repeat until the skewer is filled up. Tada! The fat from the meat bastes the vegetables as it cooks, so you don't have to add anything else to the party.
Guys. Please heed my advice here. Don't reduce this recipe. The leftover meatballs are fantastic in other dishes (THIS IS A VERY HEAVY HINT ABOUT AN UPCOMING RECIPE THAT YOU WILL WANT TO MAKE) and they freeze quite well. In fact, if you're in a large family like mine, you may wish to double the recipe. I won't lie; I have tripled it before. It's kind of hard to have too many Chimichurri Grilled Meatballs, friends.
Connect with Foodie with Family
facebook | pinterest | instagram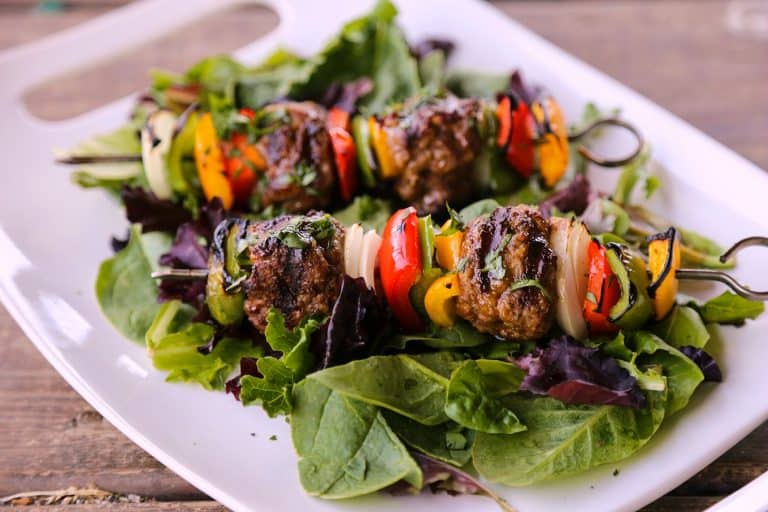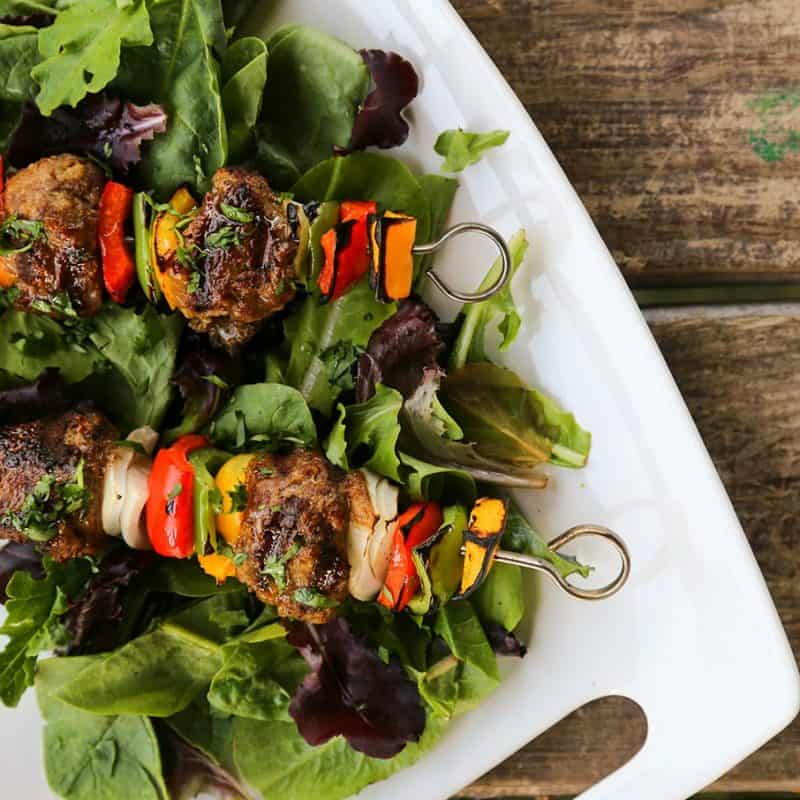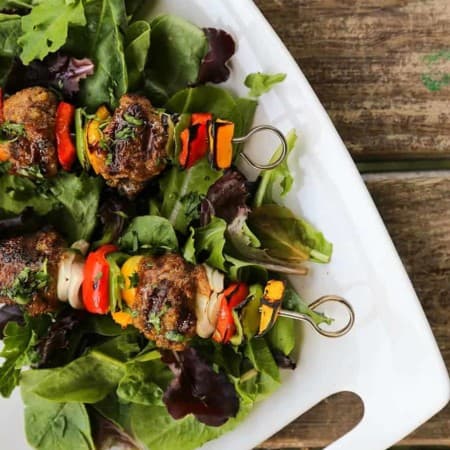 Garlicky, uber-herbed, grilled meatballs are a little taste of Argentina. Grill on skewers with peppers and onions, or grill standing alone, but do make them! And when you have those gorgeous little grilled meatballs, drizzle the reserved chimichurri sauce over the top. Heavenly!
Ingredients
For the Chimichurri Sauce:
2

cups

packed fresh Italian parsley leaves

4

large garlic cloves

peeled and smashed

1/4

cup

packed fresh oregano leaves

or 4 teaspoons dried oregano

1/4

cup

red wine vinegar

1/2

teaspoon

red pepper flakes

1/2

teaspoon

kosher salt

3/4

teaspoon

freshly ground black pepper

1

cup

extra virgin olive oil
For the Chimichurri Grilled Meatballs:
2/3

of a batch of Chimchurri sauce ~or~ 2/3 cup jarred chimichurri sauce plus 1/3 cup divided

2

pounds

85/15 ground beef

1

cup

plain breadcrumbs

2

large eggs

1

tablespoon

kosher salt

2

teaspoons

freshly ground black pepper

Oil for the grill
Instructions
To Make the Chimichurri Sauce:
Add the parsley, garlic, oregano, vinegar, red pepper flakes, salt, and pepper to the bowl of a food processor fitted with a metal blade. Process until finely chopped, stopping and scraping down the sides of the bowl with a rubber spatula at least once, about 1 minute total.

With the motor still running, drizzle in the extra virgin olive oil. Once the oil is in, stop the motor, scrape down the sides, and pulse a couple of times to combine. Scrape 2/3 of the Chimichurri Sauce into a large mixing bowl, and the rest into a smaller bowl. Cover the smaller bowl with plastic wrap and let sit at room temperature to meld while preparing the meatballs.
To Prepare the Chimichurri Grilled Meatballs:
Add the ingredients for the meatballs to the Chimichurri sauce (or 2/3 cup jarred sauce) in the mixing bowl. Use your hands to mix well until it all the ingredients are evenly distributed. Let the mixture rest in the refrigerator while you heat the grill.

Heat a propane grill to high or prepare a charcoal grill with a hot pile of coals and an area with low coals for later indirect heating. Scrub down the grates and use an oiled paper towel to lubricate the grates.

Roll the meat mixture into even meatballs, about 1.5 tablespoons each. You should get between 40-50 meatballs. Place the meatballs over the direct, high heat for 2 minutes, turn and grill 2 minutes more on the opposite side. Move the meatballs to the indirect heat, or lower the burners to low. Grill until the internal temperature of the meatballs reaches 165F. Use tongs to transfer the meatballs to a platter. Serve immediately, drizzled with the remaining chimichurri sauce, or chill and freeze in serving size portions.
Nutritional information is an estimate and provided to you as a courtesy. You should calculate the nutritional information with the actual ingredients used in your recipe using your preferred nutrition calculator.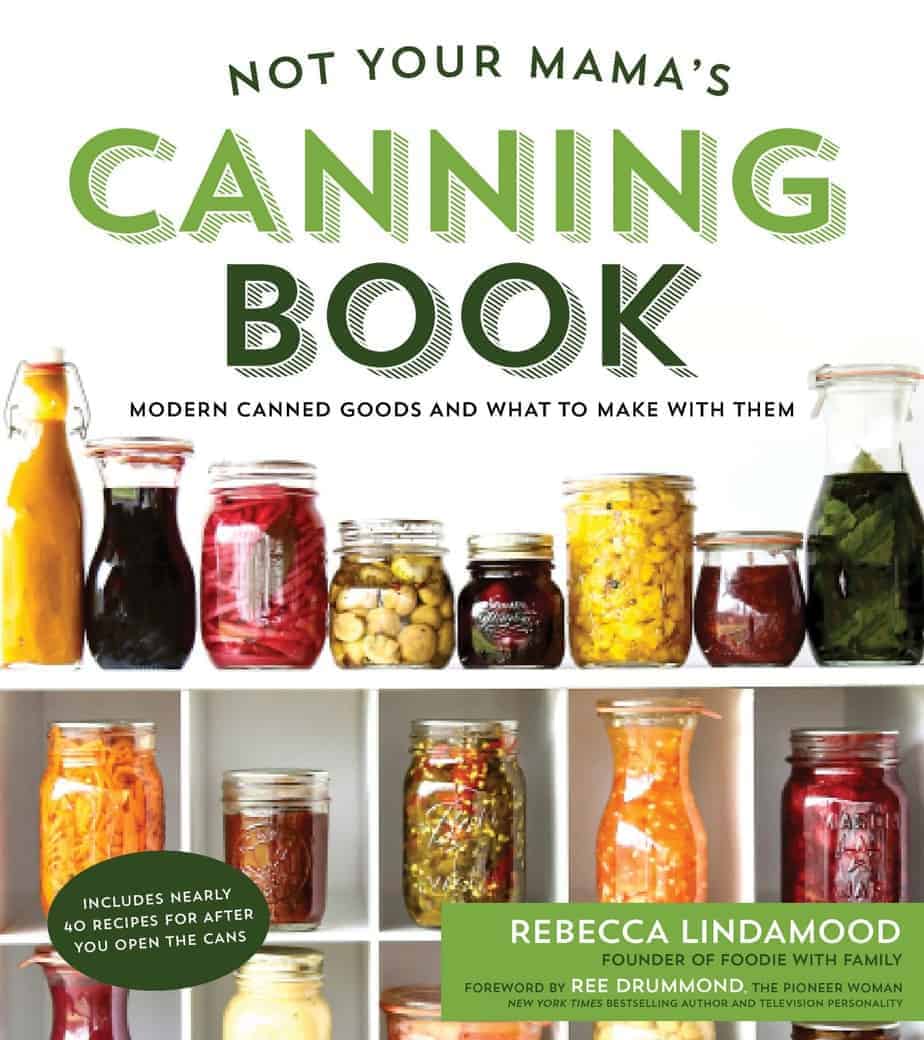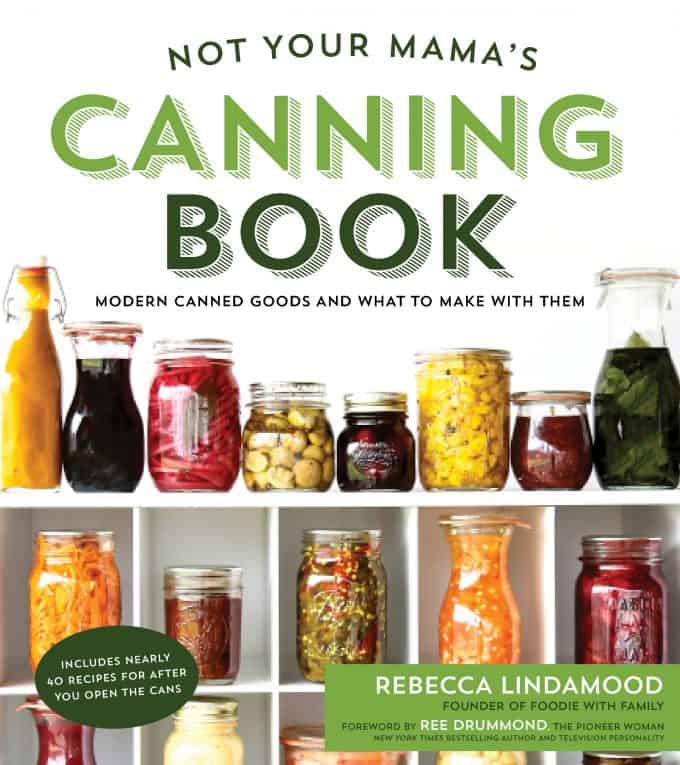 Don't forget that Not Your Mama's Canning Book: Modern Canned Goods and What to Make with Them is available for Pre-Order through these fine retailers!