I've talked a great deal about frugal foods and menu planning in my last few posts. There's no doubt about it, one of the most budget-friendly foods you can make is beans! But that's not why I'm posting this recipe today. I'm posting it because it's STINKIN' AWESOME! And because it's cheap. I thought you should know…
I also thought you should know that I successfully resisted the temptation to indulge in two cheap and easy beans-and-gas jokes just now. But I digress…
My Grandpa was a man who knew his food. He was also a very accomplished man; a former construction worker, professional musician and ordained Methodist minister. And among all of his achievements, this sandwich stands as one of his best.
At first glance, a sandwich composed of baked beans, onions and mustard may not sound like it's going to rock your world but take a closer look. The homemade baked beans are saucy and just a little sweet with a pronounced molasses flavor. The onion rings are sliced paper thin and add just the right amount of pungency. The tang, salt and vinegar bite of the yellow mustard acts as a perfect foil to the slight sweetness of the beans. And on lightly buttered homemade rye? Oh my. It makes an extraordinarily balanced sandwich full of umami. Yes! A sandwich that for all intents and purposes should be anything but refined ends up effortlessly tickling the taste buds in a way that cooks over the globe strive for when they create much fussier food. And there is a very good reason behind it…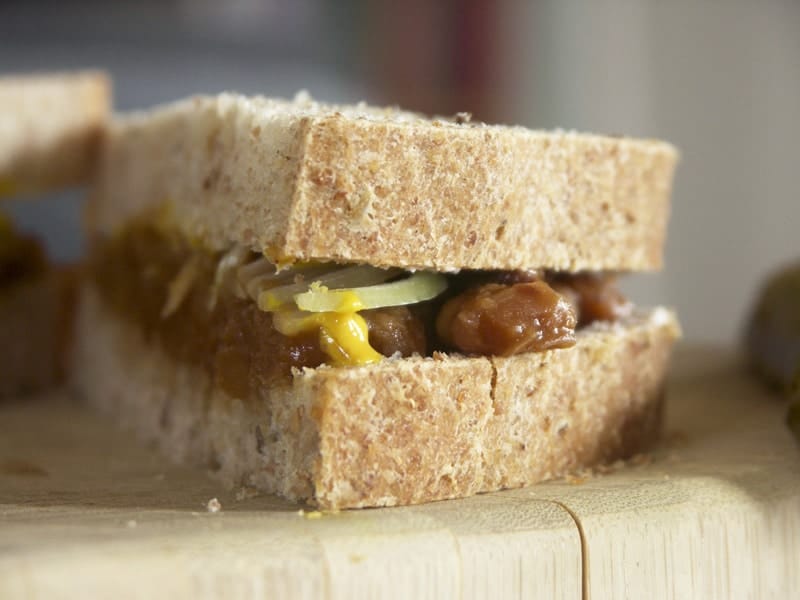 Much of the greatest and most comforting food in the world is the direct result of poverty, hardship and privation. Pho, stock made from chicken feet, fried rice, dumplings, pasties, coq au vin, cassoulet, marrow bones, beef jerky* and haggis* all sprang from a desire to use every single possible edible part of the animal and avoid all waste.
*I'll take on anyone who claims beef jerky isn't great food. Me and beef jerky? We're like this. I could easily eat my way through a pound all by myself. I accept donations of beef jerky.

Now haggis? Haggis has its origins in poverty to be sure. But I've heard it said that people's enthusiasm for haggis is directly inverse to the amount of hand they've had in preparing it. The truth is that  I just threw that in because tomorrow is Robert Burns' birthday. So for the most part, haggis is relegated to being stabbed annually on Burns' Nicht. I, for one, am a-okay with this. Moving back on to tastier things…
It's probably not too far a stretch to say that our country was built on baked beans. The native population ate beans, the settlers practically survived on beans,  (That is to say that those who did survive did so with the material assistance of their bean-rich diet.) and nearly every single immigrant population who has joined us since has brought another version of beans or their preparation with them. Baked beans are the original All-American Food.
And -cough, cough- I do believe that mine are out of this world. They are the basis for the aforementioned Grandpa's Bean Sandwiches. Now you could throw canned baked beans on a piece of bread and I'm sure it'd be decent. But to have the sandwich that -in my Grandpa's words- would make your tongue slap your brain silly, you want to make my beans. Oh yes you do. Because it all starts with this.
My baked beans have a little something extra that turns them into something good enough to make your grandpa cry. I bake little bits of spicy sausage into the beans as they bubble away in the oven. At least it would've made my Grandpa cry. He liked sausage.
You can easily turn these baked beans into a delicious vegetarian dish simply by omitting the sausage and replacing it with two tablespoons of olive oil and a handful of chopped mushrooms.
And boy howdy are these ever inexpensive! Including sausage, the whole dish should run you no more than five dollars and it can feed you for days!
For a photo-free, printer-friendly version of this recipe, click here!
Sausage Baked Beans
Ingredients:
1 pound dried Navy beans, rinsed and picked over to remove stones or dirt clumps
12 cups fresh water for soaking plus additional boiling water for cooking
1 bay leaf
1 large cooking onion, peeled
1/4 pound spicy link sausage, cut into 1/2″ chunks
1/2 cup molasses
1 Tablespoon brown sugar
1 teaspoon dried mustard powder (or 1 Tablespoon prepared yellow mustard)
salt and pepper to taste
Place Navy beans in a dutch oven or other stove-top and oven safe deep-sided heavy pan with a tight fitting cover. Pour 12 cups of fresh water over the beans, cover, and place over high heat. Bring to a boil and allow to cook for 2 minutes. Remove from heat and allow to sit at room temperature overnight, still covered.
In the morning, remove the cover, add the bay leaf, stir the beans and return to a boil over high heat. Lower the heat to medium and simmer for about 30 minutes or until beans are just beginning to become tender, adding more boiling water if necessary. You're not looking to get the beans totally tender, you just want them to be starting to get tender. They'll finish cooking as they bake! Remove the beans from heat again and pour into a colander in the sink. Fish out and discard the bay leaves.
Preheat the oven to 300°F.
Evenly scatter the chunks of link sausage over the bottom of the pan you used to soak and cook the beans. (Rinsing the pan between steps is unnecessary!) Set aside.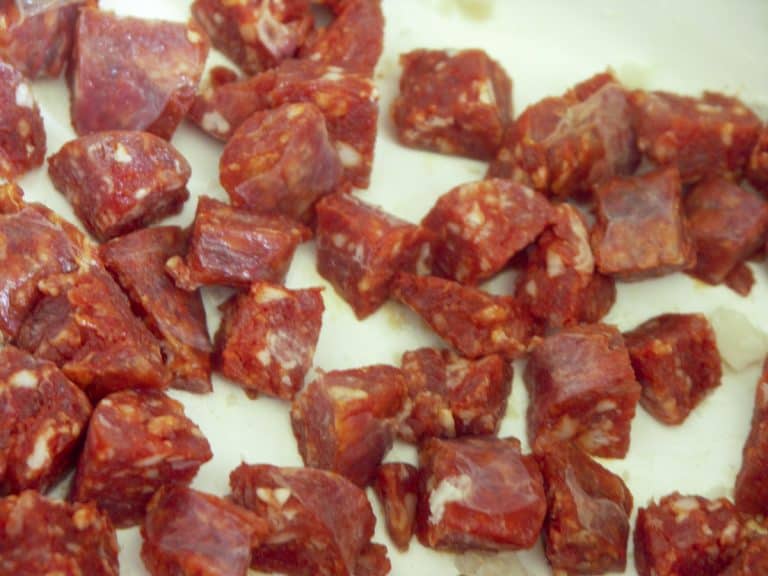 In a large mixing bowl, stir together the molasses, brown sugar and mustard powder and then pour the hot beans over top.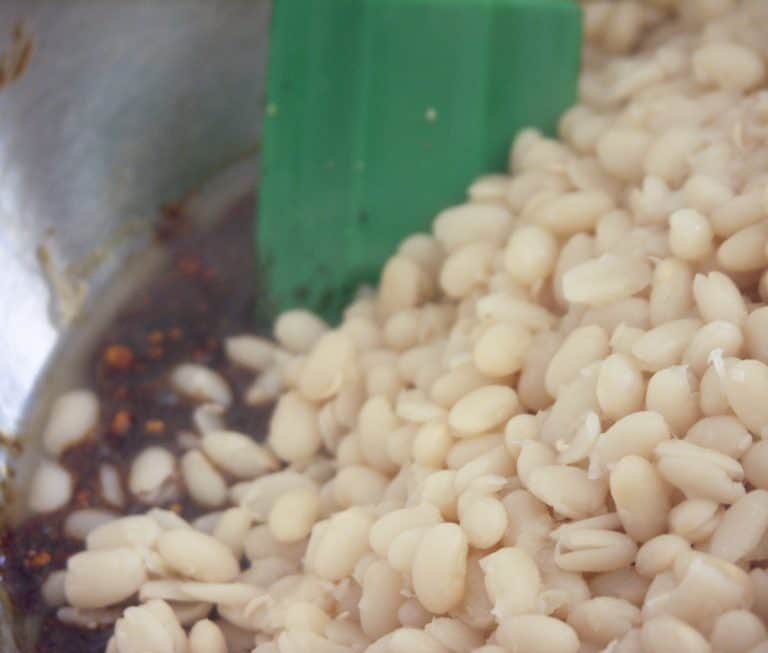 Gently fold the beans and molasses mixture together. Don't beat the tar out of 'em. Be gentle about it. Just fold…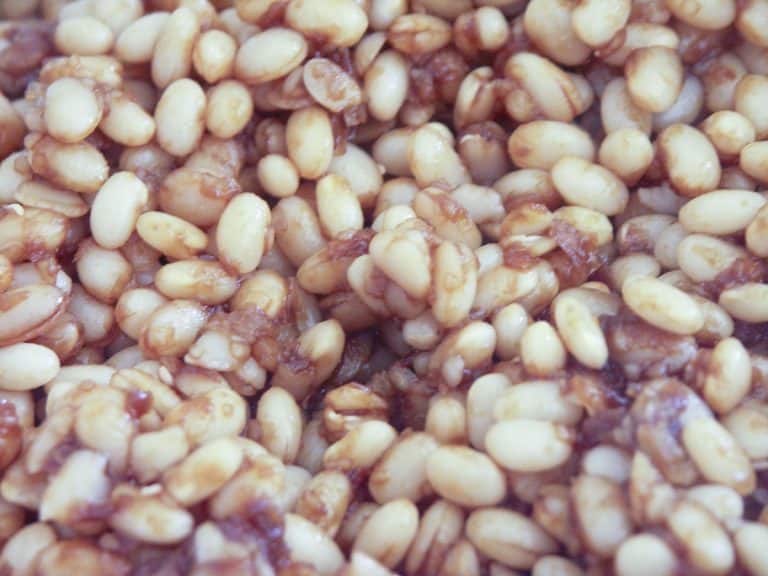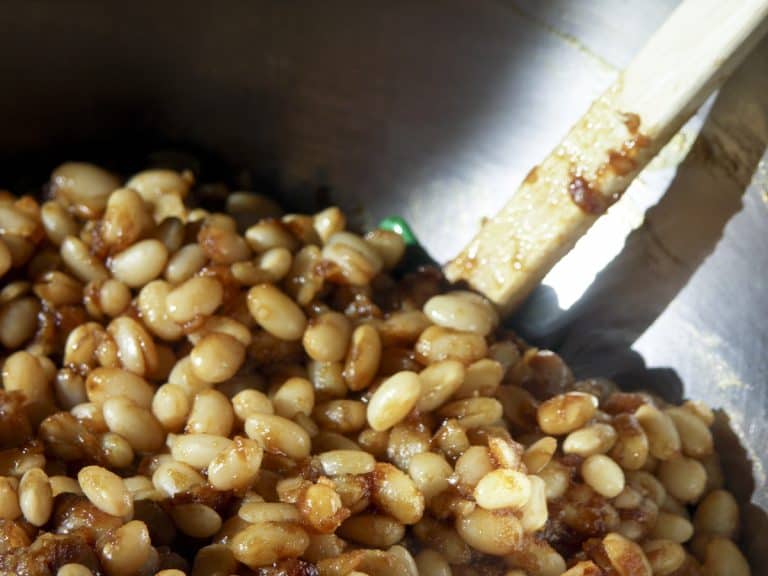 Use a wooden spoon or silicone spatula to scrape the molasses coated beans into the pan over the sausage pieces. Pour additional boiling water over the beans to cover them by about an inch. Place pan, uncovered, in the oven and bake for about three hours. Check the beans periodically to make sure they're not becoming dry. As soon as the beans are tender (This could be less than three hours or more depending on the age of the beans. Just check them every now and again!) stir them so that you're transferring the beans that were on bottom to the top and vice versa. Raise the oven's heat to 400°F and cook, still uncovered, until the sauce around the beans is thick and bubbly. This should take about an hour. Remove from oven, add salt and pepper to taste, cover, and allow to cool until they are a comfortable temperature to eat.
These beans are great hot, warm, room temperature or cold. In short, eat them with dinner and then sneak them from the refrigerator at midnight. I won't tell.
Store leftovers, tightly covered, in the refrigerator for up to a week. They freeze and reheat well, too!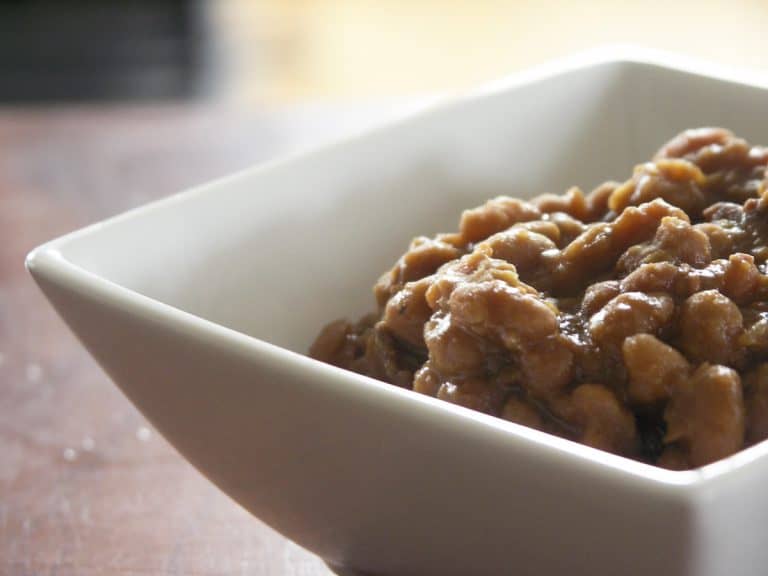 So what do you serve this alongside? Roasts, sausages, hot dogs, hamburgers, toast, eggs, you name it. But I do believe the best thing you could possibly do with these beans is whip up a couple of Grandpa's Baked Bean Sandwiches.
For a printer friendly version of this recipe, click here!
Grandpa's Baked Bean Sandwiches
Ingredients:
2 slices hearty bread (I prefer rye.)
1 cup slightly reheated baked beans
thinly sliced sweet onions
prepared yellow mustard
softened butter
This sandwich is as easy -and as good- as it gets! Butter one side each of two slices of bread. Spread the baked beans over the butter on one slice of bread, top with paper thin slices of sweet onion and a drizzle of prepared yellow mustard. Lay the other slice of bread, butter side down, over the beans. Slice in half and serve with pickles and a handful of chips, if life is good enough to you that you have them. Sit back,  enjoy and remember that just because you don't have money doesn't mean you have to eat like it!