I don't think I need to try to convince you that tacos are a good thing in your life, right? I mean, TACOS.
That should say it all. I do want to persuade you, however, that you should be making your own Spicy Taco Seasoning to flavour the meat or filling you add to your tacos. Why? In a word; control.
Cooking is a control freak's game. I make no apologies about that.
It is a haven safe of rest for those of us who like to know exactly what's going into food for whichever reason we like to know it. Dietary concerns, pure knowledge for the sake of knowledge, food aversions, and food allergies are among the many and varied reasons you may want to take the 2 minutes it requires to whip up your own Spicy Taco Seasoning.
The bonuses here, as you may have already guessed, are that it is endlessly customizable and just plain tastes better and fresher than the little foil lined packets at the store. Plus, it's fun.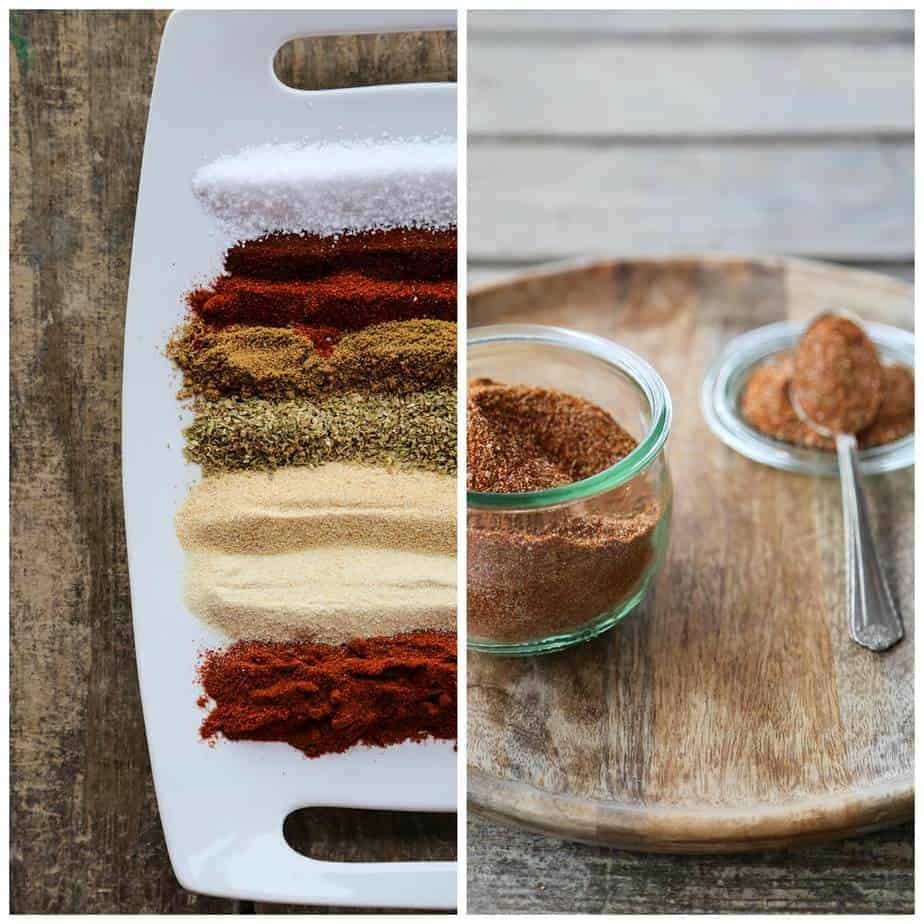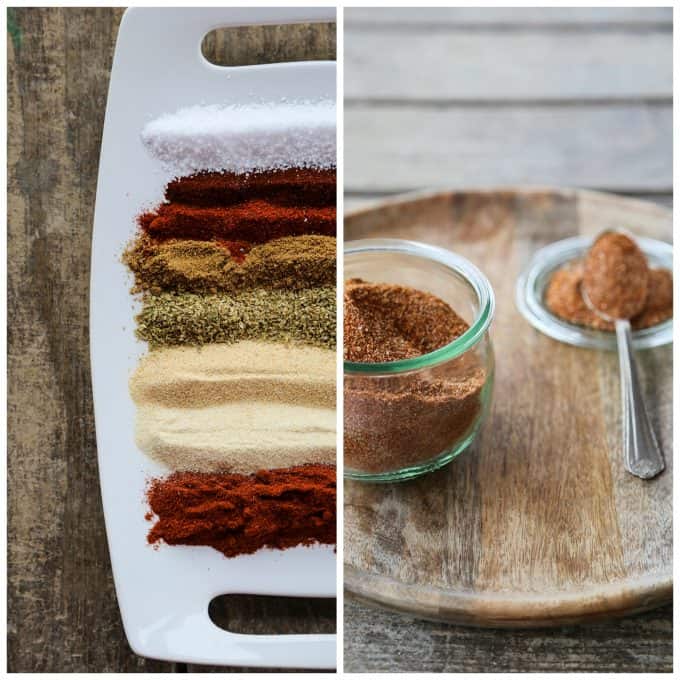 There's another fringe benefit to consider, too, and that is that when you whip up a batch of this smoky, garlicky, Spicy Taco Seasoning, you have a bountiful supply of taco goodness that you can sprinkle over popcorn, into Taco Soup and Taco Joes, and so much more.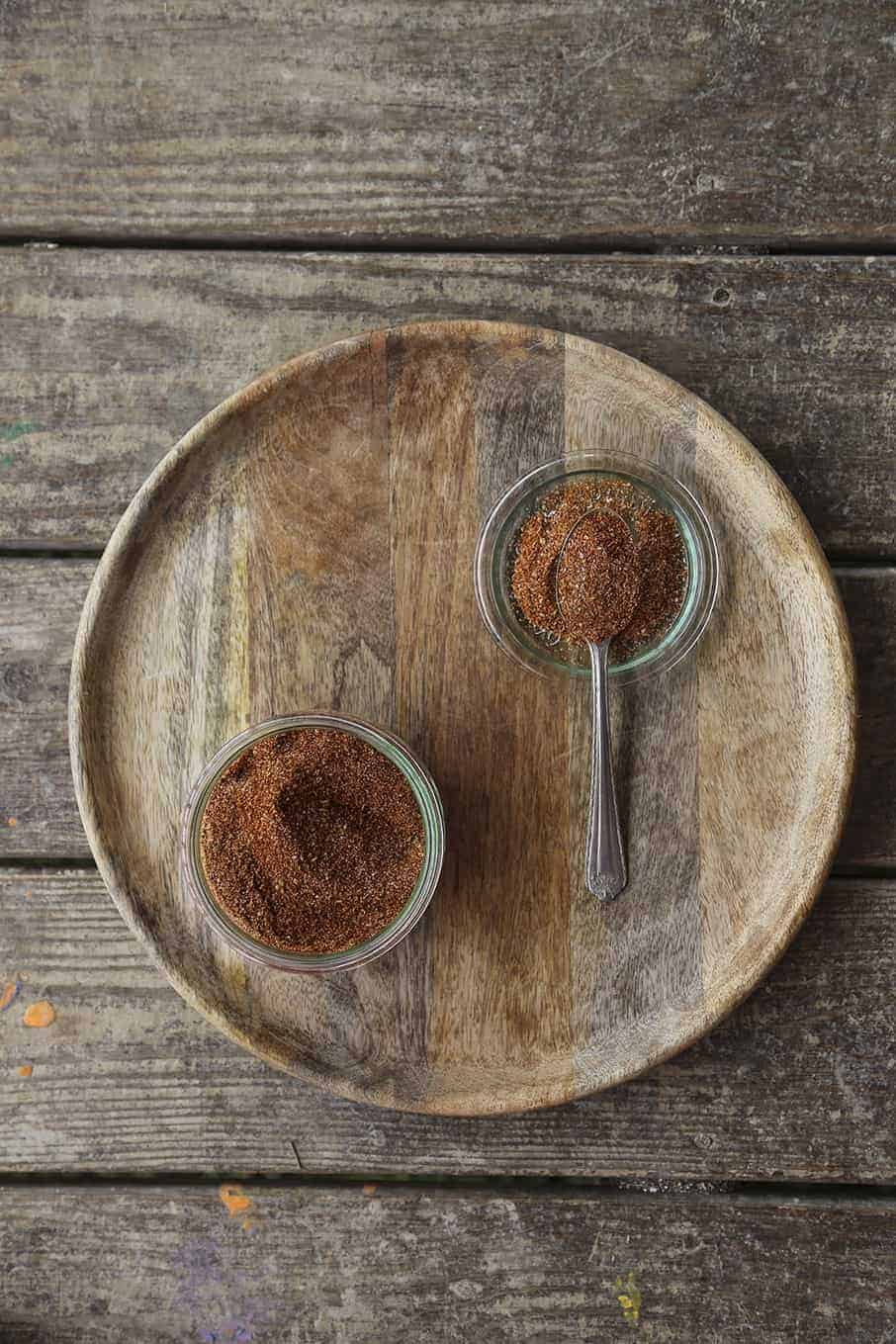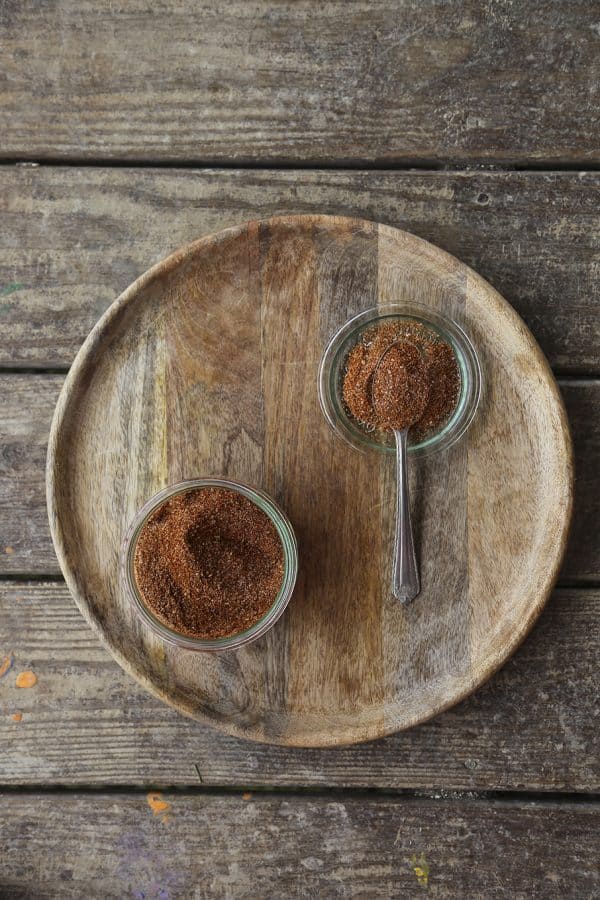 My kids have even sprinkled it over fried eggs from time to time! I have a recipe coming up soon for Taco Ranch Dressing that you won't want to miss, either! It's clear we're cuckoo for tacos, are you a taco maniac, too??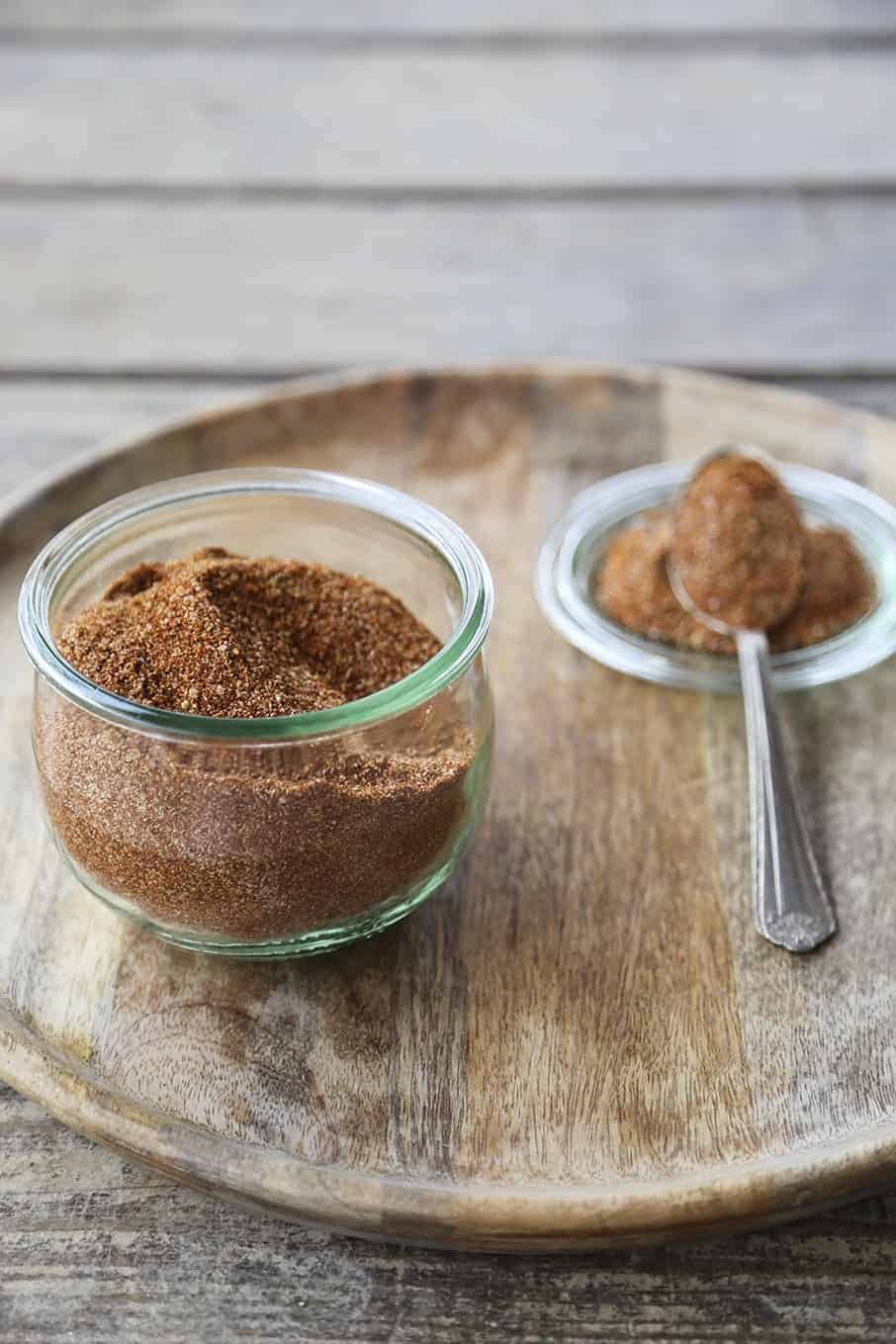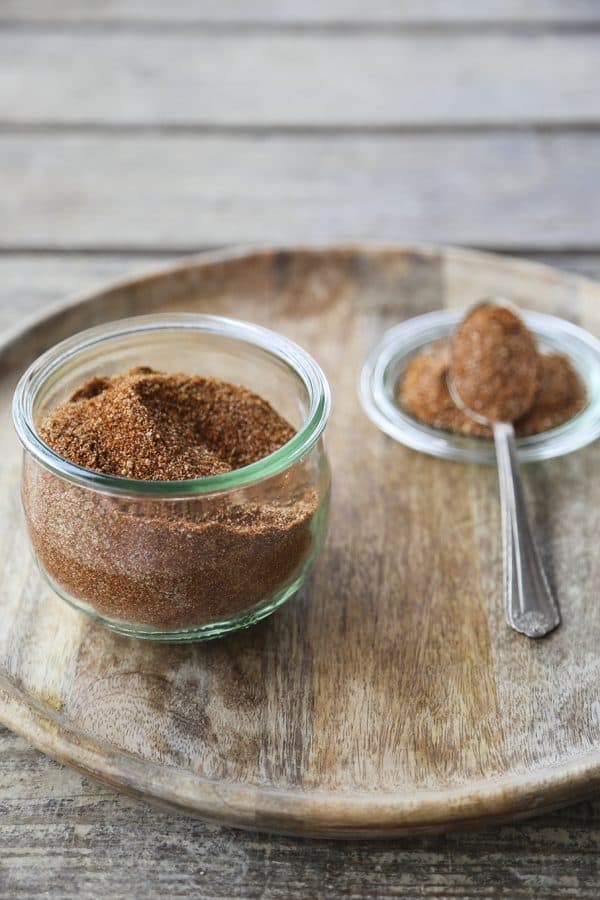 Spicy Taco Seasoning
Kosher salt is my preference for almost all cooking. The grains of salt measure most evenly and have no additives or anti-clumping materials that give them off or metallic flavours.
A word about the variety of chili powders used in my Spicy Taco Seasoning. There are three.
There is a reason for that. Each of those chili powders has a special set of characteristics. New Mexico Chili Powder is earthy and sweet with a hint of cherry flavour to it.
Ancho Chili Powder has a very mild heat and is another sweet, fruity pepper, but is different than the New Mexico Chili Powder. Chipotle is distinctive and brings most of the spice to the party that is this Spicy Taco Seasoning.
It is a darker brown and has an intriguing smokiness to it with hints of plum and chocolate. It's amazing stuff, in short, and should not be skipped.
Putting all three of these chili powders together gives your Spicy Taco Seasoning an amazing depth of flavour. If you HAVE to skip one, though, skip the Ancho and augment the amount of New Mexico Chili Powder or Chipotle Chili Powder by a tablespoon.
Please use granulated garlic and not garlic powder. Garlic powder has a finer, flour like texture making it a little clumpier and less precise for measuring.
Granulated Garlic is a little more like fine cornmeal and resists clumping in the Spicy Taco Seasoning. The same holds true for Granulated Onion vs. onion powder.
How much Spicy Taco Seasoning should you use when making taco meat? Well, that's sort of up to you, but a good rule of thumb is to start with about 2 tablespoons of Spicy Taco Seasoning per pound of ground meat. If you'd like it to be a little punchier, you can certainly up that amount!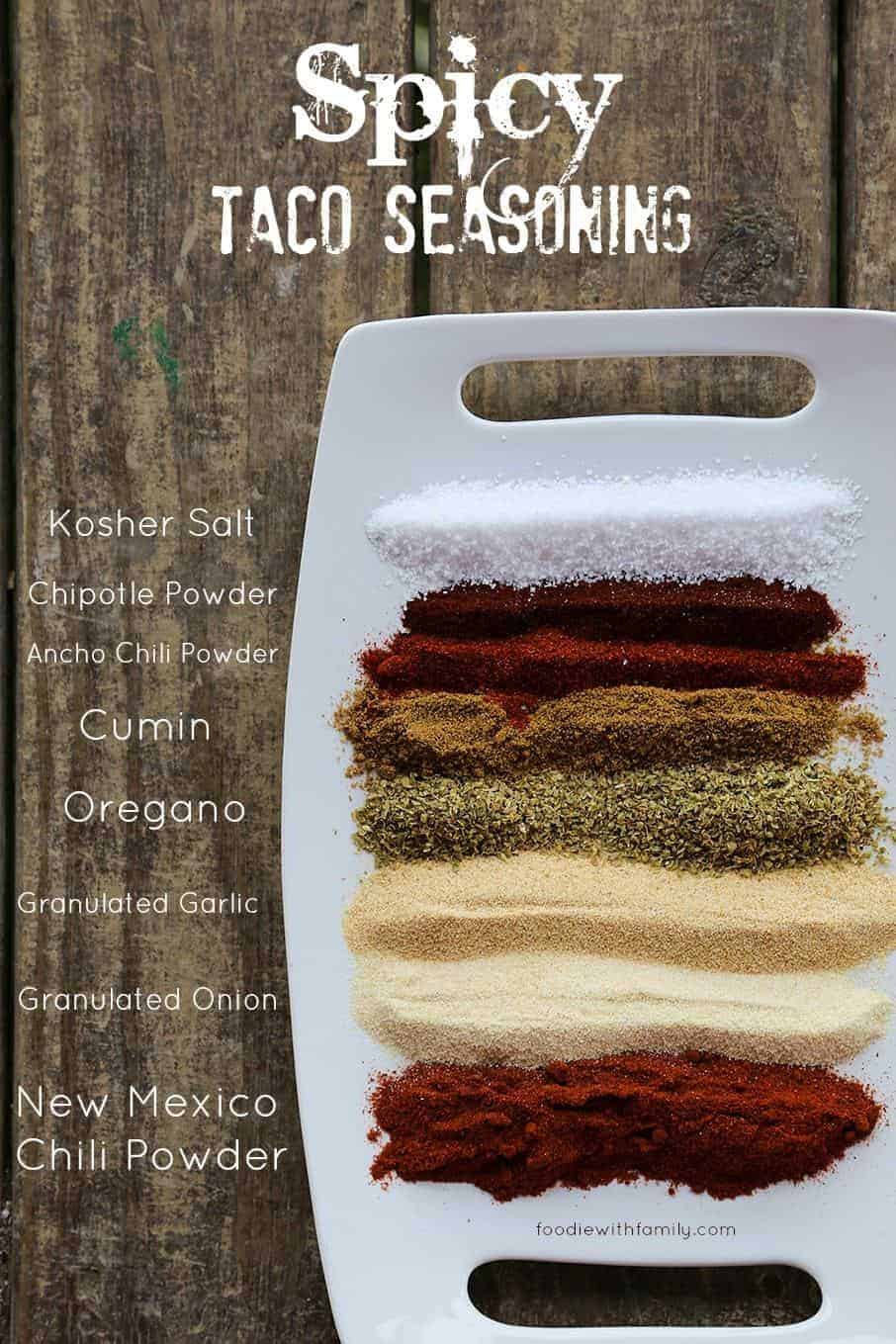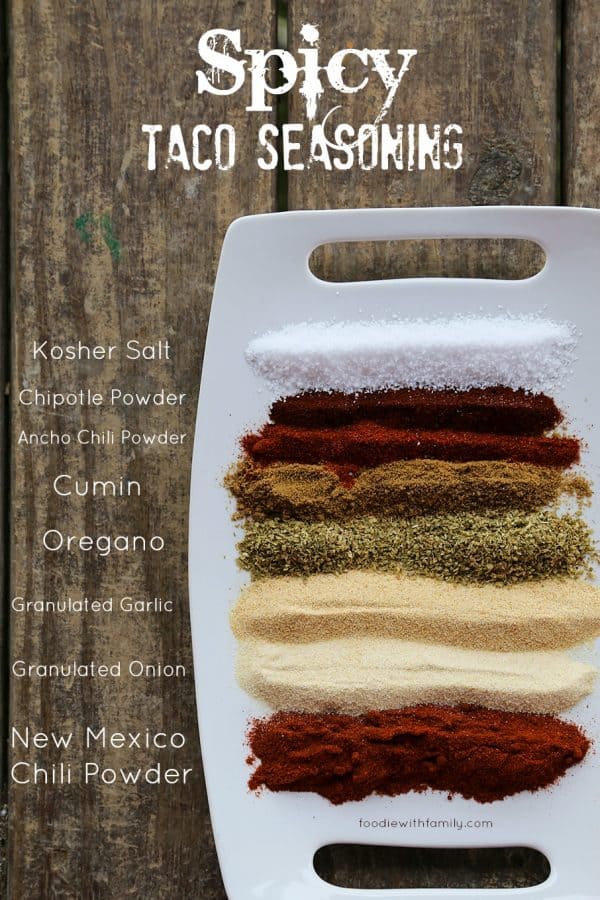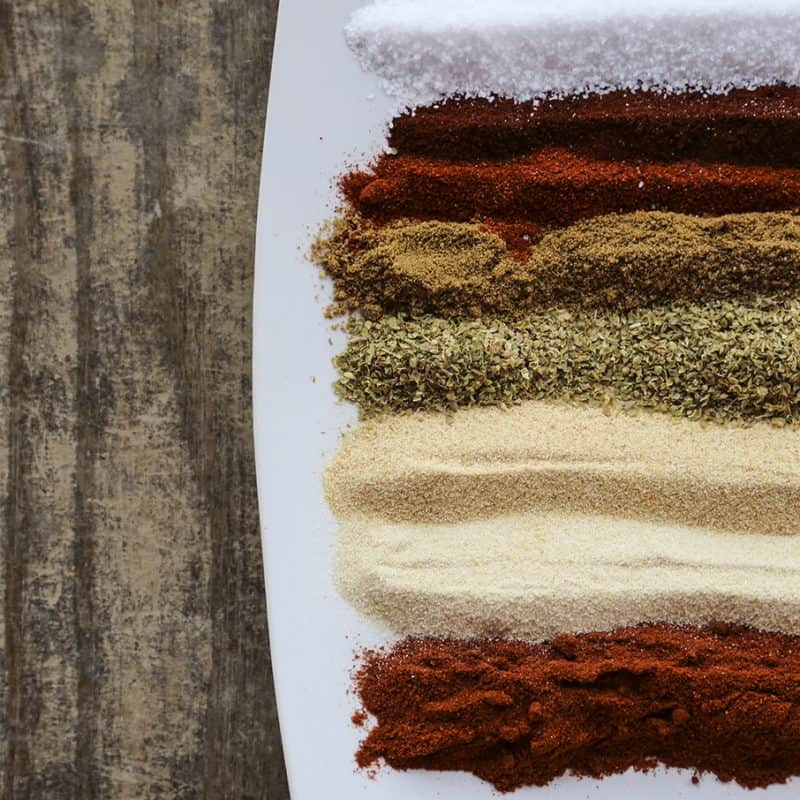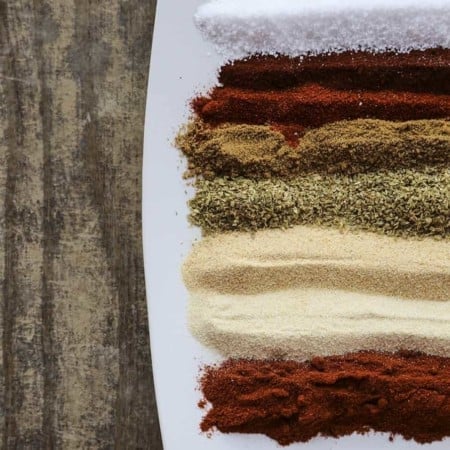 Smoky, garlicky, Spicy Taco Seasoning Mix is distinctive, delicious, and more complex than commercially available mixes in addition to being far more economical than the little packets at the store.
Ingredients
4

tablespoons

New Mexico Chili Powder

4

tablespoons

granulated onion

3

tablespoons

granulated garlic

2

tablespoons

dried oregano

2

tablespoons

kosher salt

2

tablespoons

cumin

1

tablespoon

Chipotle chili powder

1

tablespoon

Ancho chili powder
Instructions
Add all of the ingredients to a mixing bowl and whisk together until all of the ingredients are evenly distributed. Store in an airtight container with a lid, such as a canning jar.
Nutrition
Calories:
20
kcal
Carbohydrates:
3
g
Sodium:
745
mg
Potassium:
98
mg
Fiber:
1
g
Vitamin A:
830
IU
Vitamin C:
0.4
mg
Calcium:
29
mg
Iron:
1.2
mg
Nutritional information is an estimate and provided to you as a courtesy. You should calculate the nutritional information with the actual ingredients used in your recipe using your preferred nutrition calculator.
Love this Spicy Taco Seasoning? Check out these other spice blends: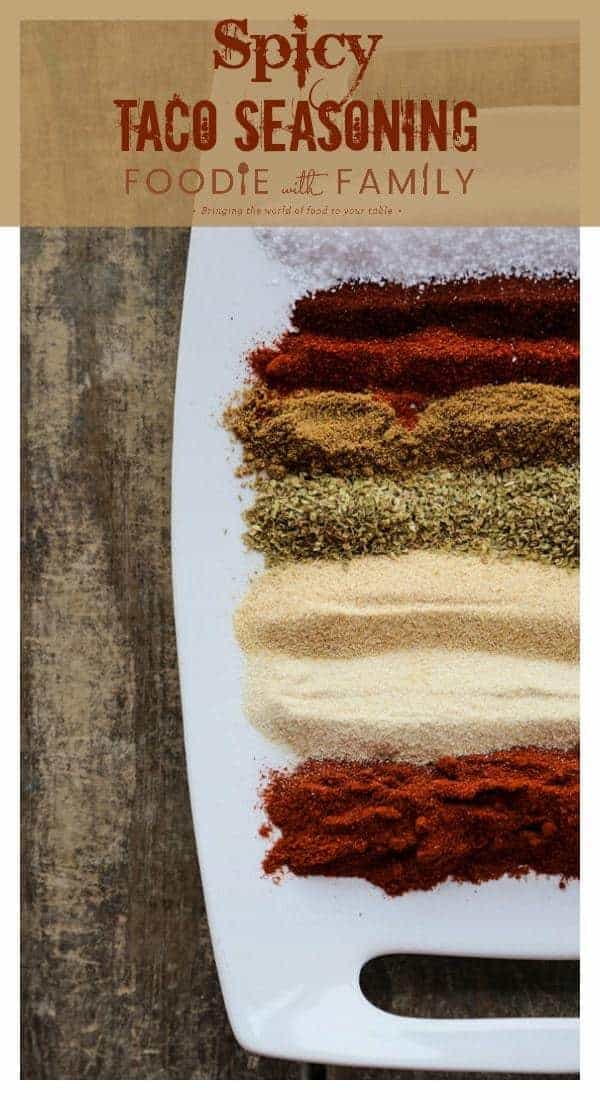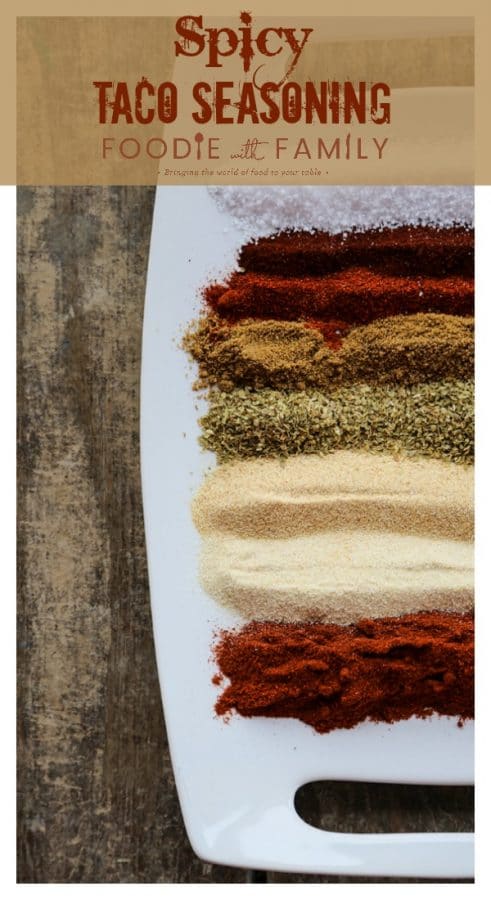 This post was originally published January 11, 2016 and updated February 2018.