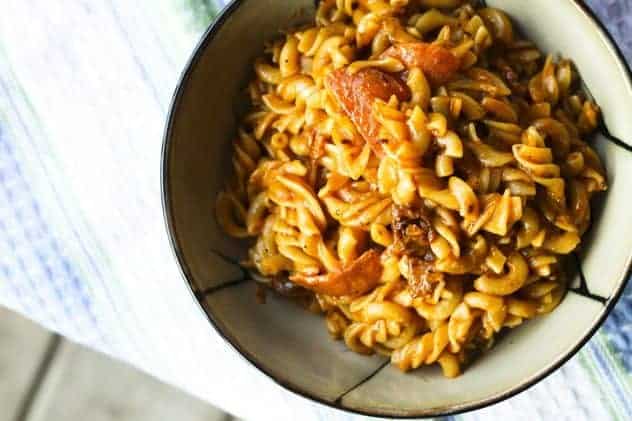 The other night, a few of my teenager's buddies came for a Minecraft party/eating festival. What that means, for those of you who aren't don't have teenagers or a gamer in the house, is that there were a fistful of teenage boys with laptops at my dining room table doing something on their computers that looked a whole lot like building Lego worlds full of zombies and pigs on their laptops.
The catch is that I didn't know whether the plans were going to work until about a half an hour before they were set to arrive: right at dinner time. If that doesn't strike fear deep into your heart, maybe this will; it was nearly 100°F out and these teenage boys that were arriving were coming straight from fencing lessons.
Let that sink in a bit.
A handful of hungry teenage boys straight from intense physical activity at my table.
The only possible answer was pasta and lots of it. Quickly.
I revamped my Bacon Cheeseburger Pasta for lack of hamburger and turned it into Bacon Pizza Pasta. I was just stirring the last handful of cheese, pepperoni and crispy bacon into the pot when the doors opened and a bunch of young men with computers loped through. * We had a massive stockpot full of pasta that tasted for all the world like a pepperoni and bacon pizza had fallen into it; tender pasta in herby tomato sauce full of melted mozzarella cheese, pepperoni and crispy bacon.
*Can we just talk about this for a minute? First of all, I don't even feel like an adult yet, let alone one with a teenager and CERTAINLY NOT one whose teenager and all of his friends are taller than her. I might need someone to hold my hand for a minute.
The pasta was as big a hit as I hoped it would be. The boys ate a lot. There were happy faces. And I only had one pot to clean even after feeding eight people for dinner. I washed my one pot, the boys brought their dishes for the dishwasher and I got to put my feet up. I'd call that an all around win, wouldn't you?
The recipe as printed below yields a large pot of pasta. Not large enough to feed the crew I fed, but large nonetheless. It scales up beautifully -I made a triple batch for the wild men over here- and leftovers, should you have them, store and reheat nicely for up to four days.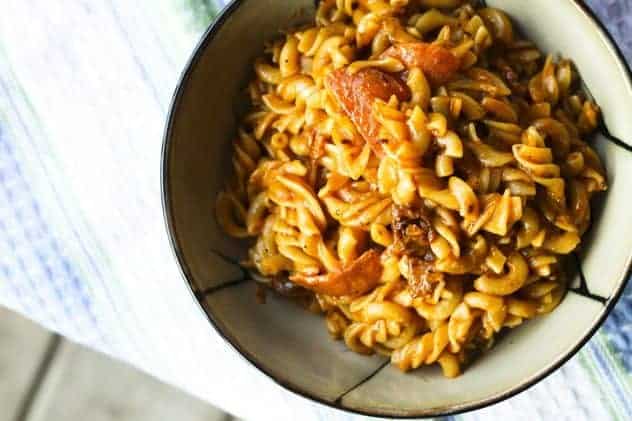 This one pot wonder dinner is a crowd pleaser with tender pasta covered in a pizza flavoured, herb-laden tomato sauce full of melted mozzarella cheese, crispy bacon, and pepperoni slices.
Ingredients
1/2

pound

sliced bacon

1

onion

peeled and very finely chopped

1

garlic clove

peeled and pressed or finely minced

1

can

6 ounces tomato paste

1

cup

pizza sauce

4

cups

beef broth

1

cup

water

2

teaspoons

Italian seasonings

1/4

teaspoon

dried oregano

1

teaspoon

salt

1

teaspoon

onion powder

preferably granulated onion

3/4

teaspoon

garlic powder

preferably granulated garlic

1/8 to 1/2

teaspoon

crushed red pepper flakes

or more, to taste depending on heat tolerance and preference.

1

pound

dry small shell

rotini, or elbow pasta

2

cups

grated mozzarella cheese

15

slices

of pepperoni

cut into quarters
Instructions
Stack the bacon strips and cut down through the stack at 1/4-inch intervals. When done, you should have a pile of thin bacon strips. Put these into a large stockpot over medium-low heat, stirring frequently. Add the onion and minced or pressed garlic when the bacon is about halfway cooked. Continue frying the bacon, onions and garlic until the bacon is crispy. Use a slotted spoon to transfer the crispy bacon with the onions and garlic to a paper towel lined plate to drain. Pour the remaining bacon grease out of the pan (and hopefully into a jar to use in tasty things later.)

In a large mixing bowl, whisk together the garlic, tomato paste, pizza sauce, beef broth, water, Italian seasonings, oregano, salt, and onion and garlic powders. Pour this into the pan from which you drained the bacon grease. Stir well, raise the heat to high and bring the mixture to a boil. When it is boiling, gently stir in the dry pasta, add a lid to the pan and drop the heat to low. Cook for 10 to 12 minutes, stirring every couple of minutes to prevent the pasta from sticking. When the pasta is tender, turn off the heat, add all of the grated cheese, the crispy bacon, and the chopped pepperoni and stir gently until the cheese is melted in completely and everything is evenly distributed. Serve hot with additional grated cheese if desired.
Nutritional information is an estimate and provided to you as a courtesy. You should calculate the nutritional information with the actual ingredients used in your recipe using your preferred nutrition calculator.