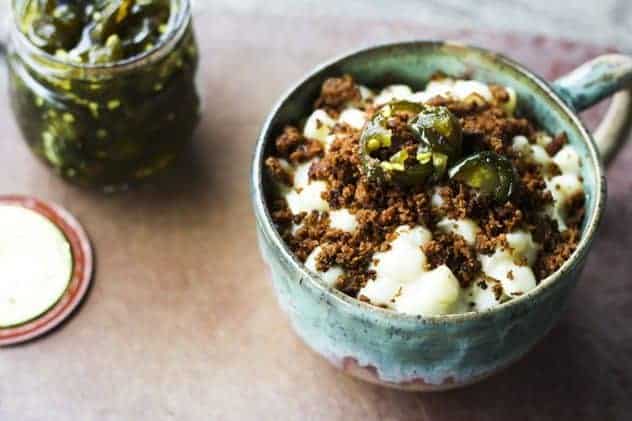 Friends: I'm participating in the 30 Days of Gratitude on the Foodie With Family facebook page. Won't you join me when you can and share a little or a big something you're grateful for every day? And if every day is too much in your life right now, how about just whenever you can? Click here to be part of a thankfulness movement!
I'm going to start this post with a confession and spend the rest of it haranguing you into making this my way. Sounds fun, right? Let's get started.
My confession: I don't like baked macaroni and cheese. Right now there are two groups of people reading this. Group A is gasping and fanning themselves and ready to storm me and revoke my foodie card. Group B is saying, "Big whoop." It's okay. I understand. I often feel like I SHOULD like it since it's a little of a lot of things I love in one package. I just don't. It's a texture thing.
I DO, however, ADORE creamy mac and cheese and I'm OVER-THE-MOON in love with shells and cheese. There's just something so awfully cute about shells and I love the way they trap all the good saucy stuff. What I didn't love about that, though, was how ever-loving messy the process was with the bechamel in one pan and the noodles in another and the blah blah blah. Then a few years ago, I read my beloved White on Rice couple's creamy stove top mac and cheese recipe and the clouds- they parted. They cooked the pasta IN the milk. Well, duh. Why didn't anyone ever think of that before?
Over the past couple of years, I've tinkered with the recipe to reflect my family's preferences. While there are many versions of stove-top creamy mac and cheese out there, this one is our favourite (and if you pile my Taco Mac Hack on top, it's garner-cheers-at-the-table good.)
I've made countless versions of this one-pot mac. I know what DOES work and what DOESN'T. I am giving you my version today: the one that never fails us. But here's where the haranguing comes into play. This recipe is easy IF YOU DO IT EXACTLY AS I SAY. If you've been around here for long, you know I don't say that often. When I say it, I mean it. Of course, there are still a couple of items up for negotiation (like what milk you use and whether you pursue the taco mac angle or go au naturel. The noodles not the nudie, if you follow my meaning…)
Here are the rules:
Choose your milk: You can absolutely choose to use skim, one-percent, two-percent or whole milk here. That is not going to effect the end texture as much as how decadent the final product is. That's a choice.
Use small shells: not medium shells, not elbow macaroni, not ditalini, not spaghetti, not linguine… You get the picture. This recipe was refined using small shells. And yes, it really DOES make a difference here. I tried doing this using equal weights of other types of pasta. Sometimes it worked, sometimes it didn't. It worked EVERY time with the shells.
Use half Monterey Jack cheese and half extra sharp Cheddar. The reasons are multiple. Monterey Jack is a smoother melting cheese than Cheddar and it's milder. Combining the two in equal parts gives you the tang of Cheddar and the smooth gooey loveliness of Monterey Jack. Win/win… And while we're on the subject of cheese.
Grate your own cheese. No, I know. The bags of pre-grated stuff are super convenient. I use them from time to time, too. The thing is, the little shreds of cheese in those bags are coated with powder that keeps them from sticking together. Handy for pre-grated cheese, but not so wonderful when you're melting it and WANT it to come together. Just hike those socks up and grate the cheese. It's a one-pot meal, you're still a head of the game even after you mess up the cheese grater. And speaking of cheese, make sure you have it grated before you start cooking. Why? Because you…
DO NOT WALK AWAY FROM THE POT. Heck, you probably shouldn't even stop stirring. You're using the starch coating the pasta as  thickening power in the sauce. As the pasta cooks, that starch goes into the milk (as the milk is being absorbed by the pasta) to make it thick and creamy. Thick and creamy likes to stick to pans. Things that like to stick to pans like to scorch. Scorched creamy shells and cheese is a sad, sad thing. Just keep stirring. It's a small price to pay for fabulous creamy mac made in just one pot. You'll be so glad you did.
Alright, that's it for my brow-beating. Is anyone still with me? If so, let me tell you about my Taco Mac Hack. It's so simple it hardly counts as a recipe, so it's a freebie here. Top your One-Pot Creamy Shells and Cheese with leftover taco meat or browned Mexican-style chorizo and a couple candied jalapeños on top. Ta da! You've hacked your mac into Taco Mac. If you're the ketchup on your mac and cheese type, add a dollop of salsa!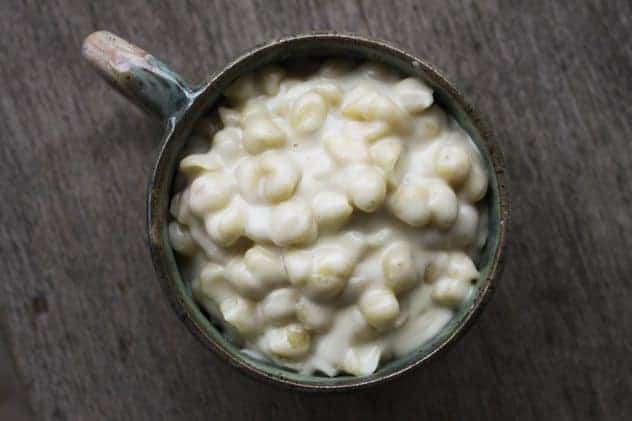 One-Pot Creamy Shells and Cheese Plus Bonus Taco Mac Hack
Rate Recipe
One-Pot Creamy Shells and Cheese takes creamy mac and cheese to new heights of decadence and ease while only dirtying one pan. For creamy mac lovers and last minute mac and cheese cravings. Bonus: 2-Ingredient Taco Mac Hack included in the recipe!
Ingredients
1

pound

small shells pasta

Do NOT use medium shells.

4

cups

milk

plus extra, in case!

3

tablespoons

butter

1/2

teaspoon

ground mustard powder

2

teaspoons

kosher salt

1/2

teaspoon

garlic powder

1/2

teaspoon

onion powder

1

cup

grated Monterey Jack cheese

1

cup

grated extra sharp Cheddar cheese

freshly ground pepper to taste
Optional for Taco Mac:
Fully cooked taco meat or browned chorizo

Candied Jalapenos
Instructions
Add the small shells, milk, butter, mustard, salt, garlic and onion powder to a large saucepan over medium heat. Stirring nearly constantly and taking care to scrape the spoon across the bottom of the pan to prevent sticking and scorching, slowly bring the mixture to a simmer then drop the heat to LOW. Don't forget this or you'll be sorry!

Continue stirring and simmering the pasta for about 15 minutes, or until the milk is almost completely absorbed. Test a piece of pasta (carefully, though, because this stuff is MOLTEN at this point.) If the pasta isn't fully cooked and the milk is almost gone, add more milk in -1/4 cup at a time- until the pasta is fully cooked. This will add a small amount of cooking time (3-5 minutes) to the overall cooking time.

Remove the pan from the heat and stir in the grated cheese.

Put a lid on the pan and let it rest, undisturbed for 3-5 minutes. Give it one more stir and taste. Add the black pepper to taste and serve hot.

Leftovers can be stored in the refrigerator in a tightly lidded container and heated up with a splash of milk in the microwave or in a saucepan.
To Make Taco Mac:
Sprinkle re-heated taco meat or crispy brown chorizo over bowls of hot Creamy Shells and Cheese and top with candied jalapenos if desired.
Nutritional information is an estimate and provided to you as a courtesy. You should calculate the nutritional information with the actual ingredients used in your recipe using your preferred nutrition calculator.