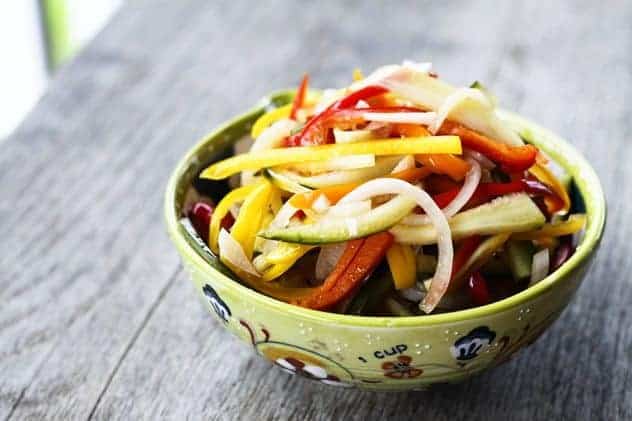 I have this friend, Meseidy, who has a fabulous blog; The Noshery. Meseidy can do it all. She is a chef, a decorator, a great conversationalist and an extremely talented folder of sheets.
[youtube]http://www.youtube.com/watch?v=iP66IMO_fJ0[/youtube]
I am not kidding you when I tell you that I never successfully folded a fitted sheet before Meseidy taught me to do it. It's not my mom's or dad's fault… They can fold like a pro. I seem to have some double recessive incompetent-at-housekeeping-tasks gene. Ah well, better late than never, eh?
I did mention she's a chef, right? She's not just a chef. Girl can COOK, people. I've had the privilege of having her cook for me a few times and every single time I'm wowed by the food. She made these almond crisps with boozy cherries and vanilla ice cream when we were all out at The Pioneer Woman's. Oh heavens, I could eat my weight in that.
But that is NOT what I'm talking about today. I may be dreaming about it, but I'm not talking about it. Today, I want to tell you about her Refrigerated Pickled Salad. The second she posted it, I knew it would be made. And soon.
It is best described as a bread and butter pickle salad. Crazy sounding? Maybe, but think about it. You have oodles of thinly sliced cucumbers, multi-coloured bell peppers, red onion, and garlic marinating in a sweet and sour brine of vinegar, sugar, water, and -in my case- crushed red pepper flakes. How inviting does this look?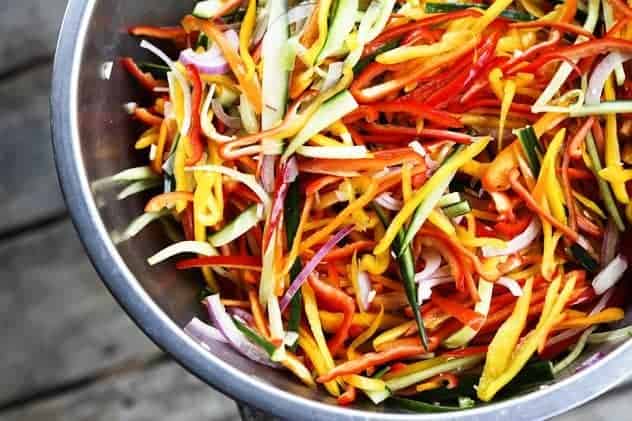 Let me tell you, this is not to be missed.
I messed with the recipe just a wee bit (on accident, but more on that in a moment and liked the results so much that I did it again. On purpose. The first time I prepared the pickles, I doubled it. What can I say, I was confident that she wouldn't steer me wrong. When I doubled the recipe, I doubled everything BUT the ice. Whoopsie. I stuck my finger in the brine to see if it was too punchy with the extra vinegar and loved it so much, I left it that way.
Per instructions, we let the pickles happily soak in that delicious brine for THREE. WHOLE. DAYS. When I say we, I mean my sister, her husband, my dad and stepmom, my uncle and aunt, The Evil Genius, the kids and me. After three days, all bets were off. We had the pickles on carnitas tacos, grilled white hots, cottage cheese, and with cream cheese in tortilla wraps. We stuck our fingers in the jars and snacked on them all by themselves. This was the jar when we started.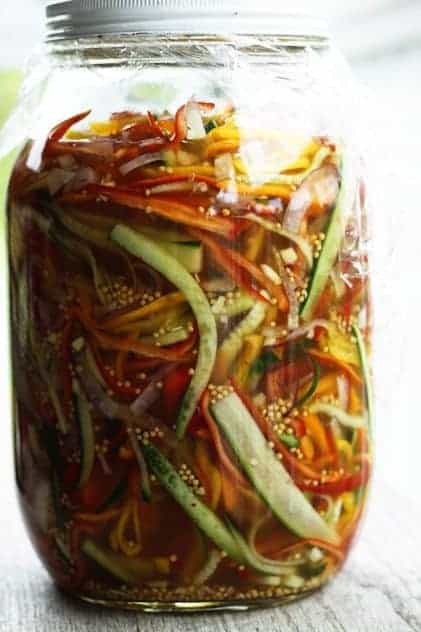 Within five days, that gallon jar was empty. Oy. We are clearly a pickle dependent family. They were so good, though! Sweet and sour like a classic bread and butter pickle, but with lovely thin strips of pickled vegetables and a little kick of spice, they were simply wonderful. Being the waste-not-want-not sort of gal that I am, I re-used the flavourful brine from the first batch for my second batch. I sliced my veggies and tossed them in the mixing bowl like before, but then poured the leftover brine in and stirred to distribute the mustard seeds. I then used tongs to transfer the veggies to the jar and poured the brine back in over everything. Hubba hubba.
Batch two is well on its way to disappearing as quickly as the first did. Thank you mille fois, Meseidy… or should I say gracias?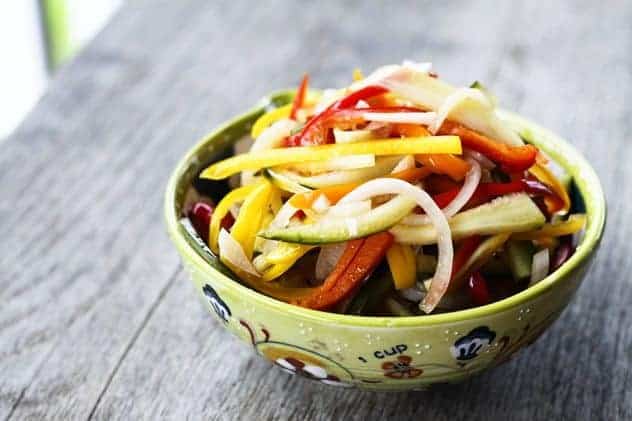 Refrigerator Pickled Salad (Bread and Butter Style)
Rate Recipe
Sweet and sour like a classic bread and butter pickle, but with lovely thin strips of pickled vegetables and a little kick of spice, these are simply wonderful. Bonus: no canning required and they're ready to eat in 3 days! Serve this simple pickled salad with grilled meats, on sandwiches, on tacos, with cream cheese in tortilla wraps, over cottage cheese for an afternoon pick-me-up, or just on their own. Recipe very gently adapted from and used with the permission of the wonderful
Meseidy of The Noshery
.
Ingredients
2

seedless English cucumbers

also known as English Cucumbers

1

large red onion

2

pounds

baby multi-colour sweet bell peppers

or the equivalent poundage of red, yellow and orange bell peppers.

8

large

or 10 medium cloves of garlic

3

cups

cider vinegar

1 1/3

cups

raw or granulated sugar

2

tablespoons

salt

2

cups

water

1

cup

ice cubes

2

ounces

1/3 cup by volume whole yellow mustard seeds
Instructions
Combine the vinegar, sugar, salt and water in a saucepan and bring to a boil over high heat. Stir until the sugar and salt are fully dissolved, remove the pan from the burner and set aside to cool while you prepare your vegetables.

Cut the English cucumbers into three pieces each, then cut each piece in half. Thinly slice each of those halves. Transfer the sliced cucumbers to a large mixing bowl.

Cut the blossom and stem end off of the red onion, peel it and cut in half. Slice each of those halves paper thin. Add the onions to the cucumbers in the mixing bowl.

Remove the stem and seeds from the bell peppers and thinly slice them lengthwise and transfer to the mixing bowl.

Peel and slice the garlic cloves as thinly as possible. Add those into the mixing bowl along with the mustard seeds and toss to distribute everything evenly. Pack into a glass gallon jar (or into 3-4 glass quart jars.)

Add the ice cubes to the partially cooled brine, stir until the ice is melted, then pour the brine over the vegetables in the jar(s). Tightly lid the jars and store in the refrigerator for at least 3 days before eating. Lasts for at least a month when refrigerated.
Notes
You can reuse the brine for a second batch of pickled salad by pouring the leftover brine over a freshly sliced batch of veggies in the mixing bowl, toss to distribute the mustard seeds, then use tongs to transfer the veggies to clean jars and pour the remaining brine over them. Again, refrigerate for 3 days before eating.
Nutritional information is an estimate and provided to you as a courtesy. You should calculate the nutritional information with the actual ingredients used in your recipe using your preferred nutrition calculator.