Asian Marinated Cucumber Salad: This delicate, fresh, vibrant, crisp, marinated cucumber salad is the perfect accompaniment to seafood, chicken and pork dishes.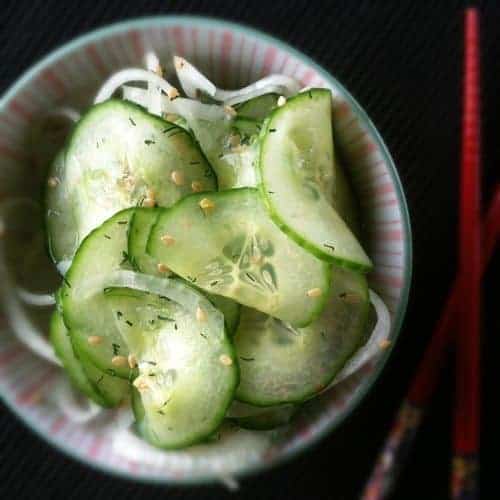 I have something special for you today.
Yesterday, I gave you my husband's all-time favourite entrée. Today, I'm giving you his all-time favourite salad. Tomorrow, I'll give you his all-time favourite appetizer. If I believed in keeping secret recipes*, these three would be at the top of the list because they make you look so talented when you serve them.
*But I don't believe in secret recipes or lessipe (leaving out an ingredient or process when sharing a recipe). In fact, you might have to pay me NOT to share a recipe with you. The true joy in food -at least for me- comes from sharing it. Refusing to share a recipe or a crucial step in one is tantamount to blowing a big, fat, wet raspberry at someone when they ask you for help. In other words, it ain't right.
Here's the thing; the food looks stunning and tastes amazing but takes so little effort you'll be left feeling a little funny accepting all the inevitable praise that comes from serving it. For instance, we have the salad pictured above.
This is the recipe equivalent of the town where I spent all of my elementary and middle school and some of my high school years; if you blink you'll miss it. You slice cucumbers and onions, you pour a couple things on top and toss then refrigerate.
Then you eat it. And again, like my small town, if you blink it will be gone. For a salad that is so easy and has so few ingredients, the taste will blow you away. It is clean, fresh, bright and accompanies Japanese Salmon over Linguine beautifully, yes, but it is also good with all sorts of seafood, chicken and pork, or even stashed on sandwiches in place of pickles.
…Or eaten furtively with a fork straight from the refrigerator while holding the door open with your pajama clad knee. Not that I've done that. Today.
Here comes the recipe, don't you blink!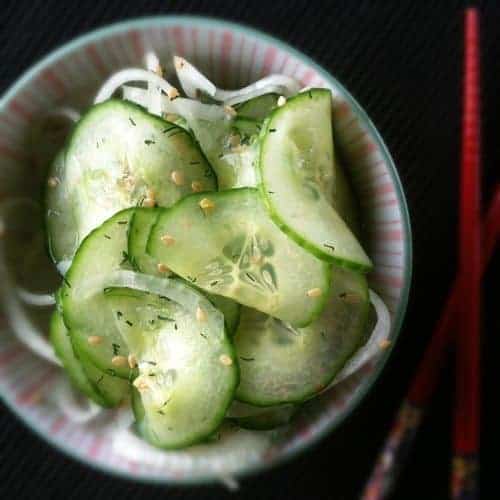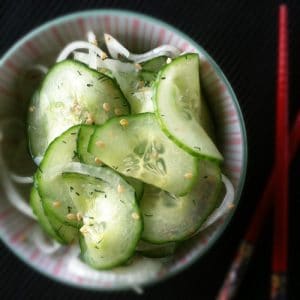 This delicate, fresh, vibrant, crisp, marinated cucumber salad is the perfect accompaniment to seafood, chicken and pork dishes.
Ingredients
1

large English

seedless cucumber, very thinly sliced

¼

of a sweet onion

very thinly sliced

1/3

cup

rice vinegar

1

tablespoon

toasted sesame seeds

1

tablespoon

minced fresh dill or ½ teaspoon dried dill weed

¾

teaspoon

salt

3/4

teaspoon

sugar

¼

teaspoon

crushed red pepper flakes
Instructions
Gently toss together all of the ingredients until everything is evenly coated. Put in a container with a tight fitting lid and refrigerate for at least an hour prior to serving. This keeps well, refrigerated for up to 5 days. Gently toss again before serving.
Notes
I use a mandoline to slice my cucumber and onion paper thin. If this is not available to you, use the sharpest knife you can and slice as thinly as is possible. It will still be great if you can't get paper thin slices, it just won't be quite as delicate.
Nutrition
Calories:
36
kcal
Carbohydrates:
5
g
Protein:
1
g
Fat:
1
g
Sodium:
441
mg
Potassium:
144
mg
Sugar:
3
g
Vitamin A:
115
IU
Vitamin C:
3.1
mg
Calcium:
36
mg
Iron:
0.6
mg
Nutritional information is an estimate and provided to you as a courtesy. You should calculate the nutritional information with the actual ingredients used in your recipe using your preferred nutrition calculator.