Vanilla Latte Stracciatella Gelato. It rolls trippingly from the tongue, doesn't it? I have to be honest. I used the legit Italian word "stracciatella" mainly because it's significantly more fun to say repeatedly than "chocolate flakes" which is what it really is. Give it a try and really draw it out- Strrrrrrrrrrrrrrrrrrrrracciatellllllllaaaaaaaaaaaah.
Come on, admit it. That felt pretty good, right? Well, as great as it feels to say Vanilla Latte Stracciatella Gelato, it feels even better to eat it. My 15 year old took a bite and exclaimed, "THIS TASTES LIKE A VANILLA LATTE WITH CHOCOLATE IN IT." From that boy, this is the highest praise he can heap on a food. My boy loves coffee and chocolate.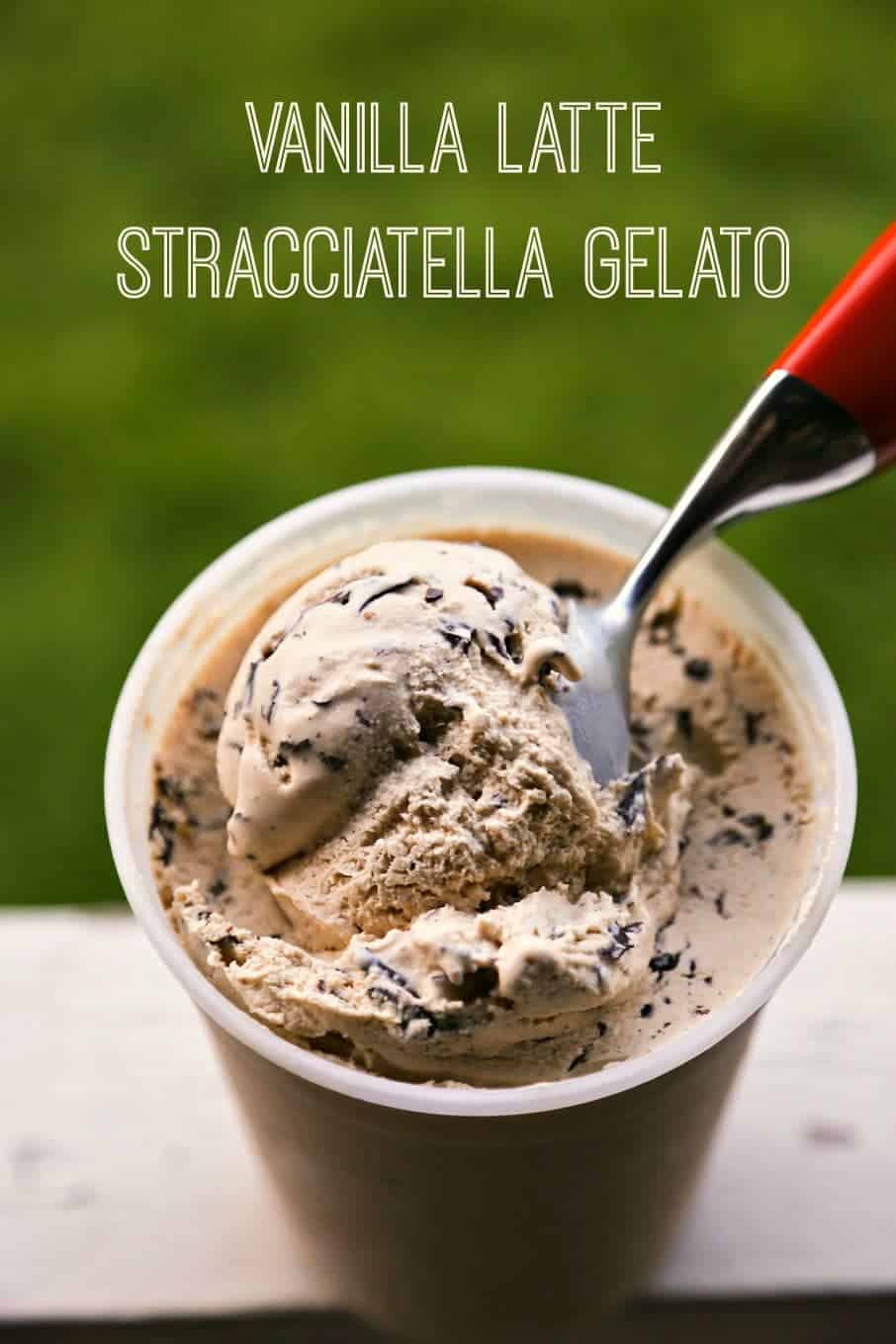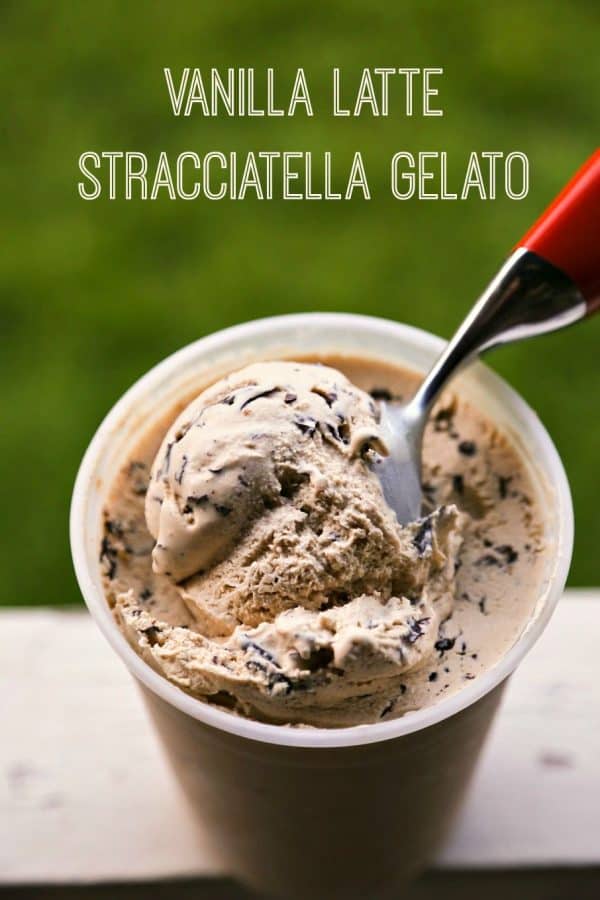 So the 'vanilla latte' portion is self explanatory, and while I admit to using stracciatella in place of chocolate flakes for the sound of it, the word 'gelato' isn't just in there for Italian window dressing. Gelato and ice cream are cozy relatives, but there are some important distinctions. Ice cream is churned longer, whipping more air into it in the process making it fluffier and a little milder in flavour. Gelato is churned for less time, is more dense, and is generally far more intense in flavour. In other words, this Vanilla Latte Stracciatella Gelato is one intense bite of vanilla bean laced coffee gelato that is shot through with impossibly delicate flakes of dark chocolate.
Can we please get back to my current favourite word for a minute? Strrrrracciatelllllaaaaaaah. I'm sorry. I'll stop eventually. Stracciatella isn't just little bitty pieces of chocolate. It's a method. In a nutshell, you churn your gelato, pop it into a bowl nested into a bowl full of ice, and drizzle a thin stream of melted chocolate into the gelato as you stir vigorously. THIS is what makes those melt-on-the-tongue, tiny flakes of chocolate.

Don't fret. It's not hard. In fact, I have a dorky little video to show you how easy it is. Emphasis on the dorky.
Oh, and let me tell you something that should set your mind at ease. There's no tempering of eggs… In fact, there are no eggs at all in this recipe. The thickening comes courtesy of cornstarch, making this a far less fussy recipe than most ice cream recipes. The cornstarch makes the beginning gelato base much like a pudding which -in turn- yields a creamy, velvety, eminently scoopable gelato.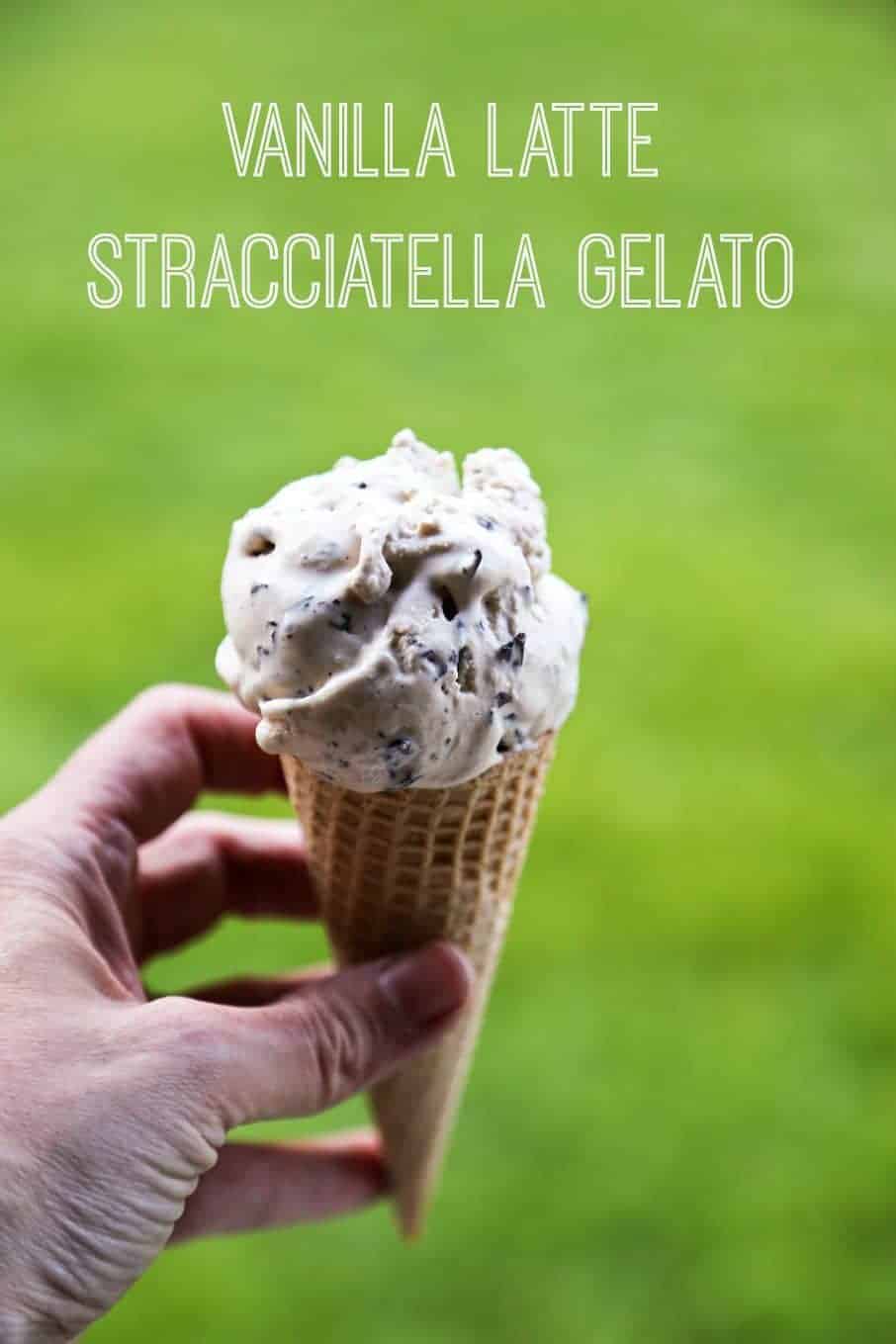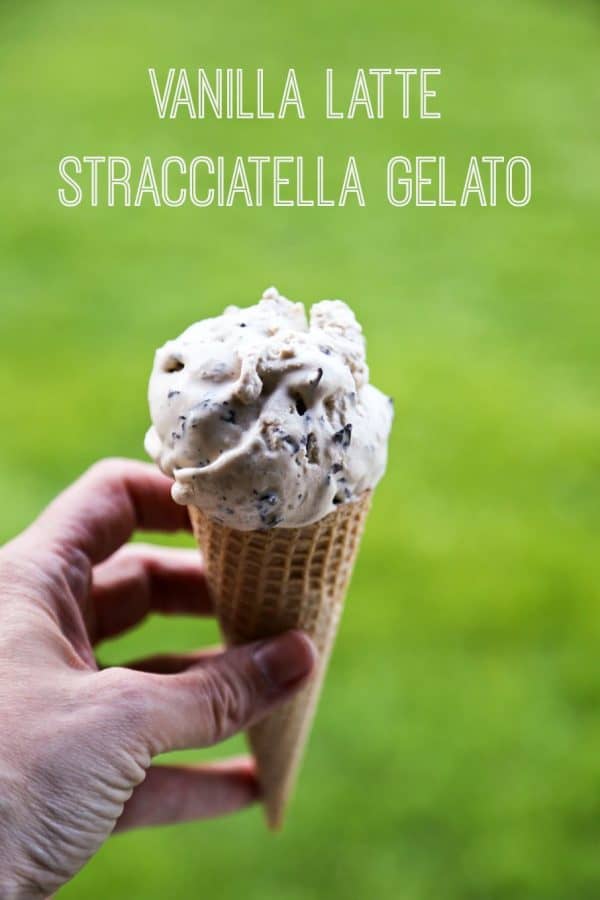 Cook's Notes
DEFINITELY whisk together the sugar and cornstarch before you even measure out your liquids. This is the key to a lump free gelato base. Only after the cornstarch is fully incorporated into the sugar can you whisk those liquids into the mix.
Don't hurry things along… Let the medium low temp do its job. The temptation will be to light that fire a little higher to make process go a little more quickly. Don't do it. Patience will reward you with the silkiest gelato ever to exist.
If you have espresso powder, you can use it, but there's no need to mail order it just for this gelato. Most grocery stores sell little individual packets of dark roast instant coffee that works beautifully in this recipe for Vanilla Latte Stracciatella Gelato. In fact, two packets seem to measure out two tablespoons just right, making a box that has six envelopes of instant coffee the base for three full batches of this dreamy stuff.
As for churning, you're looking for a soft serve consistency. Pull it from your ice cream maker at that point.
When it comes to melting chocolate, I prefer to melt it on medium strength in the microwave, stirring after every 30 seconds. I aim to have it just barely melted and liquid when I add it to the gelato base.
If you want to protect the texture of your beautiful gelato, make sure you have a medium size mixing bowl nested in a larger bowl filled with ice. This will help keep your gelato from melting while you mix in the melted chocolate.
You can drizzle in the melted chocolate with a spoon, or make our life easier and put it into a Wilton icing bag or ziploc bag. Snip the very tip of the bag off and squeeze the chocolate into the gelato while mixing vigorously.
Connect with Foodie with Family
facebook | pinterest | instagram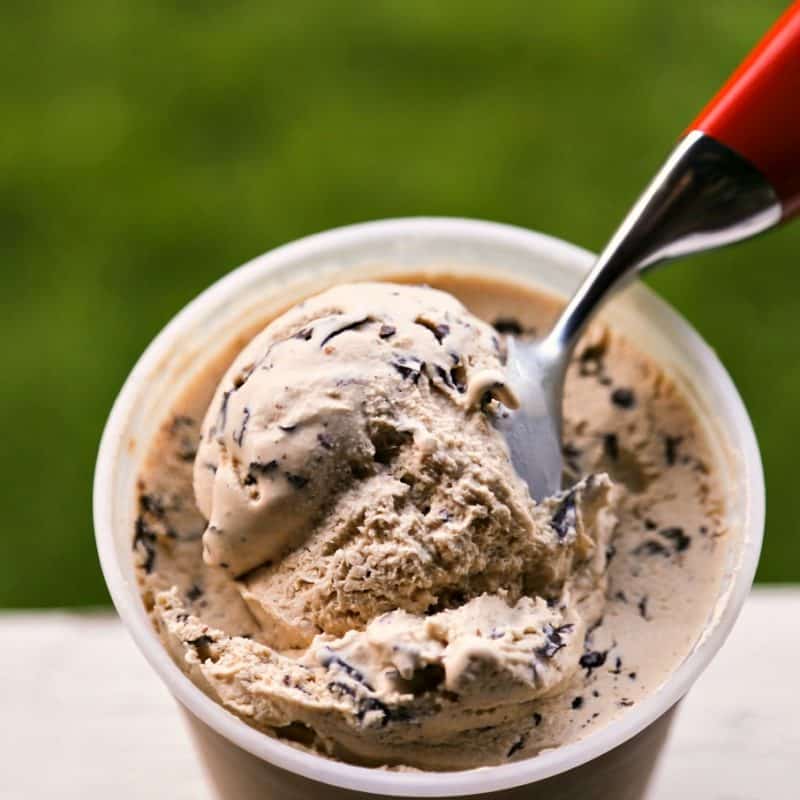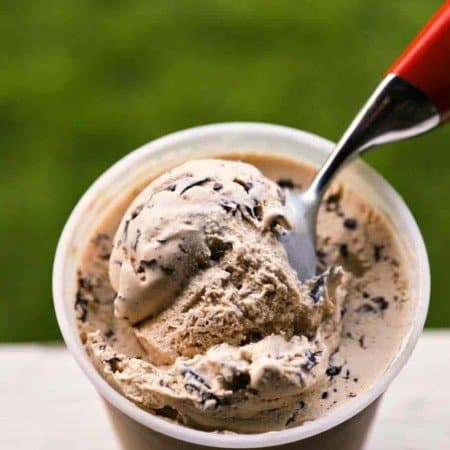 One intense bite of vanilla bean laced coffee gelato that is shot through with impossibly delicate flakes of dark chocolate.
Ingredients
1

cup

granulated sugar

2

tablespoons

cornstarch

2

cups

heavy cream

2

cups

whole milk

1

vanilla bean

split lengthwise, seeds scraped from the insides

2

tablespoons

instant coffee granules

4

ounces

bittersweet or dark chocolate

chopped
Instructions
Whisk the granulated sugar and cornstarch together thoroughly in a large, heavy bottomed saucepan. When it is evenly combined, use the whisk to add in the vanilla bean seeds. Whisk in the cream and milk until even, then add the vanilla bean itself. Place the pan over medium heat and whisk constantly until the mixture thickens and bubbles around the edges. Sprinkle the instant coffee granules over the top and whisk in until evenly coloured. Pour the mixture into a heatproof bowl, cover, and refrigerate until chilled completely through, at least 4 hours but probably closer to 8.

Remove the vanilla bean pod from the mixture, give it a quick stir, and pour into your ice cream maker. Freeze according to manufacturer's instructions. If your ice cream maker doesn't have a gelato setting, simply pull the ice cream from the machine when it is soft serve consistency.

While the gelato is turning, melt the chocolate gently in the microwave at half power, stirring after every 30 second burst. When it is fully liquid, transfer to a zipper top bag or an icing bag and zip the bag or twist tie the bag shut. You want the chocolate to remain fluid, but just barely be warm enough to be that way.

Scrape the gelato into a medium mixing bowl set over a larger bowl full of ice. Snip the very tip of the zipper top or icing bag off and quickly drizzle the chocolate over the gelato while stirring or whisking vigorously. As the chocolate hits the gelato, it firms up quickly. The action of the spoon breaks it up into tiny flakes that are dispersed throughout the gelato. You can serve immediately for a soft-serve consistency. For a more traditional gelato texture, scrape the finished gelato into a container and freeze for at least 4 hours before serving.
Nutritional information is an estimate and provided to you as a courtesy. You should calculate the nutritional information with the actual ingredients used in your recipe using your preferred nutrition calculator.