"Buffalo Sauce, won't you come out tonight, come out tonight, come out tonight…" Surely, I cannot be the only one who gets "Buffalo Gals" stuck in their head every time they contemplate Buffalo sauce. I walk past it in the grocery aisles and start humming immediately. The Garlic Buffalo Sauce Recipe I'm going to share today will have you singing, too!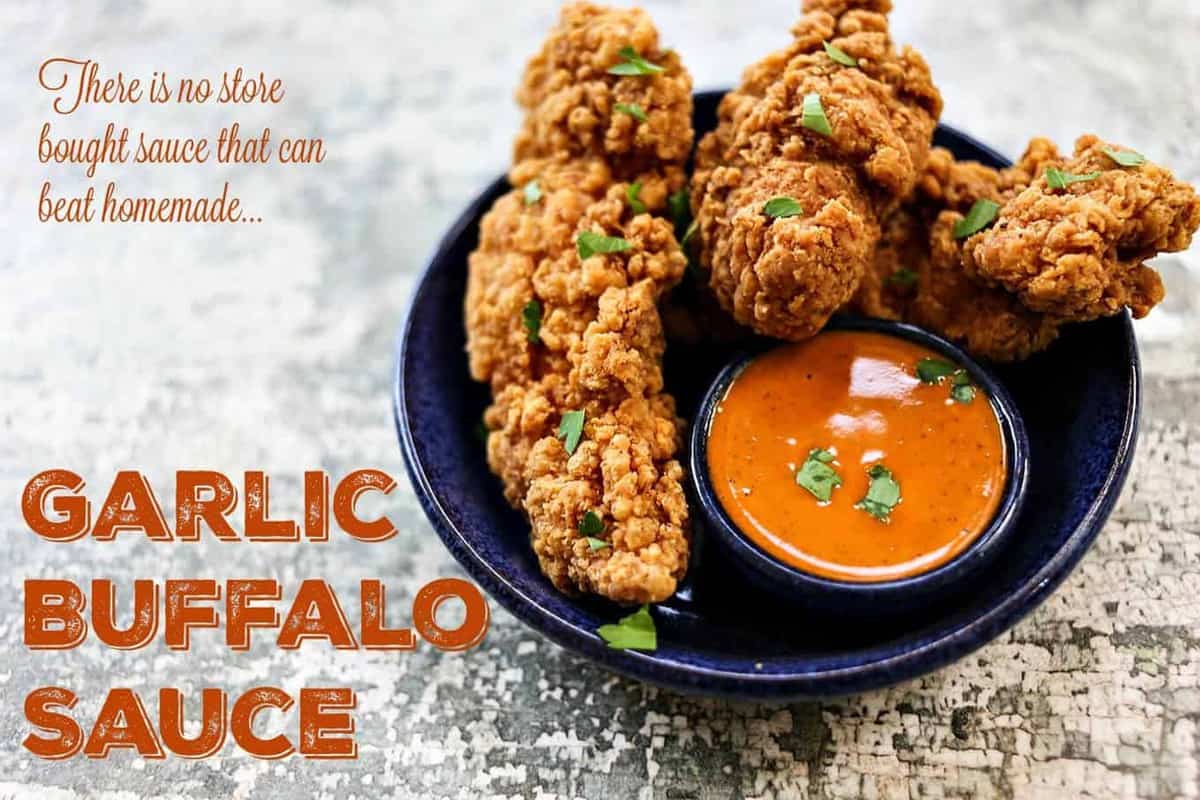 Please note, I said I walk past the stuff in the grocery store. Why? Well, in short, because the homemade one just tastes so very much better. I challenge you to compare them if you're ever given the chance. Homemade Garlic Buffalo Sauce Recipe is robust with the round flavour of garlic, not just heat and vinegar like the store bought counterpart. It's not hard to make, either. When you combine a simple process with a delicious outcome, I think making your own Garlic Buffalo Sauce Recipe is a no-brainer!
Oh, and folks- the biggest game of the football year is coming up. With five sons (one of whom is certifiably obsessed with everything sports-related) and a husband, this is akin to a national holiday at our home. As I've mentioned once or twice (or a thousand times), I don't really care about football. (Translation: football bores me to tears. I might like it better if it was, oh say, hockey.) What I do care about, however, is finger food and appetizers and big sports events are an ideal time for me to flex my snack food muscles, so to speak. I've already shared our new favourite bread basket addition; Buffalo Garlic Knots. I also have a couple more fabulous Buffalo-sauced coming your way between now and February 5th, so that your football snack food game can be oh-so on point. So go on; make a double batch of our Garlic Buffalo Sauce Recipe. You can make the Buffalo Garlic Knots and still have some left for spreading on sandwiches, dipping chicken tenders into, making Buffalo Chicken Sandwiches, Boneless Buffalo Wings, Buffalo Chicken Baked Potatoes, and still have some left for the goodies I have coming your way over the next couple of weeks. Buffalo may be out of Super Bowl contention (that much I know courtesy of my sports-nut son), but Buffalo will still be a presence! Let's go Buffalo; Garlic Buffalo Sauce Recipe, that is!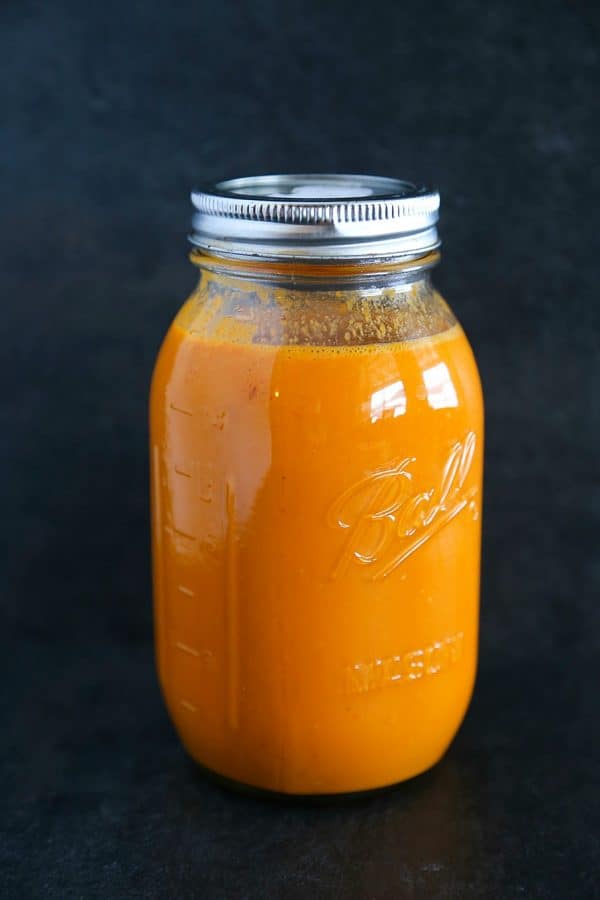 Cook's Notes
It is true that the classic Buffalo sauce as made in the Anchor Bar in Buffalo was simply Frank's Red Hot Sauce and clarified butter. That being said, this sauce is just that much better that it justifies the diversion from tradition while still being completely identifiable as Buffalo sauce. I do NOT advise subbing in another hot sauce, though, if you want the true Garlic Buffalo Sauce Recipe experience. That being said, if you have a hot sauce you love to slather on foods, feel free to take the liberty! You can even order Frank's Red Hot Sauce via amazon by the gallon. Yes. We can use a gallon of Frank's. Who couldn't?
If you love Buffalo Sauce, but can't quite handle the spice, the recipe includes notes on how to adjust it for Mild and Medium Garlic Buffalo Sauce Recipes. If you like it even hotter, the recipe also includes an alternative "extra spicy" version.
People. USE UNSALTED BUTTER IN THIS GARLIC BUFFALO SAUCE RECIPE. I am sorry to type-scream, but it is seriously important to the final outcome. Frank's Red Hot Sauce is salty enough without added salt from butter. While it might not be problematic if you are simply dunking food into the finished Garlic Buffalo Sauce Recipe, if you're brushing it onto something and baking it, or further cooking it, you'll evaporate the liquid, leaving behind a far saltier end product. Just trust me. Please.
I choose to use a stick blender for making our Garlic Buffalo Sauce Recipe the sake of ease. It's not strictly necessary. You could toss the contents into a blender, vent the lid, lay a couple layers of paper towel or a hand towel over the top and let 'er rip. A food processor would probably do the job, too. If you don't have either of those, you can smash the softened garlic cloves with a fork or potato masher for a more rustic sauce. A word to the wise, though… a stick blender is a dead handy thing to have around for pureeing hot soups in pots and other jobs where you'd have to try to transfer boiling liquids to blenders or somesuch. This one is my favourite and I've worked it like it is in a real high-stress test-lab for the past 4 years.
The best storage for Garlic Buffalo Sauce is a plain old mason jar; they don't stain or absorb odours, so they're perfect for the job. I prefer the regular mouth because they make pouring a little easier.
How long is the sauce good after it's made? You can store homemade Garlic Buffalo Sauce in the refrigerator for up to a month without the quality deteriorating. If you're going to store longer than that, though, you should freeze it. And if you have Garlic Buffalo Sauce in the house for longer than a month, you may want to rethink the lack of snack food in your life. I say this because I love you.
Connect with Foodie with Family
facebook | pinterest | instagram
Use this gear to make our Garlic Buffalo Sauce Recipe:
Garlic Buffalo Sauce Recipe
Ingredients
1

cup

unsalted butter

melted

1 1/3

cups

Frank's RedHot

10

cloves

garlic

peeled and lightly smacked to release oils

2

tablespoons

apple cider vinegar

2

teaspoons

Worcestershire

1/4

teaspoon

ground cayenne pepper
Instructions
Melt the butter with the garlic cloves over low heat. Let the mixture bubble gently until the garlic cloves become tender, about 10 minutes. Take care not to "toast" the butter or garlic cloves, removing from heat as needed to prevent browning.

Whisk together all remaining ingredients in a saucepan and bring to a boil over medium high heat. Boil for 2 minutes, whisking constantly. Remove from the heat and allow to cool for 5 minutes before blending until smooth with a stick blender or a regular blender. Transfer to a jar to refrigerate. It may separate as it cools, so whisk it together before using.
Recipe Notes
For MILD Garlic Buffalo Sauce, change the quantity of butter to 1 2/3 cups and the Frank's RedHot Sauce to 2/3 cup. For MEDIUM Garlic Buffalo Sauce, change the quantity of butter to 1 1/3 cups and the Frank's RedHot Sauce to 1 cup. For EXTRA SPICY Garlic Buffalo Sauce, change the quantity of butter to 2/3 cup and the Frank's RedHot Sauce to 1 2/3 cups.
You can also use our Garlic Buffalo Sauce Recipe to make these great dishes: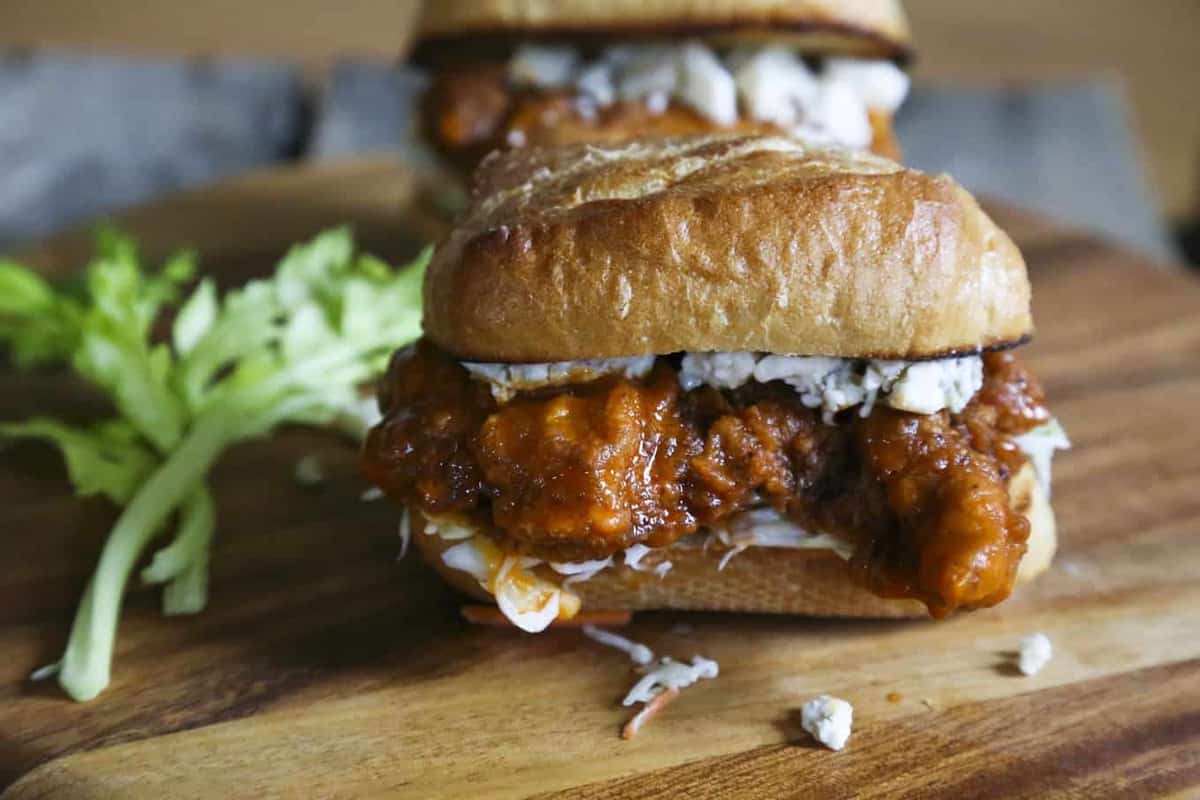 Buffalo Chicken Sandwiches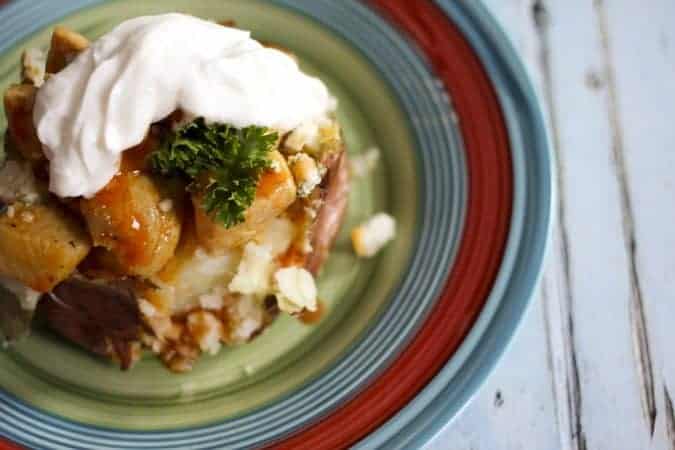 Buffalo Chicken Baked Potatoes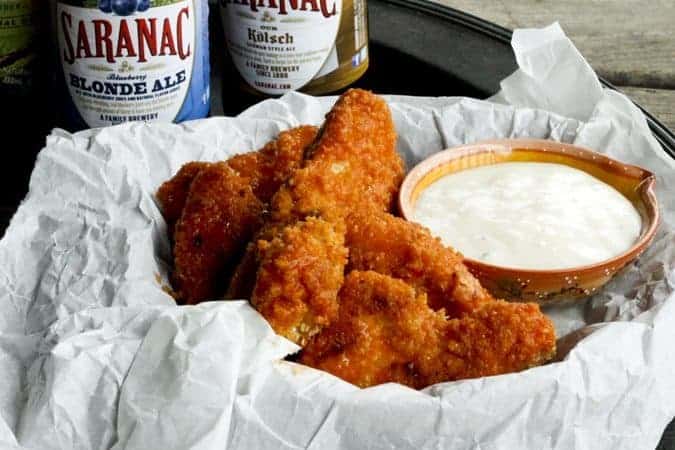 Oven Fried Homemade Chicken Nuggets and Boneless Buffalo Wings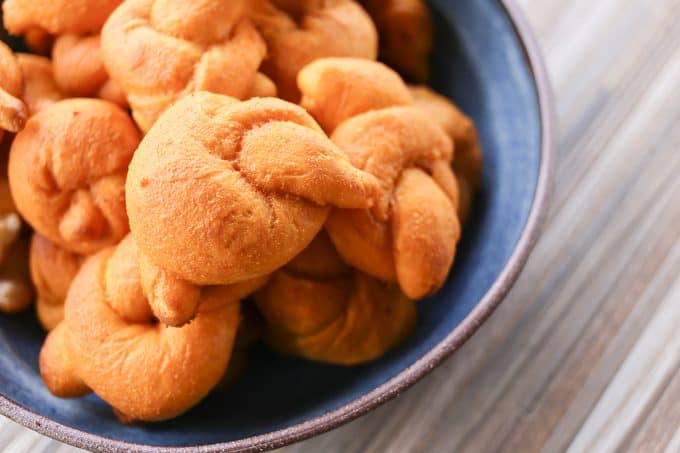 Buffalo Garlic Knots