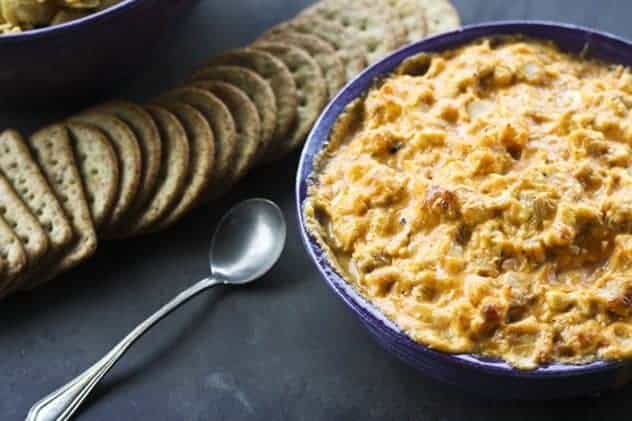 Why did the chicken cross the road? I'll get to that in a moment.
One thing I absolutely, positively adore about living in Western New York is that I can honestly say I live in the birthplace of the hot wing. If you order 'wings' in a nearby restaurant or bar, you're going to receive that hot, spicy, zippy, deep-fried, buttery tip-of-a-chicken's-wing that is known the rest of the nation over as Buffalo Wings or hot wings. If you order Buffalo wings here, they're going to know you're not a local.
You know the story of how the ubiquitous bar food came to be, right? A hungry Buffalonian and his college buddies piled into the Anchor Bar where his mom was working. They begged for something -ANYTHING- to eat. (Right here is where the story gets me in the heart. I know how boys eat. I feel this story deeply.) Mrs. Bellissimo (the mom in question) threw a bunch of wings into the fry-o-later and tossed them with a special sauce, served them to the hungry boys, and a legend was born. There are other versions of the story, but they too all center around Mrs. Bellissimo and her restaurant. In short, Mrs. Bellissimo is widely acknowledged to be single-handedly responsible for one of the best-loved snack foods in North America. God love her, 'cause chickens fear her very name.
I'm going to go ahead and assume you've had real, proper wings before now; you've had that magical combination of vinegar based hot sauce and butter tossed on deep-fried chicken wings. Am I right? So you know how a wing is supposed to taste; buttery, spicy, zingy, chickeny, and altogether addictive.
This hot dip is everything that a good wing dunked in blue cheese or Ranch dressing is, but in dip form. You start with a generous portion of cooked, cubed chicken mixed into a concoction of cream cheese, Ranch dressing, and hot sauce and bake it until it's bubbly and steaming hot. Your brain will scream "WINGS" when you scoop a cracker or celery stick into this dip.
You're not going to be screaming from the heat. In wing parlance, you've got mild, medium and hot, in most cases. This dip is a medium. It's not going to make your head leap from your neck and run away yelping unless you're the wussiest of  all wussy eaters. If you are, and you still want to try the dip on for size, reduce the hot sauce but don't you omit it…. then it would just be creamy chicken dip and that would be sad. Just sad.
…And now for the blue cheese issue, because I know some of you have one. If (sigh) you don't like blue cheese (sigh again), yes, you can substitute mozzarella or Monterey Jack, but it will not pack that true wing punch. Wings are almost always served with a side of blue cheese dressing (Ranch if you ask for it) and some celery sticks.
Speaking of celery sticks, they would make an admirable conveyance for dip-to-mouth if you have them handy. I, however, did not. This is mainly due to the fact that my children have lately taken a serious fancy to ants-on-a-log for breakfast, lunch and dinner and had cleaned out my crisper drawer of all available celery whilst I was whipping up this dip for them at their request. *Shaking fists toward children.*
Ah well. Lack of celery sticks notwithstanding, this is mega-satisfying and fun. Crackers, tortilla chips, corn chips or breadsticks are all fantastic when dunked into, dolloped with or otherwise spread with Hot Buffalo Chicken Dip.
I guarantee this as man/boy friendly food, given that my man/boys ate up a batch in about ten minutes flat. I can also personally guarantee this as chick food, so long as your fellow chicks like wings as much as I do. Chicks and Wings. For a multitude of reasons, don't ever let anyone tell you they don't go together.
So why did that chicken cross the road? To get the heck out of Buffalo!
Buh-KAWK!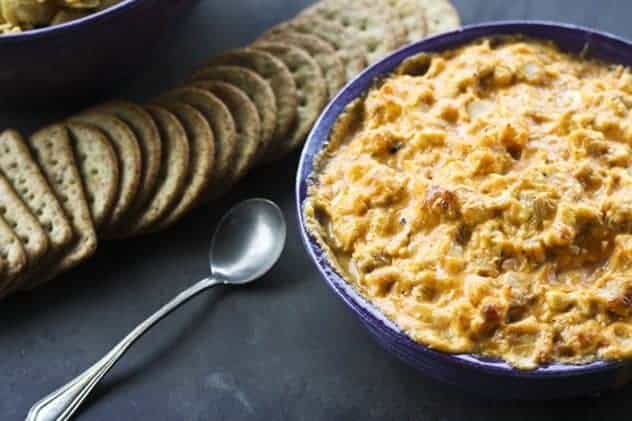 Bubbly, cheesy, spicy, and full of chicken, Hot Buffalo Chicken Dip is a snacker's dream. Welcome at parties, on game day, or just for a fun hot snack, this dip is everything you love about Buffalo wings minus the bone.
Ingredients
8

ounce

brick of cream cheese

softened to room temperature

1/4

cup

milk

1/4

cup

mayonnaise

1 1/2

teaspoons

dry Ranch dressing mix

1/2

cup

hot sauce

preferably Frank's Red Hot or Sriracha

1/2

cup

crumbled blue cheese

or grated mozzarella or Monterey Jack if you dislike blue.

1

clove

of garlic

peeled and finely minced or pressed

2

cups

of cooked finely chopped or shredded chicken
Instructions
Add the softened cream cheese to mixing bowl. Use a fork to break up the cream cheese and smoosh in the milk, mayonnaise and ranch dressing. Switch to a sturdy spoon to continue smashing it and mixing it until smooth. Mix in the hot sauce next, whisking to combine until smooth. Stir in the remaining ingredients until evenly combined.

Scrape the mixture into a casserole dish or oven safe bowl and bake at 375°F for 20-30 minutes, or until hot and bubbly.

*This mixture can also be prepared in a slow-cooker on low (2-3 hours) and kept warm for a couple hours afterward.

Serve hot with crackers, corn or tortilla chips, celery sticks, or bread sticks.
Nutritional information is an estimate and provided to you as a courtesy. You should calculate the nutritional information with the actual ingredients used in your recipe using your preferred nutrition calculator.