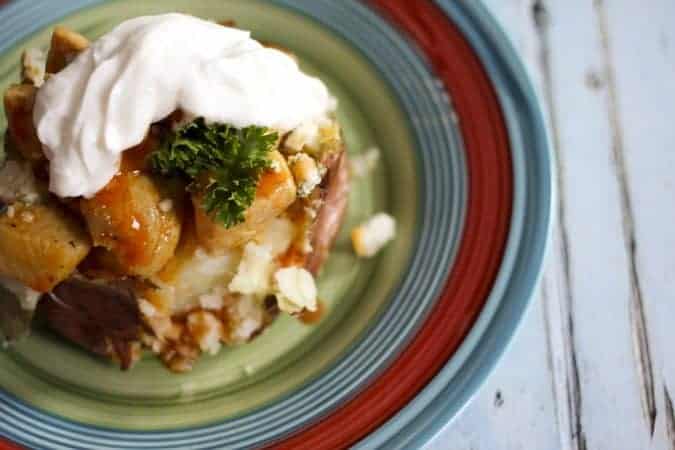 Disclosure: I was not compensated to write this post. Black Gold Farms sent potatoes so that I could create this recipe. They are also providing the giveaway package in conjunction with Body Media.
Have you ever quizzed yourself over what you'd like for dinner and gotten a certain food wedged in your psyche as the one and only way you can possibly satisfy your hunger in a way that leaves you in a good mood?
No?
That's just me?
I try to be an adult, really I do, and I've put myself in a position of having to get creative since I live in the middle of nowhere, but I really do hang my hat on eating a certain thing from time to time. Alright, it's more often than I care to admit… And it's a big part of why the whole once-a-month-cookery scheme never really jived with me. ("Excuse me, miss. I speak jive.")
Thankfully, I've developed a few strategies and schemes of my own to make sure that I can follow through on a reasonable fascimile of most of my overwhelming food urges without having to drive a bajillion miles to accomplish the task. I keep a VERY well stocked freezer and pantry. Prepper? It kind of looks like it in my basement. I suppose technically I could be considered a prepper, but only if there's a sub category of prepper devoted to stocking food against the ho-ree-blay potential disaster of not being able to eat what I want for dinner.
I'm a Dinner Prepper?
It all builds up to dishes like this, though. I had it in my head that I really wanted wings for dinner. In these parts (the Greater Buffalo, New York area. And by Greater Buffalo, I mean drive an hour and a half to get there. Sigh.) "wings" mean what everyone else in American calls "Buffalo Chicken". Chicken breast had to stand in for proper wings since rummaging through my freezer failed to yield up even one bag of wings. That's alright. I had Frank's and butter. And potatoes. I had lots and lots of potatoes. If you want a Dinner Prepper's pantry, you need potatoes. I had red potatoes on hand courtesy of Black Gold Farms. Scrubbed, rubbed in oil, and sprinkled with salt, they were popped into the oven to bake while I made my Buffalo Chicken topping. The potatoes and chicken topping were done right about at the same time, I broke open the potatoes, spooned the spicy chicken over the top, sprinkled them with crumbled bleu cheese and added a dollop of Greek yogurt (Ranch dressing went on for those here who dislike bleu), and -Hey, Presto!- dinner was served.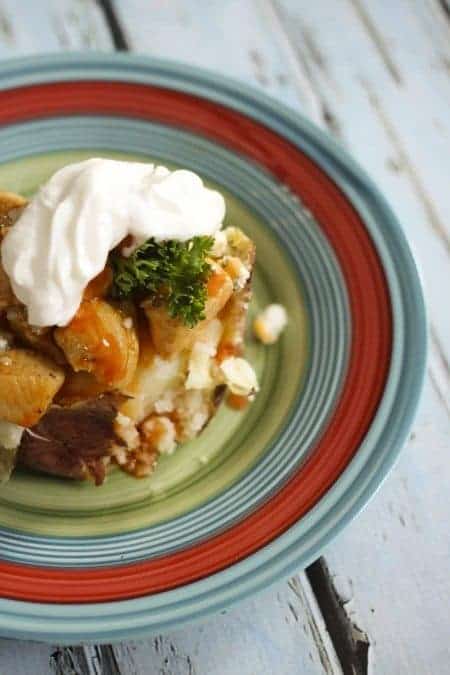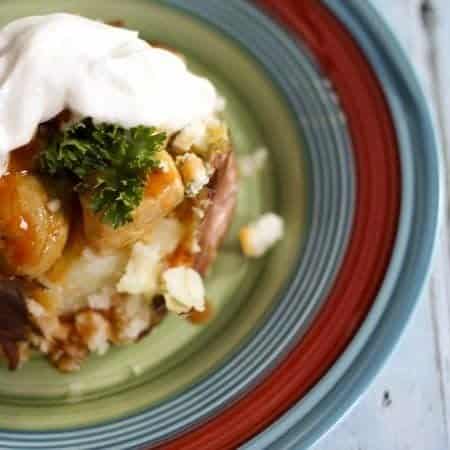 Buffalo Chicken Baked Potatoes and a Giveaway!
Rate Recipe
Tender, flavourful chicken in a quick Buffalo wing sauce over baked potatoes. Garnish with bleu cheese and Greek yogurt, or bleu cheese or Ranch dressing for a healthy, speedy meal!
Ingredients
For the Baked Potatoes:
6

medium to large size red or russet potatoes

1

tablespoon

extra virgin olive oil

kosher salt
For the Buffalo Chicken Topping:
1 1/2

pounds

boneless

skinless chicken breasts or thighs

1 1/2

teaspoons

kosher salt

1

teaspoon

freshly ground black pepper

1

tablespoon

peanut

plus extra if needed, canola, vegetable or other neutral oil

1/3

cup

melted butter

1/2

cup

Frank's Red Hot
For Garnish, choose any combination of the following:
crumbled bleu cheese and Greek Yogurt or sour cream

bleu cheese dressing

Ranch dressing
Instructions
To Bake the Potatoes:
Preheat the oven to 425°F.

Wash the potatoes and towel dry them. Place them in a mixing bowl, drizzle with the olive oil, salt and pepper, and use your hands to rub them so they're all evenly coated. Poke several holes in each potato with a fork and place directly on the middle rack in the oven. Bake until they are easily pierced through the center with a butterknife or a skewer.
To Make the Buffalo Chicken Topper:
If you have chicken that is very thick, pound it out or cut it in half crosswise so that it is about 1/2-inch thick. Cut the chicken into 1/2-inch long strips, then turn the strips and cut into 1/2-inch wide cubes. Sprinkle the salt and pepper over the chicken on the cutting board and use your hands to toss it to distribute evenly.

In a medium size, heat-safe mixing bowl, stir together the melted butter and Frank's Red Hot. Set aside.

Place a heavy-bottomed saucepan over medium high heat and drizzle in the neutral oil and swirl to coat the bottom of the pan. When it looks shiny and is hot, scatter the chicken cubes in the pan, taking care not to overcrowd it. You may need to do more than one batch. That's okay! Do not move the chicken once it hits the bottom of the pan for about 4 minutes, or until it lifts easily and is cooked on the bottom with some golden brown areas. Turn the cubes over and cook the other side until opaque all the way through but still moist, about 3 more minutes. Transfer the chicken to the bowl of butter and Frank's Red Hot and toss to coat. Repeat with remaining chicken if necessary.
To Assemble the Buffalo Chicken Baked Potatoes:
Use a fork to poke a line of holes from one end of the potato to the other, then poke another line that crosses the center point of the first line from one side to the other, like a cross. Wearing oven mitts, grab both ends of the potato and squeeze. The lines should open up and you should have a perfectly fluffy baked potato. Divide the Buffalo Chicken topping between the baked potatoes, and garnish as desired, with crumbled bleu cheese and a generous dollop of Greek yogurt or sour cream, or with bleu cheese or Ranch dressing. Serve immediately.
Nutritional information is an estimate and provided to you as a courtesy. You should calculate the nutritional information with the actual ingredients used in your recipe using your preferred nutrition calculator.
Giveaway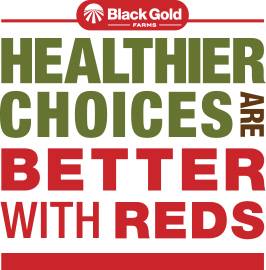 Black Gold Farms and their Better with Reds campaign, in partnership with Body Media, have generously offered a Healthy Choices giveaway!

Would you like to know what they're offering?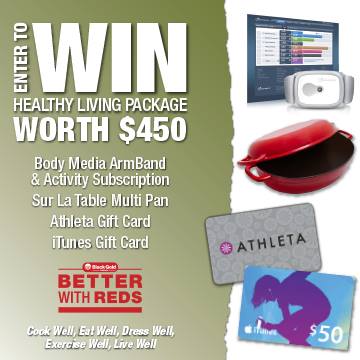 I want this gift pack all to myself, but we'll be giving it away to one of you lucky readers! Just because you eat potatoes doesn't make you a couch potato, and they're going to help you get up and shake your groove thang.
How to Enter:
Follow the instructions in the Rafflecopter widget below. It'll talk you through the process. The giveaway ends on January 26, 2014, so good luck, everyone!
Learn more about Black Gold Farms and Body Media
Black Gold Farms
Body Media