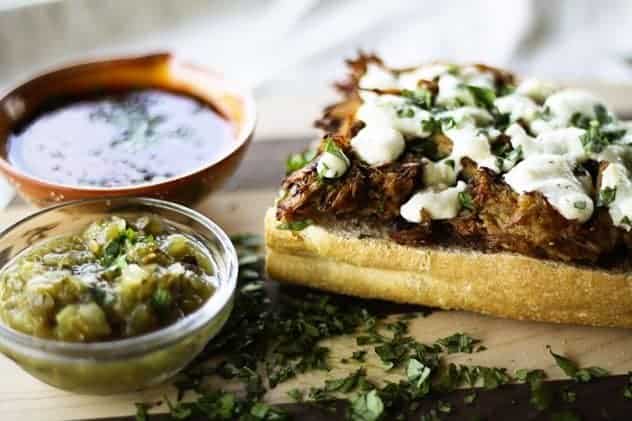 In one of those funny bits of irony that comes your way in life, my husband -who dislikes travel- has had to fling himself thither and yon regularly for his job. And I -the former exchange student gal who loved to go anywhere for any reason- found myself, for all intents and purposes, firmly rooted at home.
He refers to hotels as beds-in-a-box. He *gasp* doesn't pack for a trip until he's about to walk out the door. He dawdles as long as he possibly can before he leaves.
I think hotels are fun (provided they're clean and quiet.) I make lists, double check them and pack my stuff the night before I leave. Sometimes, I even put my bags in the car the night before. I am ready to go because fifteen minutes early is on time.
And still we love each other madly.
I found myself at the Chicago O'Hare airport this summer* with a good sized layover and a better sized appetite. I glanced at the airport key to see what was available and saw "Frontera". As in Chef Rick Bayless? No way. I had to check that out. I figured if it WAS indeed a Bayless operation, it would be too expensive, but I had to see it with my own eyes.
*It's funny how things happen, isn't it? Shortly after becoming okay with being the one who was home most of the time, opportunities started popping up for me to see more of the country. Its something for which I'm very grateful even though I've been pretty content to stay home wearing ripped jeans with my hair in a ponytail for the past few years.
I know I haven't done as much travel as many people (read: my husband) in the past few years, but somehow I was under the impression that all food in airport was, well, airport food. As in gross and on par with hospital food. It turns out that in the nearly a decade of travel-less-ness I've had, some airports have really upped the ante in the food department.
Not all of them, mind you. I'm looking at you Terminal F. (You know who you are.)
I walked down through Terminal 1 and lo-and-behold, it actually WAS a restaurant opened by Chef Bayless in Chicago's O'Hare. Furthermore it was affordable and further-furthermore, the food looked outstanding. I stood in the sizable line, placed my order for a Pork and Fig Mollete (warm open faced sandwich) and took my pager (at an airport?!?) to wait while they made my sandwich to order.
It was more than worth the little walk and the short wait. That sandwich was perfection. Doubt me? Read the Yelp reviews. I thought about that sandwich not only for the rest of that trip, but also during the other two trips I was on this summer. I kept hoping I'd have to be re-routed through Chicago so I could get another sandwich.
I am a bit of a sandwich snob. I think there is an art to the perfect sandwich; a perfect ratio that exists between bread and fillings and condiments. Torta Frontera's ratio was flawless. The bread was soft, but the crust was chewy (without yanking your teeth out of your head). The fig preserves were there, but didn't scream at you. The melted Chihuahua cheese on top? Swoon! A scattered handful of chopped cilantro made the whole thing taste fresh and the duo of salsas -red and verde- on the side were just spicy enough to remind you what salsa should be without being so pungent that you'd horrify your seat mate on the next plane. And this? This is why I had to recreate the sandwich.
I knew my two existing pulled pork recipes on Foodie With Family – Slow-Cooker Cuban Pork and Slow-Cooker Cola Pulled Pork– would work equally well for the meat on my recreated sandwich. This is one of the reasons I try to keep some of the pulled pork on hand at all times. The only thing that threw me for a bit of a loop in terms of ingredient sourcing was the cheese. There was nowhere around me that sold Chihuahua cheese. I made an executive decision like a boss and subbed in Queso Blanco.
Oh mommy.
It was exactly what I'd been hoping for; sweet figs just barely there under a coating of flavour-packed pulled pork, melted cheese and cilantro all perched on top of yielding yet chewy bread. I declared it a success. My husband declared it delicious and said -much to my surprise- that maybe he had something to look forward to on his next time through Chicago if the food in the airport was like this. Then he said something much more in character, "But why should I go there if you can make it for me here? I love home."
Aw, that's my honey.
He is right, after all… I'll continue enjoying this sandwich every time I get the hankering and I won't even have to brush my hair to do so.
P.S. He loves me even though I'm lollygagging around with messy hair and unkempt clothes. I think I can put up with his travel quirks.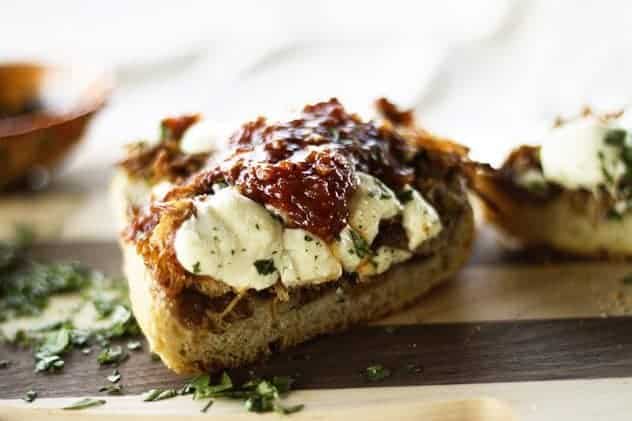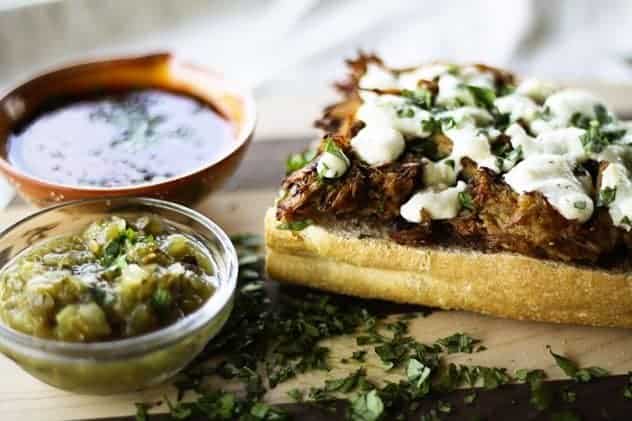 Pork and Fig Molletes | Mexican Open-Faced Warm Sandwich
Rate Recipe
Succulent pulled pork pairs with sweet fig preserves and melted queso blanco cheese on soft Italian bread in this fabulously simple warm Mexican open face sandwich and homage to Chef Rick Bayless. Serve as a quick weeknight meal or on game day. Instructions for cooking on the grill are included in the recipe making this a perfect tailgating option.
Ingredients
1

loaf Italian bread

16 ounces, by weight

1/2

cup

fig preserves

3

cups

shredded fully cooked pork like this

or this.

1/2

cup

crumbled queso blanco or grated Monterey Jack or Cheddar cheese
For Serving:
Chopped cilantro

Your favourite salsa

s
Instructions
Preheat oven to 425°F. (Or grill to medium high.)

Halve the loaf of Italian bread horizontally from end to end like you're going to make a giant submarine sandwich. Open the bread and lay, cut side up, on a baking sheet or a piece of foil. Divide the fig preserves between the two halves and spread evenly and thinly. Divide the pork evenly between the two halves of bread and distribute the pork to cover all of the bread.

Put the baking sheet or foil into the oven or grill and bake for 6-8 minutes, or just until the pork is hot through and through. Scatter half of the crumbled or grated cheese evenly over one sandwich and the other half over the other sandwich. Continue to bake for an additional 2-4 minutes, or until the cheese is completely melted. Remove the sandwiches from the oven and cut each loaf in half. Serve with a sprinkling of chopped cilantro and the salsa of your choice.
Nutritional information is an estimate and provided to you as a courtesy. You should calculate the nutritional information with the actual ingredients used in your recipe using your preferred nutrition calculator.