Love this Korean Miso and Honey Glazed Cod? Check out our other fabulous Korean Food Recipes!
This miso, honey, soy, garlic, and ginger glazed cod is perfectly cooked at lightning speed. It takes longer to cook the accompaniments than it does to get your gorgeous main dish on the table and it's perfect for either a quiet dinner at home or entertaining during Lent.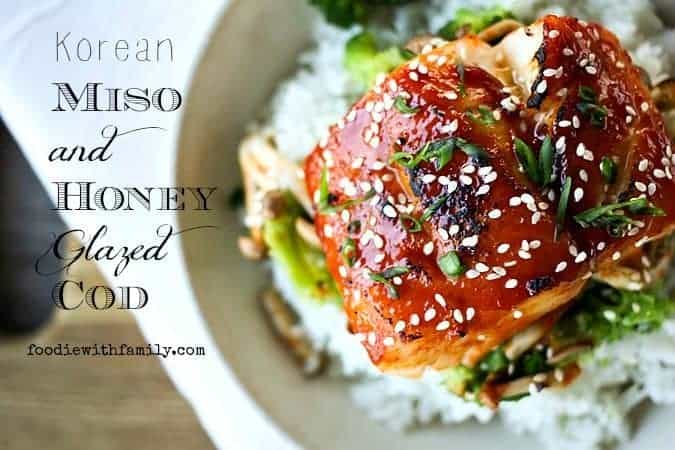 I love fish. Love. It. I love it pretty much any which way I've ever had it. If you wave a perfectly cooked steak and a perfectly cooked piece of fish in front of me and ask me to choose, what would I do?
Well, I'd try to figure out if I could knock you over and run away with both, first. But if that wasn't optional due to your strength relative to mine or too many witnesses, I'd go for the fish nearly every time.
Why do I like fish so much? There are many reasons, including how effectively it serves as a vehicle for just about any flavour profile I care to tag onto it, how fast it cooks.
I seldom make fish dishes that take more than 30 minutes from start to finish, and how healthy it is. A big factor, too, is that I love how it makes me feel full and completely satisfied without making me feel like my stomach is weighing me down.
With all this in mind, you can understand how excited I was when Alaska Seafood contacted me and offered to send me some of their freshly caught cod. I about broke my fingers trying to type "yes!" as fast as I could.
When the shipment arrived yesterday and I saw how gorgeous and fresh the cod was, I knew I had to treat it with the respect it was due and come up with a beautiful way to showcase it. I polled the Foodie with Family facebook community and asked what you all would do with it.
Two people responded "miso glazed cod". DINGDINGDINGDINGDING.
Now y'all, I love fish and chips. We covered that at the beginning of this post.
But this fish was so fresh and so beautiful I just couldn't bread it and deep fry it on my inaugural effort with it. (Don't worry, fish and chips are forthcoming. Really!)
The miso glaze suggestion was the perfect way to highlight the perfection of the fish. I opted to make the glaze sticky, tangy, savoury, garlicky and gingery, with the sweetness of the honey matching the sweetness of the cod.
I lined a pan with foil and laid out my cod filets then whisked together the glaze ingredients and brushed a little bit over the tops of the cod filets. Into the refrigerator for thirty minutes they went to let them absorb the flavours while I got my rice on and steamed my broccoli.
I heated my broiler to high, put an oven rack about eight inches away from the broiler element, tossed some beech mushrooms with oil and salt and scattered them around the cod filets. Under the broiler it went just for long enough to make the glaze bubbly and slightly charred in spots.
I pulled the pan from the oven, killed the broiler, and turned the heat to 375°F, brushed the remaining glaze on and popped the pan back into the oven for a handful of minutes, pulling the pan as soon as the filets were opaque in the center and flaking easily under a fork. It was just that easy to have a meal that was restaurant worthy.
Cook's Notes:
I use white miso paste in this recipe. It is pretty widely available at better stocked grocery stores with decent Asian sections, Asian markets, health food stores, and my beloved Amazon.com (Click here for an Amazon.com affiliate link to purchase !)
One package of miso lasts just shy of forever when properly stored in the refrigerator and adds great flavour to many dishes. It's wonderful to have on hand! Please note, traditional Korean cuisine usually uses Doenjang in place of miso, but miso is similar (if milder) and far easier to find!
If your broiler is anemic in power, you can turn to one of my favourite kitchen tools to help bubble and char your glaze: a blowtorch. I'm not saying you have to go out and buy one of those adorable little chef's torches (although, if you want to, do so by all means.)
I'm talking about the $10 number from Walmart that uses a mini propane tank about the size of a 1 liter bottle of seltzer. Just get your flame on and pass it over the surface of the glazed fish until it bubbles up and chars in places then continue baking as directed.
Voila! Problem solved!
I used beech mushrooms here (available at most Asian markets and many well-stocked produce departments.) If you're unable to find them, you can use baby button mushrooms halved, or thinly sliced regular sized button or crimini mushrooms.
Oooor, if you're not a fan, omit them entirely. I think they compliment the fish beautifully.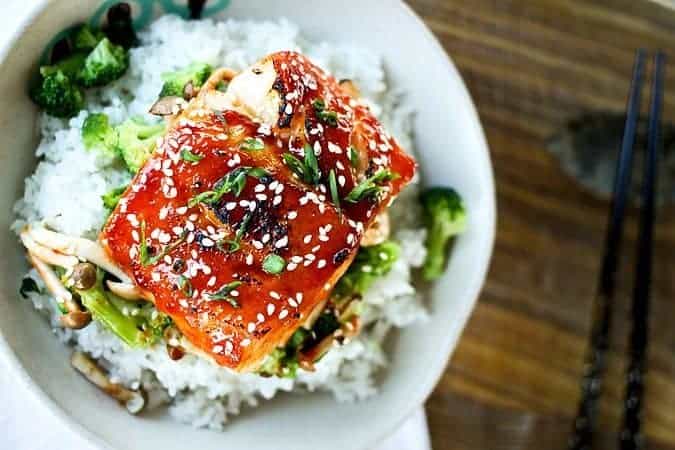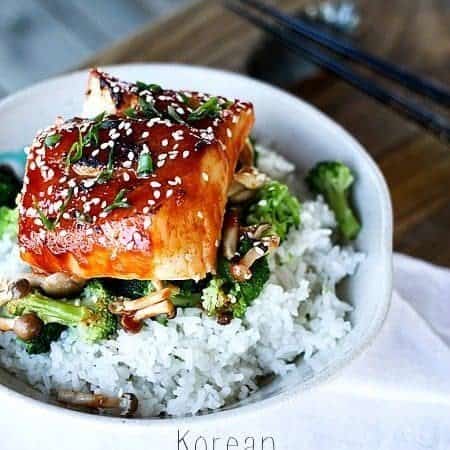 This miso, honey, soy, garlic, and ginger glazed cod is perfectly cooked at lightning speed. It takes longer to cook the accompaniments than it does to get your gorgeous main dish on the table and it's perfect for either a quiet dinner at home or entertaining during Lent.
Ingredients
1 1/2

pounds

fresh cod *See notes

or thawed, previously frozen cod

2

tablespoons

mild honey

1 1/2

tablespoons

rice vinegar

1

tablespoon

gochujang **See notes

1

tablespoon

white miso paste

1

teaspoon

soy sauce

2

garlic cloves

peeled and minced or pressed through a garlic press

1

teaspoon

grated ginger

1

teaspoon

toasted sesame oil

Optional: Beech mushrooms

separated from their base, tossed in 1 teaspoon canola or peanut oil and a pinch of salt ***See notes
For Serving:
hot cooked rice

steamed broccoli

toasted sesame seeds

thinly sliced green onions
Instructions
Line a baking sheet with aluminum foil and oil it or spray it with non-stick cooking spray. Arrange the cod filets on the baking sheet.

In a small bowl, whisk together or use a fork to combine the honey, vinegar, gochujang, miso, soy sauce, garlic, ginger and sesame oil. Separate out about 2 tablespoons of the mixture and brush it over the fish. Let the fish rest in the refrigerator for at least 30 minutes but up to an hour to let the fish marinate.

Preheat your broiler to HIGH with a rack placed about 8 inches below the element. Scatter the prepared beech mushrooms around the fish filets and slide the pan onto the rack. Broil the fish for 3 to 5 minutes, or until the glaze is bubbly and charred in places. Remove the pan from the oven and turn the oven off of broil and up to 375°F. Brush the remaining glaze over the fish and return the pan to the oven for 5 to 10 minutes, depending on the thickness of your filets, or until they are opaque and flake easily with a fork.

Serve over rice and steamed broccoli and garnish with toasted sesame seeds and thinly sliced green onions.
Notes
If your cod filets are quite large, you will want to cut them into pieces that are about 4 inches at their largest point. The more evenly you can cut them, the more evenly they will cook. Also, if your cod is skin on, prepare it with the skin side down and then slide it from the skin before serving.
*If you cannot find gochujang, you can substitute chili garlic sauce or sambal oelek. It will be slightly spicier, but still good.
***If you cannot find beech mushrooms, you can halve 1 cup of baby button or crimini mushrooms or thinly slice larger button or crimini mushrooms.
Nutrition
Calories:
209
kcal
Carbohydrates:
14
g
Protein:
24
g
Fat:
6
g
Cholesterol:
48
mg
Sodium:
246
mg
Potassium:
746
mg
Fiber:
3
g
Sugar:
7
g
Vitamin A:
515
IU
Vitamin C:
57.8
mg
Calcium:
147
mg
Iron:
2.5
mg
Nutritional information is an estimate and provided to you as a courtesy. You should calculate the nutritional information with the actual ingredients used in your recipe using your preferred nutrition calculator.
Having trouble finding Miso Paste or Gochujang? Click the preceding links and you can order them from my buddy Amazon.com



Fun fact: If you order this miso paste, they will ship ten free pairs of chopsticks to you!

Originally posted March 7, 2014.