Need dinner in a hurry? Add a salad and this 10 Minute Meal Fix Roast Beef and Caramelized Onion Naan Pizza will have a satisfying and hearty dinner on the table in a flash.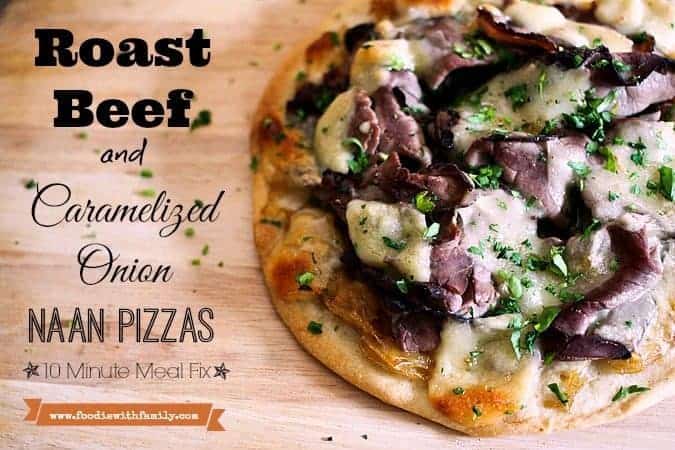 I have a set of recipes I go to for meals on busy nights or nights where I'm just not feelin' it in the kitchen. Obviously they have to be fast, but they also have to be made from ingredients or products that I almost always have on hand, they have to make everyone happy, and they have to, well, BE GOOD. Honestly, what's the POINT of food that doesn't taste good? Sustenance? I suppose but there's only so far you can go without feeling a little excited over your food. May your food never be drudgery. That's my new Irish blessing.
Today's recipe hits a bulls-eye in ALL of the categories I just named. It's fast, it's made from easily attainable items, it makes everyone happy and it's not just good, it's AWESOME. In the spirit of the fastness of this recipe, I'm keeping today's post short and sweet. Besides, after this fantabulous recipe, I have a mini round-up of six other warp speed dinners that'll please them all.
Cook's Notes:
Don't lay the roast beef out flat, but hold the slices by one end and drape it, letting it fold like an accordion over the onions. This gives it better texture and makes it prettier. This rule (well, it's a rule in my head, anyway) applies to assembling the ultimate sandwich as well!
You can use homemade, frozen naan for this meal OR you can use purchased naan. Either way, it's delicious. Obviously, homemade rocks here.
And on the same note, you can use homemade, thinly sliced leftover roast beef for some seriously wondrous results. Not into making your Sunday roast? Substitute a good deli roast beef.
Have you made my slow-cooker caramelized onions yet? What are you waiting for? This pizza is a compelling reason to have them on hand!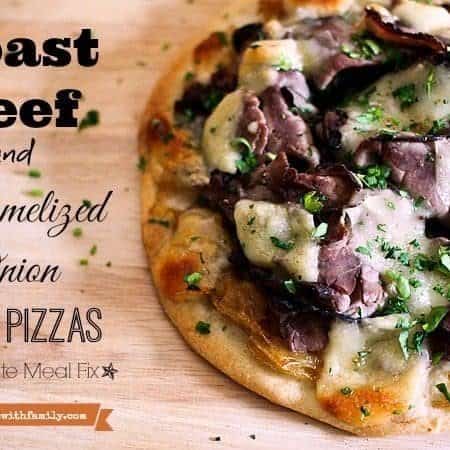 Roast Beef and Caramelized Onion Naan Pizza
Rate Recipe
Ingredients
Per Pizza:

1 6-8

inch

naan bread

1/3

cup

caramelized onions

1/4

cup

thinly sliced deli or homemade roast beef

3

slices

deli provolone or Yancey's Fancy Steakhouse Onion Cheese

or a combination

Minced fresh parsley and/or green onions for garnish
Instructions
Preheat oven to 400°F.

Spread the caramelized onions evenly over the naan to within 1/4-inch of the edges. Distribute the sliced roast beef over the onions. Tear the cheese into strips and lay them over the roast beef. Slide the pizza into the oven directly on the rack using a pizza peel or heat-proof wide spatula. Bake for 8-10 minutes, or until the cheese is melted and golden brown in places and the beef and naan are hot all the way through. Sprinkle the parsley and/or green onions over the top and let rest for 3 minutes before slicing.
Nutritional information is an estimate and provided to you as a courtesy. You should calculate the nutritional information with the actual ingredients used in your recipe using your preferred nutrition calculator.
Need more fast meal inspiration? How about six of our family favourites?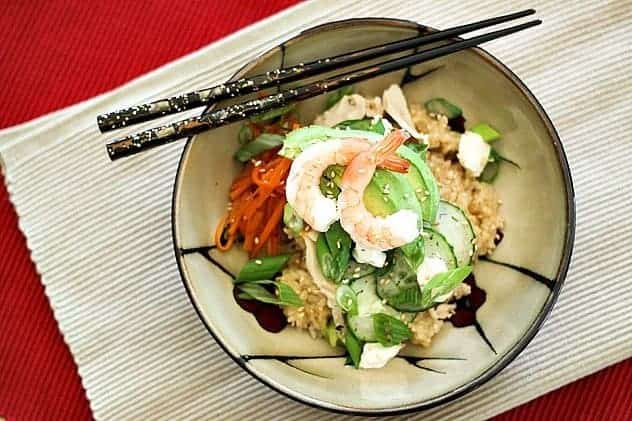 Lazy Sushi is a fast, fabulous dinner that in no way cops out on flavour or nutrition. This one is done in under 30 minutes. Seasoned rice (whether brown or white) topped with tuna, marinated cucumber salad, pickled carrots, cubed cream cheese, green onions, sesame seeds, avocado slices, and cooked shrimp piled high in a bowl taste reminiscent of your favourite sushi rolls. Sometmes we serve this with spicy mayonnaise or pickled ginger.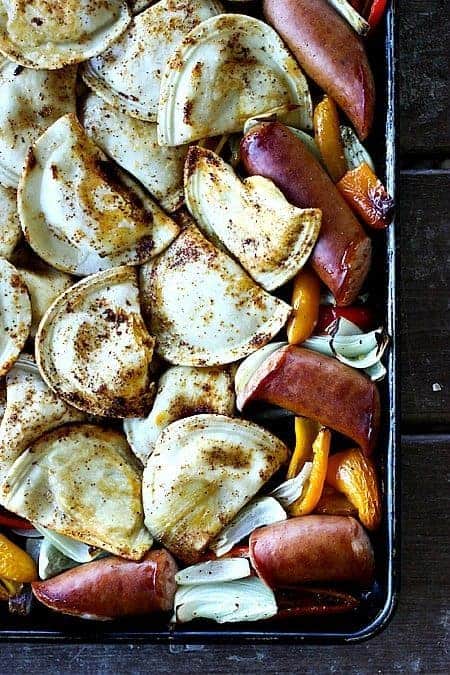 Kielbasa and Pierogies Sheet Pan Meal. Need something a little heartier for the meat-and-taters crowd? This meal is made entirely on one sheet pan and is done in 30 minutes! Juicy, garlicky kielbasa is roasted with multi-coloured baby bell peppers, crisp tender onions, and your favourite pierogies. It's hard to beat this for comfort food in general, not just comfort food done fast.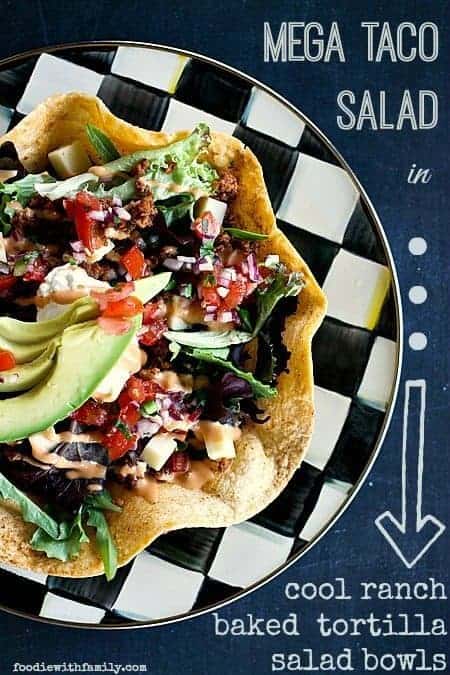 Mega Taco Salads in Baked Cool Ranch Tortilla Salad Bowls. There are some nights when only taco salads will do, and these Taco Salads clock in under 20 minutes even if you factor in making the cool ranched baked tortilla salad bowls AND cooling them. Take advantage of meat you cooked for another meal, your best-loved salad greens, a quick barbecue ranch dressing, pico de gallo, avocados, and cheese cubes. With dinners like this, you'll be happy to be in a hurry!
Now for a trio of 25 minute, one-pot pasta dishes!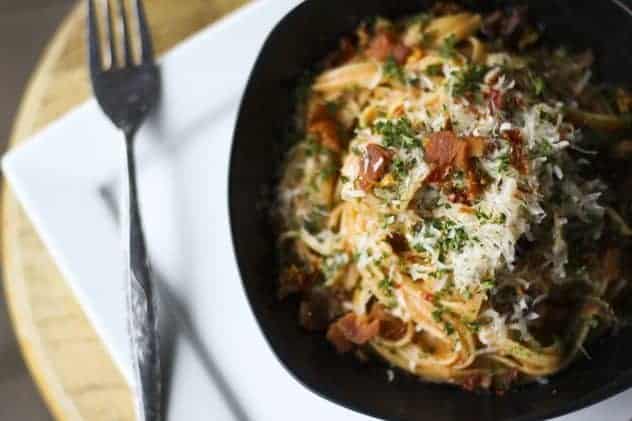 Creamy Tomato and Bacon Linguine. This bowl of pure heaven is so easy it's almost criminal. One pot, 25 minutes, and pure heaven.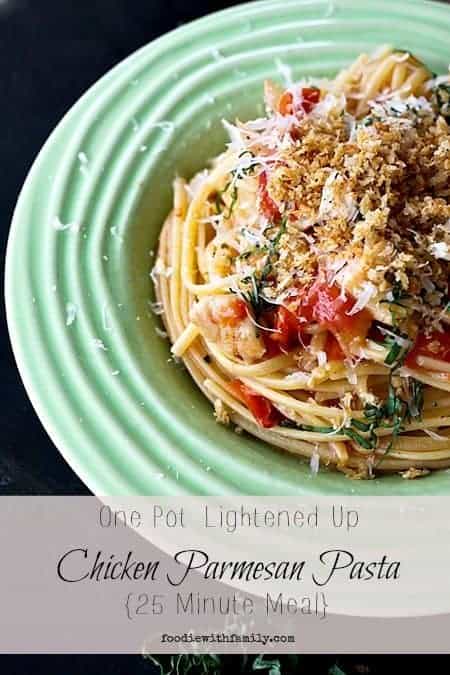 One Pot Lightened Up Chicken Parmesan Pasta. Creamy tomato basil sauce coated pasta with bite-sized pieces of chicken, fresh basil and crispy, buttery parmesan bread crumbs tastes just like a plate of Chicken Parmesan, minus the heartburn and ridiculous calorie count. One Pot, 25 minutes, company worthy dinner!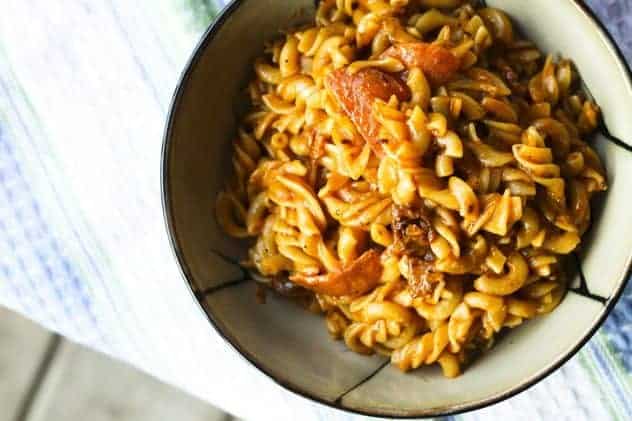 One Pot Bacon Pizza Pasta. This one makes my boys giddy with anticipation. Thankfully, they don't even have wait 25 minutes for this dinner!