For a brand new, printable version of this recipe that has all the steps included, click here!
"I meant what I said and I said what I meant. An elephant's faithful. 100%!" As promised yesterday,  I am back to show you how to shred that gorgeous slow-cooked Cuban Pork shoulder that should have chilled in your fridge overnight. Of course, I didn't forget the sauce or black beans, either, but I'll post the recipe for spicy black beans later today. I'm behind schedule. Why you ask?
Monsieur Le Evil Genius experienced a set-back in his quest for world domination yesterday when his car broke down 1 hour and 25 minutes into his 1 hour and 30 minute commute. Mercifully, he was within sight of his office's parking lot and he worked with a man who had a winch. (Not THAT kind of wench you gutter-brains… I'm talking about the mechanical sort of winch that attaches to the front of a big ol' truck. A wench is…Never mind.)  He got the car to the parking lot, examined it and declared it unable to move until he could procure a fuel pump. Being the cheapskates that we are, you could also insert the sub-clause "and replace it himself". 'Cause we'll be darned if we'll pay someone to replace the fuel pump when Evil Genius can do it himself. That's just how we're wired folks. Compounding the inconvenience is the fact that our family vehicle, also known as "The Purple People-Eater" is up on ramps in the barn waiting for him to fix it. And that all boils down to the fact that he had to crash in the city at his sister's house last night.
This left me to attempt the night-time routine with our five little honyaks all by myself. And it also left me without my usual evening companionship. But perhaps the worst of all was that it left me to the remote control. I am unaccustomed to unimpeded access to the remote control and I took advantage of it by watching scads of ridiculous reality television. I planted my rear on the couch and watched "American Idol", "Heroin Nation" (talk about depressing and disturbing), "Make Me a Supermodel" (A whole different kind of depressing and disturbing), and "The Chopping Block" (neither depressing nor disturbing, but would someone please tell Marco Pierre White to wear socks. All those shots of his bare ankle bones made me cold. I had to put on a sweater.) This convinces me it is a good thing that the remote control is usually attached to the hand of one of the possessors of XY chromosomes in this house. My reality t.v. bender also left me behind schedule on laundry and blogging. But back on the horse…
Let's get some pork going here. It does not depress me, disturb me or make me need to wear a sweater. It makes me happy. And it makes me forget, just for a moment, that both of my vehicles are out of commission and the dog, while enormous, is not big enough for me to saddle up and ride into town.
For a printer-friendly, photo-free version of this recipe, click here!
Cuban Pork and Sauce: Day 3
Ingredients:
Slow-cooked pork shoulder, thoroughly chilled
Cooking juices from slow-cooked pork shoulder
2 Tablespoons lime juice
2 Tablespoons white wine or cider vinegar
1 teaspoon minced garlic
1/2 teaspoon crushed red pepper flakes
1/2 teaspoon dried mustard powder
2 drops liquid smoke, optional
Use a spoon to remove the congealed fat from around the pork shoulder.
Discard the fat.
Transfer pork shoulder to a large cutting board, preferably one with a groove to catch juices. Otherwise, keep the paper towels handy!
Let sit while attending to the pan juices.
Pour the cooking juices that surrounded the pork through a fine mesh strainer positioned over a saucepan.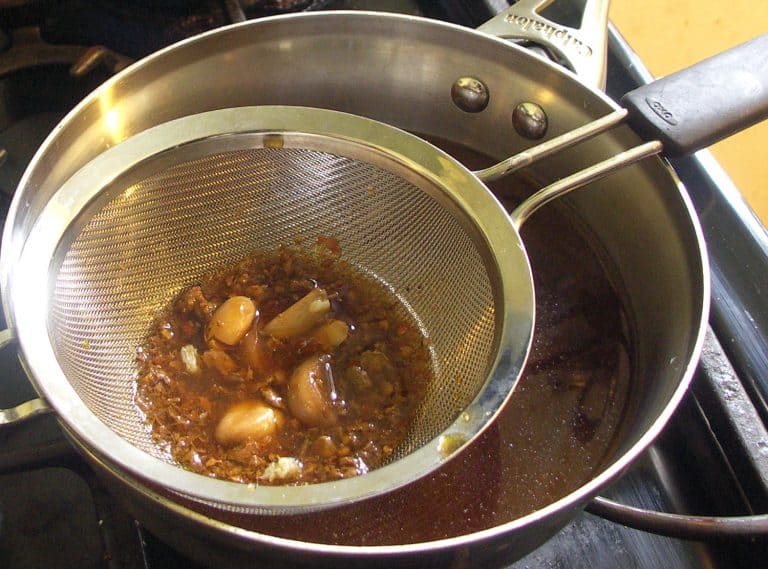 Remove and discard any solids left in the strainer.
Add the lime juice, white wine vinegar, garlic, red pepper flakes, dried mustard powder and liquid smoke to the cooking juices. Whisk until evenly combined.
Bring to a boil over medium high heat.
Allow to boil (while working on shredding the pork) until reduced to about 1/4 of the starting volume.
Set aside until pork is fully shredded.
Pull the bone out of the pork and discard.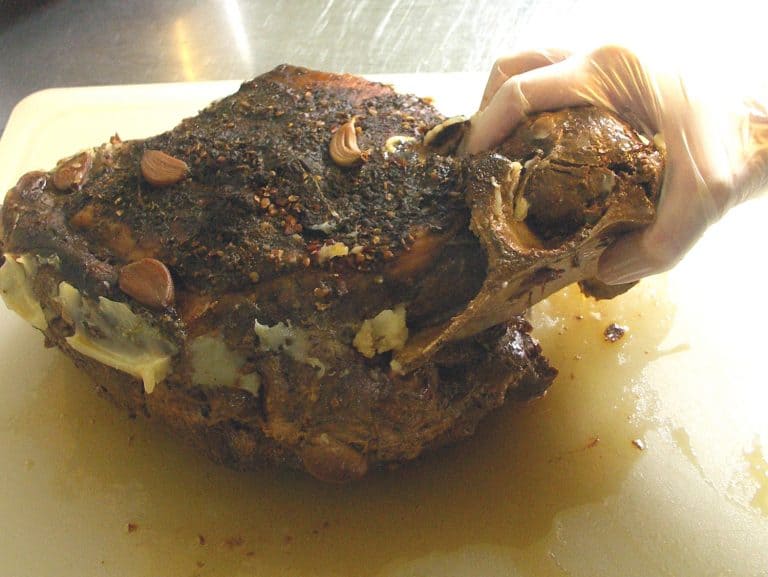 Scrape as much fat as you can from the outside of the pork shoulder.
Throw away the fat or give it to your spoiled and lazy dogs. Pull large chunks of the shoulder apart. It should naturally come apart at places where there is additional fat you can remove.
Take as much of the fat out as you can without wasting meat.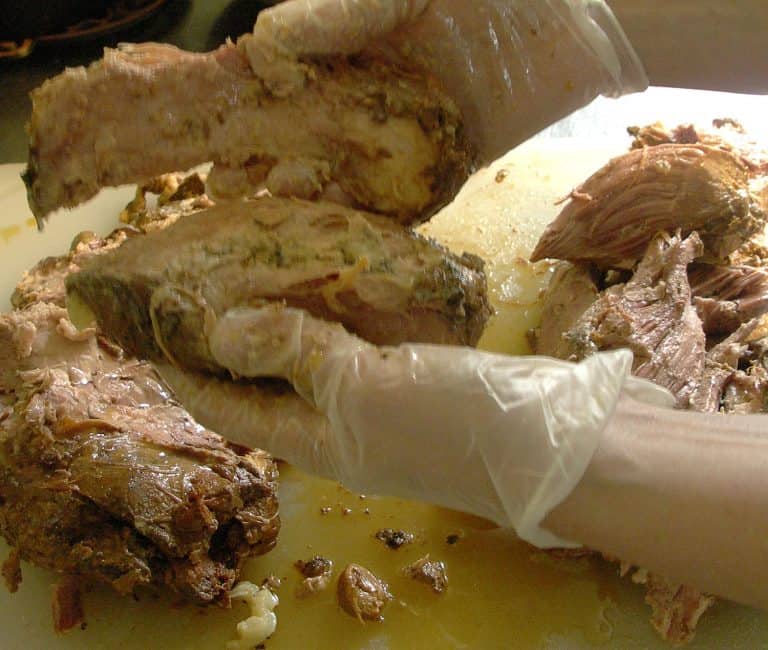 Using your hands -or two forks- shred the meat into small pieces.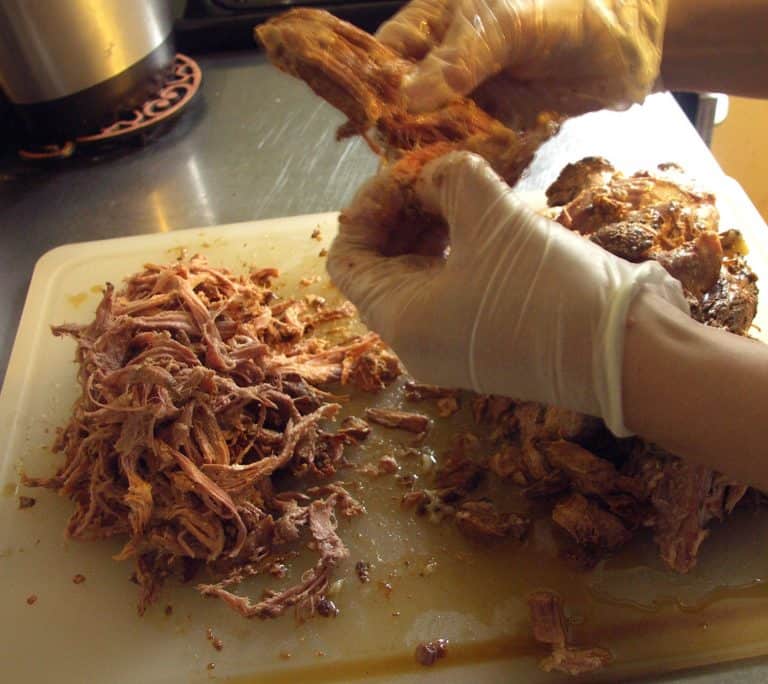 When you've shredded all the meat, you can leave it as is or chop through it quickly with a knife to ensure that you have small bite-sized pieces. It depends on what you'll do with the pork. I usually run through it with the knife since I have so many little mouths eating it.
When pork is fully shredded (and chopped, if desired) transfer to a 9″ x 13″ baking dish with sides.
Pour the reduced pan juices over the pork and toss.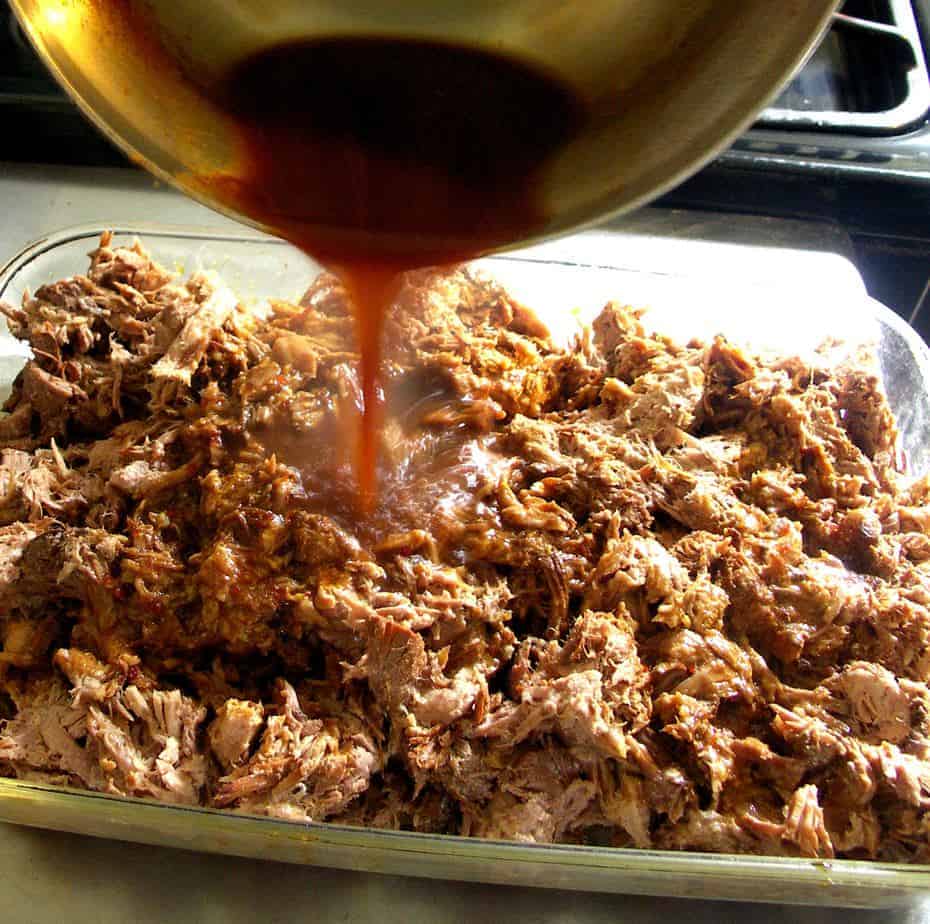 Tightly cover the pan with foil. If you plan on serving it immediately, put into a preheated 350ºF oven and heat for 25 minutes, or until hot all the way through. If you are preparing this ahead of time you can either place the pan directly into the freezer or into the fridge.
To reheat from chilled:
Place, still covered in foil,  in a preheated 350ºF oven for 30 minutes, or until heated through.
To heat from frozen:
Place, still covered in foil, in a preheated 350ºF for 45 minutes, or until heated through.
We serve this on hot flour tortillas with FMC Mango Salsa (coming tomorrow!) and spicy black beans (coming later today!).
On deck for later today:  Spicy Black Beans
In the hole for Friday: FMC Mango Salsa