When I was in Tuscany as a DaVinci Storyteller in September, I had a lot of very memorable food related moments. We went to a Michelin starred restaurant, ate at a seriously chic and deservedly popular seafood restaurant, ate a 4-inch thick Florentine style steak, and much more. With all of that, though, my favourite bite of the entire trip came courtesy of the butcher/prosciutto maker's wife. She served us a lunch she had made us herself on the back terrace of the butcher shop. The scenery? GORGEOUS. The food? So. Darned. Good. Her masterpiece was a Peposo – Peppered Beef Stew. Luscious, velvety, thick, brick red beef gravy with a wine base clung to the perfectly tender bite sized pieces of beef. I was in awe.
It wasn't my first exposure to Peposo – Peppered Beef Stew, having read about it in "Heat:An Amateur's Adventures as Kitchen Slave, Line Cook, Pasta-Maker, and Apprentice to a Dante-Quoting Butcher in Tuscany". I love that Bill Buford made an unapologetically wordy title. I feel ya, man. Side note: If you're looking for a perfect book for a food loving friend for holiday gift giving, look no further than the title I just shared. When I got to the end of "Heat" I felt absolutely compelled to make the Peposo as he described it. A bottle of wine, a cheap cut of beef, salt, and pepper, overnight in the oven… I made it as described, and while it was good, it wasn't anything we all felt moved to have over and over. It was a little thin when it came to sauce and it was overwhelmingly wine-y. While the beef fell apart, it was a little on the dry side and just wasn't magical.

Signora Falaschi's Peposo, however, was a dish of such surpassing perfection that I begged our translator to ask her just how she had made it. I had visions of sitting around my table at home with a glass of wine and a giant platter of Signora Falaschi's Peposo on top of polenta while the snow swirled and blew madly outside of my windows. I tried to arrange my face in the most beseeching way I could while Carolyna translated for me. Thankfully, Signora Falaschi's nature was as generous as her cooking, and she shared willingly, teaching me a few new cooking tricks in the process.
The keys were similar to what Bill Buford had shared in Heat:
cheap cut of beef
good quality drinking Chianti
lots of freshly ground black pepper
But where she differed from him was the crucial difference:
2 1/2 hour cooking time vs. overnight. Signora Falaschi's change-up here is a good one
slightly less wine and added in two separate installments
GARLIC. Sorry to scream, but really. It is important.
Bay leaves. Again, thank you, Signora Falaschi. This is so crucial to the complexity of the overall finished dish.
Tomatoes. Because without them, it's just wine and beef.
Thyme. See Bay leaves.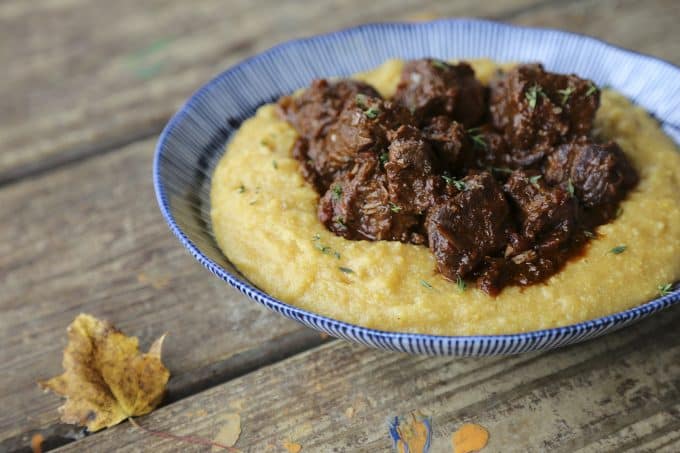 I have to think it was that it was that tiny list of crucial changes that made the difference between alright and transcendent. Oh, and incidentally, I already got to indulge my fantasy of a snow globe giant bowl of hot polenta topped with Signora Falaschi's Peposo – Peppered Beef Stew. It was every bit as wonderful as I imagined it.
Every single person to whom I have served this (and that has been a goodly number because of my obsession) has been in raptures over it and asked for the recipe. That's a mark of success for any recipe, in my book.
Cook's Notes
The ideal pan for the job is one similar to these. It sears the meat beautifully, has a tight fitting lid, and is the perfect size for holding the entire recipe. True to its name, I use my everyday pan nearly daily. If you don't have an everyday pan like it, though, a 12-inch cast-iron skillet with a lid, dutch oven, or 12-inch, high-sided stainless steel skillet is another good option.
I know someone will ask me whether this can be made in the slow-cooker. The short answer is probably. The long answer is that I haven't tested it this way because I am so pleased with the results of this version that I don't want to mess with it.
While on the subject of ways I haven't tried this, can we chat about venison? I am certain beyond certainty that Peposo would be over the moon wonderful if made with venison but haven't tested it because I am out and long gun season doesn't start until late this month.
Don't skip searing the meat. We've had this discussion before, but I'll recap. Searing the meat concentrates the flavours, making the beef taste -for lack of a better word- beefier. Just sear it. Trust me.
Also, please, PLEASE use Signora Falaschi's trick of slightly smashing the garlic cloves while they remain in their papery skin (with excess paper removed, of course). The way this works is that the garlic is protected by its skin from the high heat while you're searing the beef, but the garlic is still there to impart its flavour to the oil. At the end of the searing and simmering processes, the garlic has been roasted and then stewed. It is incredibly mellow and adds a well-rounded garlic touch to the final dish that can't be mimicked by chopping garlic and adding it in at another point. I usually fish the garlic cloves from the sauce at the end of the first simmering process, squeeze the garlic from the cloves into the sauce, and discard the garlic papers before proceeding with the open kettle simmer.
Please don't be tempted to add the wine all at once. The first batch of wine helps you remove any delicious bits of browned beef that have stuck to the bottom of the pan and concentrates in flavour as it reduces. The second bit, toward the end, adds another level of those fruit and pepper flavours so present in Chianti. It will still simmer down, and the alcohol will still evaporate out, but it is that second addition that keeps the taste fresh and interesting rather than muddied.
The second simmer -where you've removed the lid, added the final dose of wine and the black pepper- is equally crucial. This is where the sauce reduces to a velvety thick, gorgeous brick-red colour and enrobes all of the now tender beef. This is where the magic happens. This is the stage from whence my doubts about the potential for slow-cooking spring. That fully boiling then simmering sauce simply can't reduce in a slow-cooker.
I realize this recipe calls for more black pepper than many people would normally use in a dish but stick with it. It really doesn't bowl you over. If you make it and find the pepper overwhelming the first day, stash it in the fridge for a day or two and it will mellow immensely. This brings me to my final point…
You can absolutely, positively make this and eat it right away. That being said, the amount of melding and improving the Peposo -Peppered Beef Stew does when allowed to sit overnight or even for two days after being made cannot be over-emphasized. Oh my gosh. I just have no words. Two-day old Peposo – Peppered Beef Stew is even more magical than the day it was made.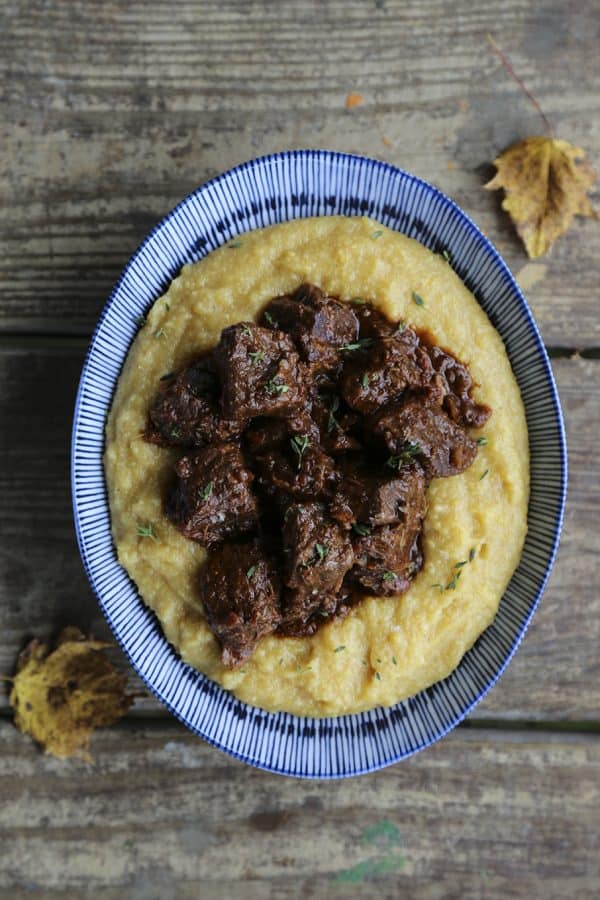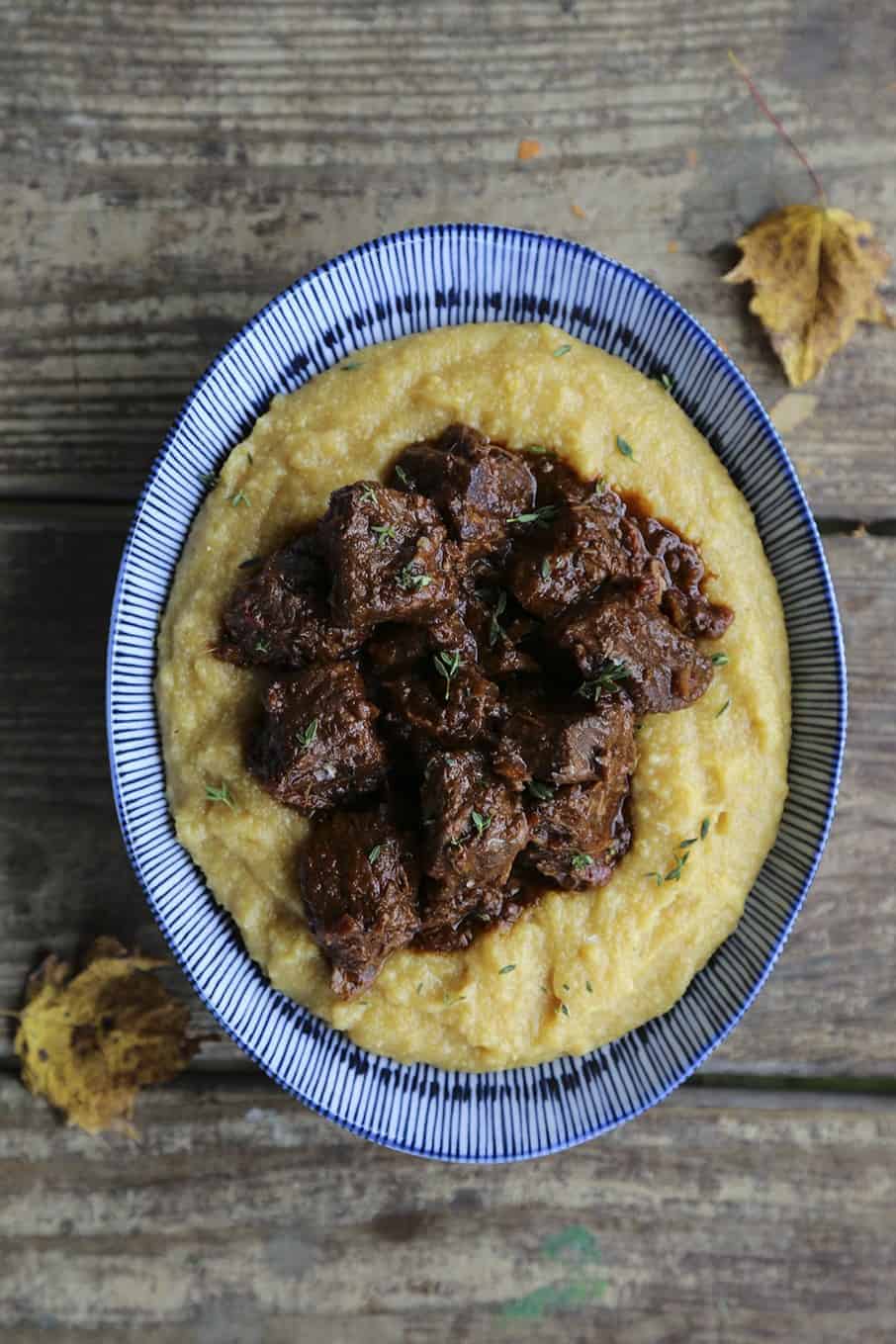 Connect with Foodie with Family
facebook | pinterest | instagram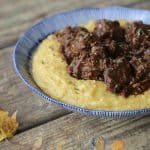 Peposo
Fall-apart tender cubes of beef braised in a gently garlicky, bold red wine and black pepper sauce make up Peposo; a traditional Tuscan beef dish.
Ingredients
2

tablespoons

pure olive oil

plus extra if needed

3

to 4 pounds lean beef

such as top round, trimmed of excess fat

4

cloves

garlic still in their peel

lightly smashed

1 2/3

cups

Chianti

divided

3

cups

beef broth or stock

14.5

ounce

can petite diced tomatoes

2

tablespoons

tomato paste

2

teaspoons

dried thyme or a large bunch of fresh thyme

tied with a piece of cooking twine

2

bay leaves

2

tablespoons

freshly ground black pepper

kosher salt and additional black pepper
Instructions
Heat the oil over high heat in a 12-inch heavy-bottomed pan that has a a tight fitting lid. Generously salt and pepper the beef, then add about 1/3 of the beef cubes to the hot oil. Do not move the beef cubes right away, but let them sear well on the first side, about 3 minutes. Toss in the smashed garlic cloves in their peels. Use tongs to turn the beef cubes and sear each of the other sides before transferring to a rimmed plate. Add more oil if needed and repeat the searing process with the next third and then the final third of the beef. Return all of the beef to the pan, still over high heat.

Add 1 cup of the Chianti to the pan and let it boil, scraping the bottom of the pan to loosen any of the stuck flavourful bits. Let the wine boil for about 2 minutes, or until it has reduced slightly. Add the beef broth or stock, petite diced tomatoes, and tomato paste to the pan and stir to combine. Nestle the thyme bouquet or dried thyme and bay leaves into the sauce, and return to a boil. As soon as it boils, add the lid, drop the heat as low as it can go, and let it simmer for 2 hours, or until the beef is tender. Remove the lid, stir in the remaining 2/3 cup of Chianti and the freshly ground black pepper, raise the heat to medium, and simmer for about 20 to 30 minutes, or until the sauce is quite thick and a deep mahogany colour. Remove the thyme bouquet (if you used it), the garlic peels, and the bay leaves. This can be served immediately but improves immensely when allowed to rest tightly covered in the refrigerator for 24 hours before serving.
To Reheat:
Reheat in a covered saucepan over medium low heat, stirring frequently.
To Serve:
Peposo can be served alone as a stew, over hot noodles, polenta, rice, or mashed potatoes.