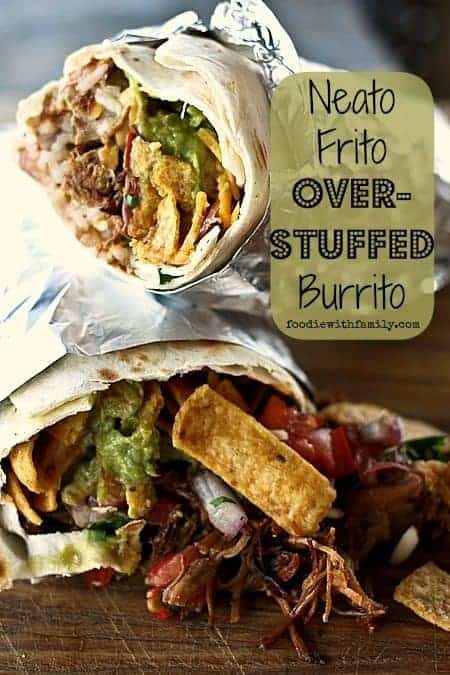 When my best friend's mum contacted me on the sly last year to plan her surprise fortieth birthday party and said the plan was to order pizza, I offered to take care of the food. Ali has five brothers who are all well over six feet tall and have appetites to match. Ali and her husband have eight kids. I have five. Most of her brothers are married or have significant others. Her in-laws were to be attending. That was a lot of people to feed on pizza.
I knew I could provide vastly more food for the money. More bang for the birthday buck, so to speak. Her mum, not for the first time, trusted one of my wacky ideas and I began planning. When I'm feeding a crowd, I almost always fall back on starting with pulled pork. Pulled pork sandwiches would've been fine, but this wasn't just any old birthday party, this was my BEST FRIEND, people. I knew she liked any and all Mexican foods, so opted for a build-your-own-burrito-bar approach. I figured that way we could actually please everyone in one fell swoop.
I transformed two giant pork shoulders into two large, heaping pans of pulled pork. I made garlicky refried beans, guacamole, pico de gallo, and rice. I shredded mounds upon mounds of Cheddar and pepper jack cheeses. I was PREPARED!
It was as popular a meal as I'd hoped. Everyone loved it! And as I basked in the glow of feeding an appreciative crowd, Ali's 'little' brother Ian towered over me and asked, "Have you eaten yet, Beccy?" I said that I hadn't because I wanted to make sure everyone else was taken care of first. He pulled me over to the buffet and watched me assemble my own burrito. On went the refried beans, followed by rice, pork, cheese, pico de gallo, and guacamole. I reached down to start rolling it and he stopped my hand, "No! You need to do this Neato Burrito* style!"
He deftly applied a line of Ranch dressing, another of barbecue sauce, then crushed a handful of Fritos over the top and said, "THERE! Now THAT'S a BURRITO!" I wouldn't have put that on my burrito, but I surely wasn't going to argue with a six-foot-four-inch, Scotsman. Would you?
*My sister, who used to eat at Neato Burrito with Ian, explains that it is a chain of design-your-own-burrito restaurants in the capitol region of Pennsylvania. The version Ian shared with me was his preferred order at the restaurant.
Much to my surprise, it was perfect. The crunchy chips, creamy Ranch, and tangy barbecue sauce matched the spicy pork, guacamole, pico de gallo, cheese, rice, and beans better than I ever could've imagined. Since that day, the only burritos my kids ask for over and over is Ian's Neato Frito Over-stuffed Burrito.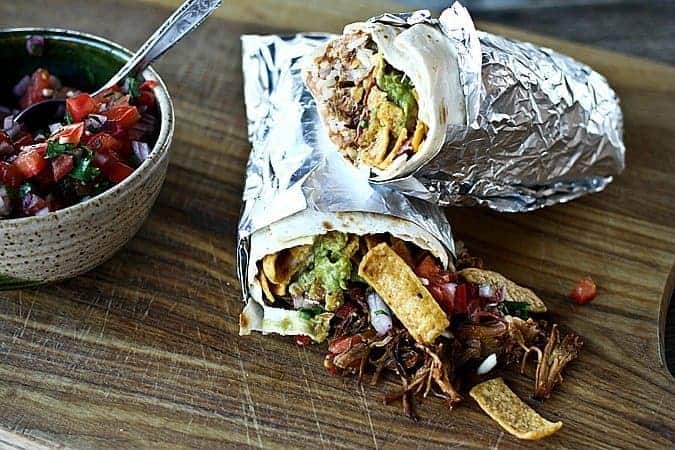 Recipe Notes:
You are going to be testing the limits of tortilla durability with this amount of stuffing. Unless you can magically grow another hand, it's easiest to keep the finished burrito closed by wrapping it tightly with foil.
I like to boost the burritos flavour factor a bit by briefly laying the unstuffed tortilla directly over a low burner on the stove. I move it around frequently and remove it as soon as the side that's facing up begins to show bubbles and the flame-facing side has some small charred areas. You'll want to stuff and roll your burrito quickly if you do this so you avoid the tortilla getting stiff!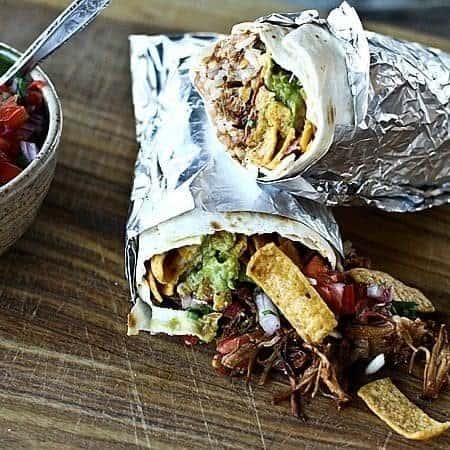 Test the structural integrity of your favourite tortillas by stuffing them to the breaking point with refried beans, rice, pulled pork, cheese, pico de gallo, guacamole, Ranch dressing, barbecue sauce, and a fistful of Fritos corn chips! Now THAT'S a burrito!
Ingredients
Per Burrito:

1

large flour tortilla

1/4

cup

refried beans

1/4-1/3

cup

hot rice

1/3-1/2

cup

hot pulled pork

1/4

cup

shredded Cheddar or Pepper jack cheese

2

tablespoons

guacamole

1/4

cup

pico de gallo

1

tablespoon

Ranch dressing

1

tablespoon

barbecue sauce

1/4-1/3

cup

Fritos corn chips
Instructions
Optional: If you'd like to add a little oomph to your tortilla's flavour, use tongs to lay it directly over a low flame on your stove top. Move it around constantly until the underside has some golden brown or charred bits and the top side has some small bubbles forming. Remove it and stuff as directed immediately.

Spread the refried beans in a strip that is about 2 inches wide and stops within 2-inches of either end of the tortilla. Next, spoon on the rice, then the pork, and follow it with the cheese, guacamole, pico de gallo, Ranch dressing, and barbecue sauce. Finish by lightly crushing the Fritos and scattering them over the other toppings. Fold the side of the tortilla closest to you over the fillings, using the tortilla to pull the fillings back in and tighten them up. Fold both ends in over the center, then continue rolling the burrito until it is completely rolled up.

Wrap a sheet of aluminum foil tightly around the burrito to help keep it closed. Serve with additional pico de gallo, Ranch dressing, and barbecue sauce.
Nutritional information is an estimate and provided to you as a courtesy. You should calculate the nutritional information with the actual ingredients used in your recipe using your preferred nutrition calculator.
Need a great resource for the pulled pork, guacamole, and pico de gallo called for in the recipe? How about homemade Ranch dressing? I have you covered.