For a brand new, printable version of this recipe that has all the steps included, click here!
I love to grocery shop. I love to examine labels, produce, proteins and liquids. I get giddy trying to decide which mangos and avocados to choose. I carefully flip through piles of cilantro bunches looking to find the bundle likeliest to survive a week or so in my fridge. I pick through the 'Manager's Special' carts like a prospector. And, boy, can I hit a sale. *
*All of this presumes, of course, that the boys are home with their Dad, an Evil Genius- but one heckuva Dad,  and not clinging to my thighs begging for Lucky Charms (they can have those when hell freezes over) or leaning precariously off the back of the cart or accidentally goosing unsuspecting shoppers who magically appeared on the third tile in a rousing game of 'leap over every third tile or suffer the consequences!'   If they're with me I run through the store like a woman haunted by cute little demons who conspire to make her forget everything she needs to feed her family that week. But if they're not with me? Well then…
Ah, the sales. I am a firm believer in bulk buying items that my family uses regularly. Emphasis intended. We bulk buy olive oil, canola oil, potatoes, onions, flour, yeast, carrots, coffee (that's so the Evil Genius is less evil and more genius), tea (so I can maintain some semblance of sanity), dried beans, oats and peanut butter, among other things. (Like toilet paper. I mean really. Seven people and two toilets? We buy toilet paper in bulk.)  We have quite a lot of good frozen meat in our chill chest but every now and then a deal comes along that's too good to leave alone. Last week, Monsieur Le Evil Genius was at the grocery store doing my bidding. (Actually he was there with a list for me since we had sick kids and I was housebound myself with the crud.)  He has stumbled upon a sale so good that he felt compelled to stock the heck up: pork shoulder for $0.69 per pound. Oh yes. The Evil Genius's not-so-inner cheapskate was singing for joy. He came home with three of them. That would be roughly 30 pounds of pork shoulder for those who haven't experienced the stuff. I stuffed two pork shoulders into our crowded freezer and rubbed my greedy little hands together. A 9-pound pork shoulder means only one thing to me. Slow-cooked shredded pork.
There are a billion things you can do to pork that are delicious. But let me tell you, what I did with that pork shoulder last week is my all-time favorite. I'm going to walk you through making the phantasmagorical Cuban Pork and the two most wonderful side dishes in the world: FMC Mango Salsa and Spicy Black Beans*. Oh. Let's just talk about this pork for a minute. The pork, courtesy of it's long braise in the slow-cooker, is juicy and so mind-meltingly tender and flavorful that you'll be sorely tempted to eat until you hurt.
Don't freak out when I tell you this recipe takes a couple days. It's not like you'll be slaving over a hot pan for those couple days. It's actually incredibly simple and the hands on time is less than roasting a chicken or making spaghetti. You just have to plan ahead. And buy a big, honkin' pork shoulder. If you're wondering whether it's worth it, just have a gander at this…
* See? The beans again! This week we'll be doing black beans. The bean recipe will be here on Friday so you can have the weekend to prepare your feast and then eat off of it all next week. I got your back!
Yes. This recipe makes a gigantic amount of pork. Much too much for even my family to eat in one meal unless we have a good deal of company eating with us. But that's the idea. This falls in the category that I like to call 'component foods'. If you make this dish and freeze the leftovers in individual serving sizes, you have instant meals at your fingertips. You have the leaping-off point for so many good dishes like pulled pork sandwiches, shredded pork and pineapple pizzas, pork burritos and more. By all means, though, prepare this for a party. The work is all done ahead of time and you'll feed your guests like royalty.
This is a strategy food that requires a little forethought. While that limits the speed with which this can be made, it also makes it the 'do-ahead' food. You can prepare it ahead of time and refrigerate it or freeze it. I have the strategy all mapped out for you. Here's how it works.
You cook your pork on 'Day 1'. You let it rest overnight in the fridge -call it 'Day 2', and shred it on 'Day 3'. After you've shredded it, it's good for eating or freezing as is, but there are some fun things you can do to take it to the next level. For now, though, let's talk 'Day 1'.
For a printer-friendly, photo-free version of this recipe, click here!
Cuban Pork: Day 1
Ingredients:
1 (8-1o pound) bone-in pork shoulder, make sure it fits into your slow-cooker. Cut to fit if necessary.
1/2 cup frozen 100% orange juice concentrate
1/3 cup lime juice (fresh squeezed or bottled)
1 Tablespoon olive oil
8 whole peeled cloves fresh garlic (or 1 Tablespoon granulated dried garlic)
1 Tablespoon (or more, to taste) ground cumin
1 Tablespoon dry oregano leaves
1 Tablespoon or more fresh ground pepper
2 teaspoons kosher or sea salt
1 teaspoon crushed red pepper flakes, optional
if available, 2 stems (no leaves, just stems) fresh cilantro
Drizzle the olive oil in the slow-cooker bowl.
Remove the pork shoulder from packaging and rinse with cold water.
Place untrimmed pork, fat side down in the bowl.
…Then flip it fat side up. This coats both sides with a wee bit of olive oil. Everything's better with a wee bit of olive oil.
Sprinkle with salt, pepper, cumin, oregano and crushed red pepper flakes.
Use a spoon to dollop the frozen orange juice concentrate over the top of the roast.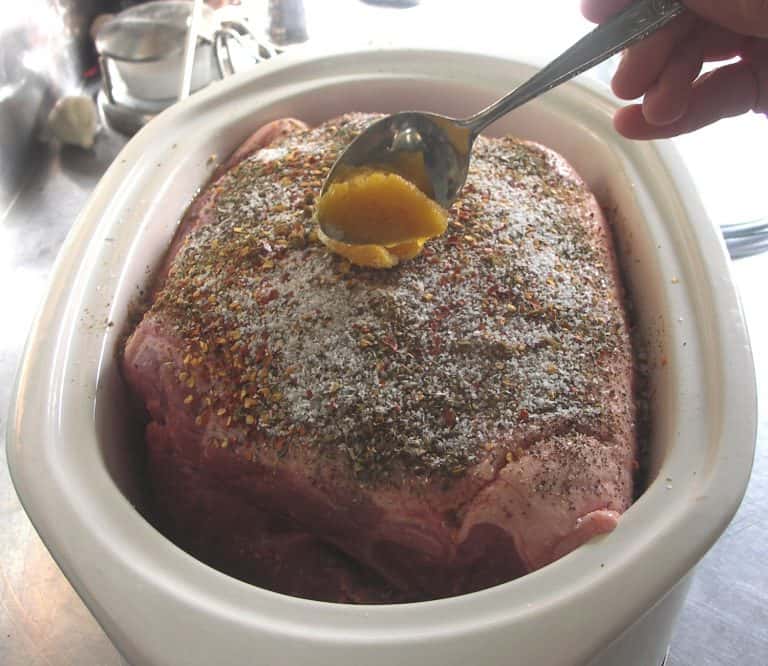 Pour the lime juice around the edges of the roast.
Throw garlic cloves around the roast.
Toss on cilantro stems- if using.
Cover, and turn cooker to 'HIGH'.
Allow to cook for 1 hour, turn the heat to 'LOW'  and continue cooking for another 12 hours or until meat falls apart when prodded with a fork. When the meat is tender, turn off slow cooker and place the slow cooker bowl in the fridge. (If your slow-cooker doesn't have a removable insert, transfer the contents to a large container with a tight-fitting lid and pop that into the fridge.
See you back here on Thursday for shredding and the first of our side dishes: spicy black beans!
On deck for Thursday: Shredding and saucing our Cuban Pork,  and Spicy Black Beans!
In the hole for Friday:  FMC Mango Salsa (a.k.a. The best side dish of all time. Ever. Amen.)