I am thrilled to have Princess Cruises as a partner on this luscious, simple Chocolate Tapioca Pudding recipe post. All photos, opinions, and recipes remain -as always- my own. Princess Cruises serves delicious desserts like this rich, creamy, custard-based Chocolate Tapioca Pudding aboard all of its Caribbean Cruises.
I will always and forever be a pudding girl and have been for as long as I can remember. Warm or cold, pudding is the ultimate comfort food for me. My grandma used to make vanilla tapioca pudding for me, and I love it to bits, but make it for myself far too infrequently.
My husband and I had a luxurious little habit while we were on our 7-day Caribbean cruise with Princess Cruises. We would work out in the early afternoon, then grab a sweet snack followed by a nap. Talk about living your best life!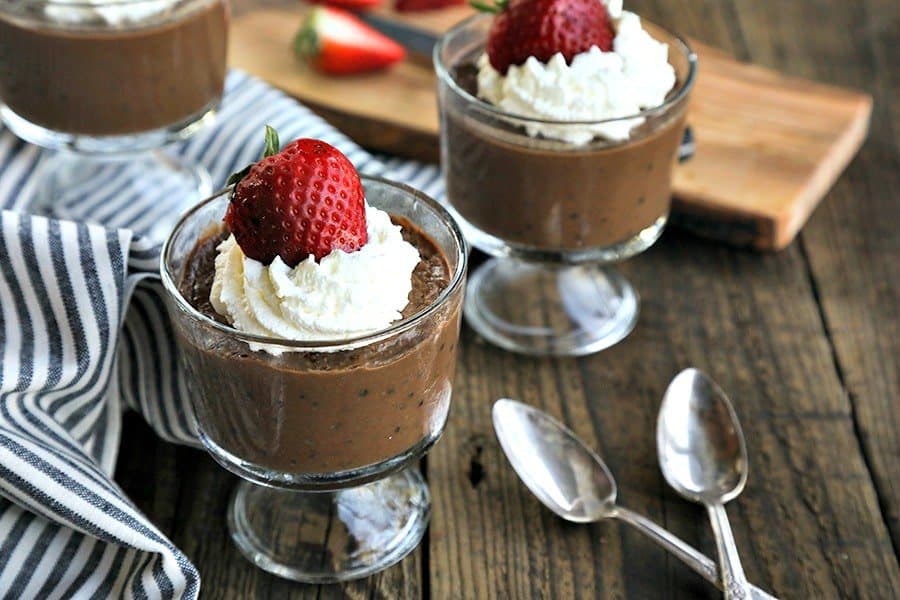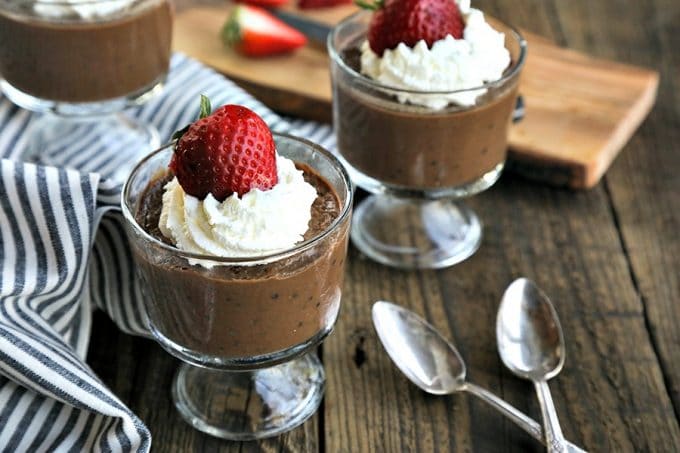 The chefs on board made a variety of sweets fresh each day including mini pavlova recipes, but there was always a pudding option, which made my heart ever so happy. One of our favourite sweet treats on board was the chocolate tapioca pudding available in the World Fresh Marketplace. Topped with a dollop of luscious whipped cream and some fresh berries, it was heaven in a bowl.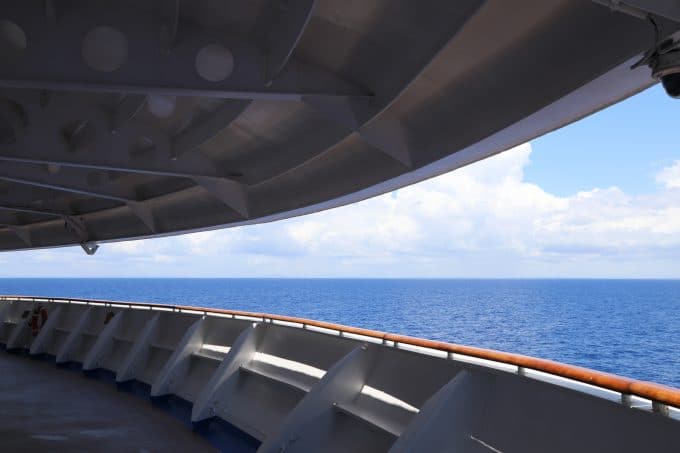 Confession: sometimes I grabbed two for myself. I really like pudding and I worked up an appetite. Plus, sea air makes me hungry.
I knew the chocolate tapioca pudding every day approach wasn't going to be sustainable at home for a multitude of reasons. I figured it was best to ease myself back into an existence where chocolate tapioca pudding didn't flow like water. Thankfully, my grandma's vanilla tapioca pudding recipe was very easily modified and I was able to gently return to a pudding once a week vs. every day. My homemade chocolate tapioca pudding was delicious and took the sting out of it.
Do I need to whip egg whites separately for tapioca pudding?
Not in my world and not with this recipe. I like my tapioca pudding rich with a smooth custard based filled with tapioca pearls vs. oddly fluffy with tapioca pearls suspended in it. In short, I make it how I like it and I like it like custard. Custard completes me.
What kind of tapioca should I use to make Chocolate Tapioca Pudding?
Small pearl tapioca is the only type of tapioca I have tested in this recipe, so it is my recommendation. While large pearl tapioca might tempt you, it takes more liquid and more time to cook through, so I don't advise substituting it. And instant tapioca, conversely, takes less time and less liquid, and yields a completely different texture as the end result.
What kind of chocolate should I use to make Chocolate Tapioca Pudding?
I recommend a good dark chocolate for our chocolate tapioca pudding. In short, choose a dark or semi-sweet chocolate you would love to eat alone, and you can't go wrong.
Can I use non-dairy milk to make Chocolate Tapioca Pudding?
Absolutely! It will -of course- be slightly different, but it should be delicious nonetheless! I have made it using full-fat coconut milk and refrigerated coconut milk and been very happy with the results. I have also made it with almond milk and enjoyed it. My preference is for whole dairy milk in pudding, but those substitutes have been very tasty.
Chocolate Tapioca Pudding Cook's Notes
Don't skip the soaking step for your small pearl tapioca. You want to soak it for as close to the recommended time as possible. Soaking too long is as problematic as not soaking it long enough. Over-soaked tapioca will tend to fall apart during the cooking process while under-soaked tapioca will take far too long to soften.
Because our Chocolate Tapioca Pudding has a custard base, you don't have to go through all the falderol of whipping the whites and folding them in separately from the yolks, but it comes with a trade-off; you need to temper your eggs. This isn't complicated, though, you'll just beat your eggs in a heat-proof container until even in colour and loose. Then you'll grab a ladle full of your hot milk and tapioca mixture and drizzle it over the egg while whisking constantly. Repeat this with one more ladle full of the hot milk. This little move helps slowly bring the eggs up to temperature before you add it to the whole pot, reducing your risk of scrambled eggs in the pudding, which nobody, but nobody wants.
I'm one of those people who likes warm pudding, so I'm going to give the green light to those who want to eat it warm. It is really meant to be eaten chilled, though, so be aware it will be pretty thin while hot. It thickens as it cools both because the tapioca continues to absorb liquid and the custard sets as it cools.
To prevent a skin from forming on top of your cooling chocolate tapioca pudding, be sure to press plastic wrap or parchment paper directly against the surface of it before transferring it to the refrigerator.
As for chocolate, use a dark or semi-sweet chocolate you like to nibble by itself as described above.
Eat it plain, or topped with whipped cream and berries!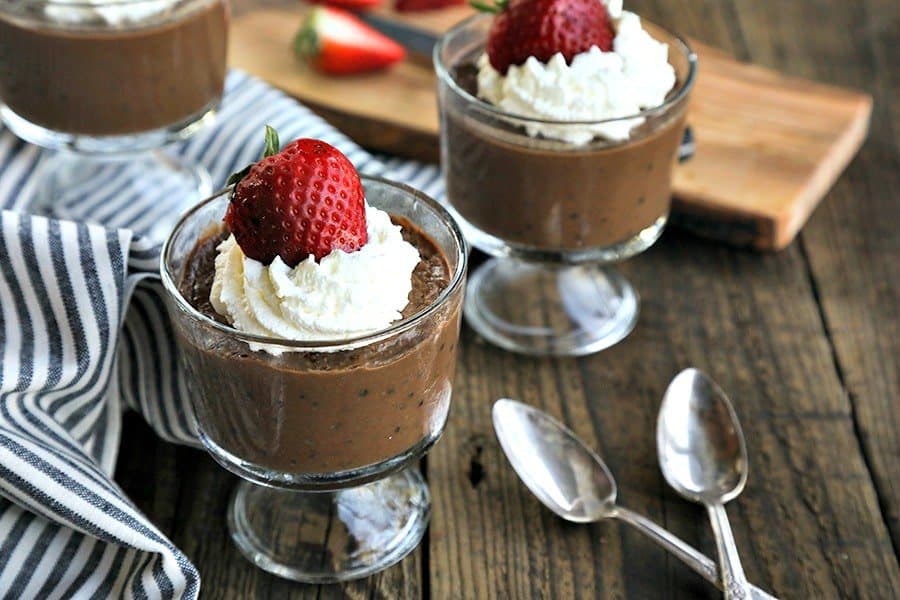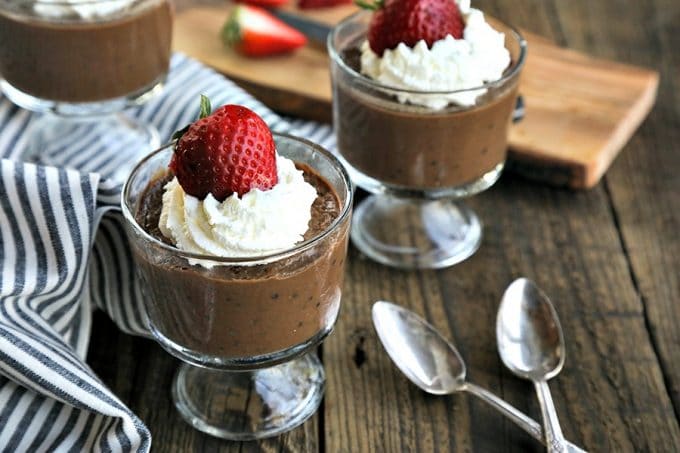 Use these to make Chocolate Tapioca Pudding
If you like Chocolate Tapioca Pudding, you'll probably like these recipes, too!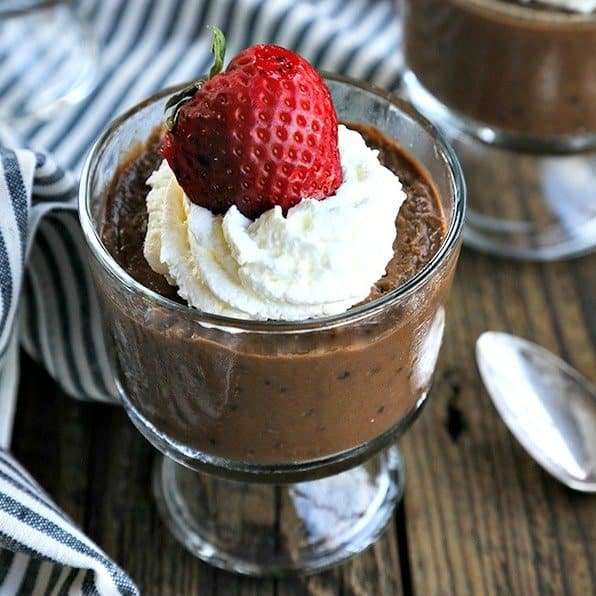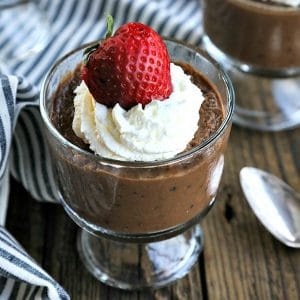 This rich, creamy, custard-based Chocolate Tapioca Pudding is comforting and delicious, and just nostalgic enough without being too old-fashioned.

Ingredients
1/2

cup

small pearl tapioca

4

cups

whole milk

1

tablespoon

pure vanilla extract

1

cup

sugar

divided

1/2

teaspoon

salt

2

eggs

2

egg yolks

1

cup

chopped dark or semi-sweet chocolate
Instructions
Pour 1 quart of cold water over the tapioca in a large bow and allow the tapioca to soak for 12 hours. Drain the pearls in a fine mesh strainer.


Combine the milk, vanilla, 1/2 cup sugar, and the salt and in a large saucepan and set aside.
In a heat proof bowl, whisk together the eggs and yolks until well combined. Slowly add the remaining 1/2 cup sugar, whisking constantly, until all of the sugar is incorporated. Whisk until the egg mixture is a very light yellow color, about two minutes, then set aside. Alternately, you can use a hand mixer to do this.
Place the saucepan with the milk mixture over low heat and bring to a simmer. Once it begins to bubble at the edges, remove the pot from heat and drizzle a ladle full of the hot milk into the egg mixture, whisking constantly. Repeat this once again.
Once the milk is mixed evenly into the egg, pour the mixture back into the pot with the milk and and add the tapioca. Whisk constantly over low heat as it starts to thicken. The pearls will become mostly translucent with just a bit of cloudiness in the centers when the pudding is done.


Gently stir in the chopped chocolate until it is all melted incorporated into the pudding making it evenly coloured. The pudding will be somewhat watery, but will thicken up as the tapioca absorbs more of the liquid and cools. Transfer the pudding to a bowl or individual serving dishes, then press plastic wrap directly onto the surface of the pudding. Serve warm or chill in the fridge, at least 2 hours.
Nutrition
Calories:
370
kcal
Carbohydrates:
49
g
Protein:
7
g
Fat:
15
g
Saturated Fat:
8
g
Cholesterol:
102
mg
Sodium:
220
mg
Potassium:
337
mg
Fiber:
2
g
Sugar:
36
g
Vitamin A:
330
IU
Calcium:
168
mg
Iron:
3.1
mg
Nutritional information is an estimate and provided to you as a courtesy. You should calculate the nutritional information with the actual ingredients used in your recipe using your preferred nutrition calculator.