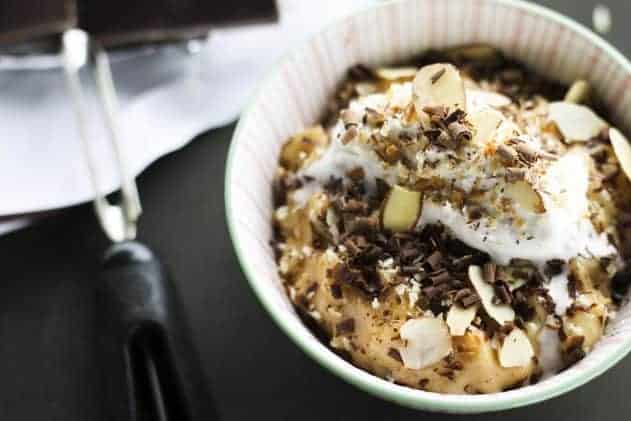 How does everyone feel about a week of desserts? I for one feel great. And since I'm the head honcho here (well, the only honcho at the moment) I say we're having a week of desserts. Here is installment #1!
I'm going to be in some very deep trouble for writing this post. I just know it.
As I made this last night -stirred the pot, dipped my finger in and tasted, sniffed the steam- I became increasingly convinced that I was doing something evil. It was my Doctor Frankenstein* moment. I had created a monster. How bad could a dessert be?
*Frahn-kehn-STEEN! Thank you very much.
If I were to tell you that I had created a rice pudding that tasted exactly like a melted Mounds bar, what would you say? *
*Howzabout "Oh sweet mystery of life at last I've found you! At last I know the secret of it all!"?
Oh my goodness.
This is dangerous.
Deadly.
I mean, really, think about it.
Rich, smooth, coconut rice pudding topped with toasted almonds and coconut, shaved dark chocolate and whipped coconut cream… This rice pudding is seriously puttin' on the Ritz. Are you capable of resisting it? I made double batch of it last night and let's just say it's no longer here.
The fact is that the boys and I ate it for breakfast. Then lunch. We're having it again for dessert tonight. I needed to develop a strategy to deal with this*.
*"We've all of us got to behave normal."
My strategy involved making everyone else eat it so a shortage in the key ingredients would develop and I'd have to cut back our consumption of it by necessity.
Never mind. I can't do this to you. Don't make it. Run away. Run far, far away to the land where Mounds Bar Rice Pudding has never existed. Where you're safe. Where you only eat fruit for dessert. Where you don't whip the cream from full-fat coconut milk into a frothy topper that could also be dolloped into your hot chocolate or hot lattes or directly onto your tongue.
Wait! Where are you going?… I was going to make espresso!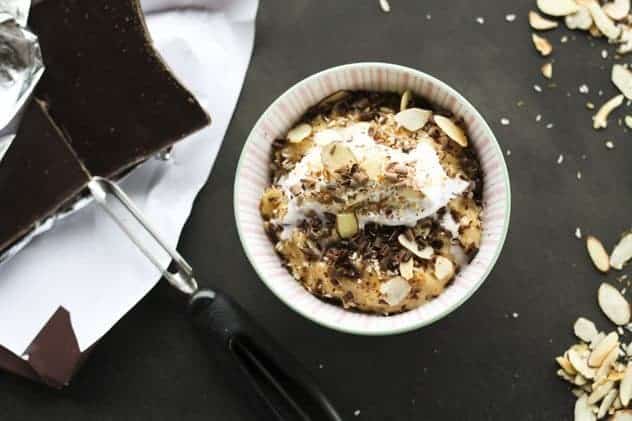 A little serious advice. When you go buy the coconut milk for this recipe, try to avoid the pre-sweetened ones and the low-calorie or lite versions. They just don't pack the flavour-oomph necessary to deliver the goods here. And if you go whole hog and add the whipped coconut cream, you absolutely, positively need that full-fat coconut milk or the process will fail after the first step. The other sorts cannot deliver the fluffy, creamy texture that the good stuff does.
Don't cheat and use another kind of rice here. Arborio rice is the sort used in risottos, which makes it spot-on for rice pudding. Creamy, creamy, creamy; that's what you get with arborio!
One last note: Don't be scared by the forty or so minute cook time. As long as you walk into the kitchen during the commercials on Jeopardy to stir it once in a while, you'll have this ready in time for viewing Young Frankenstein,  Psych,  Top Chef, Mad Men or whatever show or movie makes you giddy with anticipation.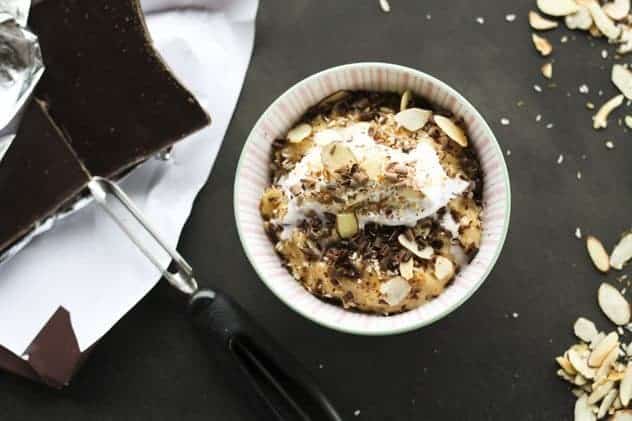 Mounds Bar or Almond Joy Rice Pudding Whipped Coconut "Cream"
Rate Recipe
Coconut cream is unbelievably decadent. When you take into consideration that it is a one-ingredient (at most, two) recipe, it is mind-boggling. Rich, creamy, and smooth as silk, this cream is equally at home topping desserts, hot chocolate, stirred into lattes or just eaten with fruit. Bonus: You can serve this to your vegan, lactose-intolerant friends.
Ingredients
1

can coconut milk

unsweetened

1

can evaporated milk

Whole milk or half and half

1/2

cup

arborio rice

1/4

cup

raw sugar

vanilla bean

split and scraped

a pinch of salt

shaved or chopped dark chocolate
Optional Toppings:
Whipped coconut cream

see recipe below

Toasted coconut

Toasted sliced almonds

1

can full-fat

I like Thai brand., unsweetened coconut milk
Instructions
Pour the coconut milk and evaporated milk into a four cup measure. Add enough whole milk or half and half to measure 4 cups evenly.

Stir together the milk mixture, rice, raw sugar, vanilla bean (both the bean halves and the scrapings), and salt to a medium sized, heavy-bottomed saucepan over medium high heat.

Bring the mixture to a boil, stirring frequently, then lower the heat to medium low and allow it to simmer for 45-60 minutes, or until the rice is tender and the liquid is thickened. It will continue to thicken as it cools.

Let it cool several minutes, covered, before transferring to serving dishes.
To Serve Warm (my preference):
Top the warm pudding with shaved or chopped dark chocolate, whipped coconut cream, and toasted coconut for Mounds bar pudding or add almonds with everything else for Almond Joy pudding.

To Serve Cold:

Cover the portioned pudding with plastic wrap directly on the surface of the pudding. Chill for at least an hour (but up to 3 days in advance) before serving. Top the chilled pudding with shaved dark chocolate, whipped coconut cream, and toasted coconut for Mounds bar pudding or add almonds with everything else for Almond Joy pudding.

Put the unopened can of coconut milk into the refrigerator for at least 2 hours. Do not shake the can.

Open the can and scoop the thickened coconut cream from the top of the can into a mixing bowl. (You can reserve the remaining coconut water to drink, add to cocktails or cook into other recipes.)

If you choose to add sugar, do so before using a hand mixer or stand mixer to whip the coconut cream until it is smooth and creamy.

Transfer to a covered container and refrigerate until ready to use. This is good for up to a week in the refrigerator.
Nutritional information is an estimate and provided to you as a courtesy. You should calculate the nutritional information with the actual ingredients used in your recipe using your preferred nutrition calculator.