I'm happy to have developed today's recipe for Old Fashioned Double Chocolate Mocha Pudding as part of my partnership with Horizon Organic. I love cooking with their naturally good products and I feel great about feeding them to my active kids. And my kids love the creamy richness of Old Fashioned Double Chocolate Mocha Pudding that has simple goodness in it you just can't get from a box.

When it comes to comfort food, absolutely nothing in the world can possibly compare to the pure comfort food power of homemade, still warm from the pan Old Fashioned Double Chocolate Mocha Pudding. My Grandma was a preacher's wife who managed to feed anyone my Grandpa thought looked like they were hungry or might some day be hungry and brought home to be fed. God love 'em both, they fed more people over the years than they ever had the funds to do. Lack of funds, though, didn't mean lack of means; Grandma was incredibly resourceful. She managed to "loaves and fishes" her way into feeding multitude after multitude.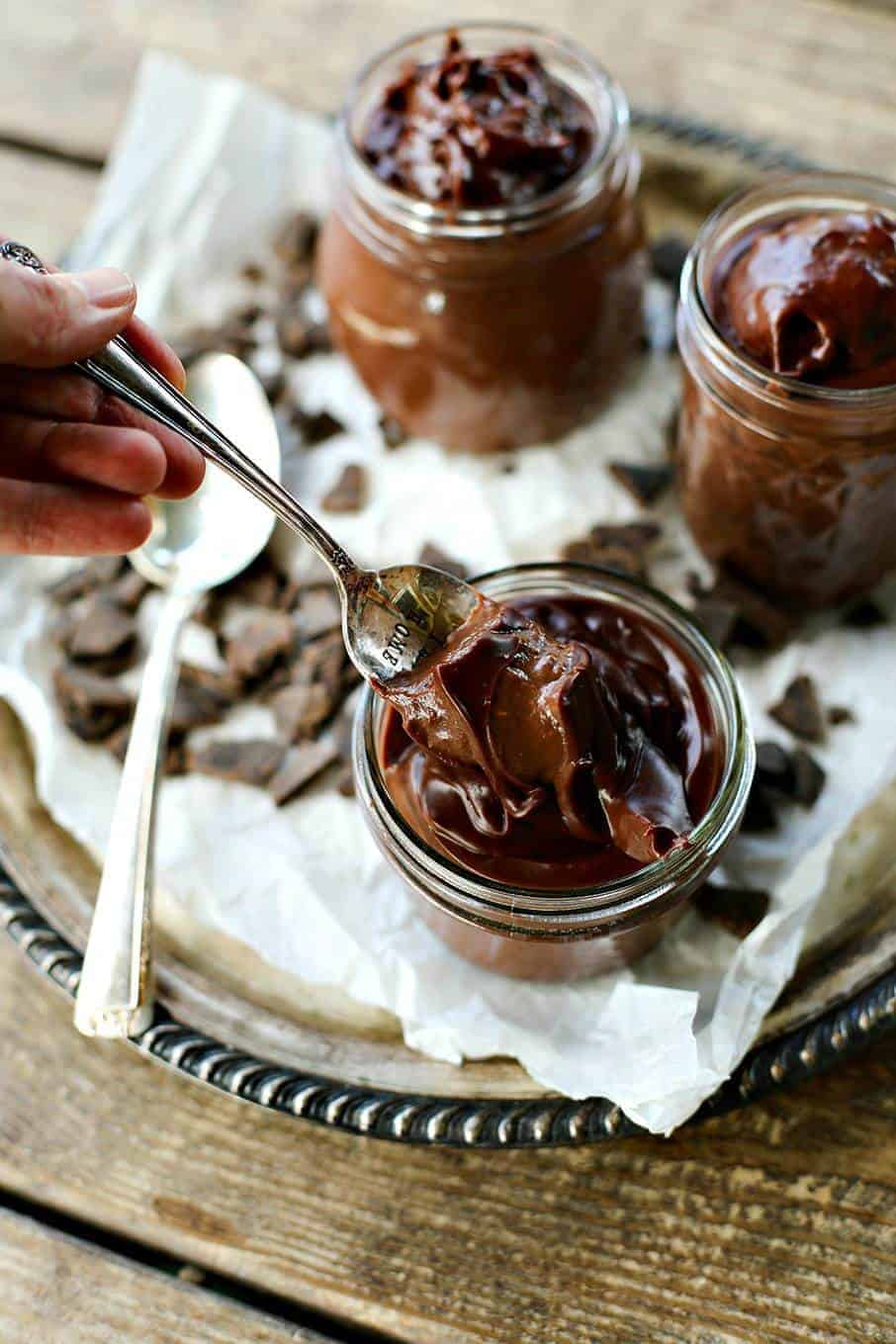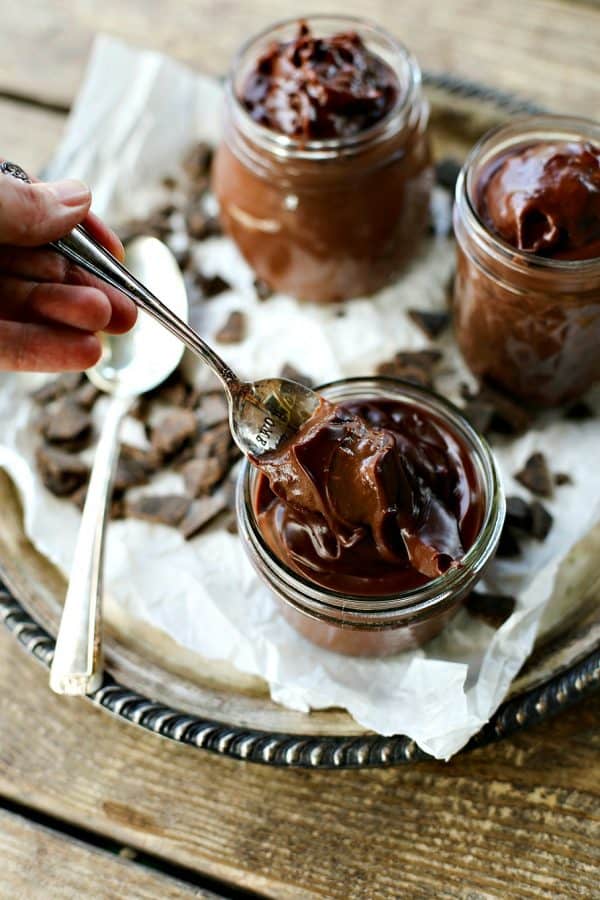 It wasn't just that she gave them food. She gave them great food and always shared her best. Her best was exceptional, too, because she was a trailblazer in the kitchen. She made hearty food that somehow managed to be elevated and a little more fabulous than anyone else's version, and what's more, she always shared her secrets. Of all of Grandma's amazing desserts, somehow her puddings always pulled me in the most. When I was at her house, and she pulled the little banged up saucepan out and whisked cornstarch with cocoa powder, sugar, a pinch of salt ("because you always need a little salty with the sweet like life"), and poured in milk, I was at her elbow with a spoon ready to do my part and scrape the pan clean after she poured the hot pudding into bowls. When I was done, that pan was almost as clean as it had been when Grandma started.
Once, I saw Grandma stir a little leftover strong coffee into the milk before adding it to the chocolate pudding she was making. She told me coffee and chocolate were a natural match. Grandma didn't like to waste a thing, but she also knew her stuff. What may have been an effort to avoid waste became one of my all-time best loved desserts: Old Fashioned Double Chocolate Mocha Pudding.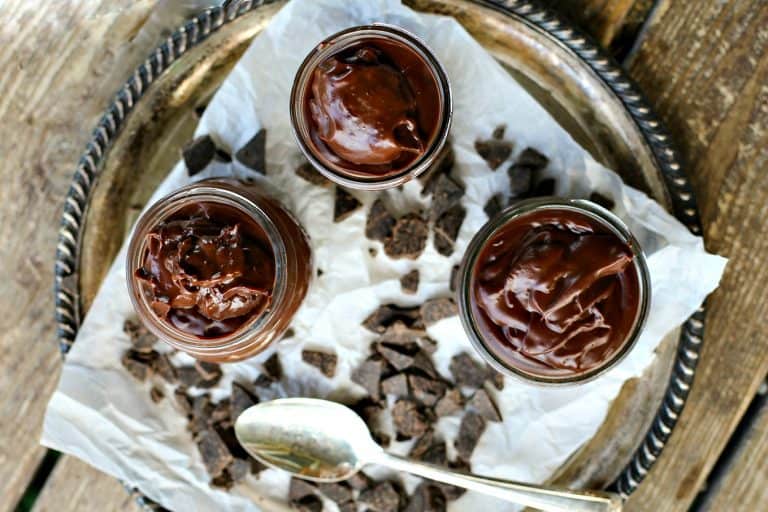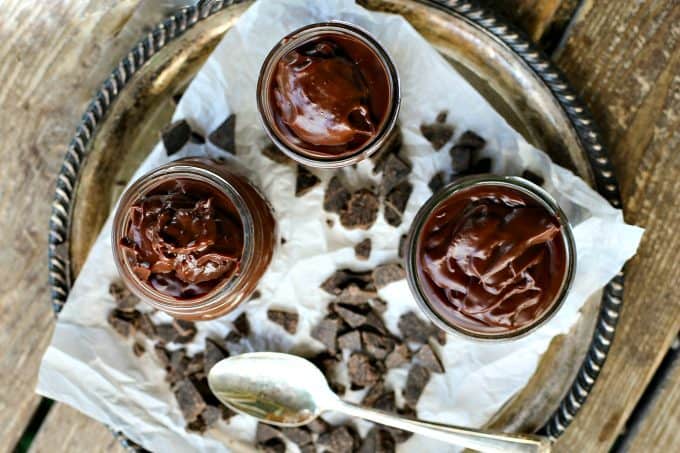 Cook's Notes
This is a simple recipe with just a few ingredients, so getting the ingredients right is the key to a good end product. I prefer to use Dutch Process Cocoa Powder and that is what this recipe is designed around using. I cannot promise that substituting standard cocoa powder will yield as delicious a result.
If you cannot find bittersweet chocolate chunks, just take bar chocolate and chop it up coarsely with a chef's knife.
The key to a smooth pudding is to be sure to whisk the dry ingredients together thoroughly -until the colour is even- before getting anywhere near them with the milk.
It's best to use a saucepan with a heavy bottom to help distribute the heat most evenly. If you don't have a heavy one, you can still make pudding, you'll just want to stir a little more often and a little more carefully.
Don't be tempted to raise the heat above medium under this pudding. It'll scorch. That will make you sad. Scorched pudding equals sad pudding.
Use these to help make your Old Fashioned Double Chocolate Mocha Pudding
Connect with Foodie with Family
facebook | pinterest | instagram
Please show our sponsor, Horizon Organic, some love for their lovely products. You can sign up for their newsletter or connect with them in the following ways.
Connect with Horizon Organic
facebook | pinterest | instagram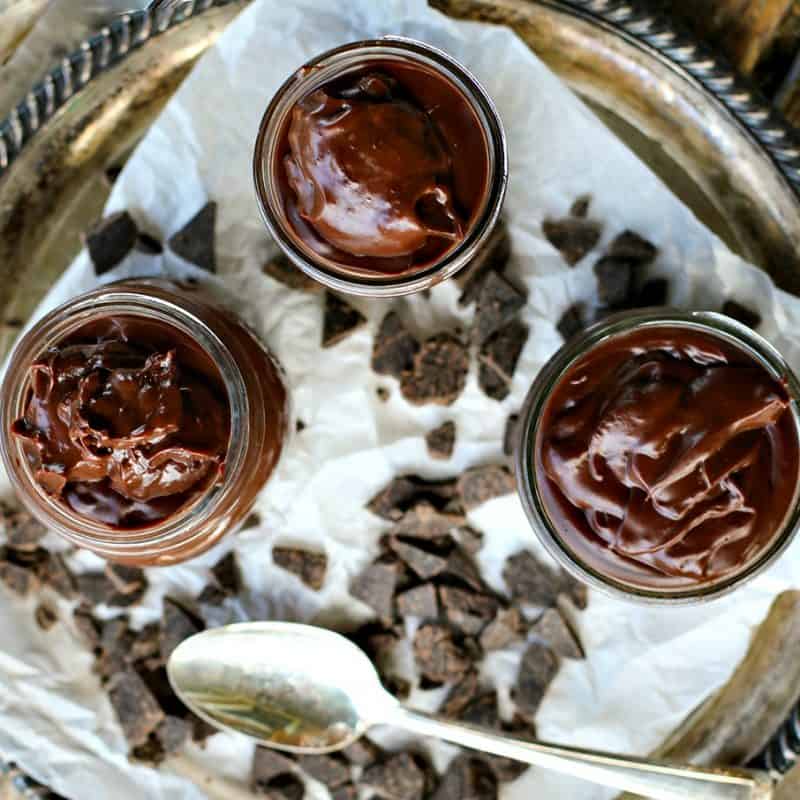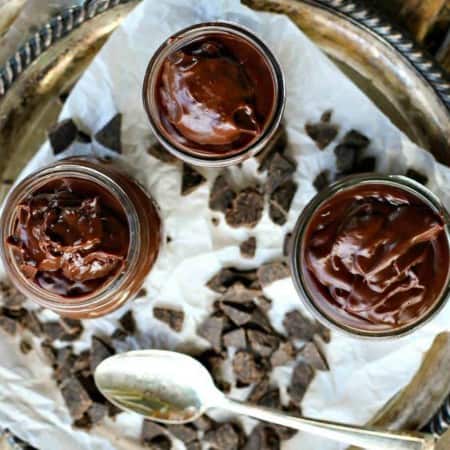 Old-Fashioned Double Chocolate Mocha Pudding
Rate Recipe
Ingredients
1/2

cup

granulated sugar

1/4

cup

dutch processed cocoa powder

1/4 cup

cup

cornstarch

1/8

teaspoon

kosher salt

2 3/4

cups

whole milk

1

cup

bittersweet chocolate chunks

2

tablespoons

butter, softened to room temperature

1

teaspoon

pure vanilla extract

1/2

teaspoon

coffee extract
Instructions
In a heavy-bottomed saucepan of at least 2 quarts capacity, whisk together the granulated sugar, dutch processed cocoa powder, cornstarch, and kosher salt until even in colour.
Slowly drizzle about 1 cup of the milk into the dry ingredients while whisking vigorously. Continue whisking until it perfectly smooth and lump free. Whisk the rest of the milk in before placing the pan over medium heat.
Bring the mixture to a slow boil, stirring constantly, and cook only until thickened. Remove the pan from the heat. Stir in the chocolate chunks and continue stirring gently until the chocolate melts. Add the butter, vanilla and coffee extracts, and whisk until they are fully incorporated. Transfer to a large bowl or individual serving dishes. You can serve hot, warm, or cold.
If you would like to chill the pudding, and you dislike skin forming on the top of your pudding, lay a piece of plastic wrap directly on the surface. Otherwise, just refrigerate, loosely covered, until chilled through.

Nutritional information is an estimate and provided to you as a courtesy. You should calculate the nutritional information with the actual ingredients used in your recipe using your preferred nutrition calculator.

Save
Save
Save
This is a sponsored conversation written by me on behalf of Horizon. The opinions and text are all mine.
Save
Save
Save
Save
Save