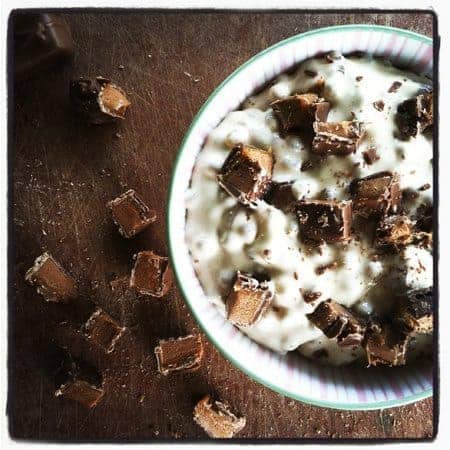 I've told you about my friends, Ada and Anna, in the Maple Sandwich Cookies post. What I haven't told you about these ladies is that we are constitutionally incapable of having a conversation without it somehow turning to food and lots of it. We talk about every kind of food we can think of, but our favourite topic is always dessert.
About three months ago, we were chatting about pudding (like you do) and Anna said, "Mom, you've told Rebecca about our butterscotch tapioca, right?" Whenever Anna says that, my ears perk up, and they did. "No…," said I. "I don't believe you have!"
What happened next is etched in my brain for all of eternity because I never had heard of such a glorious, decadent, unapologetically desserty dessert in all of my time.
Ada: Well, you start with cooking tapioca with brown sugar…

Anna: And then you add in white sugar, egg and milk.

Ada: Stir it so it doesn't scorch!

Anna: Then you stir in butter and vanilla. Now you have to let it cool. Then you fold in whipped cream. Lots of whipped cream.

Ada: And chopped Milky Way bars.

Anna: And little tiny pieces of cream cheese. That's it!

Ada: No, that's not quite it. We sometimes serve it with caramel ice cream topping.
THUD. That was the sound my jaw made as it hit the floor. I was speechless. I was mesmerized. I was so befuddled that I walked out of their store with neither the recipe nor the requisite pearl tapioca.
I couldn't really head back up the hill to see them again for about a week, and when I finally got there  no one was home. I left a beseeching and desperate note pinned to their front door, "Dreaming about your tapioca! Would you be so kind as to write it down for me? We can exchange it the next time we see each other!" I'm pretty sure I drew some smiley faces and hearts, too.
Two weeks after that, Ada and Anna pulled their buggy into my driveway to chat about helping me paint my fence and porch. Their horse was a bit lame that day, so they didn't stay long, and it wasn't until they were out of the drive and halfway up the road that I remembered the pudding.
Just three days ago I finally got my hands on the recipe that Anna had copied over for me by hand. They called it "Butterscotch Tapioca" but I had to add the Milky Ways to the title of the recipe because, well, MILKY WAYS ARE IN THE PUDDING. Holy cow. If you're not clutching your keyboard in anticipation by now you never will be.
It was absolutely everything I was waiting for and more. Normally, I prefer my tapioca warm with fruit, but this stuff is served cold. Warm is not optional; it needs to be cold. You want the whipped cream and candy bars to hold their integrity and if you fold those into warm pudding it'll just go phllllllbbbbbt. You want a bowl full of this in the refrigerator just so you can walk by with a spoon and turn back and get a big old mouthful.
Even my three tapioca-averse children hoovered this with wild abandon. The two who like tapioca under normal circumstances? Forget about it. They were so blissed out they couldn't even speak. And my husband… He walked up and said, "Tapioca in the summer? I don't know about that… It's more of a winter…" as he lifted the spoon to his mouth. The next words out of his mouth were, "Oh my. I need another bite. Boys, can you get me a bowl?"
Behold the power of Ada and Anna and their magical Butterscotch (AND MILKY WAY) Tapioca Pudding.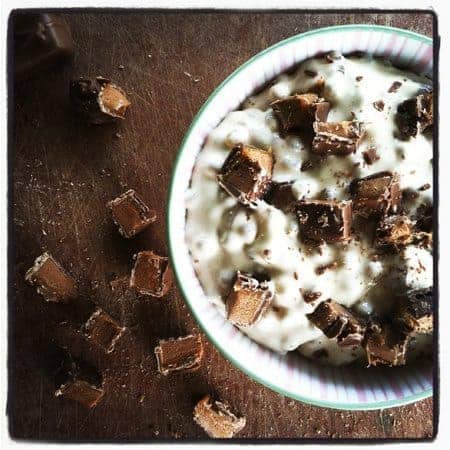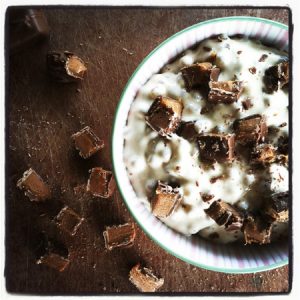 Butterscotch and Milky Way Tapioca Pudding | Amish Recipe
Rate Recipe
In this recipe from my Amish friends, Ada and Anna, tapioca pudding takes a turn for the spectacular when cooked with a brown sugar custard then loaded with folded-in whipped cream and oodles of chopped Milky Way candy bars and little tiny bits of cream cheese.
Ingredients
1

teaspoon

salt

1 1/2

cups

small pearl tapioca

6

cups

water

1 1/2

cups

brown sugar

packed

2

eggs

well beaten

1/2

cup

white sugar

1

cup

milk

1

stick butter

1

teaspoon

vanilla

1 1/2

cups

whipping cream

or heavy cream whipped to firm peaks (or 3 cups of Cool Whip)

15

"fun size" Milky Way bars or 2 King Size Milky Way bars

roughly chopped

4

ounces

cream cheese

cut into small pieces
Instructions
Bring the tapioca, water and salt to a boil in a large, heavy-bottomed saucepan. Lower the heat and simmer for 15 minutes, stirring frequently to prevent sticking.

Add the brown sugar and stir well. Continue simmering until the tapioca is cooked all the way through (clear or just a tiny white speck at the center of each tapioca pearl.), stirring quite frequently to prevent scorching. My small pearl tapioca purchased at Ada and Anna's store took close to 40 minutes to reach this point.

In a 4 cup measuring cup, whisk together the milk, sugar and beaten eggs. Ladle about a cup of the hot tapioca mixture into the egg mixture and whisk until smooth, then return that to the pan whisking constantly. Bring to a hard simmer and then turn off the heat. Add the butter and vanilla, stirring until the butter is melted and incorporated. Cover tightly and refrigerate until cool.

Stir the cooled tapioca well to loosen it up. Add 1 cup of the whipped cream and stir it in. Add the remaining whipped cream and fold it in gently. After the whipped cream is incorporated and the mixture is even, fold in the chopped Milky Way bars and small pieces of cream cheese. Serve immediately or refrigerate, with a sheet of plastic wrap directly on the surface of the pudding and also tightly covered for up to a week.
Notes
Ada and Anna suggest serving this with caramel ice cream topping if you want! Notes: Do not use large pearl tapioca in this pudding as it will take far too long to cook through. Ada and Anna suggest that if you're short on time, you can substitute granulated tapioca, but I have not tested this option. Additionally, when you have chilled the tapioca in preparation for adding the final ingredients, it's going to look like a big, brown lump. Don't fear! Just stir it well to loosen it up. It will lighten significantly in colour and texture as the whipped cream is folded in.
Nutritional information is an estimate and provided to you as a courtesy. You should calculate the nutritional information with the actual ingredients used in your recipe using your preferred nutrition calculator.