This Brown Sugar Butter Pancake Syrup is a taste of my childhood, which was a sweet one proverbially and literally. I hope you enjoy this pantry-friendly breakfast table staple that's much better than any store bought syrup ever dreamed of being.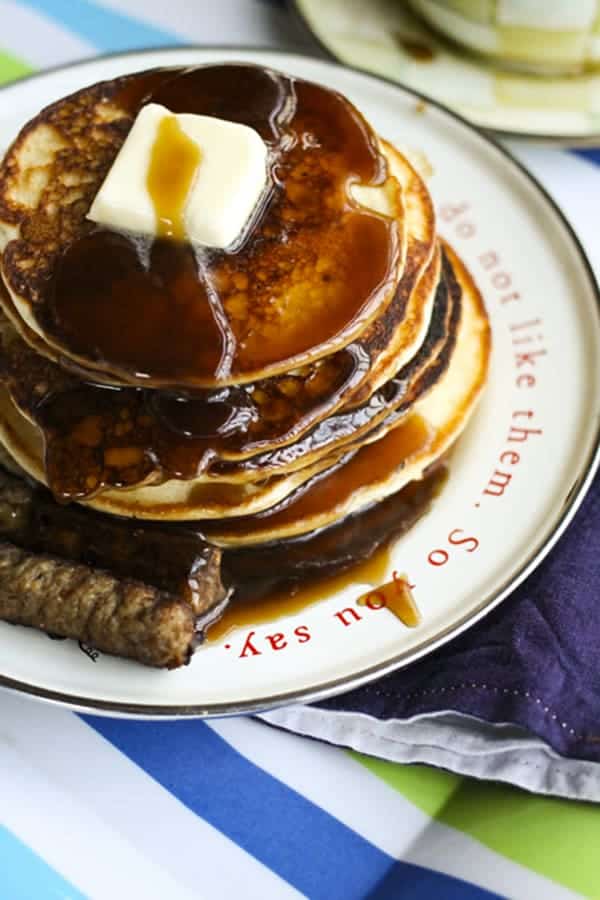 I polled you wonderful people who are part of the Foodie with Family community on facebook about whether you prefer pancakes or waffles. Waffles took it by a nose, but there was still major representation for the pancake camp. Here in the FwF household, we are also divided.
My husband and one kid are waving the pancake flag, while the rest of the kids and I are part of Team Waffle, but none of us would kick either pancakes or waffles out of bed. One thing is for certain and that is that pretty much everyone loves one of them madly.
We eat one or the other nearly weekly during the cold weather months. When the boys have friends over for the night, pancakes are my go-to breakfast for the zombie teen boys in the morning. It's an easy way to fill up a crowd of boys who were up far too late playing Minecraft and watching movies.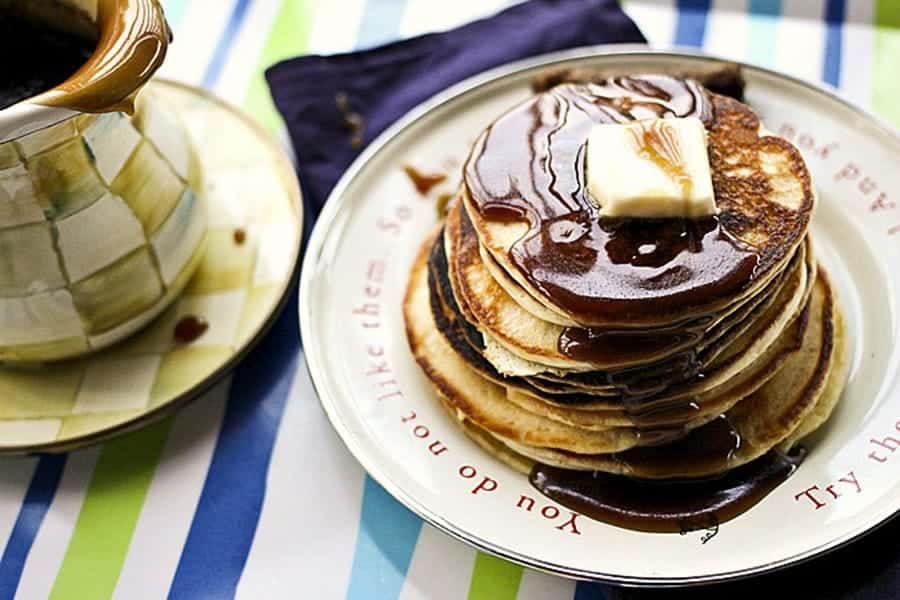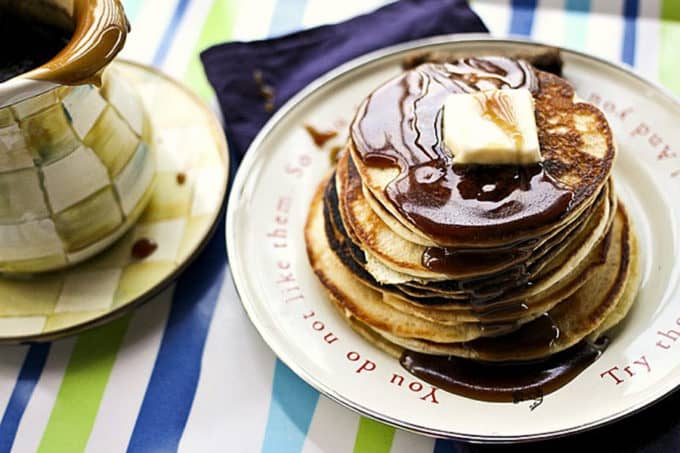 The last mega sleepover my boys had saw five EXTRA boys added to my usual five. I stumbled down the stairs in the morning and mixed up a double batch of my usual pancake batter. (Be kind when looking at that pancake batter link. It's from way-back-when while I was in my creative formatting phase as a blogger.)
As I waited for the griddle to heat up, I had a horrible realization; I was out of maple syrup. What to do, what to do?
It hit me like bolt; I remembered there was a syrup my dad used to mix up for campers when the camp kitchen ran out of pancake syrup and also remembered that it tasted good. I sent an SOS text to dad asking him how they made the syrup.
He texted back, "We mixed brown sugar and water together and boiled it." Was it really that easy?
Yes. It was.
I mixed two parts brown sugar to one part water and stirred it until it came to a boil. I boiled it for 4 minutes, then started dropping little pats of butter into it, stirring until each butter pat melted completely.
The syrup was done before the first batch of pancakes came off of the griddle. I poured the hot syrup into a little pitcher.
The real test of the syrup (and my memory) came when I topped the first kid's stack of flapjacks. They dipped a finger into the syrup (because what self-respecting kid doesn't?) and made a happy "mmmmm" sound.
Nine more kids lined up behind the first ready for pancakes and my syrup. I counted, "Nine, eight, seven, six," as I filled plates and poured syrup, "five, four, three, two, one, another one… Wait. How many of you are there? Oh, you're back in line already?"
I am NOT telling you this tastes like maple syrup. Only maple syrup is maple syrup. I AM, however, telling you that Brown Sugar Butter Pancake Syrup tastes darned good and is absolutely worthy of being on any pancake or waffle that you might make.
It is buttery, brown sugary, thick, and smooth. It is best served warm which lends a little extra luxury to your plate whether it's piled high with Buttermilk Pancakes, Pumpkin Pancakes, or waffles.
Cooking Notes:
Make Brown Sugar Butter Pancake Syrup with salted butter or unsalted butter. If you use unsalted butter, you will want to add a bit of salt to the syrup at the end when you add in the butter. You always want a bit of salt in something so sweet.
You can serve this syrup as is in all it's brown sugar and butter glory, or you can add a little quarter teaspoon of maple extract or vanilla extract. It is great alone, but charming in other ways with the extract.
Since it's wicked cheap, you don't need to worry about being generous with the servings.
Bonus: This is better than just good on vanilla ice cream when you want a little something extra or hot biscuits when you're out of honey!
This will never replace maple syrup in your pantry because maple syrup is wonderful not only for topping things but for cooking, too. It's not intended to fully replace maple syrup in your life, but it's darned good for a stand-in when you're out and using this on pancakes and waffles can stretch a meagre maple syrup supply much further!
Need some more breakfast ideas to go with your pancakes? Try Overnight Taco Breakfast Enchiladas, Turkey Breakfast Sausage, Baked Breakfast Taquitos, Slow Cooker Breakfast Baked Beans, and Western Baked Omelet! And don't forget the beverages. I sure love this Vietnamese Iced Coffee and Dulce de Leche Chai!
Homemade Pancake Syrup without butter
If you're out of butter and just can't get any, you can definitely use extra virgin coconut oil to make your homemade pancake syrup. It won't be precisely the same, but it will still be velvety and delicious.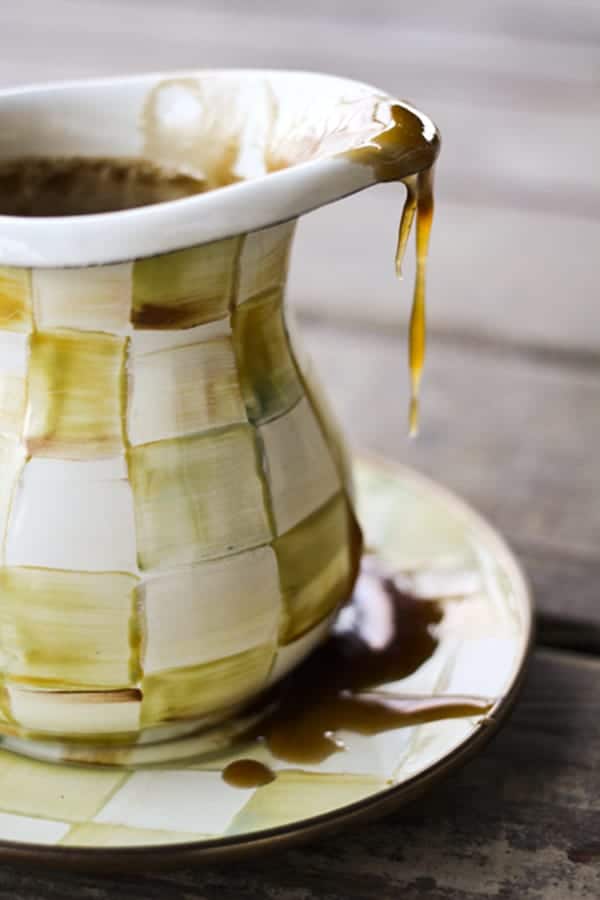 Use this to make Brown Sugar Butter Pancake Syrup: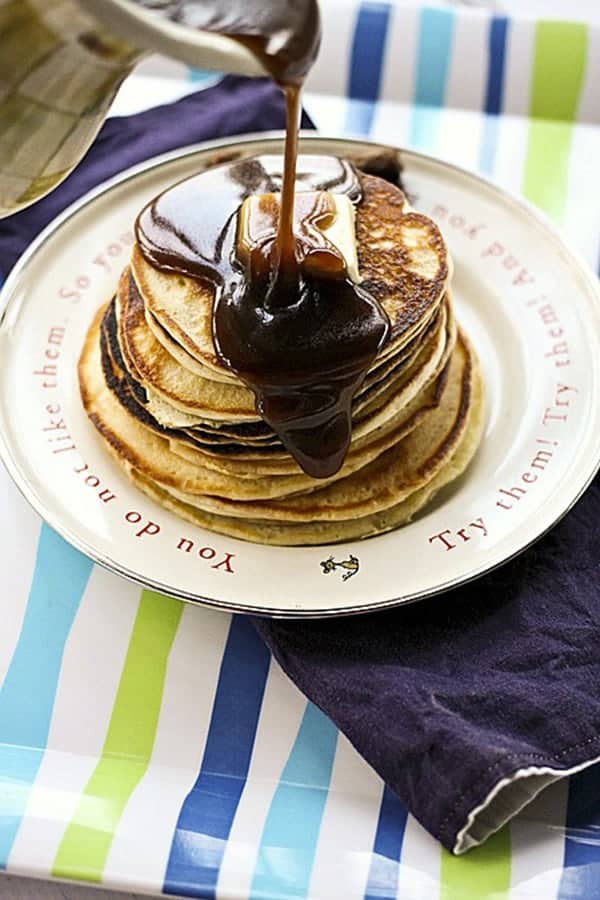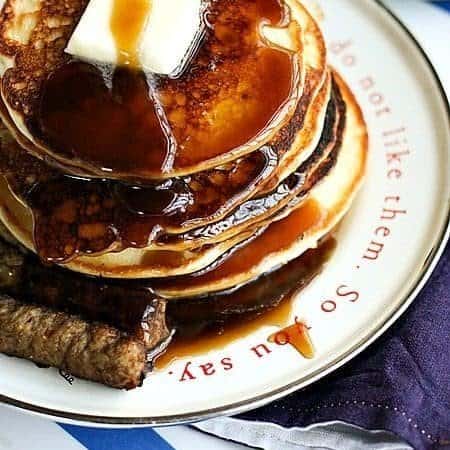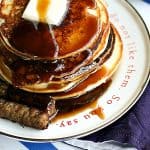 Print
Brown Sugar Butter Pancake Syrup
Out of maple or pancake syrup? Never fear! Smooth, thick, and rich, this pantry friendly Brown Sugar and Butter Pancake Syrup is simply delicious. It comes together quicker than quick and tastes so good you may find yourself never buying pancake syrup again!
Ingredients
1

cup

water

2

cups

brown sugar

1

stick butter

4 ounces, salted or unsalted, well chilled cut into 8 pats.

Optional:

1/2

teaspoon

salt

if using unsalted butter

1/4

teaspoon

pure vanilla or maple extract
Instructions
Stir the water and brown sugar together in a heavy-bottomed 2 to 2 1/2 quart saucepan with high sides. Place the pan over medium high heat and stir until the sugar is melted and the mixture comes to a boil. Lower the heat to medium and allow it to boil for 4 minutes. When the time is up, gently drop one pat of butter into the mixture and stir until the butter is melted completely. Repeat the process with one pat of butter at a time, until all the butter has been melted and incorporated. Remove the pan from the heat. If using the extract, add it and stir it in now. Take care, as it will bubble up enthusiastically.

Let the syrup stand in the pan for five minutes before pouring into a heat-proof pitcher (for immediate use) or into a clean canning jar (for longer storage.) Serve warm to hot. Store leftover syrup in a tightly closed canning jar in the refrigerator for up to a month.
To Reheat Leftover Syrup:
Remove the lid from the jar and microwave in 15 second bursts, stirring after each burst, OR place the jar, still lidded, on a folded dishcloth in a saucepan with simmering water, using an oven mitt or canning tongs to lift and swirl the jar from time to time until it flows freely and is warm through.
Nutrition
Calories:
140
kcal
|
Carbohydrates:
36
g
|
Protein:
1
g
|
Fat:
1
g
|
Saturated Fat:
1
g
|
Sodium:
109
mg
|
Potassium:
49
mg
|
Sugar:
36
g
|
Calcium:
30
mg
|
Iron:
1
mg
This post was originally published January 20, 2014 updated March 2020.