Overnight Taco Breakfast Enchiladas are the happy marriage of breakfast egg-bakes, taco flavours, and enchiladas all together in one convenient, delicious package that is assembled the night before it bakes, leaving you to dream of satisfying, hearty breakfasts with no more work than sliding a pan in the oven!

I'm not a breakfast person… I could happily live on tea until about noon or so and then eat all the things. My kids and husband, however, NEED BREAKFAST desperately and preferably soon after they wake.
Couple that with the fact that I'm incapable of intelligent conversation or action before 11 am and you have a recipe for unrest. Due to self-preservation, I've amassed quite a few excellent make-ahead breakfast options to share with my ravenous menfolk. Today's Overnight Taco Breakfast Enchiladas recipe is near the top of that particular list for a multitude of reasons.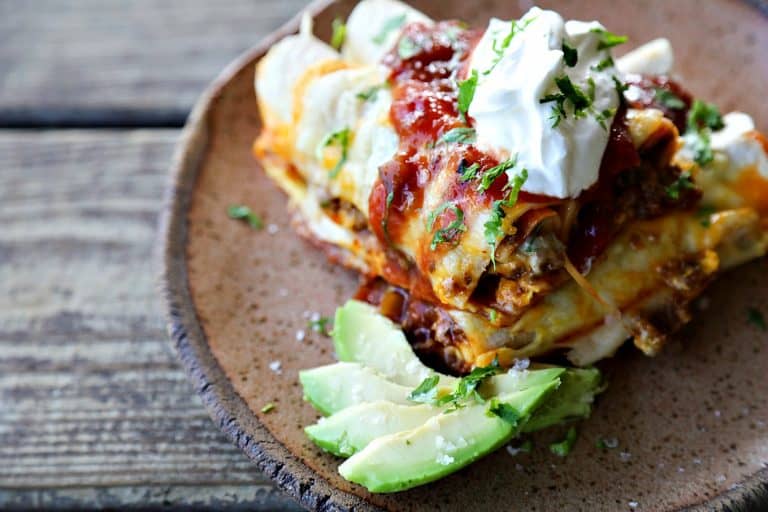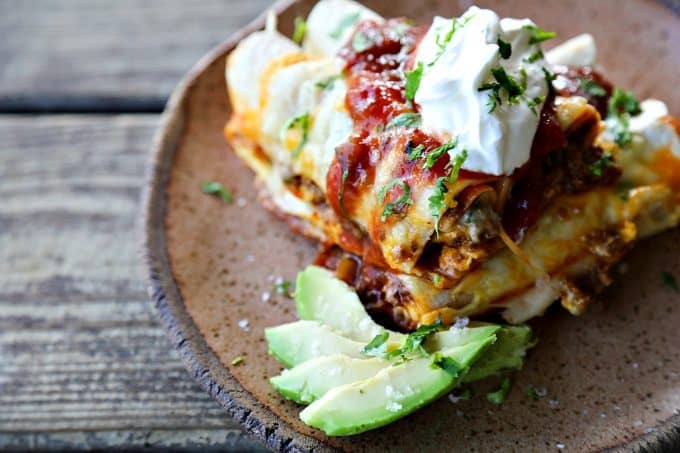 Overnight Taco Breakfast Enchiladas are an excellent combination of many of the things my family likes best; tacos, enchiladas, and breakfast egg-bakes all in one super convenient pan. Added to the deliciousness of all of those things combined is the tremendously helpful make-ahead aspect of the dish; everything is assembled before I go to bed.
You know, when I'm still coherent. In the morning, when I roll out of bed and stumble down the stairs to get my tea kettle going, all I have to do is take the pan from the refrigerator and slide it into the oven and turn that oven on.
I don't even have to remember to preheat it or cover it with foil, because I covered it with foil the night before. WHEN I COULD ACTUALLY THINK. When the oven beeps, I set the timer and grate some cheese or rustle up some already grated cheese and then wait and sip my tea.
At the sound of the timer, the foil comes off of the pan, the cheese goes on, and back in it goes until the cheese is melted. Then it's just a matter of finding a spatula and serving it all up. The boys can manage their own toppings if they want; avocados, salsa, lettuce, sour cream, cilantro, and green onions are all fair game.
In short, if it goes on a taco, it goes on Overnight Taco Breakfast Enchiladas. And since I usually follow up a taco meal with these make ahead overnight taco breakfast enchiladas, I usually have some leftover taco toppings for them to use for their breakfast. "Waste Not, Want Not" becomes "Waste Not, Want Not, Wake Not Your Mother With Your High Maintenance Breakfast Requests."
And as good as this smells when it comes out of the oven, even this affirmed non-breakfast person wants to grab a bite or two.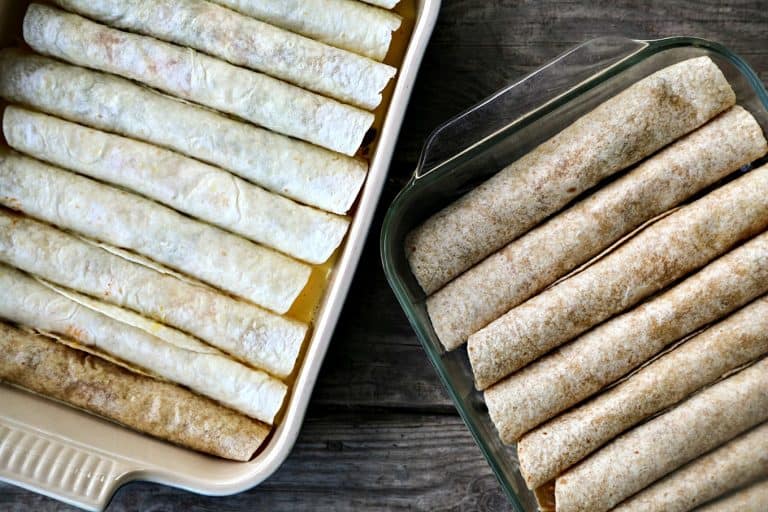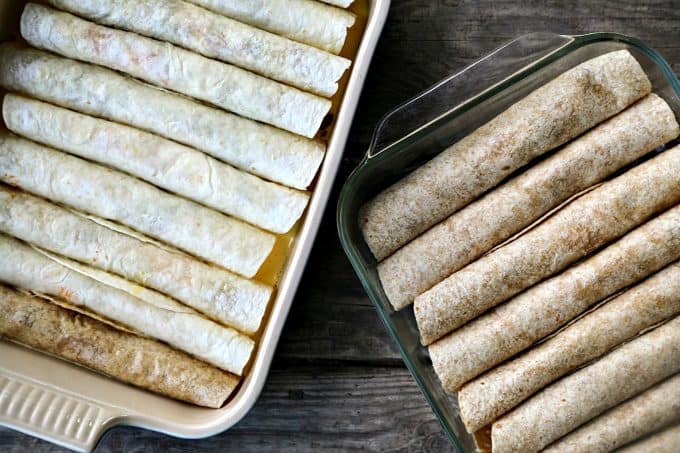 Overnight Taco Breakfast Enchiladas
You can opt for white flour, wheat flour, or corn tortillas in your Overnight Taco Breakfast Enchiladas. Some things to keep in mind: white flour tortillas absorb the egg mixture the best and puffs up nicely.
Wheat flour tortillas puff up the highest, but then fall back as they cool. Corn tortillas have the lowest absorbency/puff rate of all, but they're the most traditional. Our family prefers white or wheat flour tortillas in this dish.
If you choose corn tortillas, remember that most of them are smaller than flour tortillas, so you may need twice as many to fill your pan. That's not a problem, it's just the way it is.
If using white or wheat flour tortillas, the 8 inch size fits best in the 9-inch x 13-inch baking dish.
I love to use leftover taco meat made with this homemade spicy taco seasoning, but you can use whatever leftover taco meat you have on hand!
Feel free to double this recipe! Leftovers hold and reheat beautifully for about 4 days or freeze well for longer storage.
For optimal convenience, use leftover taco toppings on your overnight taco breakfast enchiladas. If you don't have leftover taco stuff on hand, shred some lettuce, cheese, chop some green onions, and have some salsa and sour cream on hand in the refrigerator. That will make your breakfast that much more simple to lay out in the morning.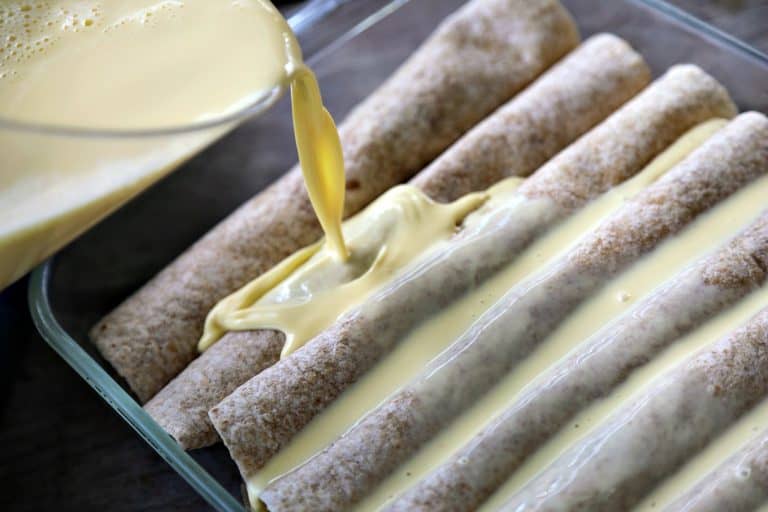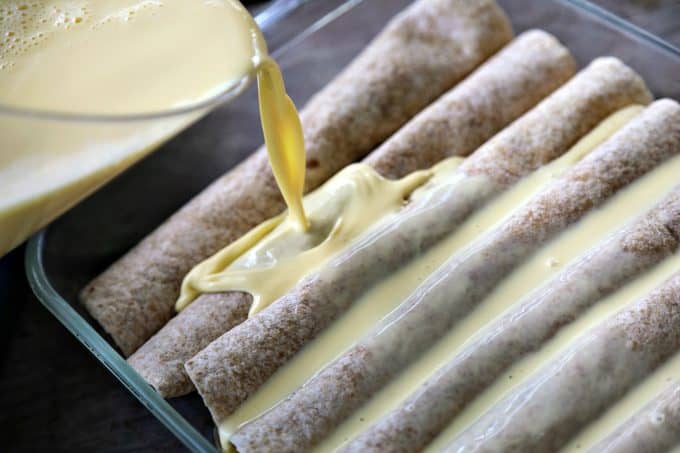 Use these to make Overnight Taco Breakfast Enchiladas
Connect with Foodie with Family
facebook | pinterest | instagram | twitter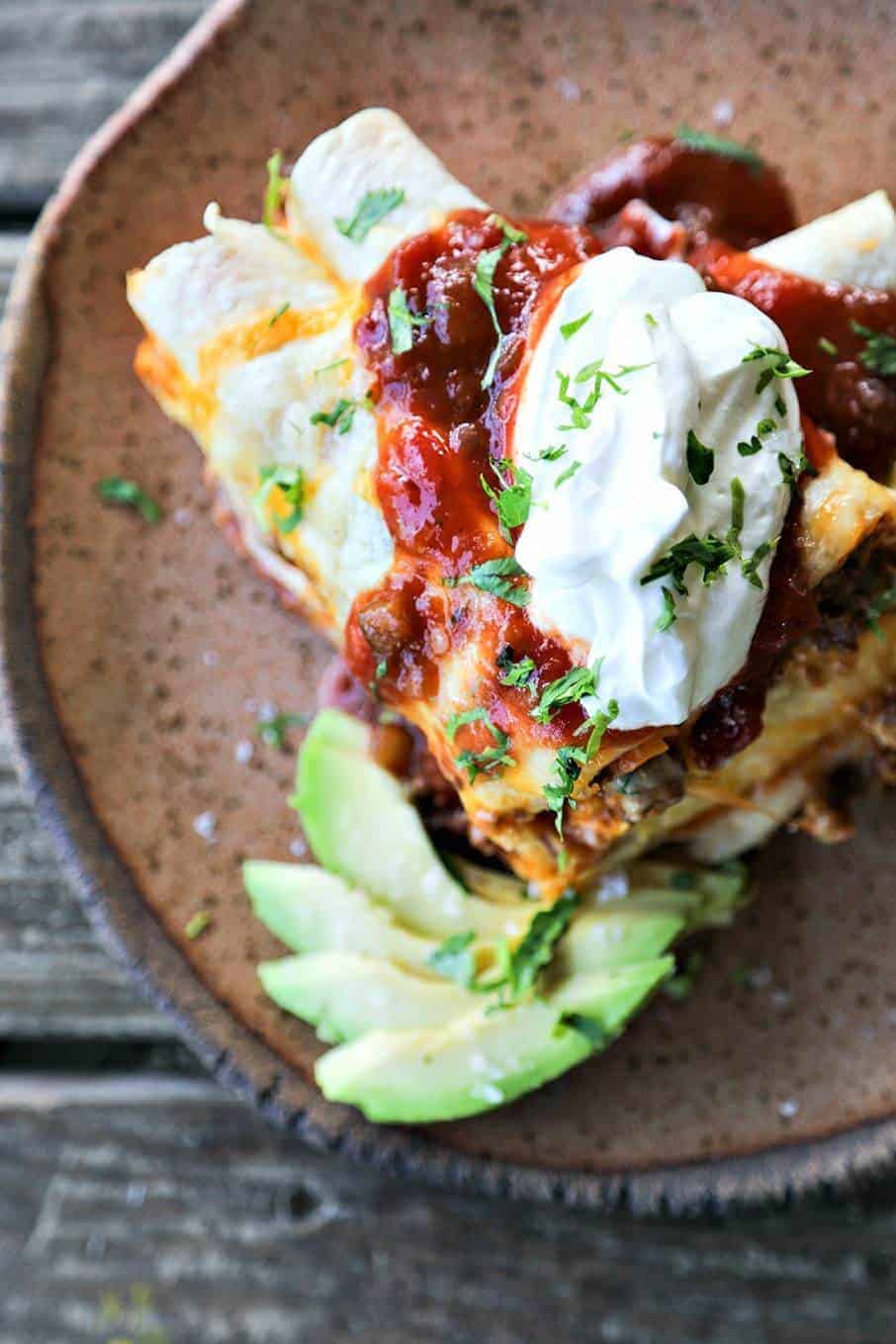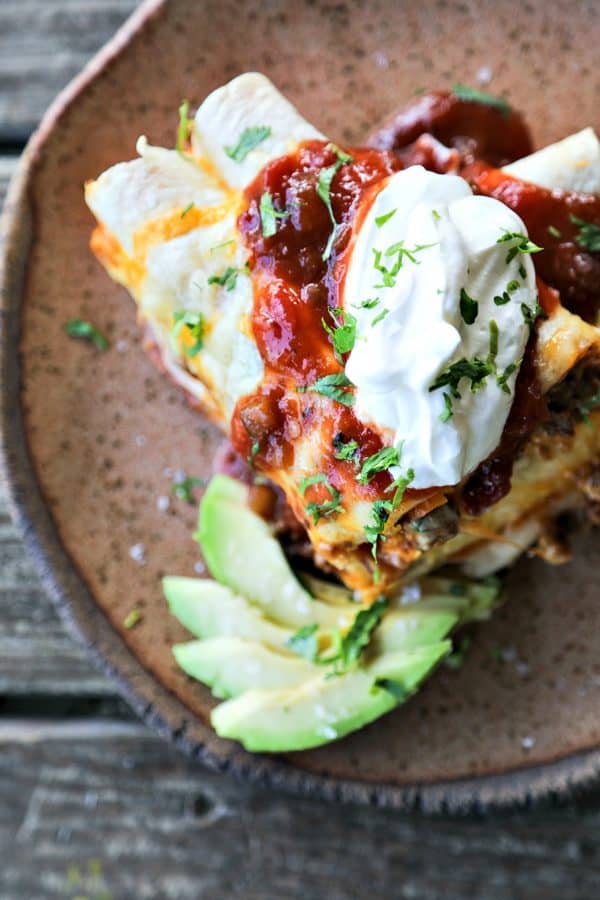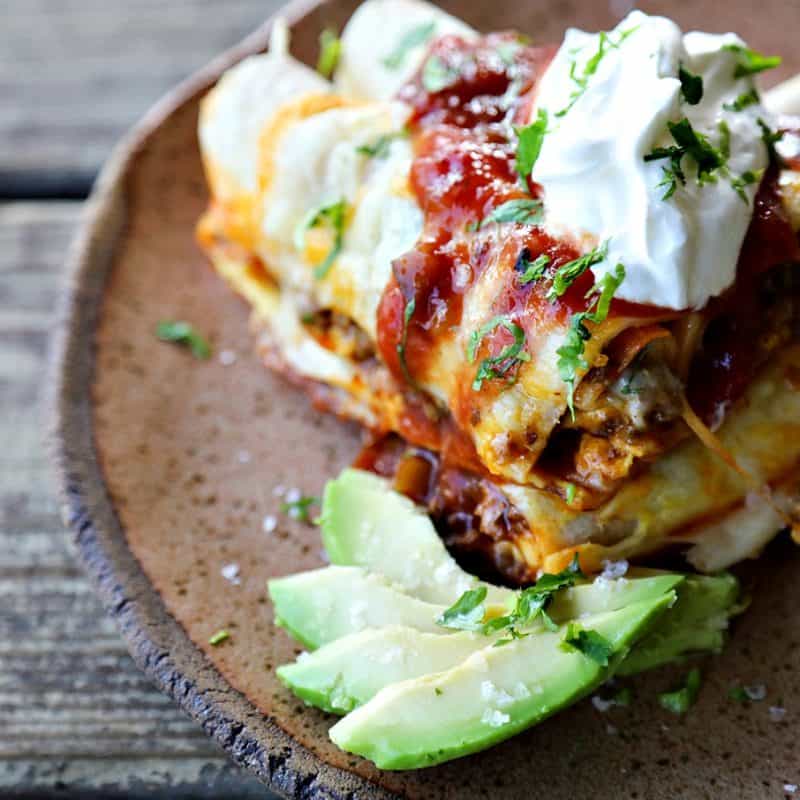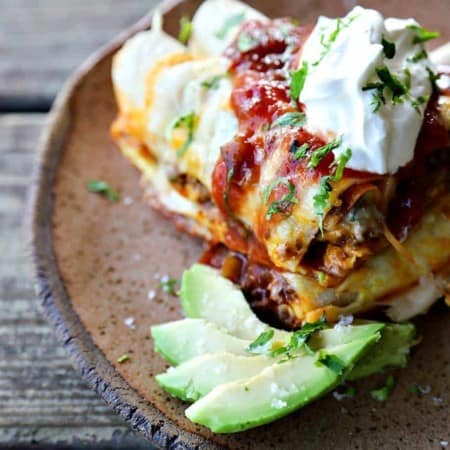 Ingredients
non-stick cooking spray or olive oil for brushing the pan

2

cups

leftover taco meat, slightly reheated

1 1/2

cups

shredded Monterey Jack or Pepper Jack cheese

1 1/2

cups

shredded Cheddar cheese

10

flour tortillas

8-inch

1 1/4

cups

half and half

that's equal parts whole milk and light cream for those not in the USA

4

large eggs

1

tablespoon

all-purpose flour

2

teaspoons

chili powder

3/4

teaspoon

kosher salt

3/4

teaspoon

black pepper
Optional Toppings
sour cream

lettuce

salsa

avocados

hot sauce

cilantro

green onions

black olives
Instructions
Use non-stick cooking spray or brush olive oil to generously coat the bottom and sides of a 9-inch by 13-inch baking dish.
Toss together the shredded cheese in a mixing bowl and then set 1 cup aside in a container or bag in the refrigerator for the next morning. Mix the taco meat into the remaining 2 cups of grated cheese. Scoop a generous 1/3 cup of the taco meat mixture in a mound down the center of each tortilla. Roll the tortillas up and arrange seam-side down in the prepared pan.


In another mixing bowl, whisk together the half and half, eggs, flour, chili powder, salt, and black pepper until smooth. Pour this over the rolled enchiladas, cover the pan with foil, and place in the refrigerator overnight or for at least 8 hours.

In the morning, slide the foil covered pan into the oven and set the temperature to 350°F. When the oven indicates that it has reached the correct temperature, set your timer for 30 minutes. After 30 minutes, remove the foil, sprinkle with the remaining cheese, and bake for 10 more minutes or until the eggs are fully set, the tortillas are golden brown, and the cheese is fully melted. For most convenient servings, cut through the enchiladas at the center, yielding 20 smaller breakfast enchiladas.
Serve with any or all of the following: sour cream, lettuce, salsa, avocados, hot sauce, cilantro, black olives, or green onions.

Nutritional information is an estimate and provided to you as a courtesy. You should calculate the nutritional information with the actual ingredients used in your recipe using your preferred nutrition calculator.

Love these Overnight Taco Breakfast Enchiladas? Try these other Make Ahead Breakfasts!
Save
Save
Save