I have something fun to share today. But first, a story. I started blogging several years ago; in fact, in blogging years, I'm pretty old.
When I first started, I e-met another blogger -Amy Flanigan of BellyFull (formerly Very Culilnary). I met her and Melissa Ortiz around the same time and they bolstered my confidence to keep going with their support of my efforts.
And so with great happiness, I get to share Amy's first book: Good Fast Eats. And with even more happiness, I get to share her fun, kid-pleasing recipe: Baked Breakfast Taquitos.
To say my kids liked these is an understatement. To say they descended on them like a plague of Biblical locusts is more accurate. Before I share the recipe, though, I want to talk a little about the book.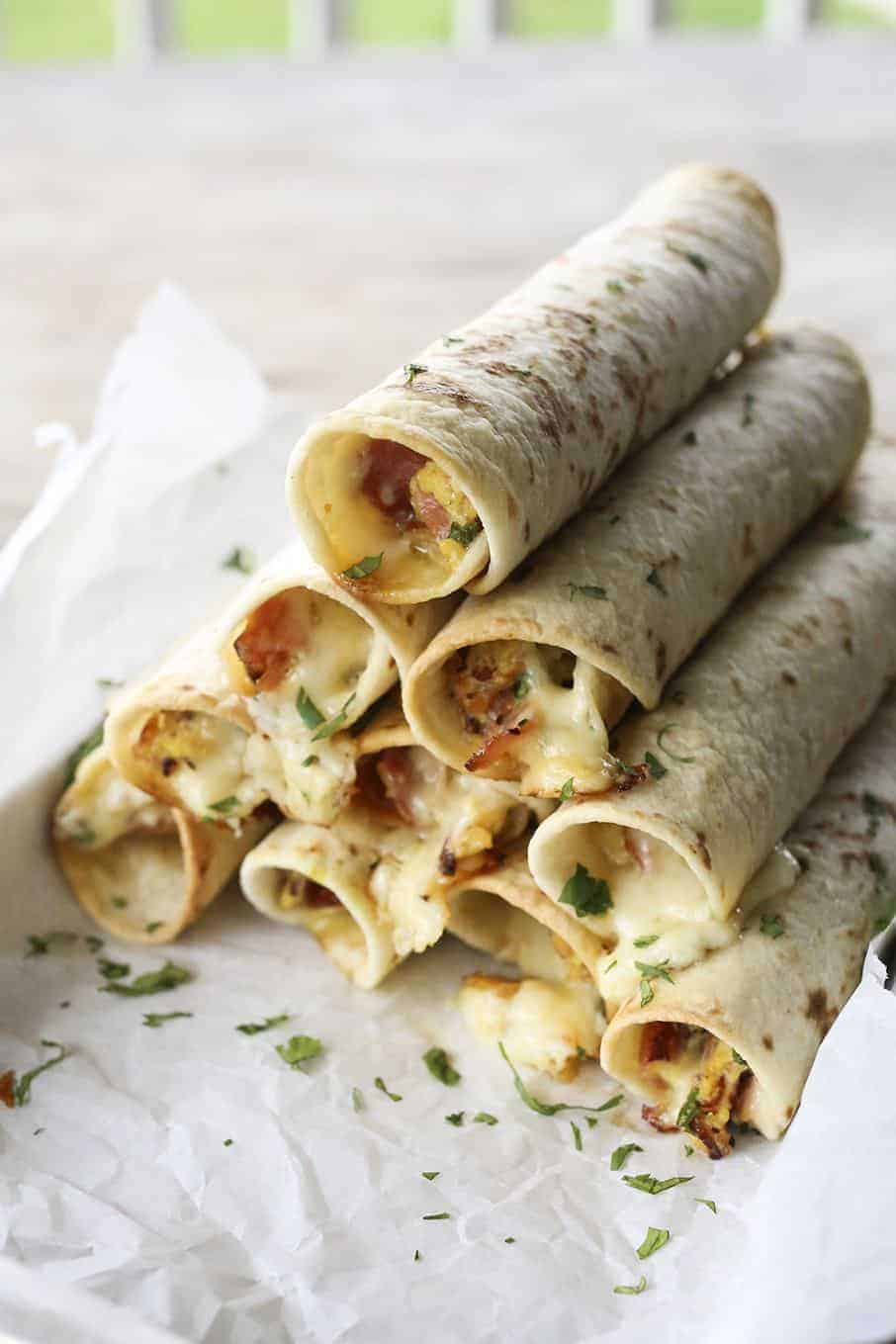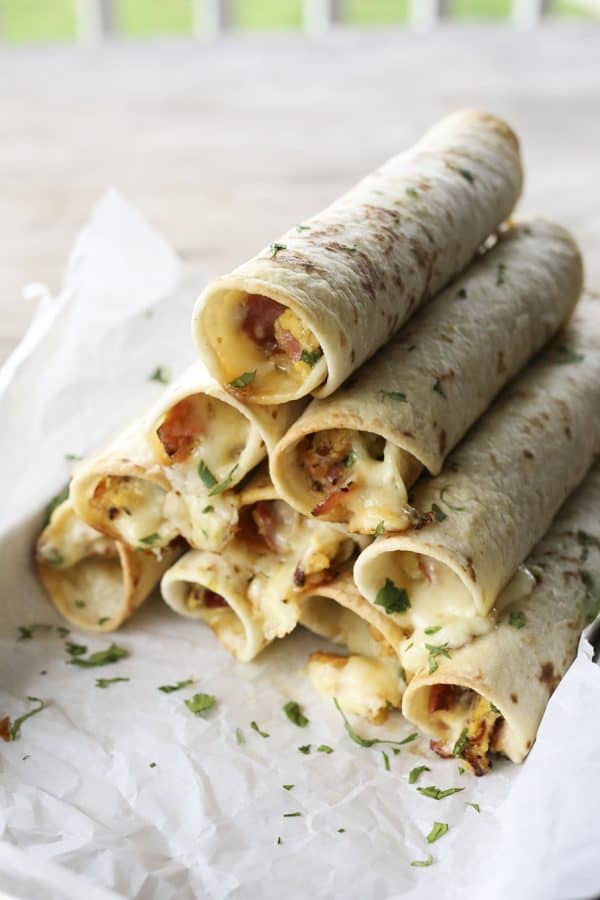 Amy has created a book of family-friendly recipes that will help you get dinner on the table lightning fast without dirtying every single bowl and pan in the kitchen. It is a valuable resource for anyone whose kids' schedule keeps them on the fly.
It's more than that, though. It's also a great book to send with kids when they leave home so that they can turn out good food rather than existing on a diet of ramen noodles and pudding cups. Let's have a look inside, shall we?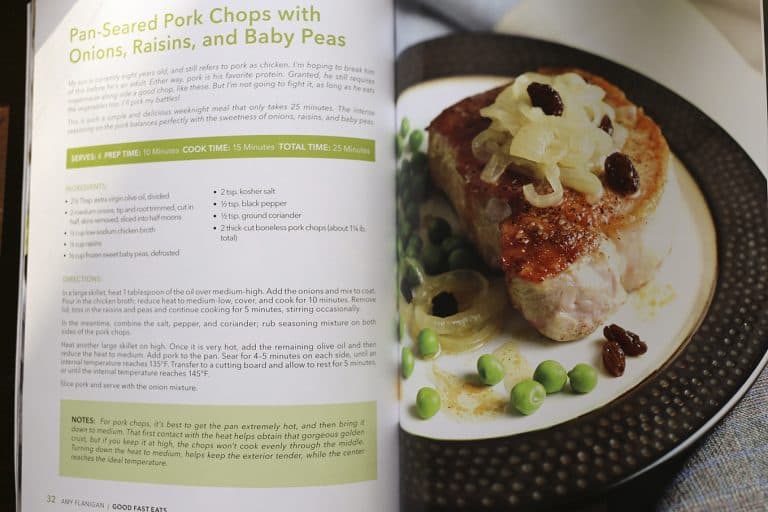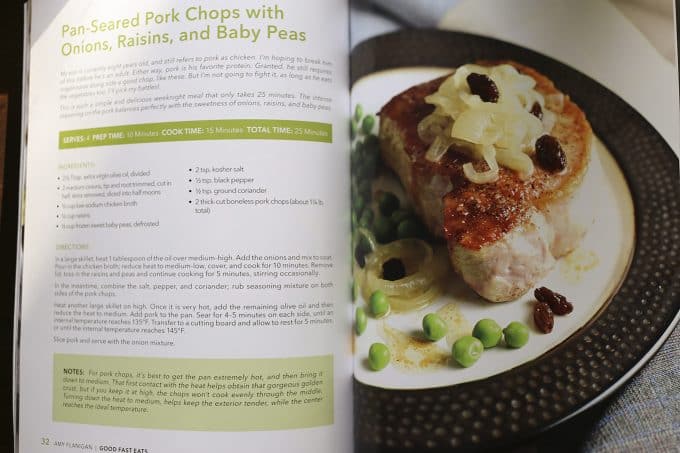 We have Pan Seared Pork Chops with Onions, Raisins, and Baby Peas. Amy. If I didn't already love you for this pork chop recipe, I'd love you for the Oxford Comma.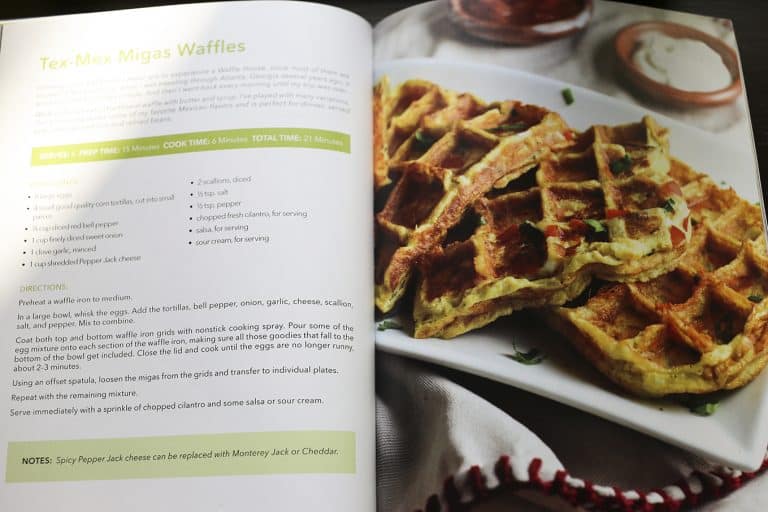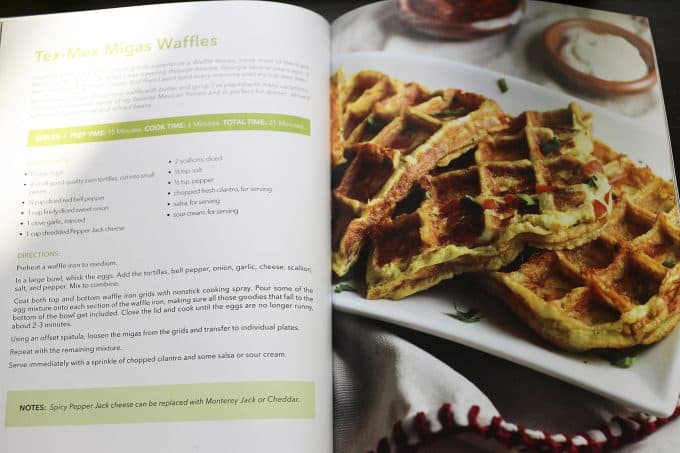 My boys have added this one to the top of the list of recipes they'd like for me to make for them, soon.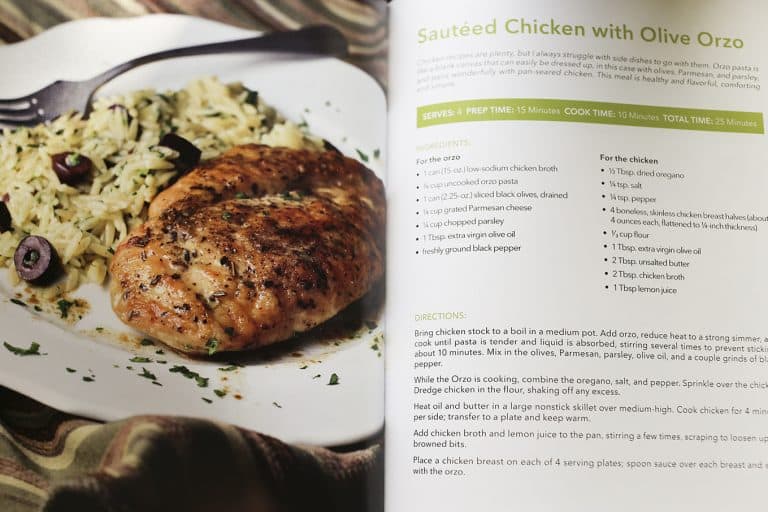 I have my eyes on the Sauteed Chicken with Olive Orzo. That olive orzo, specifically, sounds like something I'd love with a bunch of different dishes, too.
But those Baked Breakfast Taquitos. It's hard to define what makes a recipe kid-friendly.
For my purposes, I mean a recipe that is relatively fast to make, contains ingredients my kids love, and is at least marginally nutritious. I don't want to fill my kids up with junk, and these Baked Breakfast Taquitos are just the thing to keep my kids full until lunch time with the triple dose of protein from ham, eggs, and cheese.
The scallions lighten up the party a bit, and the taquito form makes them eminently portable. At our house, we loved these dunked in salsa or drizzled with hot sauce. Because I used small whole wheat tortillas, I felt pretty darned good about it even after my kids polished off a full double batch in one morning.
Busy parents (and what parent ISN'T busy) should buy Good Fast Eats. Got a friend who is always on the fly? This would make a great Christmas present! The Baked Breakfast Taquitos are the tip of the tasty iceberg!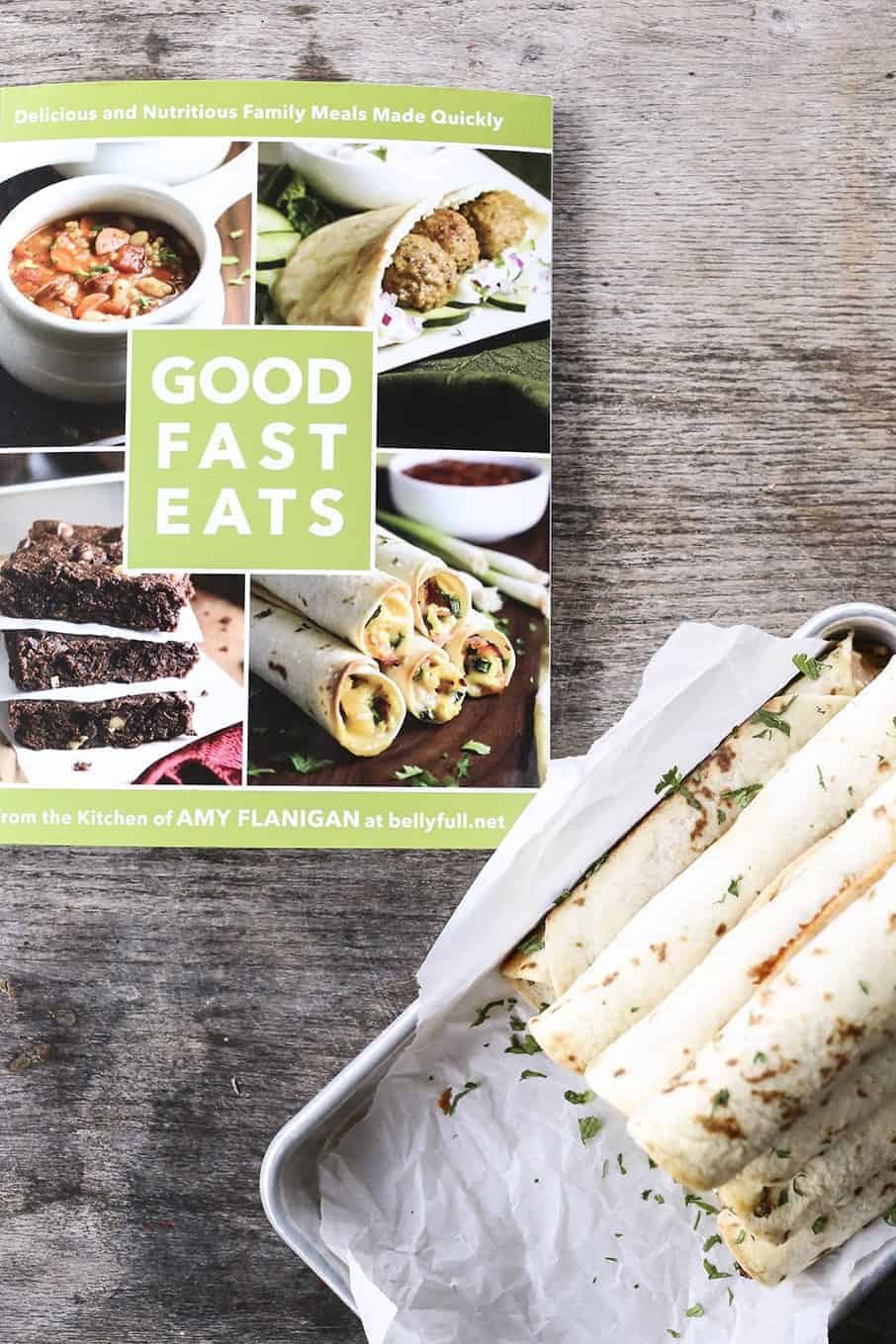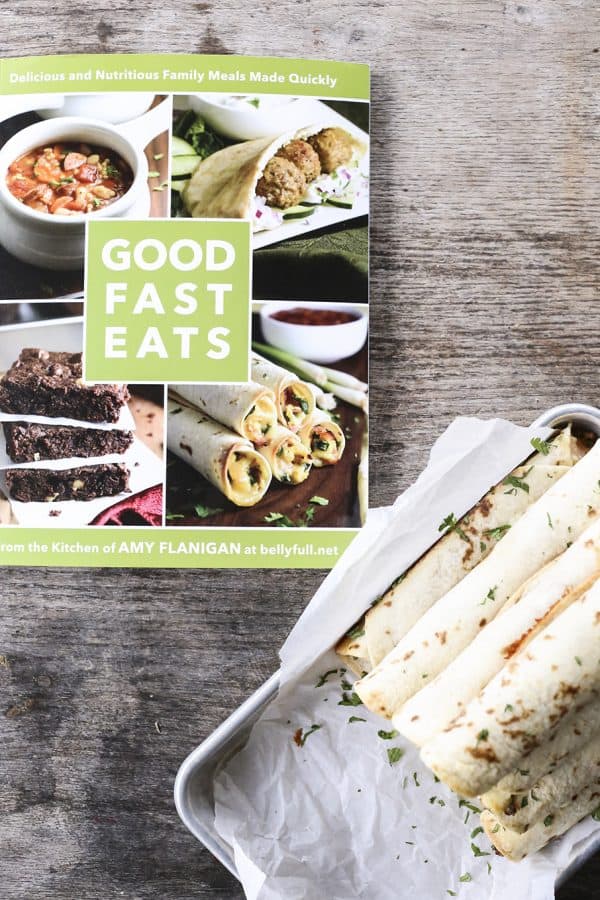 Cook's Notes
Amy's recipe calls for deli ham. I have also made this with chopped leftover baked ham and it was insanely good that way. Ditto with deli smoked turkey or carved leftover turkey. All good. My next plan is to try this with pastrami. I'm crazy like that.
In the book, Amy suggests swapping out pepper jack for the colby cheese. Of course I did. We are a spice loving family. Seven out of seven people in my household agreed that the pepper jack was awesome.
While they are Baked "Breakfast" Taquitos, I'm of a mind that these would make a fantastic bag lunch addition. It's all about the protein in lunches and this delivers admirably on that front.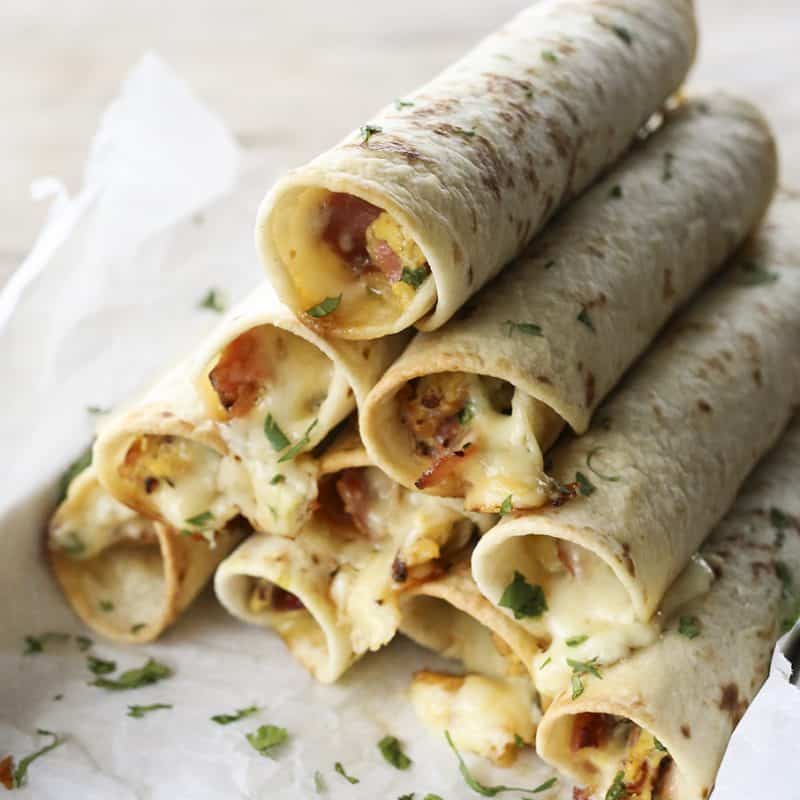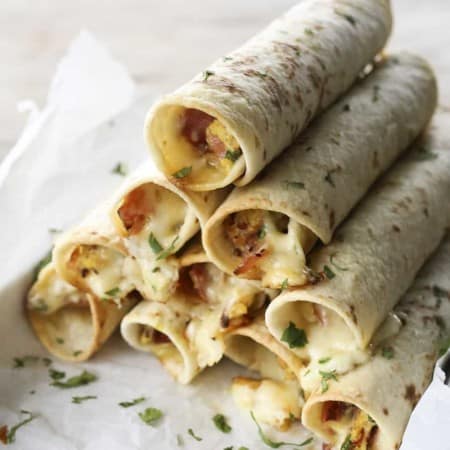 Ingredients
1

tablespoon

unsalted butter

2

cups

chopped deli ham

6

large eggs

beaten

3

tablespoons

half and half

Salt and pepper

4

scallions

diced

12

flour tortillas

6 inch

1 1/2

cups

shredded Colby Jack or Pepper jack cheese

Nonstick cooking spray

Kosher salt

Salsa and sour cream for serving
Instructions
Preheat oven to 425F. Line a baking sheet with foil sprayed with nonstick cooking spray.

Heat butter in a large nonstick fry pan over medium high heat. Add ham and sauté until starting to crisp. Add eggs and half and half to the pan and stir to scramble. Season with a touch of salt and pepper to taste. Transfer to a medium mixing bowl and stir in the scallions.

Microwave the tortillas for 20-30 seconds or until pliable. Place about 1/4 cup of the filling in the lower third of each tortilla, followed by 2 tablespoons of the cheese. Roll up tightly and place seam side down on the baking sheet making sure the rolls are not touching each other. Spray lightly with nonstick cooking spray followed by a sprinkle of kosher salt.

Bake for 12-14 minutes, or until golden and crispy.
Nutritional information is an estimate and provided to you as a courtesy. You should calculate the nutritional information with the actual ingredients used in your recipe using your preferred nutrition calculator.