Today's giveaway is sponsored by yours truly just because I love ya.
Coffee and I have a strange relationship. I love it. I love the flavour, smell, and idea of it. It, however, is unkind to me. I know the energy levels that accompany coffee consumption are usually one of its bigger selling points, but for me, it infuses me with more of a hyper, socially unacceptable level of power-jitters plus heart palpitations. It should be clear why I usually avoid it. That being said, a couple of times a summer, I give in to the overwhelming siren song that is Vietnamese Iced Coffee.
There's nothing like a Vietnamese Iced Coffee; the usual bitter, roasted, nutty, chocolate like notes of coffee are enhanced and tempered, in turn, by chilling the drink to the point of iciness and stirring in creamy, rich, sweetened condensed milk. It's indulgent. It's delicious. There's a reason it's served all over Vietnam. That place is hot. This drink cools you down. It's that simple.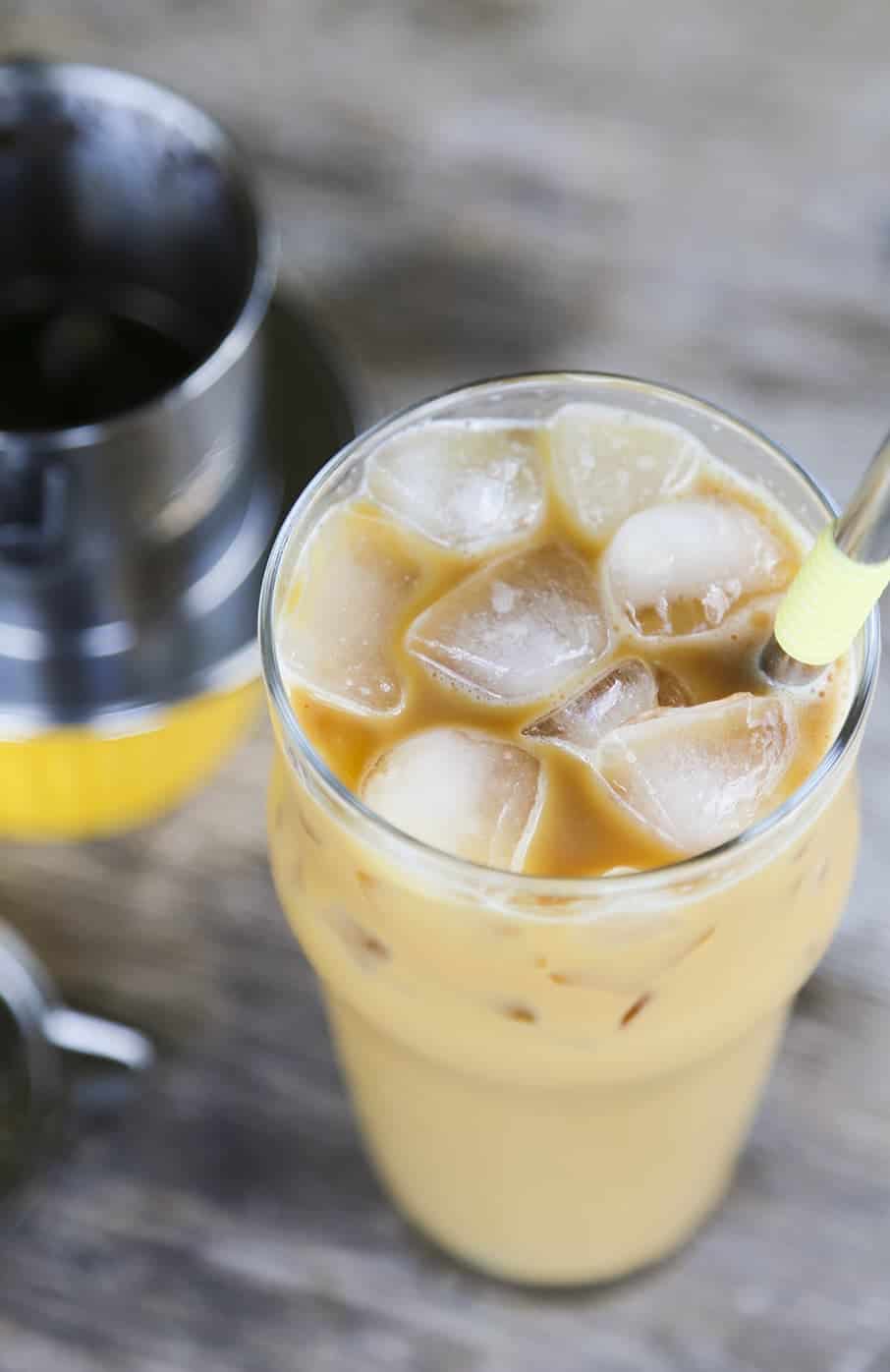 Okay, in my case the drink cools me down and propels me onto the ceiling where I stay until someone knocks me down with a broom, but you get the message. And even though I know I'm going to be Hypie McHyperton every time I have one, I can't help but indulge every so often. It is so worth it. It would be a lot harder to dive in if Vietnamese Iced Coffee was difficult to make, but it is about as simple as it gets. The trick, in my opinion, is to have the right piece of equipment. In this fancy-pants coffee society of single use pods and cups, pour overs, and coffee bars, Vietnamese Iced Coffee requires nothing more than a $8 piece of almost infinitely reusable equipment, a mug or jar, some decent coffee, hot water, sweetened condensed milk, and a glass filled to the brim with ice.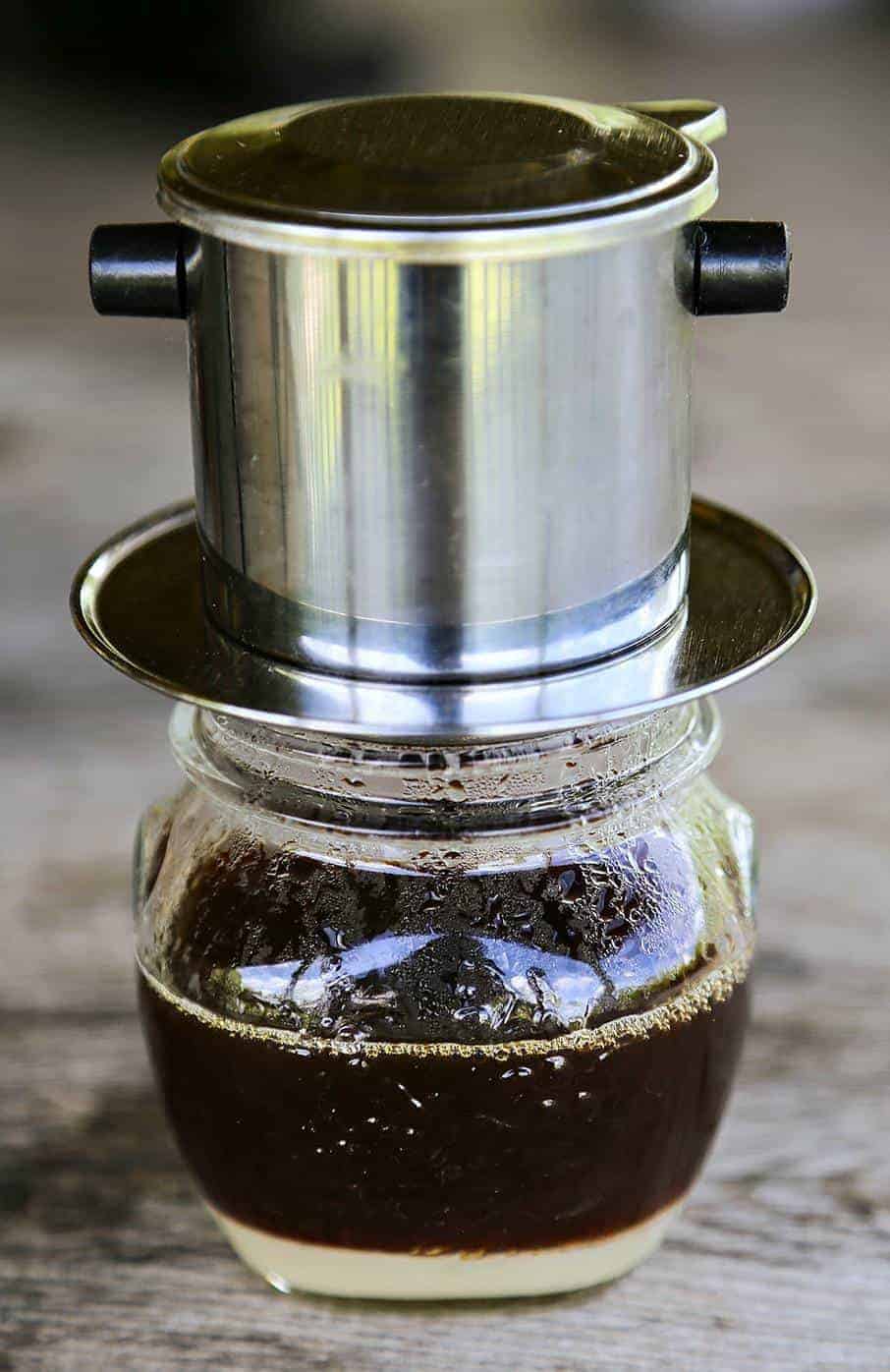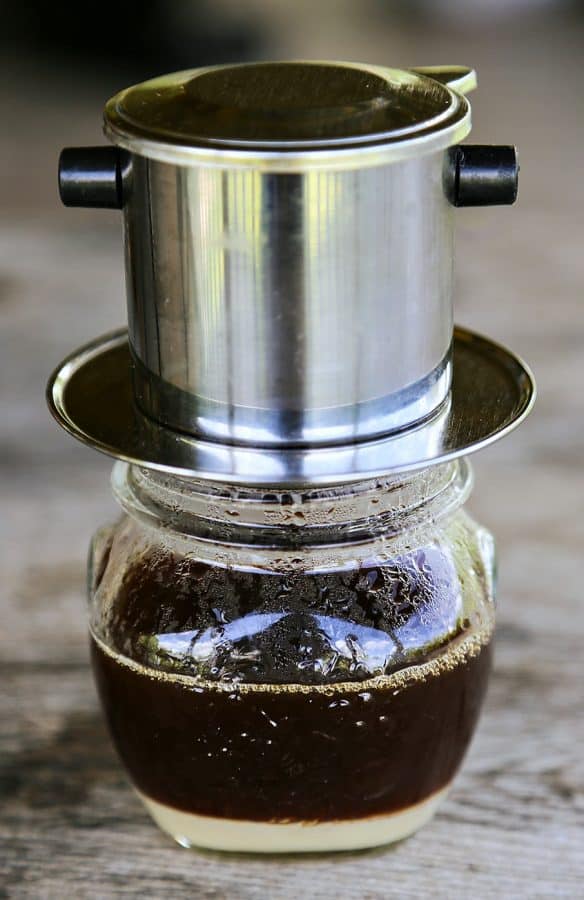 The equipment? It's called a Phin and you have likely seen it if you order iced coffees at Vietnamese restaurants or if you've traveled in southeast Asia. They're ubiquitous, and frankly, a heckuvalot smarter than all the high-faluting coffee machines on the market today. And while I use it exclusively for my semi-annual caffeinating, my mom loves it for a morning cuppa coffee because my mom -God bless her- loves coffee so strong it has actually, legitimately, and quite literally sent someone to the hospital (not her) with a panic attack. The Phin is capable of producing anything from merely strong to panic attack strong coffee, depending on how much ground coffee you add to the filter. To help eliminate any confusion, I have a video for you all showing just how easy a Phin is to use. Oh, and hey… I'm going to give away a couple of the sweet little things below. Watch the video, then scroll for details!

Cook's Notes
This is really beyond easy, guys. Your main decision making comes down to how strong you want your coffee and how sweet you want it. To begin with, you don't want to put less than a tablespoon or more than 2 tablespoons of coffee grounds in the phin. Use espresso sized grounds (so a bit finer than regular ol' Maxwell House or something…) of a coffee bean that is medium to dark roast. Use fewer grounds for less robust coffee, and more grounds for more robust coffee. Remember it will be watered down to some level when it hits the ice.
Start with about 1/4 inch of sweetened condensed milk in the bottom of the mug into which you're letting the Phin drip. You can always add more to taste afterward, but it's impossible to "unsweeten" the coffee once it's been sweetened.
The Phin has 4 main parts (as shown in the video). Be sure to use them in the right order, eh? Otherwise, you'll have to smile while you sip to strain out coffee grounds.
When you put the gravity insert in place, just gently press it down once or twice. You don't have to clobber it. That is -in fact- undesirable because you still want there to be enough space between the grounds for the water to drip.
Let the Phin stop dripping before you move it and stir the coffee and sweetened condensed milk together. This has the added bonus of allowing the coffee to cool a smidge before being poured over the ice.
Speaking of the ice, FILL THE GLASS. I'm not even kidding. You want a glass that is filled to the absolute brim with ice. This is Vietnamese Iced Coffee, not Vietnamese tepid coffee.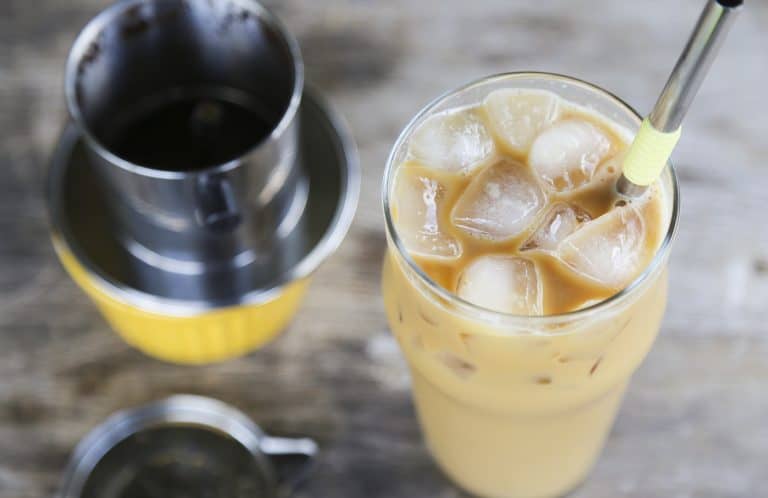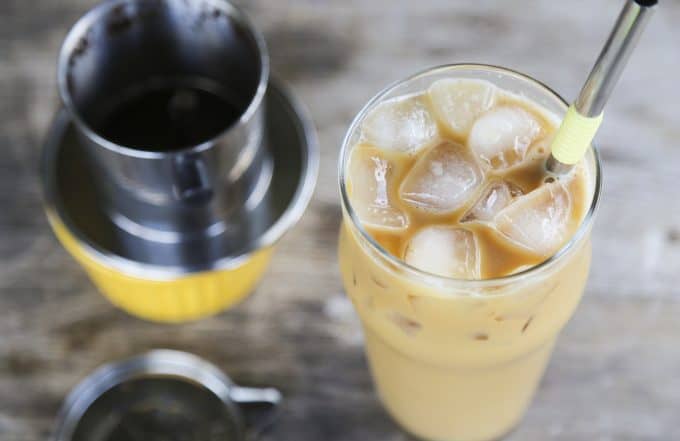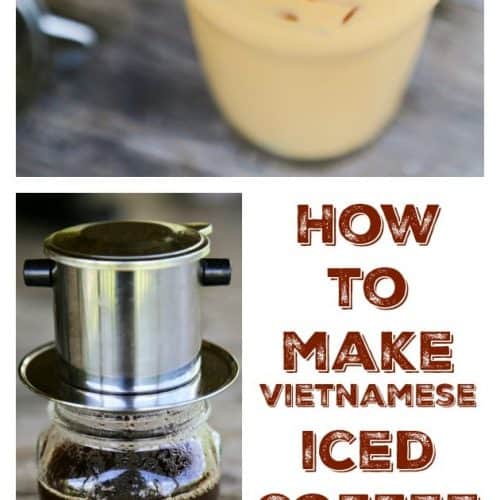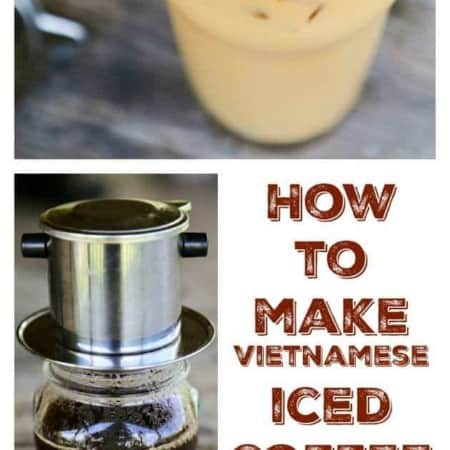 Vietnamese Iced Coffee: strong coffee is tempered with creamy, sweetened condensed milk then poured over a tall glass of ice for a frosty treat.
Ingredients
1

tablespoon

sweetened condensed milk

or more to taste

1

to 2 tablespoons espresso ground medium to dark roast coffee

8

ounces

almost boiling water

ice upon ice upon ice
Instructions
Pour the sweetened condensed milk into a heat-proof mug or canning jar. Place the drip tray on the mug, position the Phin over it, add desired amount of coffee grounds to the base of the Phin and gently shake back and forth to distribute. Add the gravity insert and gently press down once or twice. Pour a couple of tablespoons of the almost boiling water over the grounds and count to 30, then fill the rest of the insert to the top rim with the water. Place the cover on the Phin and allow to drip until the dripping stops. Remove the Phin, stir the coffee and sweetened condensed milk together. Adjust with additional sweetened condensed milk, if desired, then pour over the ice and stir. Serve immediately.
Nutritional information is an estimate and provided to you as a courtesy. You should calculate the nutritional information with the actual ingredients used in your recipe using your preferred nutrition calculator.
Vietnamese Iced Coffee Phin Filter Giveaway
Because I love you all, and because I'm pretty excited about my big news for July, I am going to give a Phin to 5 of my readers. The catch is -because there always is one- that the winners will need to live in the continental U.S.A. Many apologies to my international readers, but them's the breaks on the shipping front. What do you need to do to enter? Just follow the instructions below.
Foodie with Family Phin Filter Giveaway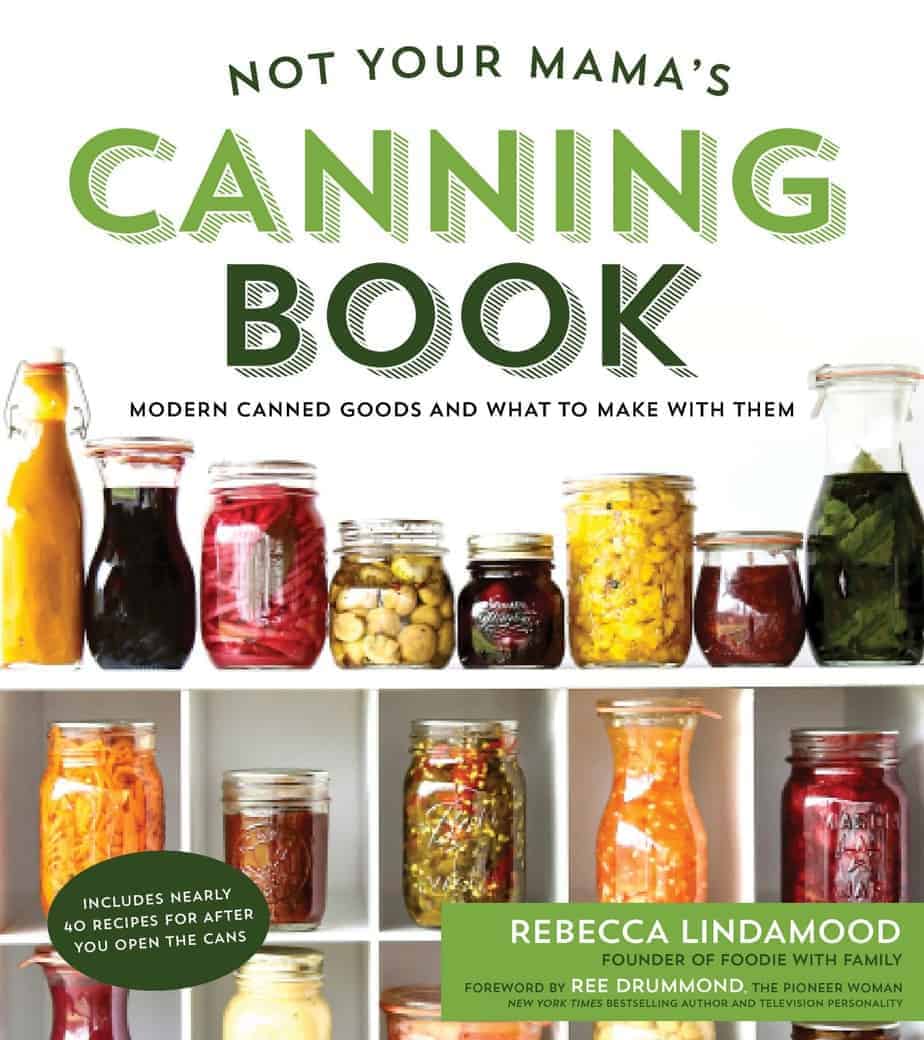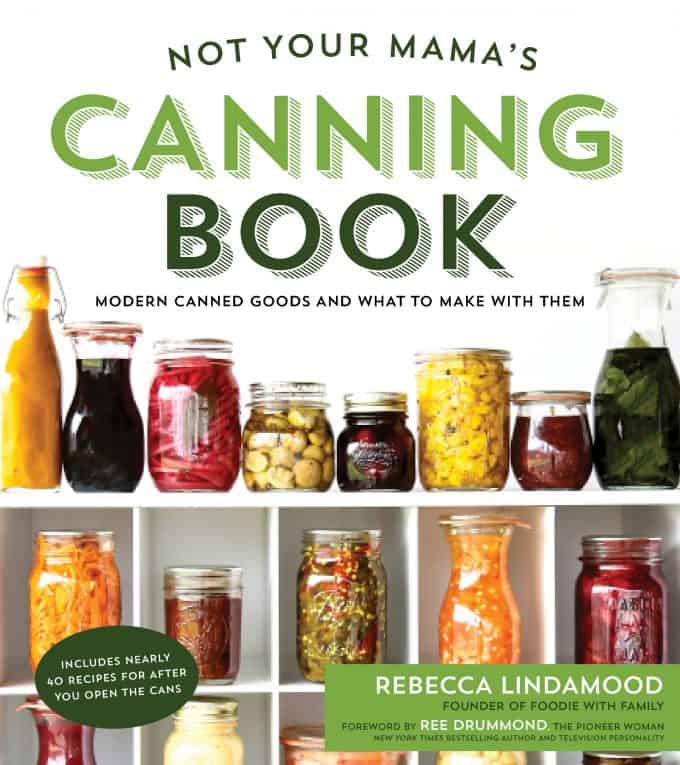 Don't forget that Not Your Mama's Canning Book: Modern Canned Goods and What to Make with Them is available for Pre-Order through these fine retailers!