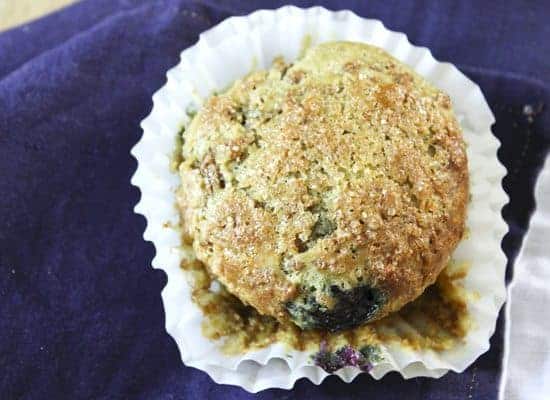 Yesterday was Mother's Day and I'm still in a glow-y mood. The boys treated me to a cup of tea in bed (that mercifully stayed in the vessel before reaching my mouth), French toast once I was downstairs, a day full of (mostly) getting along beautifully, and a clean kitchen (for most of the day.) I know this post is coming late in the day, but it's worth it! I promise.
Today, for Make Ahead Mondays, the spotlight is on some of our favourite make-ahead-friendly breakfast foods that have been here on Foodie With Family. You all know I'm not functional until I've had a cuppa tea or two under my belt. By that, I mean that I've consumed it, not worn it… And to complicate things,  I absolutely despise paying mucho bucks for boxes of cereal that last a day or two at most around here. Therefore, the hot and/or homemade breakfast is the preferred method of morning fuel in these parts. So the equation looks like this: Bleary-Eyed Mom + Hungry Children in the Morning = Creativity. I need food that is made or mostly made to serve them because folks? They're not patient when it comes to food.
In no particular order, here are some of the greatest hits from our household: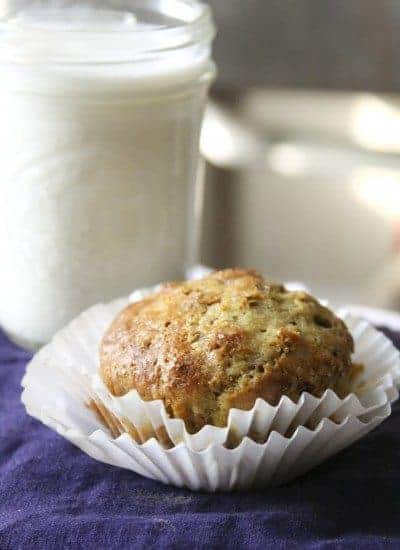 These muffins are delicious and nutritious, to be sure, but there are two more, equally compelling reasons to make these. 1.) You make the batter and it stores in your refrigerator where you can bake as few as one or as many as you'd like daily for SIX WEEKS. I'm not kidding. Six weeks. How can you beat that? 2.) You can add in whatever stir-ins you like the day you bake. Chocolate chips, apples (dry or fresh), peaches, raisins, nuts, apricots? Yes, yes, yes and infinitely more yeses. Can I hear an Amen? Or at least a yum? Because you'll rate a bunch of each when you have these for breakfast.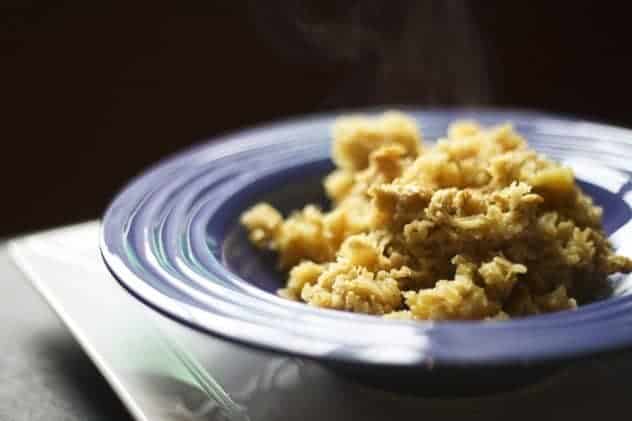 Just look at that, wouldya? That is what oats are supposed to look like… This is as far from the grey, mucilaginous (yes, I said it again), soupy stuff that most people think of as oatmeal. It's sweet, chewy, almost nutty in flavour, and smells good enough to make you turn inside out in anticipation. I make two huge pans of this unadorned (sans fruits, nuts, etc…) and leave it covered in the refrigerator all week. The kids, when hungry, take a serving sized scoop, heat it in the microwave and then add whatever they prefer. The favourite toppers in our home are frozen blueberries, fresh cream, or my homemade pie filling from the pantry. In my book, that counts as fruit!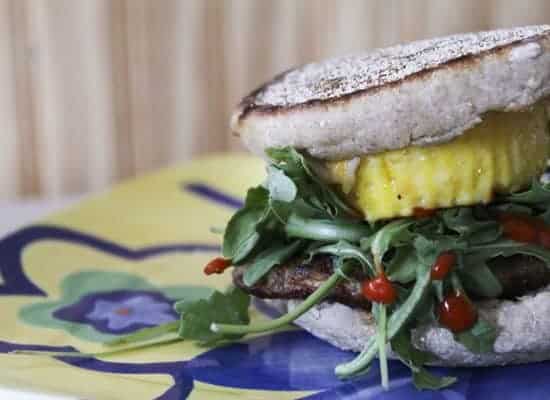 Are you playing for a more savoury audience? This is the bees-knees… We're looking at a sausage patty, baked egg and cheese all warm and melty on a toasted English muffin. Even better is the fact that these are pre-made, frozen and ready for action whenever needed. We reheat them, toss on a fistful of arugula or greens (for those who are so inclined) and hot sauce to round everything out. Life is great when these are in the freezer.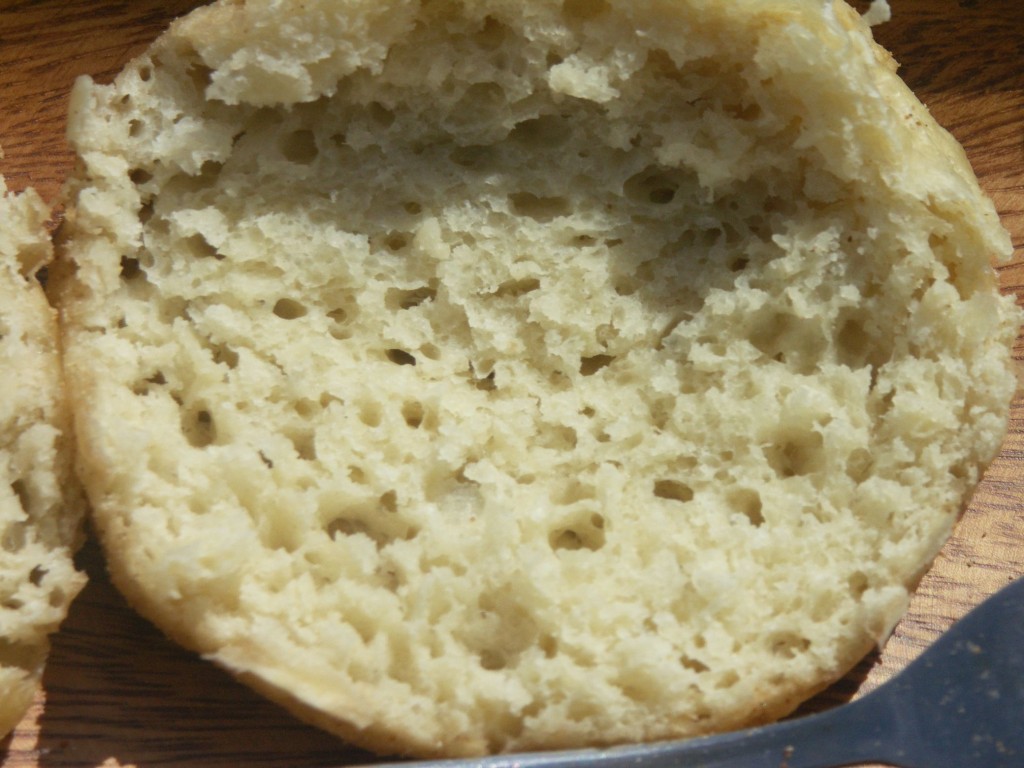 You had to know I was going here. Right? There is no better way to have a Sausage, Egg and Cheese Breakfast sandwich than on a homemade English Muffin. Just look at those nooks and crannies. They're crying out for butter and jam, too! And added to the fact that these are as easy to make as pie -No, easier than pie!- is the fact that they freeze like a dream after being baked and cooled. Ta da!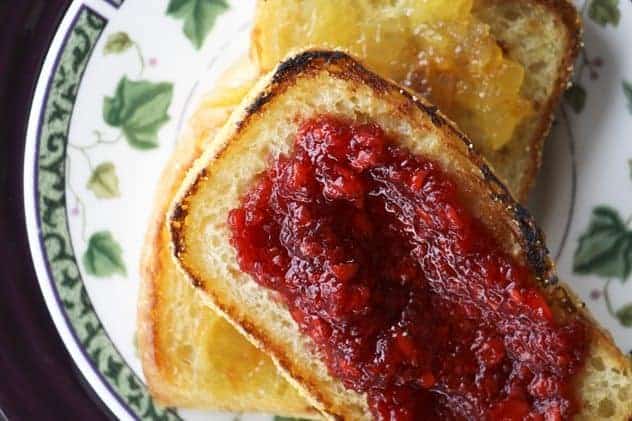 Do those English Muffins still look like a bit too much fuss? I have just the thing for you! English Muffin Bread. And let me tell you, this stuff is habit forming and easy to boot. Each batch makes three large loaves, so eat one, wrap the other two and freeze for those days when you just don't have time to bake. …While we're discussing English Muffin Bread, how about something else that you can whip up to keep in the freezer that uses this bread as a base?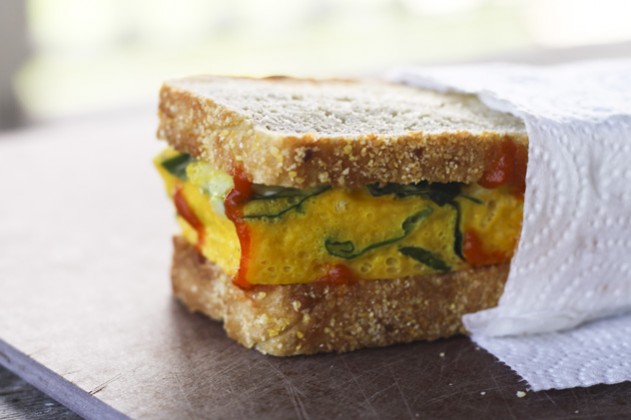 You can never have too many eggy type recipes if you ask me. Eggs are nearly the perfect food. Heavy in protein and all sorts of other goodies, they're just the thing to use to start your day right and keep you full until lunch. I like to make the Spinach and Egg Breakfast Bake, slice, freeze and then reheat to serve on freshly toasted English Muffin Bread. This also makes a great, hearty after school snack. Whichever time of day you serve it, you'll be so happy you did!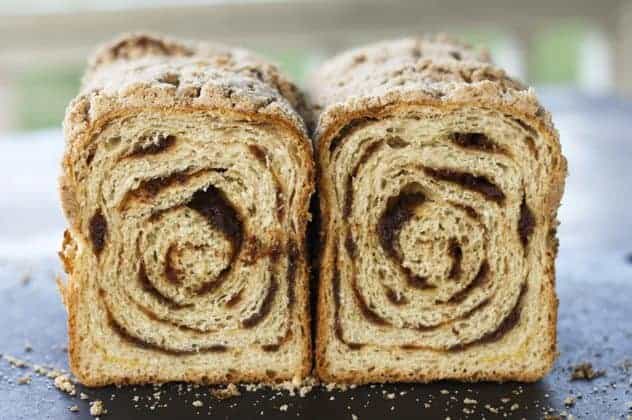 This is one of my best successes in mommy-trickery of all time. See that gorgeous, moist, cinnamon swirl? Don't tell my youngest child, but that's *gasp* ground up raisins. I've had emails from people all over telling me that either they or their kids disliked raisins as a rule, but adored this bread. It's happy food, my friends. And happily, it freezes very well. A loaf or two of this in the freezer can make the difference between an okay day and a great one. And if you -whoopsie- don't eat it all before its prime, it makes the most incredible French toast you can possibly imagine- but better.
…And finally!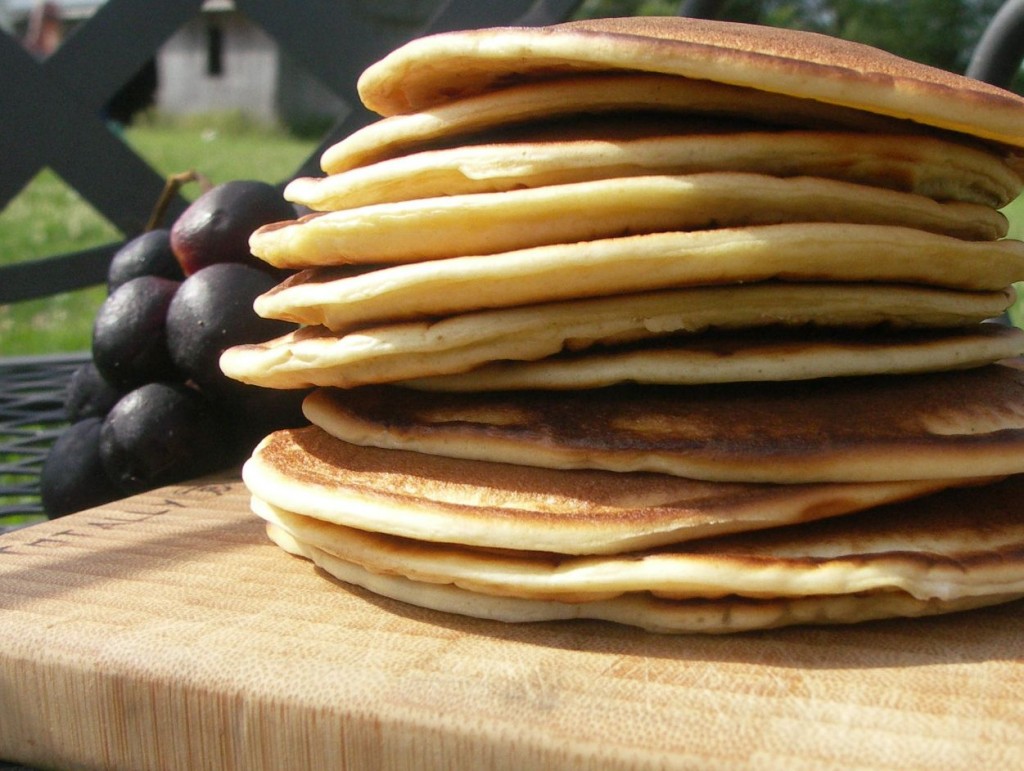 I am willing to bet that most of you -even those who have been with me for a long time- haven't seen this recipe. Why? Because this comes from one of the first recipes I ever posted here on Foodie With Family in 2008. Wowza. So much has changed between then and now, but one thing has not. We still rely on these pancakes because of their flavour, ease of preparation and the convenience of being able to keep a bucket of this batter ready in the refrigerator for up to three days after mixing it. Double bonus: you can griddle fry all of your pancakes, cool them on a rack, store them in a Gladware container or zipper top bag with wax paper between each layer, and freeze them for even greater convenience. In the morning, grab the desired number of flapjacks and microwave them 'til piping hot. And triple bonus! This recipe is so old, I didn't even know about printable recipes, so I present to you, today, a printable version of our Best Buttermilk Pancakes. Hooray! Hoorah! Now go forth, and make breakfast!
Fluffy but thin, tangy, delicate Best Buttermilk Pancakes whip up with ease! The batter stores well in the refrigerator for up to 3 days, but the griddle fried pancakes also freeze well for added convenience.
Ingredients
4

eggs

1/4

lb

1 stick unsalted butter, melted

4

cups

buttermilk

or 1/4 cup cider vinegar or fresh lemon juice added to 3 3/4 cups with milk, stirred and nuked for 45 seconds

4

cups

all-purpose flour

2-4

Tablespoons

sugar

to taste

1

Tablespoon

baking powder

1

teaspoon

baking soda

1

teaspoon

salt
Instructions
Combine all ingredients in your blender and process until smooth. Or you can do as I usually do adding all ingredients to a large pitcher and combining them with my stick blender. It's the cheater's way! The batter needs to be smooth. No one likes pockets of dry flour in a pancake! The consistency of the batter when I make it is about that of ketchup because we like thinner pancakes. If you like a fluffier, loftier pancake, you can add a couple tablespoons of flour to the batter, but make sure it's still pourable!

Heat your griddle or frying pan until water sizzles on it and carefully butter or oil the surface. Pour about 1/4 cup of batter onto the hot pan for each pancake, leaving room for it to expand. You can flip the cake when the bubbles that show up on the top pop and don't fill back in. The second side will cook much faster than the first side, so DO NOT WALK AWAY!

Serve hot! To really ease the morning time crunch, you can also cool these off on a wire rack, stack them separated by waxed paper, and seal in a bag in the freezer for up to a month. To reheat, remove desired number of flapjacks from the freezer to a plate and microwave for about 30 seconds-1 minute, depending on strength of microwave.
Nutritional information is an estimate and provided to you as a courtesy. You should calculate the nutritional information with the actual ingredients used in your recipe using your preferred nutrition calculator.