This post is sponsored by PackIt. I developed the recipe for a Western Baked Omelet in partnership with them, but all opinions, recipes, and photos are my own.
While everyone is starting the inevitable wind-up for back to school time, I'm over here taking a breather and being grateful I don't have to pack any more lunches for a long time yet. It's one of those homeschool fringe benefits. So why was I packing lunches at all? My youngest son just completed a 5 week ballet intensive that was one and a half hours from home.
To and from which we drove an hour and a half every day of those 5 weeks, minus Saturdays and Sundays. He was at the studio from 9 am to 6 pm for the first two weeks, then 9 am to 4:30 for the remaining 3 weeks. This homeschooling mom finally got a glimpse into what most parents have to do most of the year, and I have to say, I'm impressed anyone can keep that up all school year!
Because my son's ballet conservatory insists on nutrition as part of the fitness regimen for their dancers, I had to pack his lunches with an eye toward healthy choices. It makes sense, really, since these kids and their world class teachers are very serious about their art. Sugary foods were out, mega carbs were out, and protein was highly desired. I was happy to oblige.
This meant, though, that I had to develop some excellent packed-lunch skills in very short order. And because I was spending 3 hours a day in the car as a ballet chauffeur, the recipes had to be uncomplicated and quick. My Western Baked Omelet fit the bill all the way around.
Fluffy, soft, studded with melted cheese, delicious sautéed onions, bell peppers, and a wee bit o'jalapeno, these Western Baked Omelets are perfectly good all by themselves, but taste extra special when topped with plain Greek yogurt, avocados, hot sauce, and cilantro.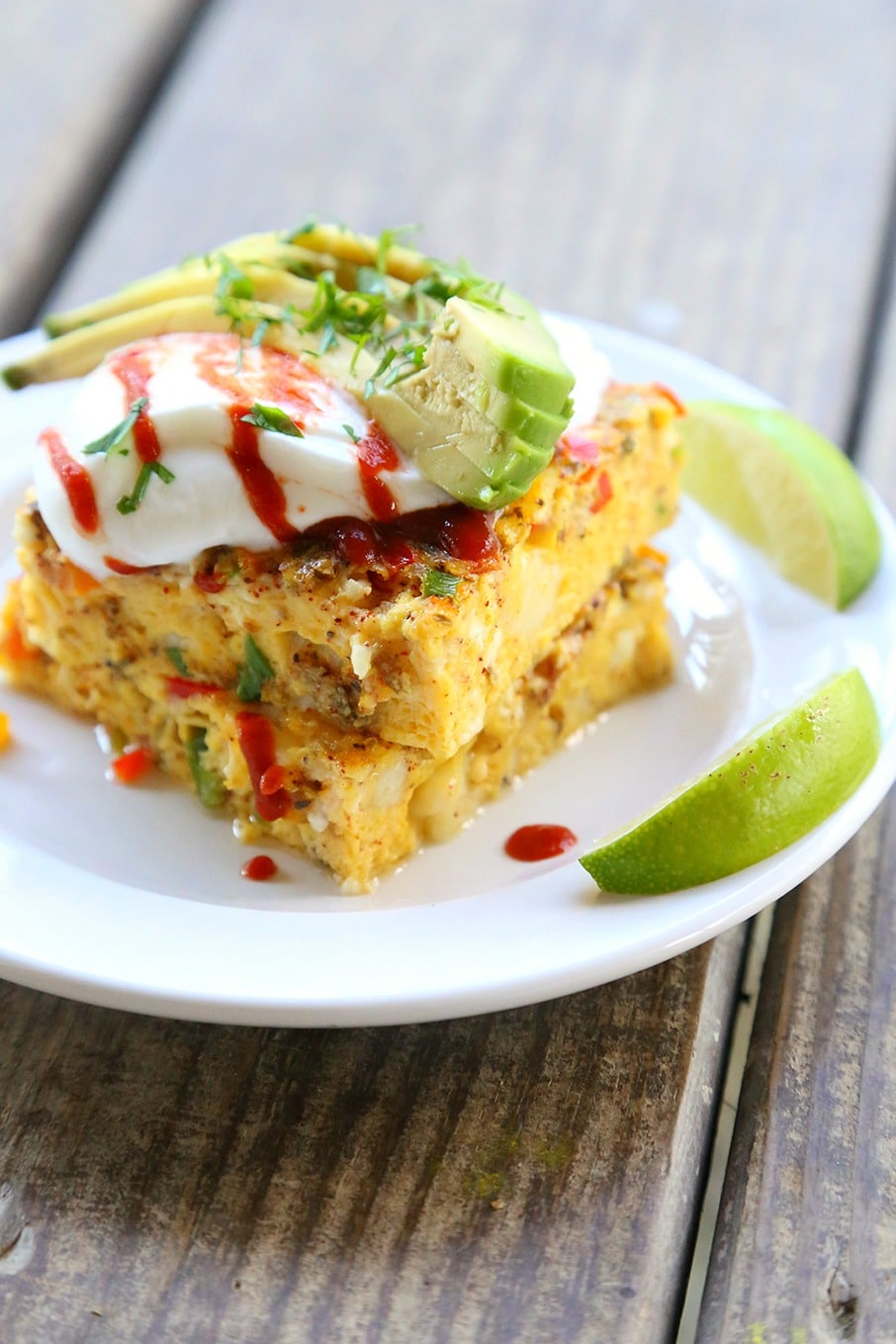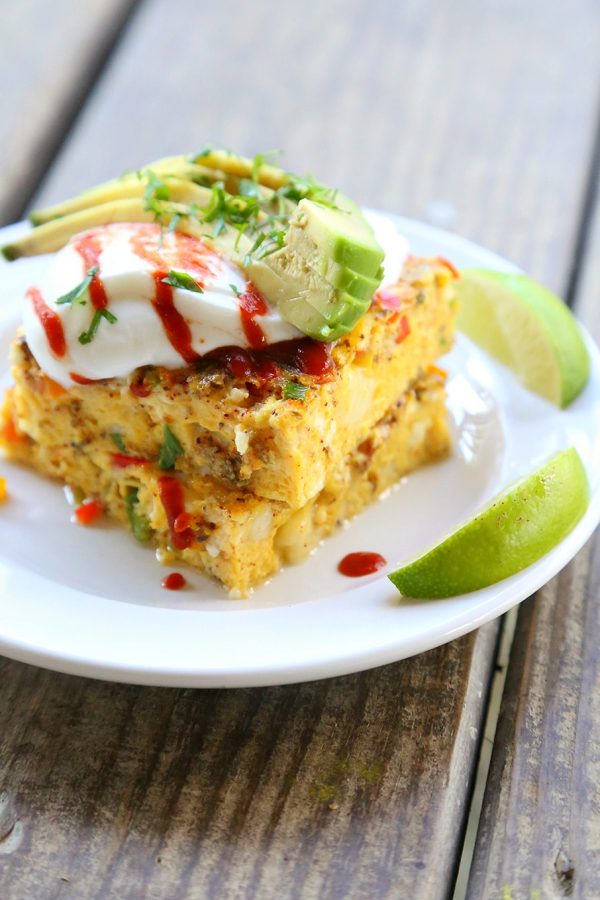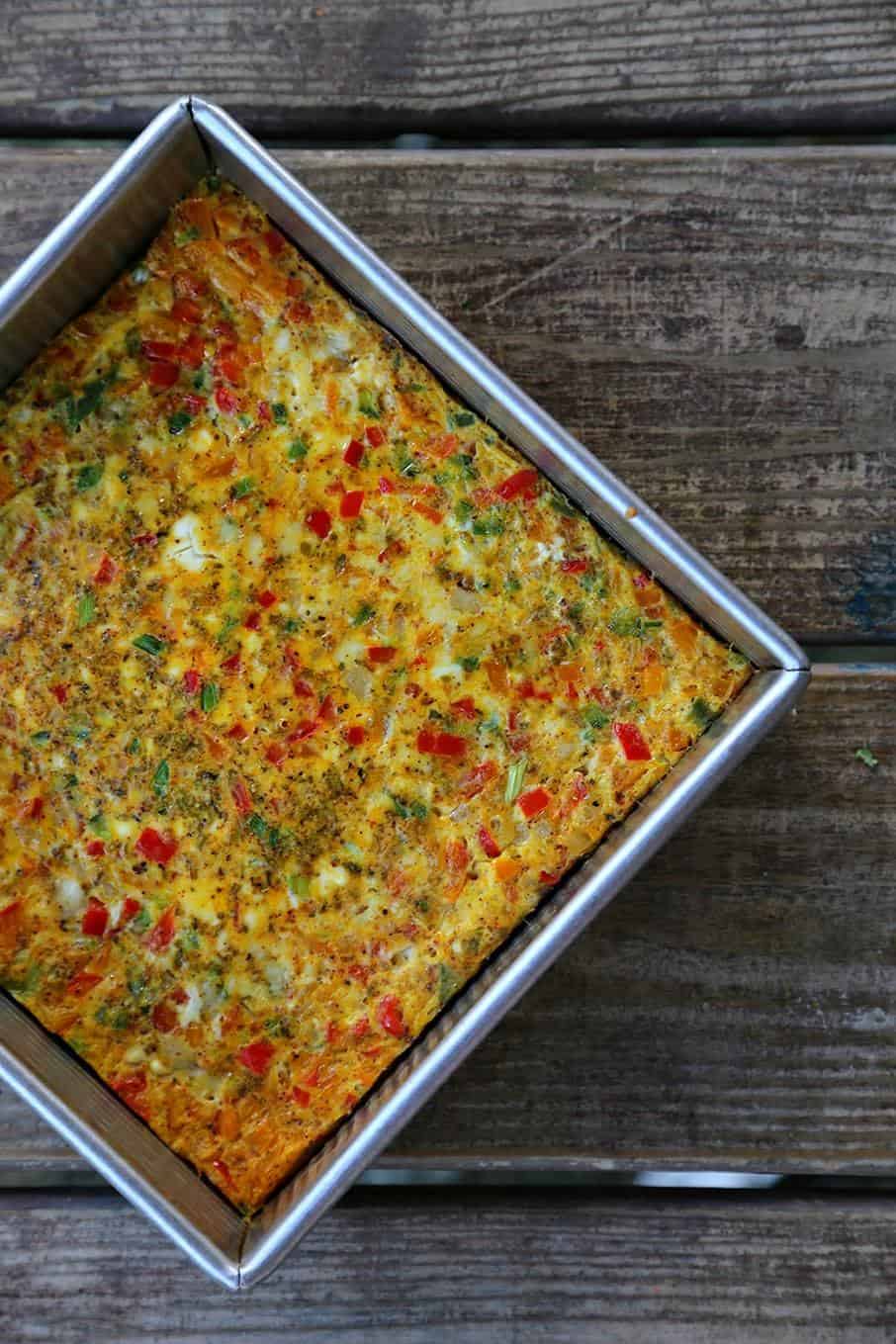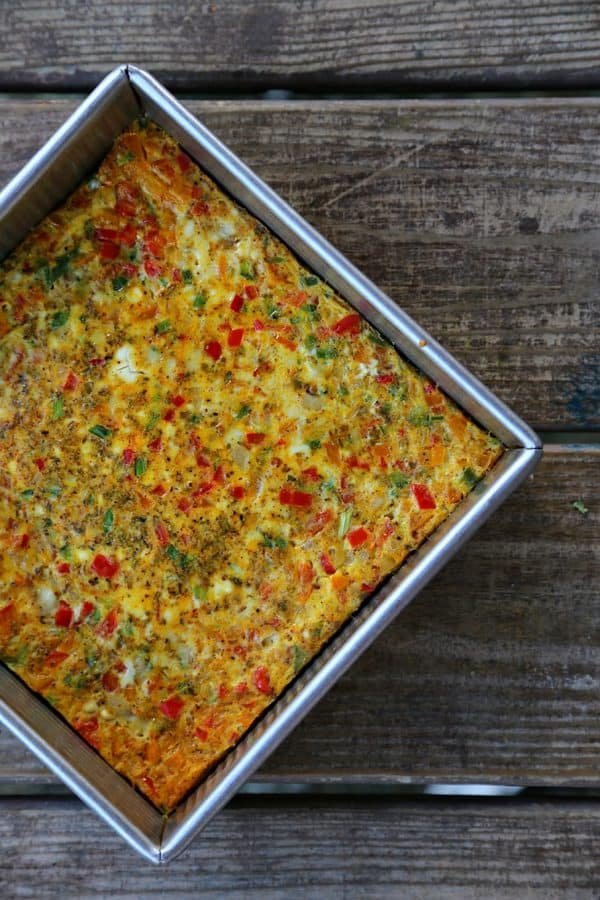 The Greek yogurt in the Western Baked Omelet provides extra protein, but also helps guarantee that fluffy, soft, golden-delicious end product. Many cooks are intimidated away from making traditional omelets, but there's no fear-factor involved Western Baked Omelets.
You simply sweat some chopped onions, bell peppers, and jalapeno, stir into some beaten eggs with some other goodies, and pour into a well-greased cake pan to bake. It's really that simple!
At home, we top this as described above, but when we pack it for lunches, we cut the squares a little smaller, chill them well, and pop them into reusable containers or zipper topped bags.
Here's the thing, though. For the first couple of weeks of the intensive, I was struggling mightily with the whole ice pack in an insulated bag routine.
By the time little man's lunch was packed, driven to Buffalo, and parked in the un-air conditioned boys' dressing room while he took his morning classes, the ice packs had given up the ghost and he had a lunch that was rapidly assuming room temperature. I know enough about food safety to have been a little concerned by that.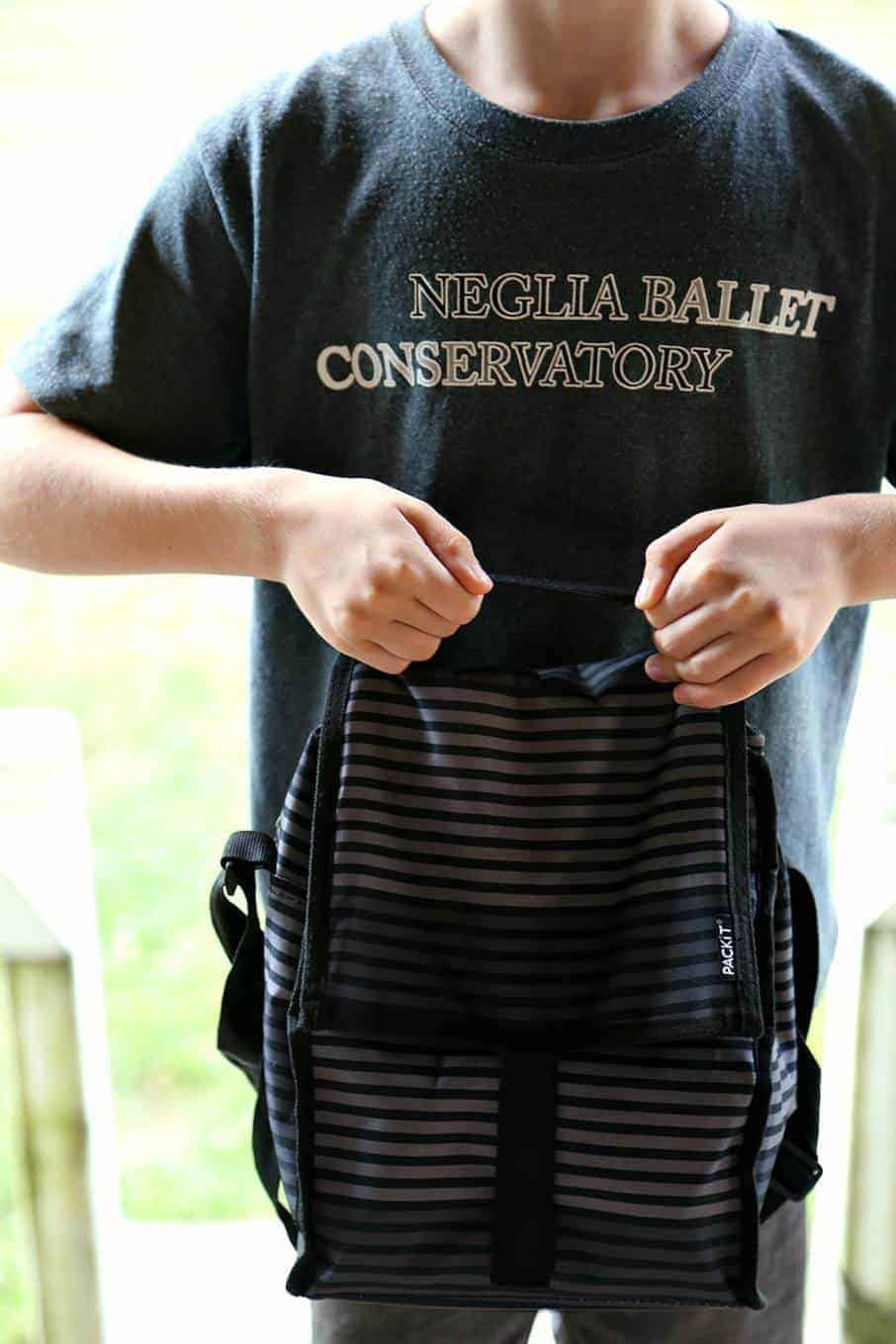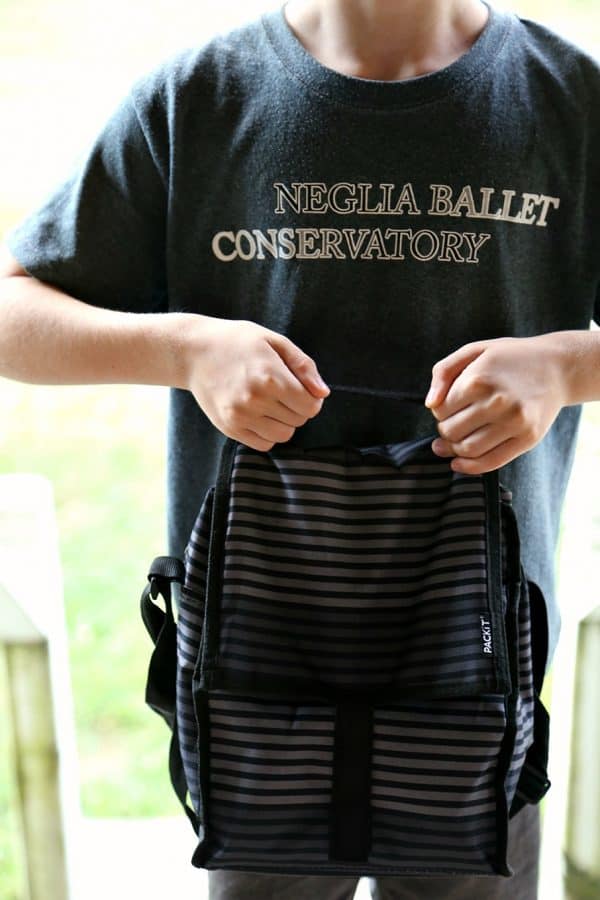 Enter PackIt: stage right. Being a newbie at lunch-packing, I wasn't familiar with PackIt before I entered this partnership with them, but they sure did impress me quickly.
There's a good chance you're more up on this than I am, but in case you live in a cave (NOT LITERALLY, I mean, I know I'm in the middle of nowhere, but I do have a toilet.) like I do, let me enlighten you.
PackIt are freezable lunch bags. You freeze them overnight and they keep the food inside of them chilled all day.
I got a solid 6 hours of chill and at least 1 more hour where things were a-okay from our PackIt and that was fantastic. Even better, they fit everything into them that we needed.
Along with the Western Baked Omelet in the reusable container, we could fit a container or two of Greek yogurt, a full sized kombucha or water bottle filled with infused water, a reusable container each of salad and fruit, a couple little bottles of hot sauce, a cheese stick or two, and an electrolyte drink box. Those PackIt are like Mary Poppin's bag.
They fit everything in and keep it just so. Practically perfect in every way.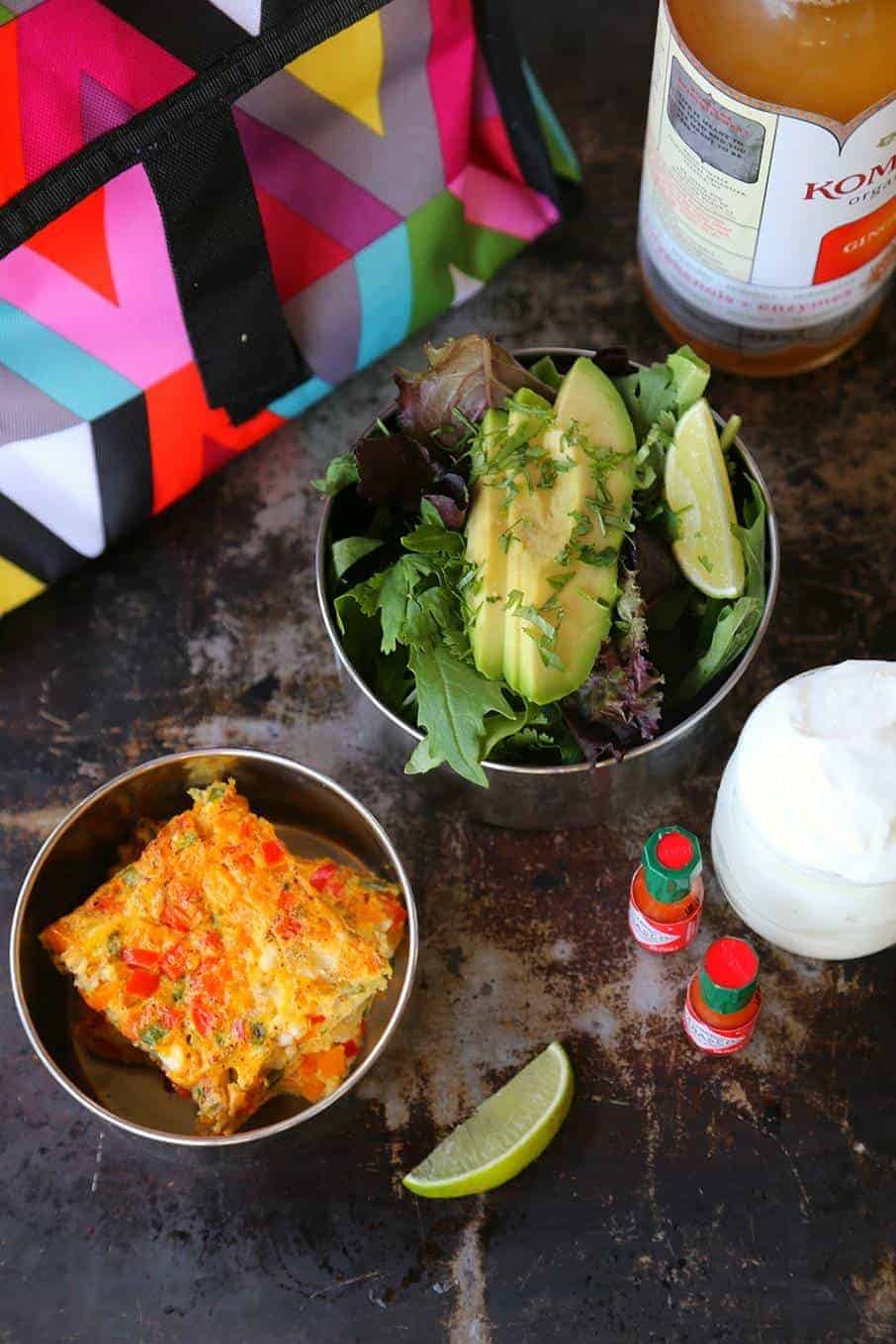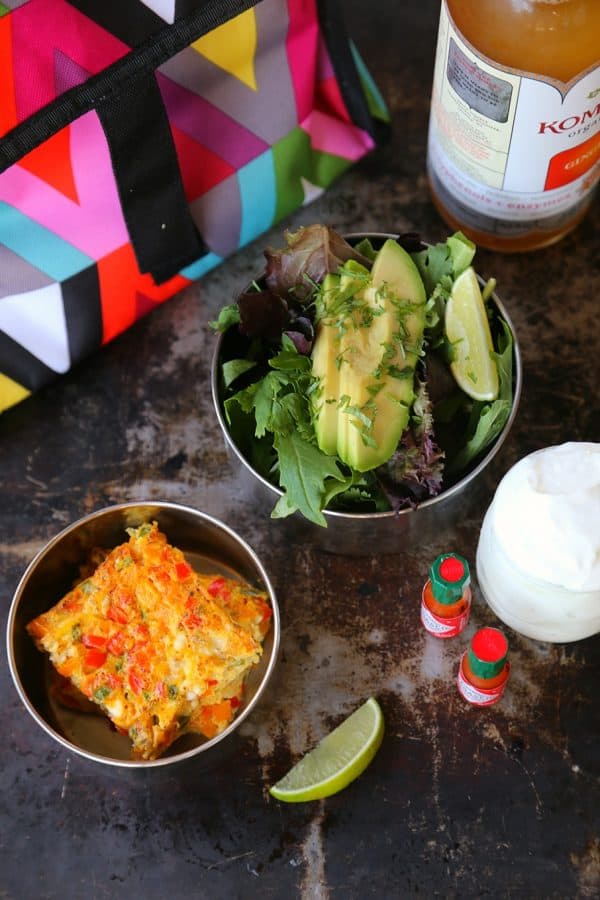 Connect with Foodie with Family
facebook | pinterest | instagram | twitter
Connect with PackIt
facebook | pinterest | instagram | twitter
Western Baked Omelet
I use nonfat Greek yogurt for our Western Baked Omelet because that's what I usually find at our grocery store. If you'd like to use whole milk Greek yogurt, more power to you!
I love the contrast of colour that red bell pepper gives our Western Baked Omelet, but it is equally delicious with yellow, orange, and green bell peppers.
The addition of the yogurt makes this Western Baked Omelet a little more forgiving as far as baking times go, but as with all egg dishes, is best if it isn't overbaked. Just bake until the center is set. There will be carry-over heat that continues cooking the omelet after it's removed from the oven.
On that note, do not cut the omelet until it has cooled completely.
What can I serve with a Western Baked Omelet?
I love the baked omelets with Cheeseburger Salad, Corn and Black Bean Salsa, Fattoush Crumbled Pita Chip Salad,Slow Cooker Black Bean Corn Dip, Mexican Chicken Soup, Taco Soup, Sausage and Red Pepper Soup with Egg Noodles, and Slow Cooker Broccoli Cheddar Soup. I also served it with green goddess guacamole, smoky roasted salsa, and 5 Minute Restaurant Style Chipotle Salsa.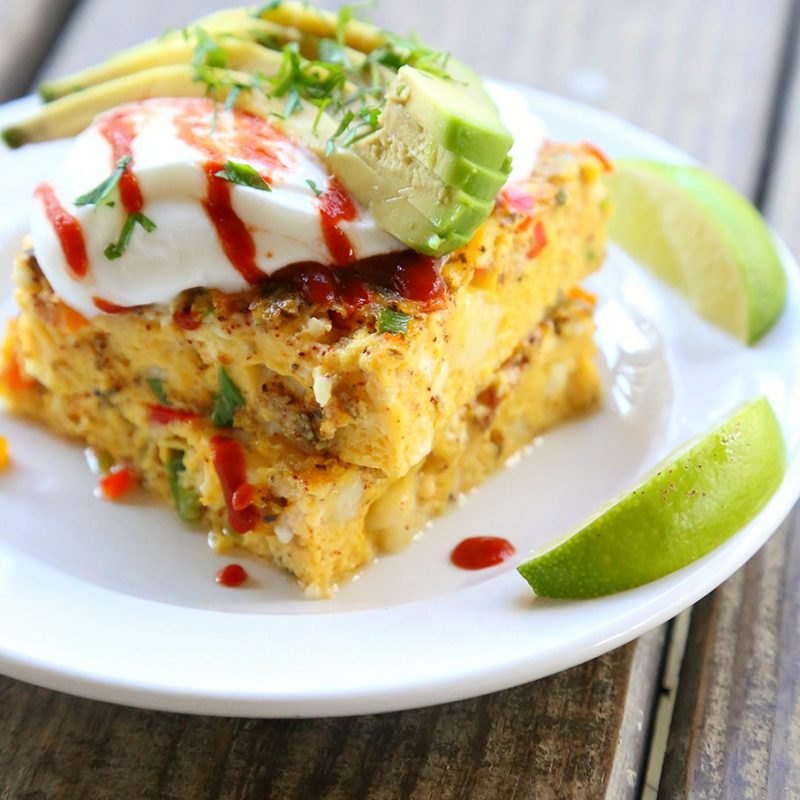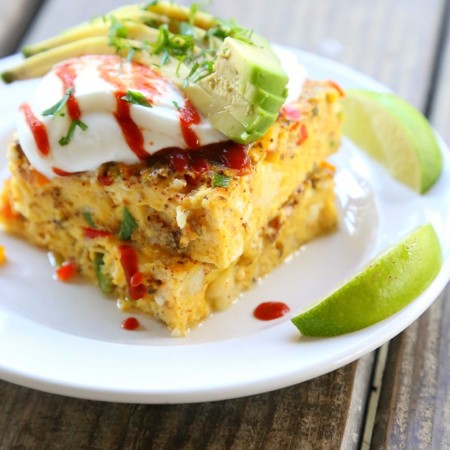 Ingredients
nonstick cooking spray

3

green onions

green parts only, thinly sliced

1

tablespoon

butter

1/4

cup

chopped yellow onion

1/2

teaspoon

kosher salt

1/2

cup

chopped bell pepper

any colour

1

jalapeno pepper

stem and seeds removed and diced

5

large or extra large eggs

1/4

cup

plain Greek yogurt

2

tablespoons

milk

1

teaspoon

dried oregano

3/4

teaspoon

chili powder

4

ounces

crumbled feta

diced Cheddar cheese, or a combination of the two
Optional, but tasty toppings:
Plain Greek yogurt or sour cream

sliced or diced fresh avocado

fresh cilantro leaves

lime wedges
Instructions
Preheat oven to 350F. Spray an 8-inch by 8-inch cake pan generously with non-stick cooking spray. Scatter the sliced green onions over the bottom of the pan and set aside.

Melt the butter in a skillet over medium low heat. Add the onions and kosher salt, stir or toss to coat. Sweat the onions over the medium low heat, stirring frequently, until they are fragrant and transparent at the edges . Add in the bell pepper and toss again to coat. Sweat the bell pepper for 2 minutes. Stir in the jalapenos and cook for 30 seconds. Scrape the sweated vegetables on top of the sliced green onions.

In a separate bowl, whisk together the eggs, Greek yogurt, milk, oregano, and chili powder until even in colour and no pockets of yogurt remain. Stir in the crumbled feta and/or diced Cheddar cheese. Pour over the vegetables. Stir very slightly just to distribute. Bake for 15 to 18 minutes, or until the edges are puffy, the top is lightly golden, and the omelet is set in the center. Remove the pan from the oven and let rest for at least 5 minutes before slicing into 4 large squares or 9 smaller ones. Serve hot or room temperature with optional toppings as desired, or wrap tightly with plastic wrap to pack for lunches.
Nutritional information is an estimate and provided to you as a courtesy. You should calculate the nutritional information with the actual ingredients used in your recipe using your preferred nutrition calculator.

This post was originally published in August 2016, updated and republished in August 2018.