Yesterday, I mentioned that we'd been experiencing some of life's less pleasant moments. One of those less pleasant moments was a biggie, folks. As in a life changing biggie…
*Fair warning:  I am about to use the following words; breast, cancer, breasts, self-exam and self-check. If any of those words bother you, tune out until I get to the recipe. On second thought, if they bother you, you probably haven't given enough thought to this subject and should especially stick around. This is important!
Three weeks ago, Val discovered a lump in her breast.*  She called the doctor and made an appointment.*  At the appointment, the doctors indicated the need for concern and scheduled a biopsy. The biopsy confirmed cancer. And within 10 days of finding the lump in her breast, Val was at a hospital having it surgically removed.
*Soapbox Moment and Biographical Interlude:  Yes, ladies, it is vitally important that you do a self-check every month! This proves it. If you don't know how to perform a self-exam on your breasts, visit here, here or here among other places. And it is also important to share that neither Val nor I likes going to the doctor. "And WHAT does THAT have to do with the price of tea in China?" You may ask? We both have a certain amount of fear and/or trepidation involved in visiting doctors. (Says the woman who has given birth to five children in ten years…) But despite our shared aversion to medical facilities and the procedures performed therein, Val still performed her monthly check and promptly scheduled a doctor's appointment when she found something amiss. And because of her vigilance, they caught her tumor early and the prognosis is very, very positive. For this, all of those of us who love Val are eternally grateful. In other words. If you love someone, or have someone who loves you, please do everyone a favor and perform a self-breast exam on a monthly basis.
Here's a special message to my male readers, because I know you're out there! Please encourage the women you love to do self-exams. If you don't know how to do it or are too embarassed to use the words to explain why it's crucial, simply forward the link to this recipe to them.
Val has, in her typical fashion, kept the rest of us laughing instead of quietly chewing away the insides of our cheeks while waiting for test results and post-surgical updates. And (if you can even say it's possible to have fun with cancer) Val has figured out a way to have fun with it. From turning down social events that she didn't even want to attend with the statement, "I'm sorry. I can't. I have cancer," to laughing off a potential mastectomy by saying, "Hey! I told 'em to take them both off! I'll be able to wear a button-down shirt!" Val has kept us all in stitches while she gets real stitches.
To honor Val and her breast cancer journey, I am starting "Think Pink Thursdays". This is my bloggy equivalent to wearing a pink ribbon all the time since the only people who would normally see me wearing a pink ribbon are my offspring and The Evil Genius husband. (And what kind of statement is a pink ribbon if no one sees you wearing it? It's the the sound of one hand clapping near a tree falling in a forest. Er. You know what I mean.)
Think Pink Thursdays are going to be dedicated pink food and doing my part, however little it is, in trying to raise awareness of how important early detection is in breast cancer. I'd love to see any pink foods you all come up with and will publish your photos and links here if you want to send a shout-out to Val!
…Before I get to the recipe, I have one final thing to say about this, and it's from Val. She says, "If anyone asks why I have't posted in so long, just tell them I couldn't. I was too busy with my cancer!"
Think Pink!
~~~~~~~~~~~
Now. To the food. Or drink, as the case may be… This Watermelon Mojito Slushy is the perfect way to kick off our Think Pink Thursdays. What's pinker than watermelon? Nothing, I tell you! And the classic lime and mint mojito flavors pair beautifully with the sweet watermelon. It is not even possible for me to find words to describe how refreshing and light this drink is. Really. Just look at it!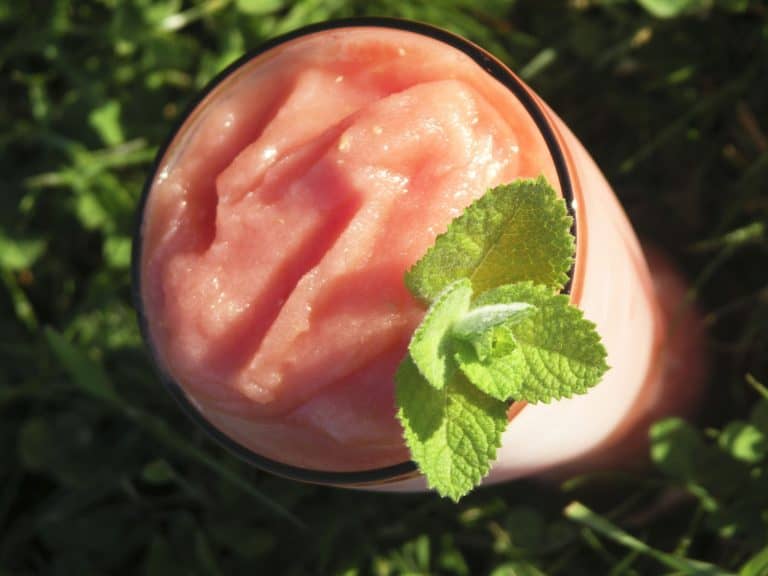 Since the recipe relies on frozen watermelon cubes let's begin with preparing your watermelon. Buy any size seedless watermelon you want. Could you use regular seedy watermelon? Sure, if you're interested in seeding an entire watermelon, but I'm too lazy to sit there and pick out all those seeds. So, for argument's sake, let's just say you need a seedless watermelon. Using a big knife, cut it in half so that it will stand securely on your cutting board. Lay it, flat side down, and slice into quarters or eighths (depending on the size of your melon.)  Use a paring knife (or even a butterknife at this point) to remove the pink part of the watermelon from the rind. Discard the rind in any way you see fit. (Our chickens lovey love love watermelon rinds.) Slice the watermelon into cubes that are roughly two to three inches across. Lay the watermelon cubes on a baking sheet lined with waxed paper and put into the freezer for several hours or until firm and frozen throughout.
If you've never frozen a watermelon, you're missing out in a very big way. Even if you don't plan on making these mojitos, at least try freezing the watermelon cubes. Since they don't water drinks down as they thaw, you'll probably find yourself tossing the frozen watermelon cubes into everything from iced tea to seltzer to soda to mixed drinks and cocktails. You just might wonder how you got along without frozen watermelon cubes for all those years.
For us, this drink is absolutely positively perfect when made using our Jalapeno Mojito Simple Syrup. If you don't have any on hand, you can substitute plain simple syrup that is muddled with a few mint leaves. Our version gives a very subtle minty flavor to the finished drink. If you want more powerful mint punch, muddle a few mint leaves with the rum before adding it to the blender.
Think Pink Watermelon Mojito Slushies
Ingredients:
approximately 4 cups frozen seedless watermelon cubes (enough frozen watermelon to fill blender carafe to "MAX" line )
1/2 cup lime juice
1/3 cup Jalapeno Mojito Simple Syrup (or other simple syrup muddled with mint leaves)
1 cup golden rum
seltzer water, if needed, to thin the drink
Add all ingredients to your blender, make sure your lid is firmly in place and blend on 'HIGH' until smooth. Pour into chilled glasses and serve immediately. Yields between 1-4 drinks, depending on how bad your day was. Or whether you have cancer.