It's a not so tightly held secret that I adore ice cream. In fact, I eat it almost every day of the week. Two of the last five years I've given ice cream up for Lent and I do believe my children would tell you they hope I never make that sacrifice again. I'm going to throw a few ice cream or ice creamy posts your way in the next few weeks.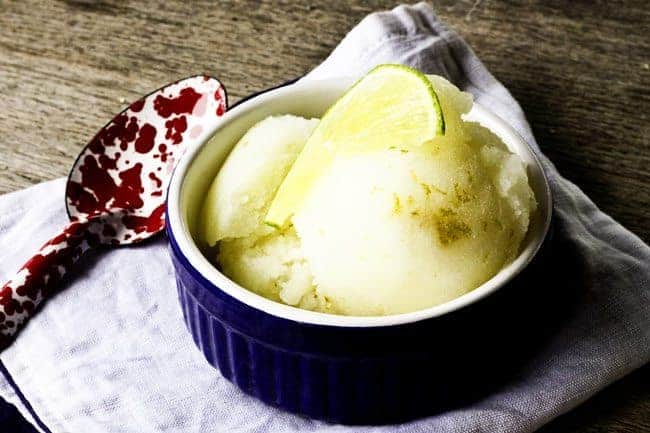 Ice cream will always be my true love. Well, my husband first and then ice cream. Okay. God, my husband, and then ice cream. DANGIT. God, my husband, my kids, my family and then ice cream. But everyone other than God is on notice that ice cream is hot on their heels.
I put sorbet in the ice cream camp. I know there are some that would argue against that, but frankly, if it's frozen and I can dig it up with a spoon and shovel it into my mouth, it's ice cream and it makes me happy. I also put sherbet in this category. Italian ice? Nope. That's more granita-y or slushy. I realize this sounds crazy, but everyone has a fine line in their brain and my line of demarcation falls squarely between smooth plus spoony and grainy plus icy.
And HEY! Today is officially the first day of summer! Is there any better way to celebrate being hot and sticky than by cooling off with the ultimate summer chiller? That's right, I'm sharing my favourite Lime Sorbet with you today. It's just four ingredients: lime juice, lime zest, sugar, and water. You can hardly go wrong there, right? It's light, sweet, refreshing, puckery, tangy, citrusy, limey, and oh-so-smooth. A bowl full of this will set you to rights on the hottest day.
In fact, I was eating a bowl of this and sipping a beer on a hot day last week when I had an idea…
Add Lime Sorbet to Lager or Pilsner Beer for a Summer Shandy Float!
I poured my super chilled Eurotrash Pilz from The Southern Tier Brewing Company into a tall beer glass and used my spoon to ootch the remaining lime sorbet into my glass. I called to The Evil Genius, "Hey honey! I think I have a great idea. I just made a beer float with my lime sorbet and my beer!" He sidled into the room wearing a decidedly unenthusiastic stank face. I stirred the sorbet around a bit, grabbed a stainless steel spoon straw
(because everyone has those, right? That's an affiliate link, by the way), and took a slurp. I was right, it was awesome. It was like a shandy!*
*A shandy is a mixture of beer and lemonade or lemon lime soda and it's pretty darned yummy. Scientifically speaking.
I handed the glass to my husband -still wearing his grossed out expression- and said, "Sip it!" He said, "You know I don't like beer mixed with stuff. I like beer that tastes like beer!" I persisted, "Try it! This could be your Green Eggs and Ham moment!" He loves me, so he sipped. The stank face was replaced with a look of wonderment. "This is GOOD!" sip sip sip "I'm shocked!" sip sip sip "This could be a problem, I could pound this." sip sip sip. Then I wrestled the cup away from him so I could finish it.
My question is this; would you try a Summer Shandy Beer Float if I stuffed one into your mitts and said, "Sip!"? Do you think I'm nuts? Or is this so crazy that it. just. might. work? Whether or not you'd have it in a beer, are you into Lime Sherbet and/or ice cream?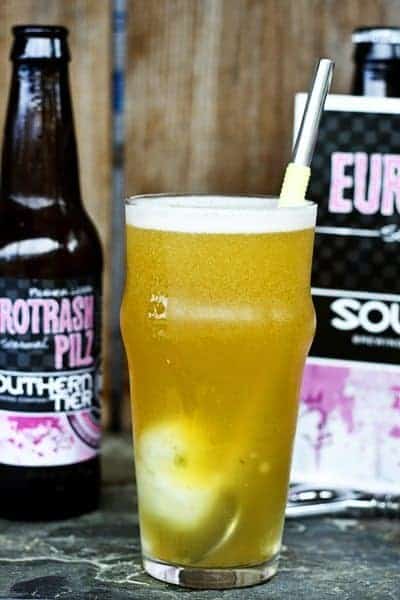 Summer Shandy Beer Float Notes:
Despite the word 'float' being in the name, the sorbet doesn't float. It bobs around a little bit then comes to a rest on the bottom of the glass. That's why those spoon straws are such a brilliant thing. You can jab at the slacking sorbet ball to help get a little bit with each slurp. Or, you can scoop up a bit of the sorbet on the spoon and gobble it up. It's your float, er, you know… Do you what you like!
I love my local brew, but if you can't find Eurotrash Pilz, don't despair! Use any  light-bodied (not light beer, just light bodied) beer that holds up well to chilling for the float. Some great options include: Sam Adams Boston Lager, Landshark Lager, or pretty much any pilsner, lager, or wheat style beer you like served cold!
P.S. If you're looking for a sweet ice cream maker that can take a beating and turn out the most fabulous homemade ice creams, frozen yogurts, sorbets, sherbets and whatnot, look no further than the one I use here in my own kitchen! (Affiliate link below. See disclosure at the bottom of the post for an explanation.)

There is also a smaller version that is about half the price that I have used and can also recommend!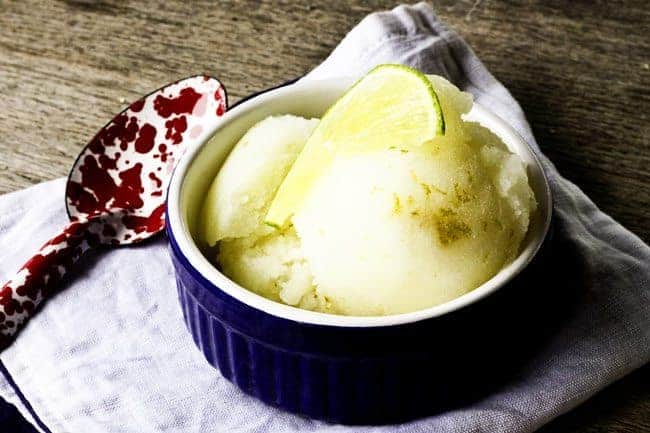 Pure Sweet and Puckery Lime Sorbet and Summer Shandy Beer Floats
Rate Recipe
This recipe yields a light, sweet, refreshing, puckery, tangy, citrusy, limey, and oh-so-smooth Lime Sorbet. A bowl full of this will set you to rights on the hottest day. If you're feeling adventurous or especially hot, try whipping up a Summer Shandy Beer Float with it! Recipes and instructions for the float are included!
Ingredients
For the Pure Sweet and Puckery Lime Sorbet:
2

cups

freshly squeezed lime juice

2

cups

granulated sugar

2

cups

water

1

tablespoon

lime zest

taken from the limes before you juiced them for the sake of ease!
For each Summer Shandy Beer Float:
1/3

to 1/2 cup scoop frozen lime sorbet

1

well-chilled light-bodied beer

lagers, pilsners, and wheat beers are good choices.
Instructions
Add the water and sugar to a heavy-bottomed saucepan over medium high heat and stir until the sugar is fully dissolved. The mixture does not need to boil, but should have steam rising from the top and be totally clear. Remove the pan from the heat and stir in the lime juice and zest. Pour into a heat-proof container, cover tightly with plastic wrap and store in the refrigerator until it is chilled completely.

When it is completely cold, freeze it in an ice cream maker according to manufacturer's recommendations. *See notes! When the sorbet has finished freezing, transfer it to a sturdy container with an airtight lid and put in the freezer until it has hardened, usually about 2 hours.
To Make the Summer Shandy Beer Float:
Pour a beer down the inside of a tall beer glass (to minimize the foam, or head, at the top of the beer.) Ease the scoop of sorbet into the glass of beer. Give a stir with a long spoon or long spoon straw. Let stand for 3 minutes before serving.
Notes
*This recipe was tested using a 2 quart ice cream maker. If you have a 1 1/2 quart or smaller maker, please make a half-batch of the sorbet to make sure it doesn't overwhelm your machine. The procedure remains the same, but the measurements would be 1 cup each of lime juice, water, and sugar, 1 1/2 teaspoons of lime zest.
Nutritional information is an estimate and provided to you as a courtesy. You should calculate the nutritional information with the actual ingredients used in your recipe using your preferred nutrition calculator.
DISCLOSURE: This post is NOT sponsored by Amazon or The Southern Tier Brewing Company.There is an Amazon.com affiliate link for the spoon straws and an ice cream maker in the post. These are kitchen items I paid for out of my own money and I'm recommending them because I like them so much. If you choose to purchase any of those items  after clicking through those links, I receive a small commission from Amazon.com which in no way effects the price of the item. Thank you!