Love this Slow-Cooker Korean Style Barbecue Pork? Check out our other fabulous Korean Food Recipes!
Meat. It's what my kids want to hear when they ask "What's for dinner?" Any time the work "pork" appears in the answer, the cheers are even louder. For instance, when I said I was making Slow-Cooker Korean Style Barbecue Pork, the kitchen erupted in cheers, and they weren't me cheering for myself. They adore pork because it's such a great vehicle for any number of their favourite flavour profiles, including Korean. YES. They know what flavour profiles are. They are Food Blogger Kids.
Food Blogger Kids are an interesting breed. All of mine are pretty adventurous, even the ones I deem picky. They're quick and enthusiastic to try something even if -in their words- the texture makes them feel wiggly and they won't touch it for love nor money later. For several years, my kiddos' favourite cuisine has been anything Korean or Korean Inspired. In other words, anything with garlic, ginger, gochujang (we've discussed it before here and here), soy sauce, sesame oil, pear juice, and rice is in their wheelhouse. And God love 'em, Korean recipes tend to unapologetically feature meat. This is quite possibly one of the reasons my kids love it so dearly. Thus, Slow-Cooker Korean Style Barbecue Pork garnered the cheers that rocked the house.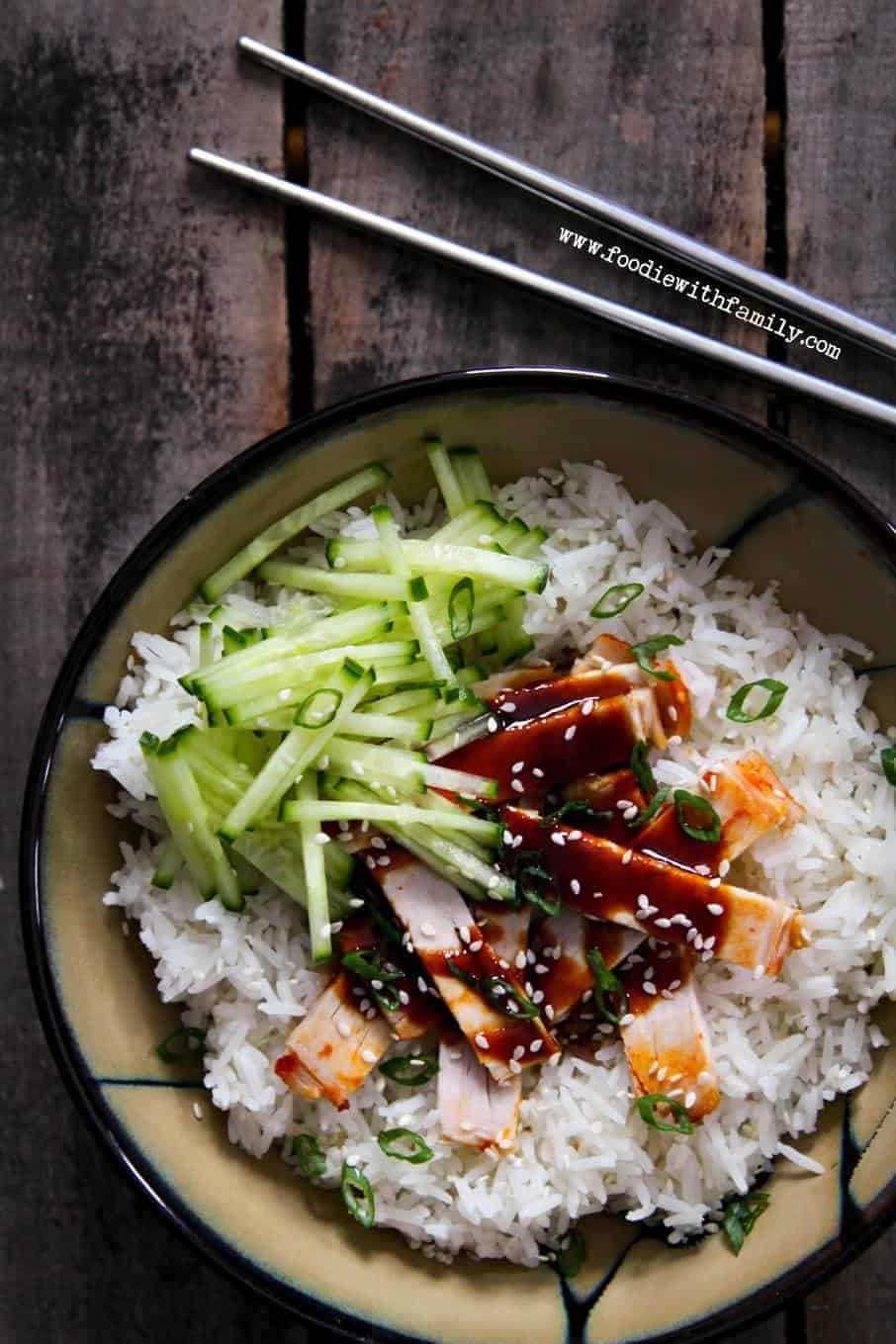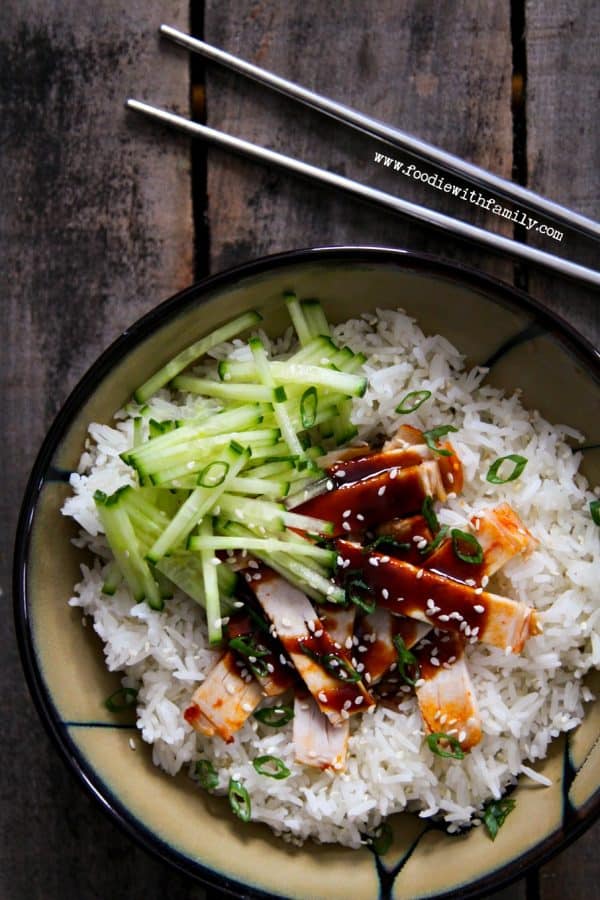 Slow-Cooker Korean Style Barbecue Pork is incredibly simple, but requires a little forethought. Part of the depth of the mellow garlic that permeates the dish comes from sticking a sharp knife into the boneless pork loin roast at intervals then shoving peeled, halved garlic cloves into those holes. After that, it's smeared generously with a fragrant paste of brown sugar, gochujang (Korean chili paste), ginger, soy sauce, soju (Korean rice liquor), and toasted sesame oil. It soaks in all that great amazingness (technical cooking term) overnight and THEN is popped into the slow cooker for a couple of hours. After the cooking time, it rests while you reduce the pan juices until they reach a mahogany coloured DANG THAT'S GOOD consistency. The roast is then thinly sliced to serve on rice, in lettuce wraps, in ramen, or on sandwiches with a drizzle of that gorgeous sauce over top.
Cook's Notes
While I normally go for a bone-in cut of pork when it comes to the slow-cooker, I prefer boneless, center cut pork loin for this recipe. It's an economical cut with little to no waste and it makes for easier thin slicing because of the absence of bone in the cut.
That said, the sauce ingredients used here can also be used on other cuts of pork with the same taste but different textural results.
Gochujang is pretty key to getting an authentic Korean flavour, but if you can't find it and don't want to order it from Amazon, you can sub in an equal amount of chili garlic sauce for a similar heat level in the finished Slow-Cooker Korean Style Barbecue Pork.
The pork roast is done cooking in the slow-cooker when it reaches an internal temperature of 145°F. If you transfer the pork roast to a carving board and lightly tent it, this will give the carry-over cooking time to finish the roast while you strain and reduce the pan juices.
When you have strained your pan juices and brought it to a boil, you're looking for a visual cue to indicate it's done. It should be dark mahogany in colour, reduced by more than half, be thick and syrupy. Remember that as it cools, it will thicken again slightly, so take that into account when deciding when you'll take it off the heat. When cooled to room temperature, it should be runny honey or thin barbecue sauce consistency.
Slice the finished pork very thinly against the grain. When we serve it on sandwiches, this is where we stop. When we serve it on rice or on lettuce wraps, we slice those thin pieces of pork crosswise into strips.
Store leftover pork tightly wrapped in the refrigerator for up to 3 days or in the freezer for up to 3 months.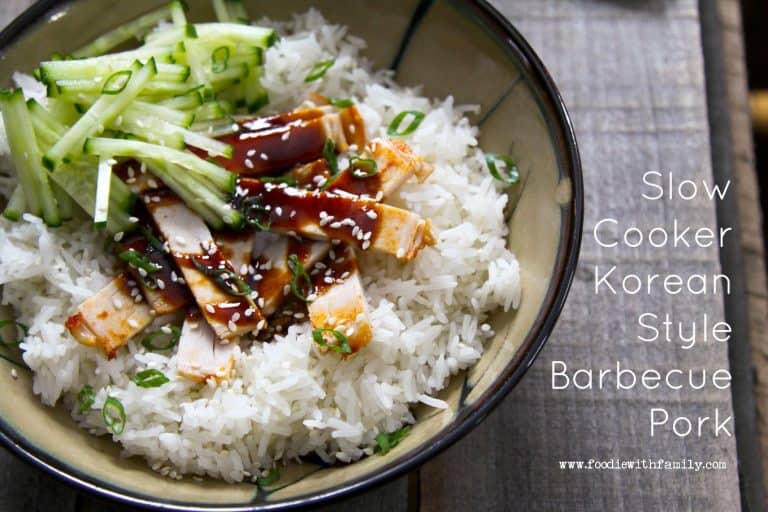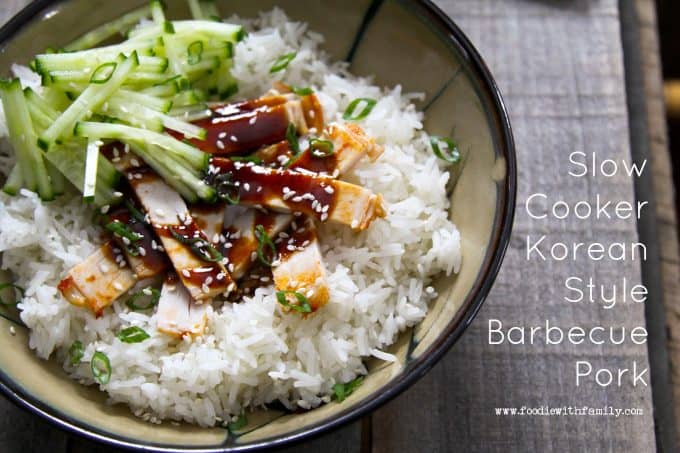 Connect with Foodie with Family
facebook | pinterest | instagram
Love this Slow-Cooker Korean Style Barbecue Pork? Try these other Korean recipes!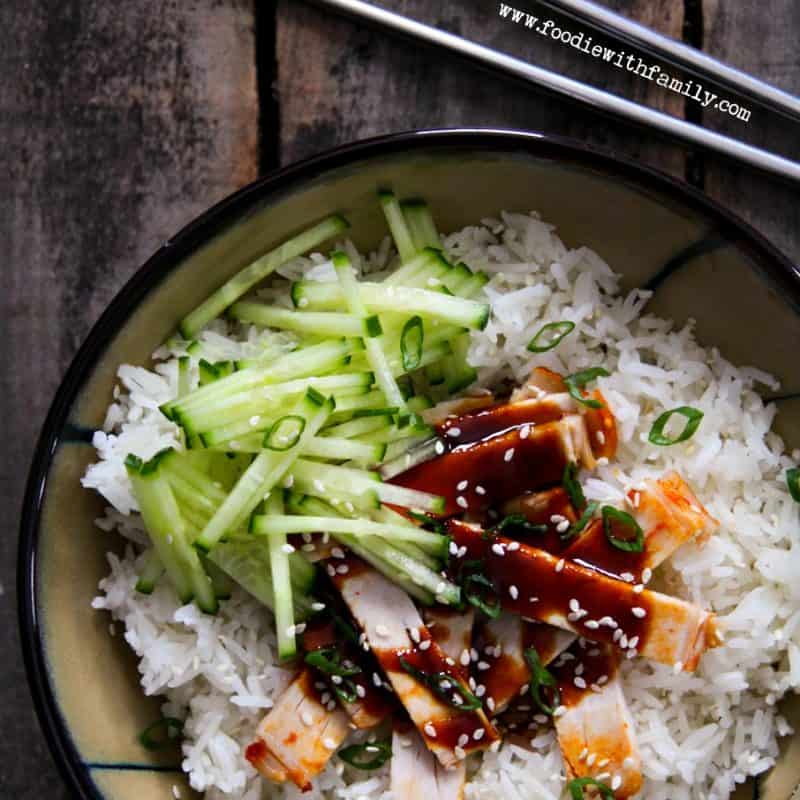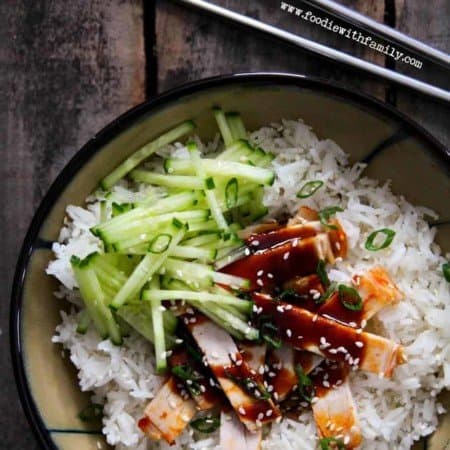 With garlic, ginger, gochujang, soy sauce, sesame oil, and pear juice, this Korean dish is sure to liven up your family dinner. Thinly slice the marinated roast to serve on rice, in lettuce wraps, in ramen, or on sandwiches with a drizzle of that gorgeous sauce over top
Ingredients
1

boneless center cut pork loin

4 pound, trimmed of excess fat

12

garlic cloves

peeled, and sliced in half or quarters lengthwise

1

inch

piece of fresh ginger, scraped to remove the peel, lightly smashed

1/2

cup

gochujang or chili garlic sauce

Korean chili paste

1/2

cup

brown sugar

1/3

cup

pear or unsweetened apple juice

2

tablespoons

toasted sesame oil

2

tablespoons

soy sauce

2

tablespoons

soju

Korean rice liquor, sake, or dry white wine
Instructions
Mix the gochujang, brown sugar, juice, toasted sesame oil, soy sauce, and soju (or sake or wine) in a bowl until smooth. Set aside.

Pierce the pork loin roast at intervals and push one piece of garlic into each little hole. Place the roast in the removable crock of a slow cooker. Smear the gochujang mixture generously over the pork loin roast on all sides. Add the ginger. Cover the slow cooker crock and refrigerate 8 hours or overnight.

Take the slow cooker crock from the refrigerator and let sit at room temperature for 10 minutes before putting into the slow cooker and turning on the heat. Cook on LOW for 8 hours or HIGH for 4 hours, or until the internal temperature of the roast at the thickest point reaches 145°F. Transfer to a cutting board and lightly tent with foil. Strain the cooking juices into a saucepan and bring to a boil. Boil the sauce until it is reduced by about half and thickened. Serve the sauce with the sliced pork on rice, lettuce wraps, or sandwich rolls.
Nutrition
Calories:
384
kcal
Carbohydrates:
16
g
Protein:
50
g
Fat:
11
g
Saturated Fat:
3
g
Cholesterol:
138
mg
Sodium:
315
mg
Potassium:
908
mg
Sugar:
11
g
Vitamin A:
25
IU
Vitamin C:
3.3
mg
Calcium:
29
mg
Iron:
1.5
mg
Nutritional information is an estimate and provided to you as a courtesy. You should calculate the nutritional information with the actual ingredients used in your recipe using your preferred nutrition calculator.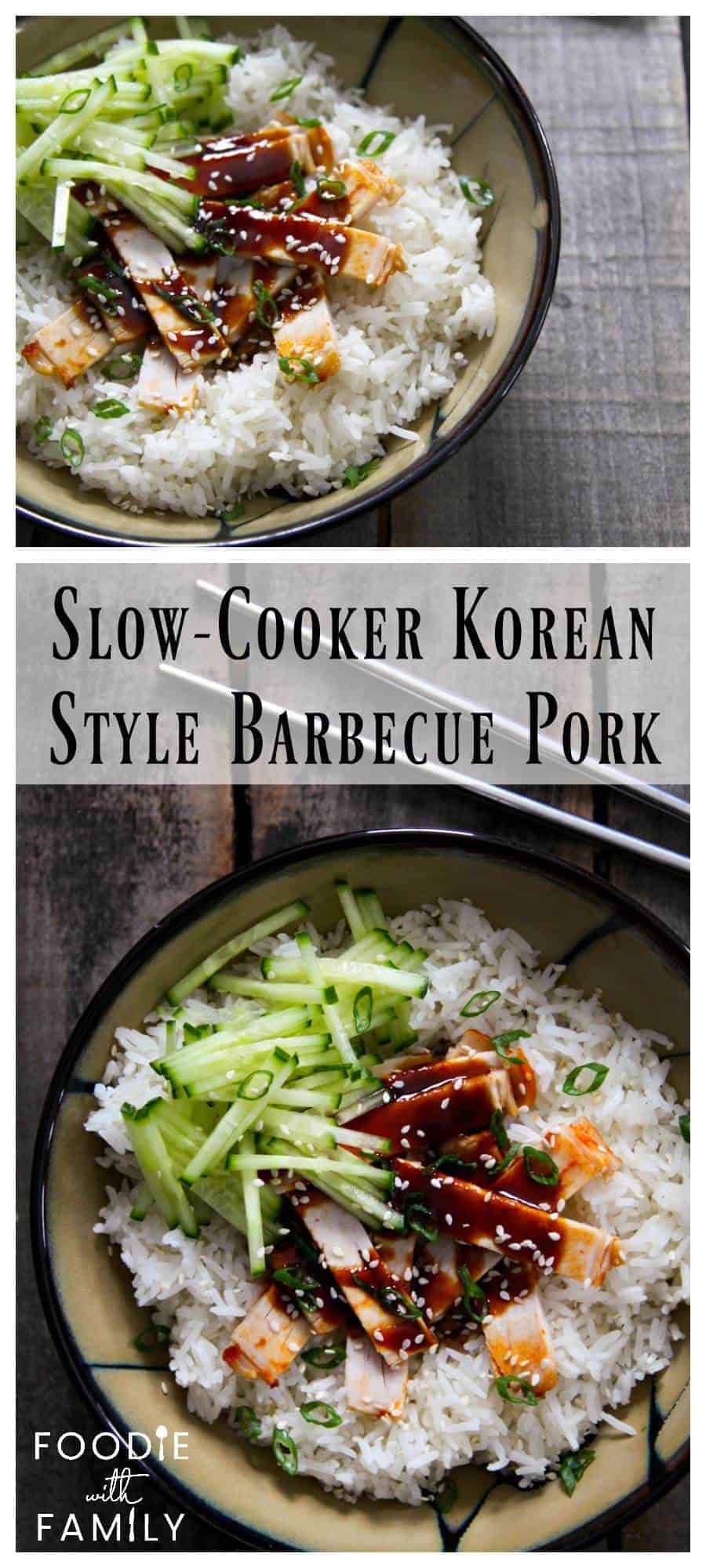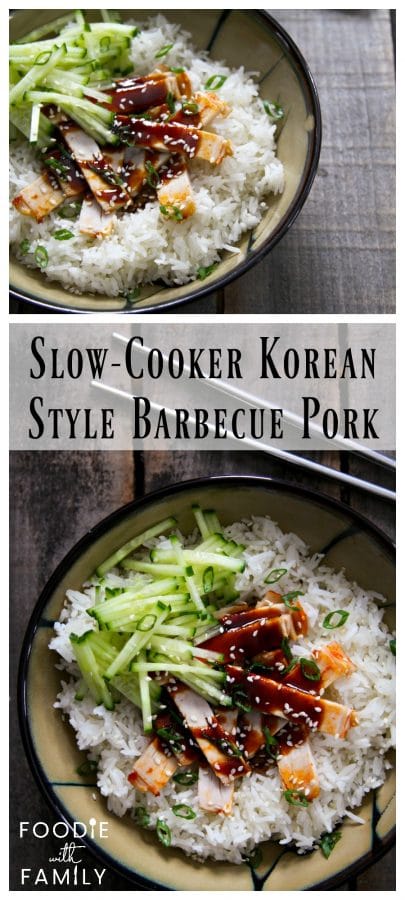 Originally posted January 26, 2015. Photos and Notes updated March 2018.