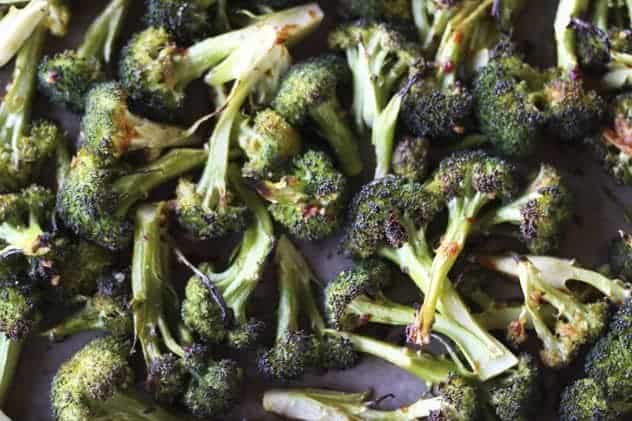 If you've been reading me for a while, you know about my fixation, er, obsession, um, desperate love for Asian food. You may even have been here long enough to read my sob story about my favourite restaurant ever of all time for eternity Amen closing its doors so the proprietor could retire*. If so, you might even get why -after all those years of getting it nearly every time I ate out- I no longer eat Chinese food in restaurants.
It is, in part, because nothing I have ordered compares in any positive way to the garlic broccoli that Kam Wah served: crisp tender, garlicky, spicy, and no sauce in sight, it was perfect by itself but it also made everything else served with it just that much better. In a bid to satisfy my increasing need for both good spicy garlic broccoli and hermit-like living, I decided to make it happen at home.
I was going to be the Lay-T who was choppin' brocco-lay! This might be a good time to mention another one of my obsessions. I love Dana Carvey. There. I said it. Any other fans out there?
[youtube]http://www.youtube.com/watch?v=WR6y71x3tSY[/youtube]
Holy success, Church Lady! It turned out to be a much simpler process than I ever thought to make the ultimate Chinese style spicy broccoli. The key, surprisingly, was to roast it. Who knew? The advantages of using roasting as a method are many, from not having to tend a wok constantly while stirring to the fact that you can make as massive an amount as you can fit in your oven at once. Believe me when I tell you that making vast quantities of this broccoli is what you want to do because as soon as those pans are out of the oven you are going to start snitching in earnest. A spear here, two there, a fistful now… you're going to eat through broccoli faster than you ever thought possible. Between sneaking bites and the plate full I had at dinner, I ate an entire pan of this by myself.
One piece of advice… be sure to leave nice long pieces of stem attached to your broccoli florets. Not only is it prettier, it's just  a shame to lose all that great broccoli to trimming. As long as you keep the stem pieces thin, it will cook through at the same rate as the florets themselves. It's awfully nice to have gorgeous food that's frugal, too, isn't it?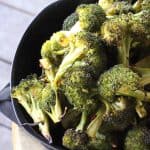 Spicy Asian Broccoli
Long spears of broccoli are tossed with Chinese chile-garlic sauce, minced fresh garlic, sesame oil, a bit of raw sugar and this and that then roasted until crisp-tender. This will beat every white cardboard takeout container of Chinese you can get anywhere without exception.Adapted with thanks from
Budget Bytes
who in turn adapted it from
Cooking Light
Ingredients
4

broccoli crowns

2 ½

tablespoons

canola oil

2

tablespoons

Chinese chile-garlic sauce

or Sambal Oelek

2

teaspoons

toasted sesame oil

2

teaspoons

raw sugar

or light brown sugar

2-3

cloves

garlic

peeled and minced

salt

to taste
Instructions
Preheat oven to 425°F. Lightly spray a large, rimmed baking sheet with non-stick cooking spray (or use a stoneware pan without spray.) Set aside.

In a large mixing bowl, stir together the canola oil, chile-garlic sauce, sesame oil, raw sugar and minced garlic until even.

Slice the broccoli crowns into long spears, keeping as much of the stem area intact as possible. Do not cut the spears too small or they'll burn instead of cooking to the desired crisp tender stage. Add all of the broccoli spears to the mixing bowl with the oil mixture and toss until everything is evenly coated. Transfer to the prepared pan, arranging the spears so they are in a single layer and sprinkle with salt to taste.

Bake for 20-25 minutes, or until there are darkened, black, wilted edges on the cut areas and florets of the broccoli. Remove from the oven and serve immediately with hot, cooked rice or as an accompaniment to a stir fried meats or tofu.
Merry Christmas, friends!