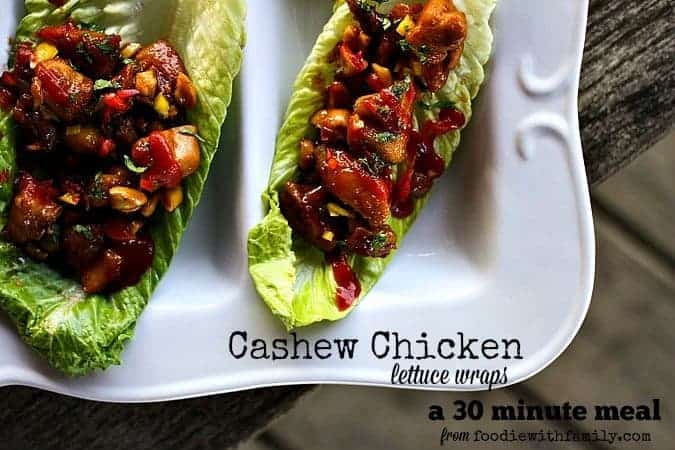 You see those lettuce wraps up there? That's another Unicorn Meal for our household: an extremely rare meal that pleases them all, even the no-veg contingent. Somehow lettuce leaves as delivery vehicle for meat works in their minds, and I'm surely not going to out their contradictory stance on it because OHMYGOSH this is a great meal. And fast! It's a fast meal. Did I mention that?
The bulk of effort, like with most stir-fry dishes, comes before anything hits the pan. You cube up chicken thighs, grate some ginger, chop some garlic, whisk the aforementioned ginger and garlic into some liquids, chop some cashews, and wash some lettuce leaves. There. Now all that's left to do is apply heat and stir then scoop into lettuce leaves. TADA! Seriously. It is just that easy.
If you could've SEEN my family's enthusiasm over this dish… My word, Hoover has nothing on my boys when they like a certain food. I wouldn't say they ATE it so much as INHALED it. Bonus: It's healthy. I don't have to sweat it. It's not like they're mainlining Easter candy when they eat serving after serving of these lettuce wraps.
What makes these so awesome? After browning the bite-sized, tender chicken cubes, they simmer with the cashews for a few minutes in a flavourful sauce of honey, soy sauce,  gochujang (Korean pepper paste), ginger, garlic, rice vinegar and sesame oil. The result is a sticky, tangy, spicy, sweet, earthy, garlicky sauce that you want to lick from your fingers.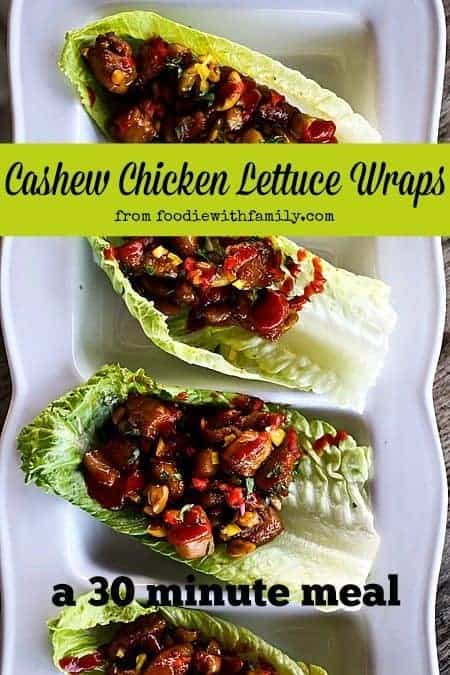 Pile the perfect stir-fry on your favourite lettuce leaves, drizzle a little Sriracha over the works, and scatter some finely chopped yellow and red bell peppers and cilantro or parsley over the top and all that's left is the eating! Thank heaven's it's a fast meal to make, because you might find yourself whipping up a second round after the first one vaporizes!
Cook's Notes
Yes, you can substitute boneless, skinless chicken breasts for the chicken thighs, but honestly, thighs are so. much. better. They're harder to mess up (read: it's harder to overcook and dry out) than chicken breasts and have a metric ton more of chicken flavour, too! I will convert you all one day.
If your grocery budget or tastebuds prohibit cashews, you can sub in dry-roasted, lightly salted peanuts for the cashews. If the concern is budgetary, keep in mind that the recipe doesn't really use too many cashews. It's worth the splurge at least one time!
Ginger is roughly 4,000,000,987 times easier to grate when it has been frozen first. It's not hard to do… If you have fresh, young ginger with thin skin, you don't even have to peel it first. Simply break into easy to hold pieces and freeze in a re-sealable freezer bag. When you're ready to grate, take one piece out and grate on a coarse microplane or the fine section of a box grater. Perfect ginger pulp can be yours without sacrificing your knuckles!
I absolutely LOVE gochujang (Korean Pepper Paste) in this recipe because of its tangy, umami goodness. You can buy it on Amazon (affiliate link)

…or at a good local grocer or Asian market. If you don't want to order it and absolutely can't find it, you can substitute an equal amount of chili garlic sauce or sambal oelek. Give gochujang a try if you haven't! It's so good and it lasts just this side of forever in the refrigerator!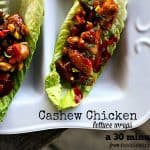 Cashew Chicken Lettuce Wraps
Adapted from and with thanks to Amy Johnson of [She Wears Many Hats| http://shewearsmanyhats.com/2009/09/chicken-cashew-lettuce-wraps/
Ingredients
For the Stir Fry Sauce:
2

tablespoons

light soy sauce

1

tablespoon

honey

1

tablespoon

gochujang or chili garlic sauce

1

tablespoon

rice vinegar

1

teaspoon

grated ginger

2

garlic cloves

peeled and pressed or super finely chopped

1

teaspoon

toasted sesame oil
For the Chicken Cashew Stir Fry:
1

pound

boneless

skinless chicken thighs, trimmed of excess fat and cut into 1/2-inch cubes

2

tablespoons

peanut

canola, or grapeseed oil

1/4

cup

cashews

roughly chopped
For Serving:
Washed and air-dried lettuce leaves

minced red and/or yellow bell peppers

finely chopped fresh cilantro or parsley

sriracha or preferred hot sauce
Instructions
For the Stir Fry Sauce:
Whisk together all of the ingredients until the honey is incorporated fully and it is smooth. If your honey wants to 'seize' up in the sauce, you can microwave it for 15 seconds then whisk again until smooth.
For the Stir Fry:
Heat the oil in a large skillet or wok until it is shimmery. Add the chicken thighs and stir-fry them until no longer pink in the center and golden brown on the outside, about 8-10 minutes. Whisk the stir-fry sauce one more time then add to the pan with the cashews. Stir frequently and bring the sauce to a boil. Lower the heat and simmer until the sauce is thick and sticky, darker in colour and coats everything, about 2-4 minutes.

Turn off the heat and let the chicken stand for 5-10 minutes before piling in to the lettuce leaves. Garnish the wraps with finely chopped bell peppers, cilantro or parsley, and sriracha or the hot sauce of your choice.
What are your family's unicorn meals??? Please share them with us!