Mapo Tofu, which means Pockmarked Lady Tofu (poor lady… she makes awesome tofu and she's remembered for her skin?), is ground pork that is broken up and fried until crispy. Then it is simmered with pillowy soft squares of tofu in a thick, spicy and sweet sauce fragrant with garlic and ginger served over hot rice to soak up all the glistening pork fat goodness.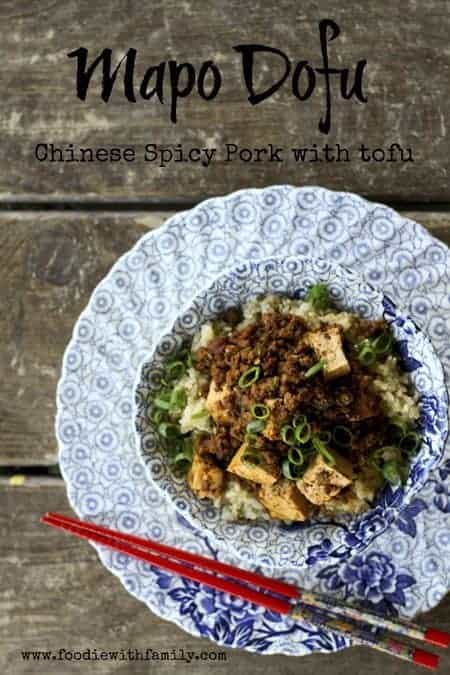 I'm a very lucky girl to have a family full of excellent cooks. Everyone has their cooking specialties from canning to vegetarian to gluten-free to baking to, well, you name it.
If you're hanging with anyone I'm related to, you're going to be eating well. The dish I'm sharing today is a particular specialty of my little sister Christina.
Christina and I are both enthusiastic meat-eating former vegetarians, and how we got on the subject I don't know, but we discovered that back in the day, neither of us was really gung-ho about tofu. We both found it boring, texturally and taste-wise.
At least that was true until we discovered the charming and delicious Chinese technique of cooking tofu with meat. All bets were off at that point. This was especially true of the classic Chinese take-out dish: Mapo Tofu or Mapo Dofu.
What is Mapo Dofu (Mapo Tofu)?
Mapo Tofu, which means Pockmarked Lady Tofu (poor lady… she makes awesome tofu and she's remembered for her skin?), is ground pork that is broken up and fried until crispy, then simmered with pillowy soft squares of tofu in a thick, spicy and sweet sauce fragrant with garlic and ginger served over hot rice to soak up (as my sister says) all the glistening pork fat goodness.
Why bother with the tofu? It soaks up the delicious sauce and adds a lightness to a dish that could otherwise be very heavy.
This is where tofu shines, folks… My confirmed meat-loving husband and sons adore this dish.
Full disclosure: two kids pick around the tofu. That's okay by me. Some day they'll accidentally get a bite and realize how amazing it actually is.
If all this isn't enough to set your mouth into High-Drool Mode, maybe this will; this is a seriously speedy recipe to make. It is done faster than lightning.
You control what goes into it (okay, if you insist, you can even drain the pork fat, but you're missing out, I tell ya!), and hits all the notes that you want when you order out. If you play your cards right and make a big enough batch, you can even have leftovers.
Containers of Mapo Dofu stuffed in the back of the refrigerator have a magical effect on my psyche. I exercise with more oomph, work a little harder, feel a little more patient all day long thinking of my bowl of pockmarked lady's glorious legacy waiting for me.
Is this an authentic version of the recipe?
Well, now you have me. This recipe came to me by way of my sister girl who hails from Cleveland.
Is that a de facto stamp of inauthentic Mapo dofu? I don't think so.
Based on the other recipes I've looked at and mapo dofu I've eaten, I'm fairly confident I hit the flavour profile even though I've added a Korean ingredient to the mix (Gochujang.) Authentic, though? I have no idea.
The Gochujang is added as a hack for the customary fresh chiles added to the dish. I just don't have easy access to them often enough, and the gochujang adds a nice little extra savoury note that somehow works.
Most important, though, is the fact that this is insanely delicious and habit forming. I obsess over this dish. I keep tofu on hand for when cravings strike.
Does this require any hard-to-find ingredients?
Unfortunately, yes. The good news is that they're not expensive ingredients and most Asian markets and moderately stocked Asian foods sections of grocery stores carry them.
I'd recommend shopping for the ingredients at an Asian market if you can, because they have the widest variety of delicious and authentic ingredients for Chinese and other Asian countries' cuisines at the best prices.
If you don't have an Asian market near you or a decent variety of Asian foods at your local grocer, my beloved Amazon carries them. The other good news is the ingredients aren't one-trick ponies.
You can use them in many dishes aside from Mapo Dofu. (Here are some affiliate links to the difficult-to-source ingredients. If you purchase them through these links, I receive a small commission that does not -in any way- effect the price of the item.
Black Bean Chilli Sauce
– This spicy sauce is made of fermented black beans and chile peppers. It's not just fabulous in Mapo Dofu, though; it makes a great addition to stir-fries and fried rice.
Szechuan (Sichuan) Peppercorns
– These are not 'hot' like black or white peppercorns, but are prized for their slightly citrusy flavour and numbing qualities. They make your tongue and lips a little tingly when added in large quantities. Not a bad thing!
Sriracha Hot Chili Sauce
or Gochujang Chili Paste
– In all likelihood you've heard of Sriracha at this point. It's pretty much everywhere.
If you haven't had the good fortune to encounter it yet, I'll just let you know really quickly that it's a fabulous garlicky, thick, Asian hot sauce.
It's the every-day hot sauce in our house. Chances are you haven't run into gochujang, though, unless you're Korean, have Korean family members or love Korean food.
It's a tangy, salty, hot chili paste that is ubiquitous in Korean cooking. Like bulgogi or bibimbap?
You need gochujang for it! You can use either one, but I actually prefer the gochujang here!
A Handy Trick for Grating Ginger:
The recipe specifies using grated ginger. If you've ever tried breaking down fresh ginger with a grater, you're probably flinching right now.
It's a pain, right? The little strings of ginger get all wadded up and it's hard to hang on to, let alone grate into a paste!
I have good news, though. If you wrap single-use size pieces of ginger in plastic wrap, stash those in a zip-top freezer bag, and freeze it through and through.
The frozen ginger is INFINITELY easier to grate than the fresh stuff without compromising the flavour you want! The bonus, at least for those of us who live in the middle of nowhere- is that we then have a usable supply of fresh ginger at all times.
If that's too much trouble, you could always use the ginger paste in the tubes from the produce section, but I think the frozen ginger yields a stronger ginger taste than the tube stuff.
What Kind of Rice Should I Use for Mapo Tofu:
This may sound flip, but it's not meant that way. Use whatever rice you like best!
We love Mapo Tofu over sushi rice, sweet brown sticky rice, jasmine rice, or plain old long grain white rice. If you pressed me, I'd say I like it best over sweet brown sticky rice, but that's pretty much my all around preference.
The truth is, though, that if you put a bowl of this over minute rice I'd probably still scarf it down! And that's saying something because I don't love minute rice.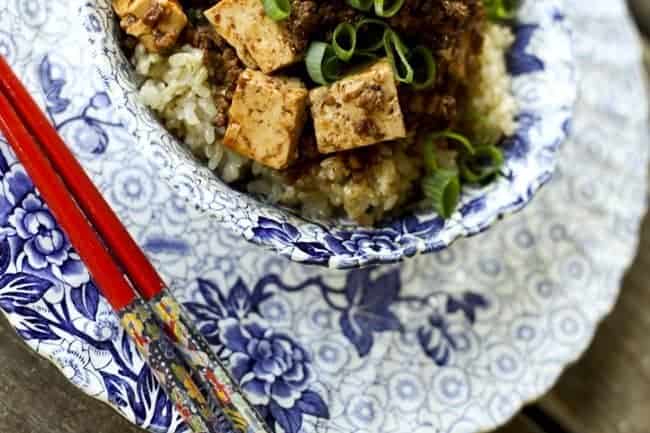 Do you keep fresh ginger in the freezer? Are you a tofu lover or avoider?
If you don't like it, usually, are you willing to try it in this dish? What's your best-loved Chinese take-out dish? Talk to me!
Mapo Tofu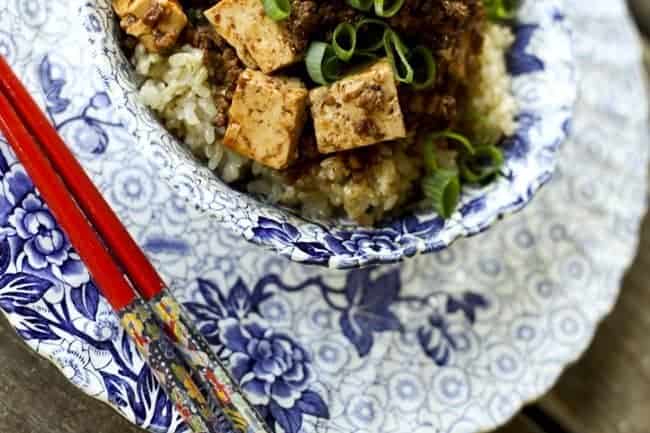 Faster than phoning for take-out, my little sister's version of the Chinese classic 'Mapo Tofu' is the stuff of obsession. Ground pork is broken up and fried until crispy, then simmered with pillowy soft squares of tofu in a thick, spicy and sweet sauce fragrant with garlic and ginger served over hot rice. This is tofu for meat lovers! Adapted lovingly from my sister Christina Thrasher's recipe.
Ingredients
1

tablespoon

Szechuan peppercorns

1

tablespoon

peanut or canola oil

1

pound

ground pork

2

tablespoons

chili powder

6

cloves

of garlic

peeled and minced

1 1/2-

inch

piece of fresh ginger root

grated or finely minced

1

bunch green onions

trimmed of the root ends and sliced thinly, white sections divided from the green sections.

1/2

cup

black bean chili sauce

1

cup

water

1

tablespoon

reduced sodium soy sauce or tamari

1

tablespoon

Gochujang or Sriracha

plus more to taste

1

block soft tofu

14 ounces, drained, cut into 1/2-inch cubes, and drained in a colander while the pork cooks
Instructions
In a large, dry, clean skillet or frying pan, toast the Szechuan peppercorns over medium-low heat, shaking the pan occasionally, until they are fragrant and beginning to darken in colour. Transfer the peppercorns to a bowl to cool. When completely cool, grind them in a spice grinder, blender, or mortar and pestle. Store in an airtight jar until ready to use.

Return the skillet or frying pan to the burner, this time over medium-high heat. When the pan is hot, add the peanut or canola oil and swirl to coat. Break up the ground pork over the hot oil and stir-fry, continuing to break up the pork into smaller and smaller pieces, until the pork is cooked all the way through and has browned and crisped up on the outside. Sprinkle the chili powder, garlic, ginger, and white sections of the green onions over the crisped pork and stir-fry until fragrant. Add the black bean chili sauce, water, and the Gochujang or Sriracha then stir together and bring to a gentle simmer, scraping the bottom of the pan to get up any delicious crispy bits that have clung to it. Gently stir in the tofu cubes and simmer until the sauce is thick and the tofu is hot all the way through. Sprinkle at least 1 teaspoon of the ground Szechuan peppercorns over the dish, stir, and taste. If you want to make the sauce hotter, add a bit more more Gochujang or Sriracha, taking care, though, because that also adds saltiness to the dish. If you need to tone down the saltiness, or your sauce is too thick, add a bit more water to thin it and return to the burner just until hot all the way through.

Serve over fresh, hot rice garnished with the sliced green parts of the green onion.

Leftovers store well, tightly covered, in the refrigerator for up to 4 days.
Nutritional information is an estimate and provided to you as a courtesy. You should calculate the nutritional information with the actual ingredients used in your recipe using your preferred nutrition calculator.