Big Batch Fruit Crisp Topping is your ace in the hole for easy but impressive last minute desserts. I'd even argue that this big batch fruit crisp topping is the best crisp topping I've ever tasted. The fact that you make it ahead of time and stash it in the freezer so that you can whip up an apple crisp recipe or any other fruit crisp on a whim is a bonus.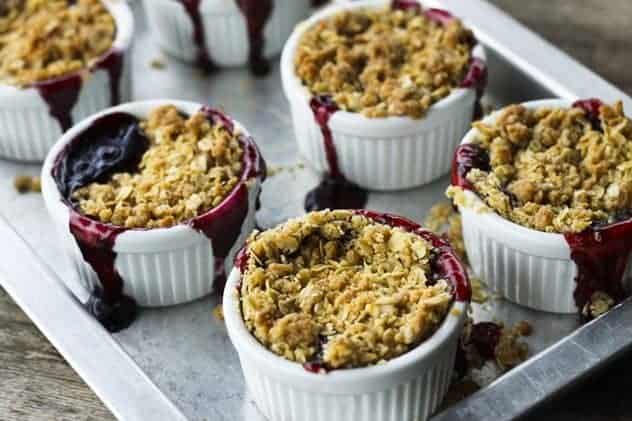 Desserts are the big to-do. The thing over which you slave for hours or -in some cases- even days and present with a flourish to ooooohs and aaaahs. I'm as guilty of that as the next food-obsessed gal, from time to time.
But really? Desserts are supposed to be a relaxing thing. Grab a spoon or a fork, a plate or a bowl of the good stuff, plop down somewhere comfortable and give a good ahhhhhhhh. They're supposed to feed your soul without taxing it first. In fact, 'DESSERTS' are 'STRESSED' spelled backwards. Tell me if this has ever happened to you.
I'm going through my day getting done what needs to be done. I make dinner and think to myself, "Oh, we don't need dessert tonight. We have a big dinner and that'll do the job." Then after dinner, when it's just me and my honey sitting on the couch, I think, "I wish I'd made dessert. I could go for something a little sweet right now."
I have the solution.
Make my big batch fruit crisp topping -essentially, this is sugar, oats, flour, some spices, and a lot of butter- drop it into canning jars or other airtight containers and pop it in the freezer.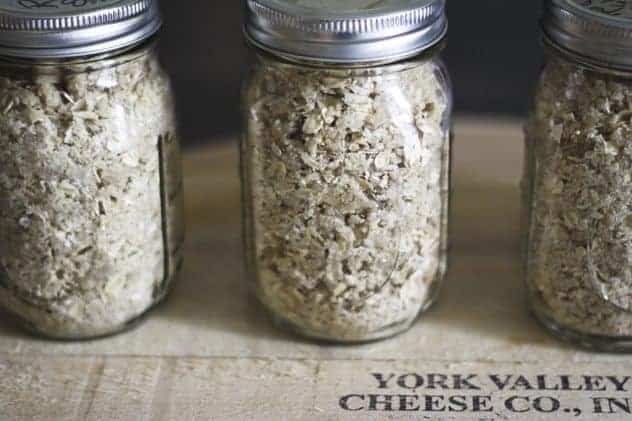 Can I use Big Batch Fruit Crisp Topping to make Apple Crisp?
Oh my goodness, yes. You can make the ultimate apple crisp recipe with the big batch fruit crisp topping or you can use just about any fresh or frozen fruit. Your imagination is the limit! You can use homemade sweet black cherry pie filling, grape pie filling, apple pie filling, or even Cherry Habanero Lime Jam, Ginger Peach Preserves, Strawberry Jam, or Blueberry Jam to make your crisps, too!
How to Make The Best Fruit Crisp Recipe
When you hit the dessert-regret stage of the evening, fill a little ramekin or two filled with fresh fruit or canned pie filling. In a pinch, you could even put jam in the ramekins.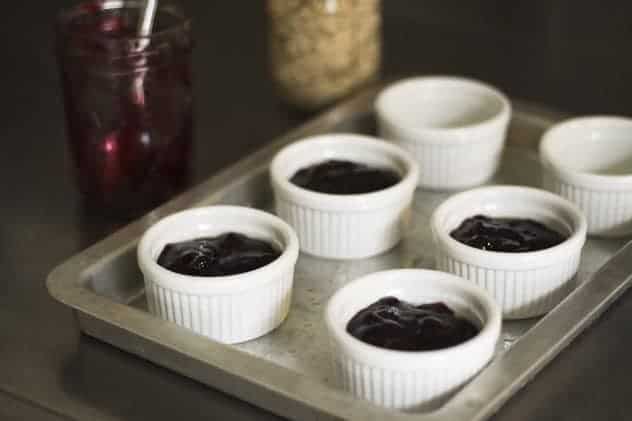 Top with the ready-made big batch fruit crisp topping.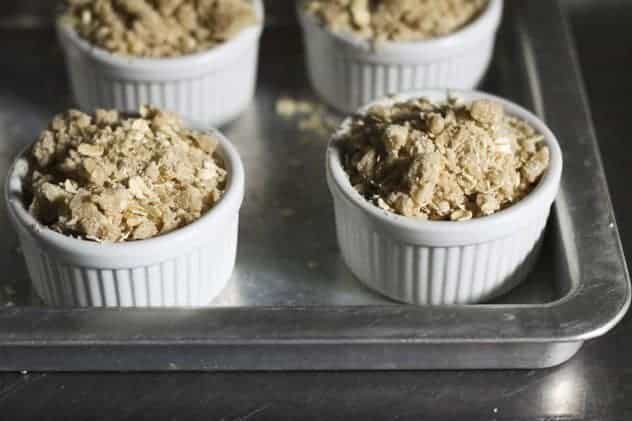 … and bake. Thirty minutes later you will no longer be stressed. You will have desserts.
How do I serve fruit crisp?
Here's what happens next. At least at OUR house, it's what happens next anyway. We get a container of vanilla ice cream out of the freezer and let it set on the counter for about eight minutes. We scoot a still-pretty-toasty ramekin into another bowl and top it with a pretty massive scoop of ice cream. We let the ice cream start melting just a wee bit and then we dive in.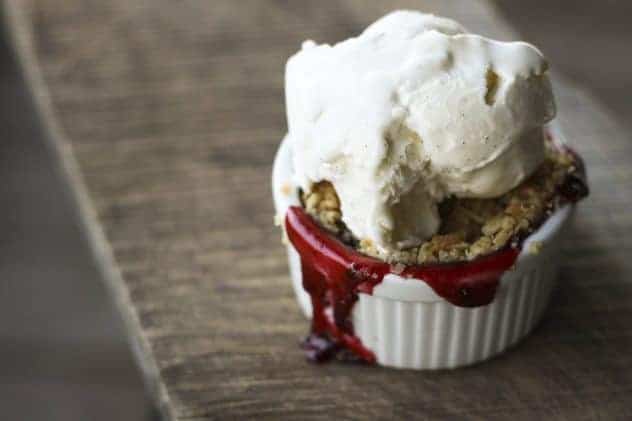 Not bad for a dessert you threw together over a commercial break, eh? In fact, I'd call it darned good. So good, that it is the opposite of stressed. Literally.
Once you've tried Big Batch Fruit Crisp Topping, you'll want to be sure to have it stashed in the freezer at all times!
How do I use Big Batch Fruit Crisp Topping?
Simply add fresh fruit to ramekins or a pan, top with the big batch fruit crisp topping, and bake away!
A jar of this crisp topping wrapped with a pretty ribbon and a recipe card giving instructions on how to use it and make more would be a beautiful hostess gift.
Added to a basket with home-canned pie filling or some fresh pears or apples, it would make a thoughtful and delicious gift for any occasion!
Cook's Notes for Big Batch Fruit Crisp Topping
I do not advise packing your finished big batch fruit crisp topping tightly into the jars or bags. While it is tempting to save freezer room, it makes a hard-packed topping that's far more difficult to crumble onto your fruit.
The big batch fruit crisp topping recipe is one that doubles or triples easily. Just be sure to make no more than you can use within 3 months for optimal results.
Use these to make Big Batch Fruit Crisp Topping most easily
Big Batch Fruit Crisp Topping and How to Make a Fruit Crisp
The only thing better than a fruit crisp is one that you've put together in less than 5 minutes using crisp topping that you made ahead of time in a big batch and stored in the freezer. Use your pre-made crisp topping on fresh fruit, canned fruit or pie filling for a glorious, almost instant fruit crisp. Adapted very gently from and with many thanks to Aimee Bourque, of Simple Bites.
Ingredients
1

cup

light or dark brown sugar)

1

cup

raw sugar

or 1 cup white sugar

1 1/2

cups

unsalted butter

softened

1 1/2

teaspoons

ground cinnamon

1/4

teaspoon

freshly grated nutmeg

2 3/4

cups

all-purpose or white whole wheat flour

11 3/4 ounces by weight

1

cup

quick oats

1

cup

old fashioned rolled oats
Instructions
Combine the sugars, cinnamon and nutmeg with the softened butter and mix until well blended. Cut in the flour with a pastry cutter or two butterknives until the mixture resembles coarse crumbs. Stir in the oats until evenly and loosely combined and the mixture resembles coarse crumbs again.

Fill jars or airtight containers with the crisp topping, top with a lid, label and freeze. This makes about 6 loosely packed or 4 firmly packed pint jars. (See note below.) This will yield about 32 individual crisps or 4 large (9"x13") pans.

Note: If you pack the crisp topping loosely in the jars, it will be easier to shake directly onto the tops of the crisps you are baking. This does, however, shorten the amount of time they will store well in the freezer to 3 months from 6 months. If you pack the topping tightly, you can keep it for up to 6 months, but you may have to chip it out of the jar with a butterknife. I prefer to pack it loosely knowing we will use it quickly. This helps me avoid the dreaded 'stabbing metal things into frozen glass jars' phenomenon.
To Bake Fruit Crisps With Make Ahead Crisp Topping:
Preheat oven to 375°F. Lay out desired number of ramekins on a baking sheet (or lightly grease a 9-inch x 13-inch pan.) Fill the ramekins about 2/3 full of fresh berries, chopped stone fruits, peeled/cored/chopped apples, or pie filling. Sprinkle frozen crisp topping directly on the surface of the fruit, filling the rest of the ramekin.( If using a large pan, make sure the filling is covered with crisp topping by at least 1/4-inch.)

Bake ramekins on the baking sheet for about 30 minutes, or large pans for about 45-50 minutes, or until the crisp is golden brown and the fruit is soft (or pie filling is bubbly.) Serve warm topped with ice cream, whipped cream or a little splash of heavy cream.
Nutrition
Calories:
185
kcal
|
Carbohydrates:
24
g
|
Protein:
1
g
|
Fat:
9
g
|
Saturated Fat:
5
g
|
Cholesterol:
22
mg
|
Sodium:
3
mg
|
Potassium:
43
mg
|
Sugar:
12
g
|
Vitamin A:
265
IU
|
Calcium:
14
mg
|
Iron:
0.8
mg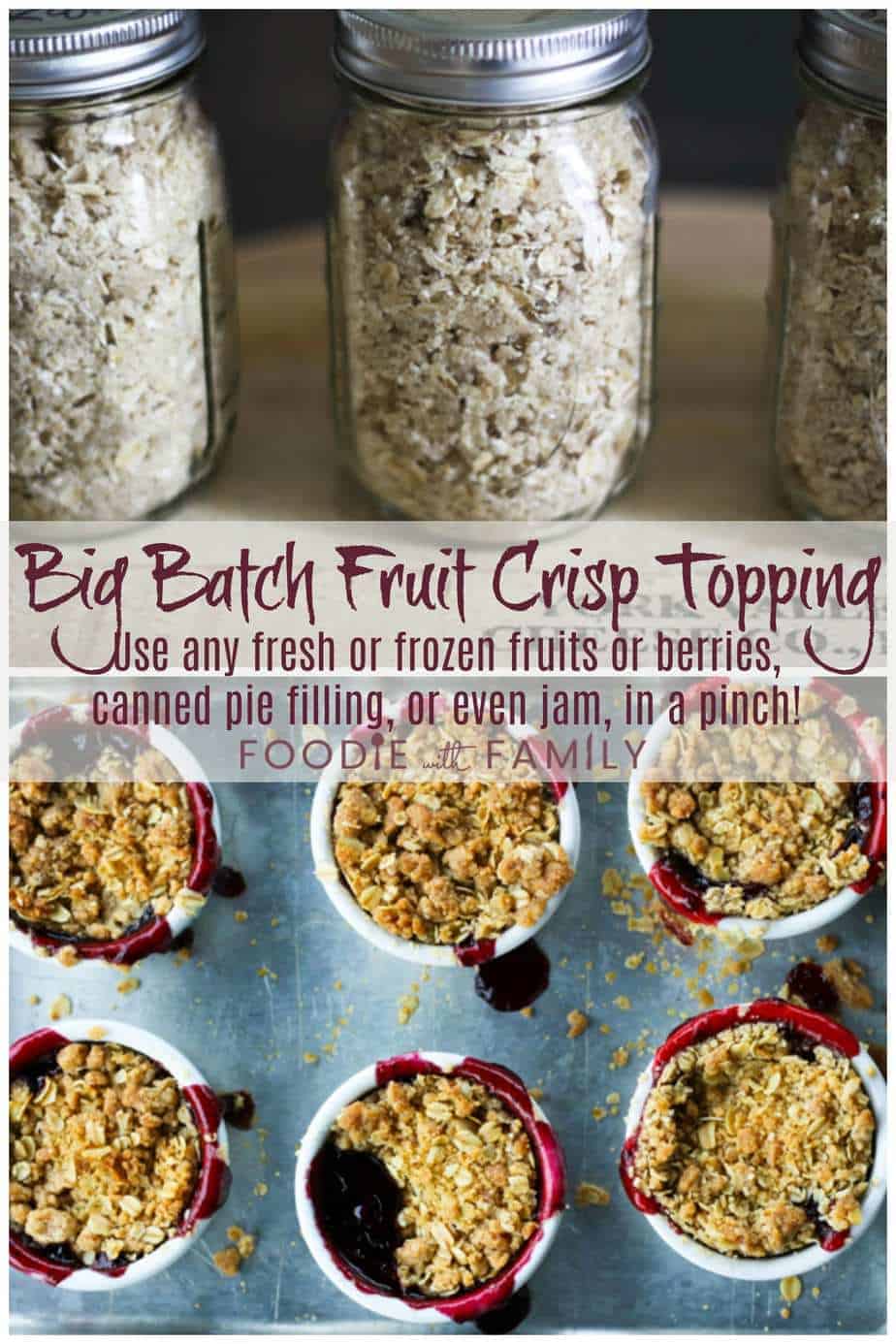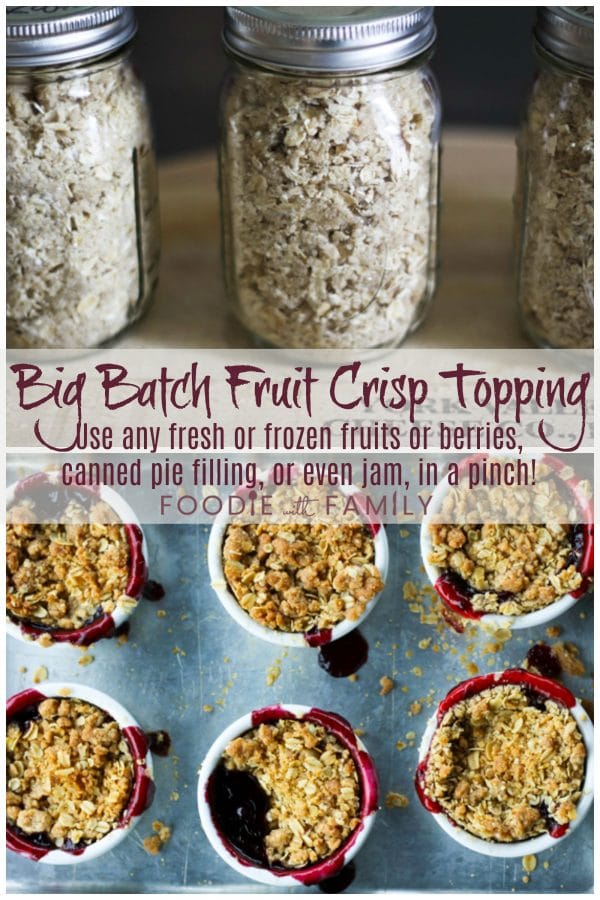 This post was originally published in October of 2012. Updated with video and improved Cook's Notes in August of 2018.